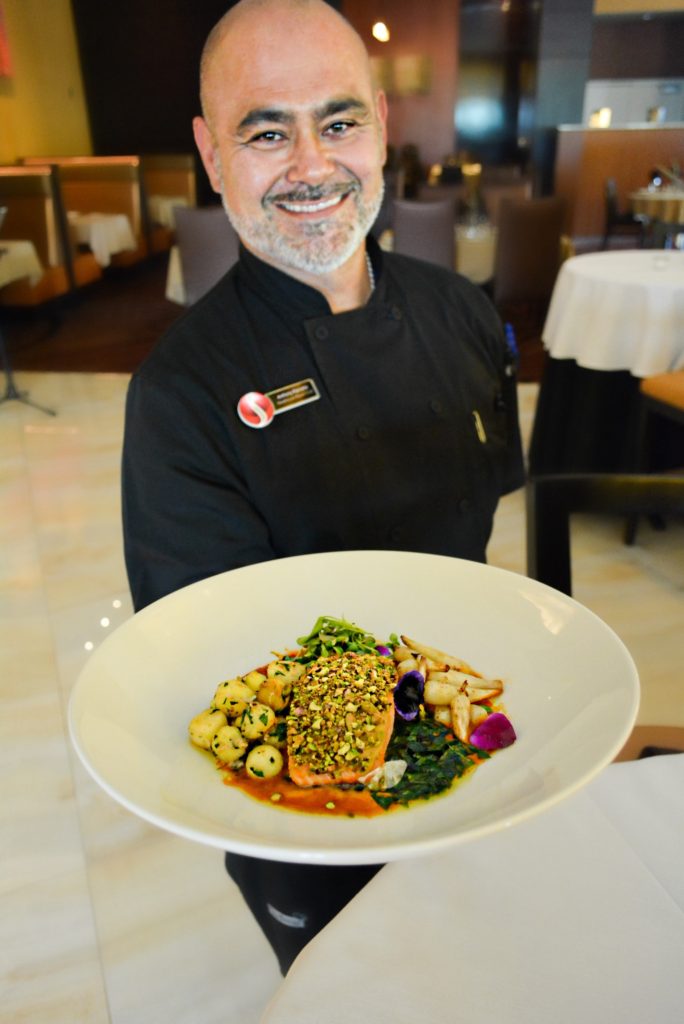 Pistachio Encrusted King Salmon with Roasted Yukon Gold Potato Pearls, Sautéed Ramps, Aromatic Tomato Sauce & Basil Oil
Chef Anthony Rametta from Scarlet's Steaks & Seafood at Scarlet Pearl Casino Resort
About this dish: This recipe speaks about spring and summer, and the inspiration that this time of year brings with all the seasonal products. I think this dish should win because it shows the diversity of each ingredient and can be made to look as if cooked in a fine dining atmosphere.
Aromatic Tomato Sauce Ingredients:
1 tsp. Tabasco
¼ c. Red wine vinegar
¼ c. Soy Sauce
¼ c. Ketchup
½ c. Butter
Directions for Aromatic Tomato Sauce:
Bring to a boil.
Blend until smooth
Basil Oil Ingredients:
1 ½ cup Basil
¾ cup Olive Oil
Directions for Basil Oil:
Blanch basil in medium saucepan of boiling water 10 seconds.
Rinse under cold water. Pat basil dry with paper towels.
Transfer to blender. Add oil; puree until smooth.
Transfer to small bowl. Season with salt and pepper.
**Oil mixture can be made 3 days ahead. Cover and chill. Let stand at room temperature for 30 minutes before using. **
Pistachio Crust Ingredients:
1/2 cup unsalted pistachios, shelled
1/3 cup panko breadcrumbs, or other type
2 Tbsp. fresh grated Parmesan cheese
1/4 tsp. kosher salt
1-2 Tbsp. olive oil
4 (5-oz.) king salmon fillets
2 Tbsp. Dijon mustard
Freshly ground black pepper to taste
Directions for Pistachio Crust:
In a small food processor combine nuts, breadcrumbs, cheese, salt & pepper.
Pulse mixture until fine.
Transfer nut mixture to a shallow bowl, drizzle with olive oil and toss with a fork until crumbs are well moistened.
Salmon Directions:
Using 4-6 oz. king salmon portions, skinned:
Preheat oven to 375 degrees
Evenly split the topping for the 4 pieces of salmon
Spread the top of each fillet evenly with mustard. Press the mustard-coated side of each fillet into the crumb mixture to generously coat the fish. Set the fillets, coating side up, on the prepared pan. Sprinkle the remaining crumb mixture over the fillets to form a thick entrustment
Bake filet until top is crisp and browned and the fish is cooked through, 10-12 minutes, depending on thickness.
Yukon Potato Pearls Ingredients:
4 Yukon gold potatoes
2 tbsp. unsalted butter, softened
½ tsp. chopped Italian parsley
Fresh grated parmesan cheese
Salt and pepper to taste
Directions for Yukon Potato Pearls:
Clean and peel potatoes.
Using a melon baller, make as many pearls as you can before discarding the potato.
In a medium pot boil potatoes just until tender.
Once just about tender drain water quickly and place pearls into an ice bath to stop the cooking process.
When ready for service, in a skillet add butter and allow to get hot.
Place potatoes into skillet and brown.
Once browned, add parsley, parmesan cheese and salt and pepper to taste.
Ramps Ingredients:
1 lb. fresh ramps, cleaned and trimmed
1 tbsp. olive oil
1/8 cup white wine
1 tbsp. unsalted butter
Salt and pepper to taste
Directions for Ramps:
Heat skillet with olive oil, allow skillet to get very hot.
Cook ramps with salt and pepper until they just start to get tender.
Add wine and allow to reduce by half.
Add butter and continuously until butter has melted.
Plating Process:
When all ingredients are complete and you're ready for plating:
Place the aromatic tomato sauce down in the center of your plate using a small ladle. Be sure to spread the sauce out.
Place the encrusted salmon on top of the sauce, fill a squirt bottle with the basil oil and gently go around the outer part of the tomato sauce.
Place ramps and Yukon pearls around salmon, but not to hide the sauces.