We are always excited to showcase the best casino restaurants throughout the region. Whether it is a casual oyster bar, or a premium steakhouse with a vast wine selection, we have found some sure bets when it comes to dining on your next casino adventure. Be sure to carve out some time to check a few of these great selections out!
Detroit, Michigan
MGM Grand Detroit
1-877-888-2121 | MGMGrandDetroit.com
Food Finds: Wolfgang Puck Steak, Wolfgang Puck Pizzeria & Cucina, Palette Dining Studio, TAP, Breeze Dining Court, The Roasted Bean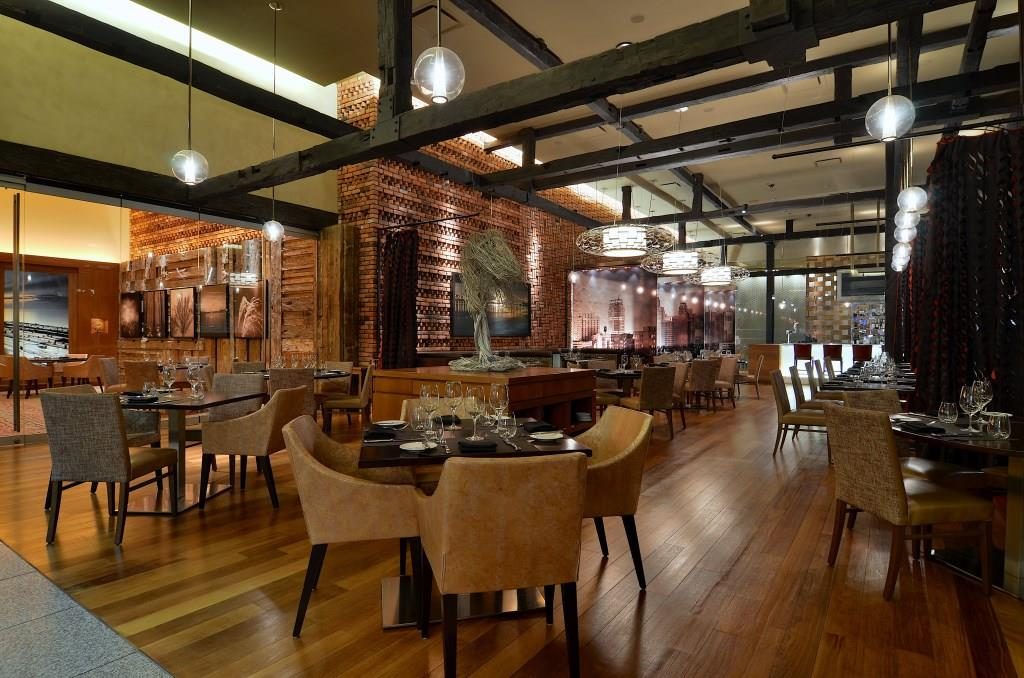 MGM Grand Detroit is the ultimate gaming experience located in downtown Detroit offering premium amenities and the ultimate guest experience. The property is home to over 400 rooms, a spa, an indoor pool, a showroom and dining options that rival some of the finest restaurants in the city.
When a name like Wolfgang Puck is associated with a restaurant, you know you are in for a treat. The celebrity chef's name adorns two restaurants and both are fantastic. For fine dining, Wolfgang Puck Steak offers an array of grilled steaks and seafood favorites as well as a wine selection for even the avid wine aficionado's out there. Get started with appetizers of Wagyu Beef Carpaccio or Sashimi Grade Yellowtail Tuna Tartare. For entrees, the filet mignon's are always popular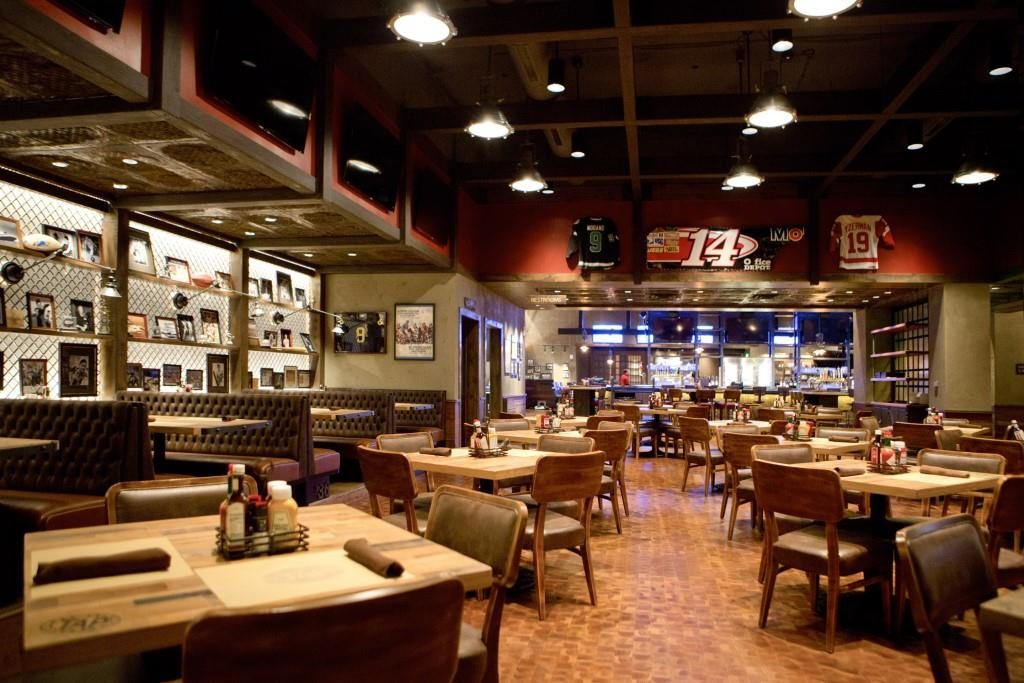 and offered in six and ten ounce sizes, but the money selections have to be either the American Wagyu Filet (8 ounce) or Wagyu Tomahawk Chop (32 ounce). For more casual dining options, consider Wolfgang Puck Pizzeria where you will find house made pastas, several of Puck's signature oven-baked pizzas and other Italian favorites in a relaxed setting. To catch your favorite sporting events, stop by TAP for comfort food and pub favorites including burgers, sandwiches, wings and more including over 50 beers selections!
Turtle Lake, Wisconsin
St. Croix Casino Turtle Lake
1-800-846-8946 | TurtleLake.StCroixCasino.com
Food Finds: Me-Ki-Noc Restaurant, TLC Buffet, Concession Stand
St. Croix Casino Turtle Lake offers smoke-free family dining in its Me-Ki-Noc Restaurant and TLC Buffet.
The Me-Ki-Noc Restaurant has a mouthwatering menu, featuring steaks, chops and seafood entrees along with sandwiches, salads and more. Menu options include delicious breakfast, lunches and dinner all prepared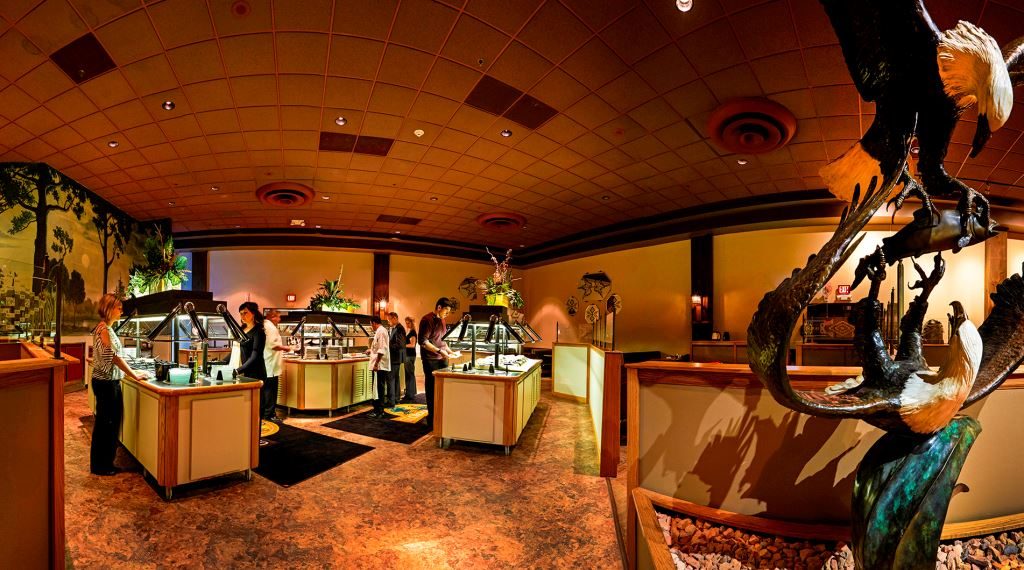 by superb gourmet chefs. Along with its everyday menu, the Me-Ki-Noc also features daily and weekly dining specials. The TLC Buffet, with its wide variety of fresh salads, piping hot entrées and decadent desserts, is everyone's favorite all-you-can-eat dining option. Weekly specials include a Champagne Brunch the first and third Sundays of every month, a Brunch Buffet on the second and fourth Sundays of every month, the buffet's signature Thursday Surf and Turf Buffet and the popular Friday All-You-Can-Eat Fish Fry.
The Chef Says: "The quality of the food we prepare is testimony to the passion for food we have here. Nothing is more rewarding than seeing guests enjoy every last bite of the food they order- and then return to dine with us again." -Carmen Leoso
Sioux City, Iowa
Hard Rock Hotel & Casino
1-844-222-7625 | HardRockCasinoSiouxCity.com
Food Finds: Main + Abbey, Anthem, Fuel American Grill, World Tour Buffet, Hard Rock Food Truck
The electric vibe in Sioux City can be attributed to Hard Rock Hotel & Casino. With non-stop headlining entertainment and promotions, there is never a dull moment at this boutique-style hotel with 54 unique room and dining that is always spot on.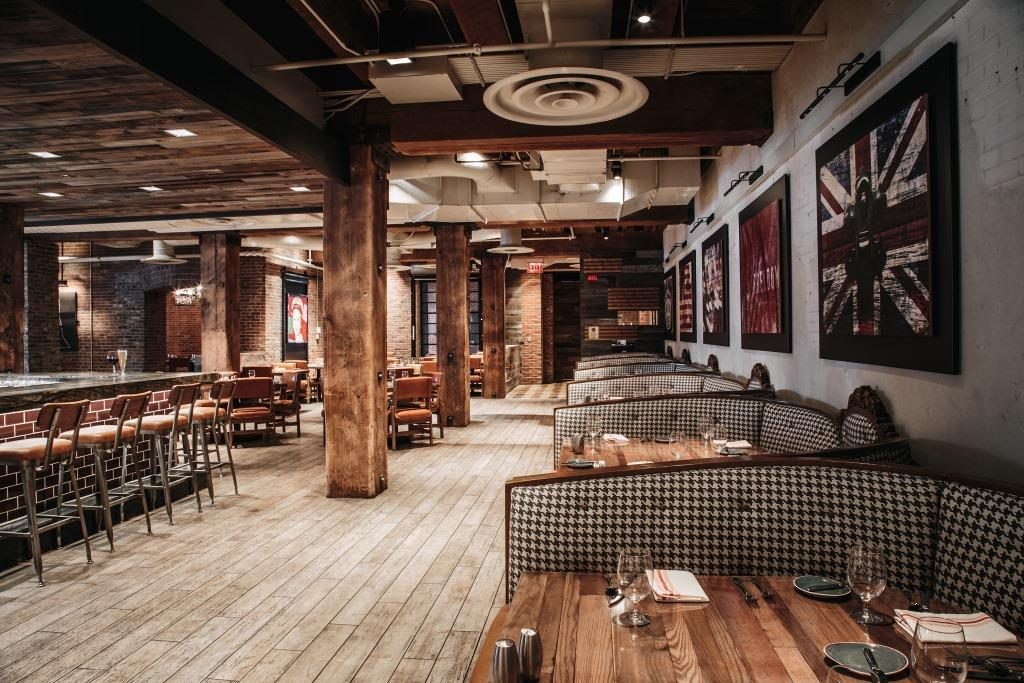 Main + Abbey is one of the top restaurants in the city and one that suits both big and small appetites. The menu offers what is described as light, gastropub cuisine with a London flair and American fare. Starters include flatbreads and tacos, and the entrée selections are even more impressive. From the grill there are filets, rib-eyes and NY Strips, and if you are in a seafood mood, don't miss the 'Land + Sea' menu with Double Crunch Chicken, Pane Seared Seabass or the Diver Scallops. For quick and casual, add Fuel American Grill to your itinerary where you will find themed-sandwiches like the The Reuben Ramone, Burning Down the House Grilled Chicken and the Crowd Surfer Club. There is also a variety of cheeseburger selections ranging from the Classic to the Road Warrior with smoked bacon and caramelized. Hard Rock also recently opened a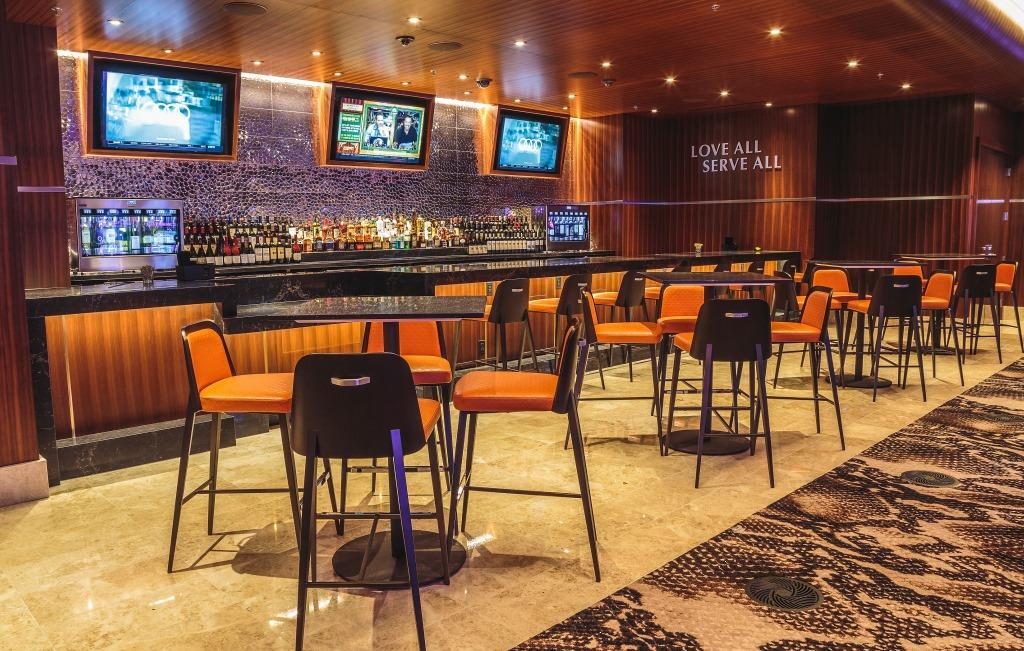 food truck on property that serves a limited, but tasty, menu of cheese burgers, chicken tenders and an Oreo cheesecake that always hits the spot.
Another big property announcement is the recent opening of the Wine Bar located conveniently off the casino floor offering over 125 bottles, 20 of which are by the glass, in an upscale lounge setting.
Wayland, Michigan
Gun Lake Casino
1-269-792-7777 | GunLakeCasino.com
Food Finds: Harvest Buffet, Sandhill Café, Johnny Rockets, Villa Italian Kitchen
Gun Lake Casino may not be your typical mega resort, but once you step onto the property, you'll know why it is so popular among guests. After recently completing a $46 million expansion, including a new buffet area, this should be a sure stop on your next road trip.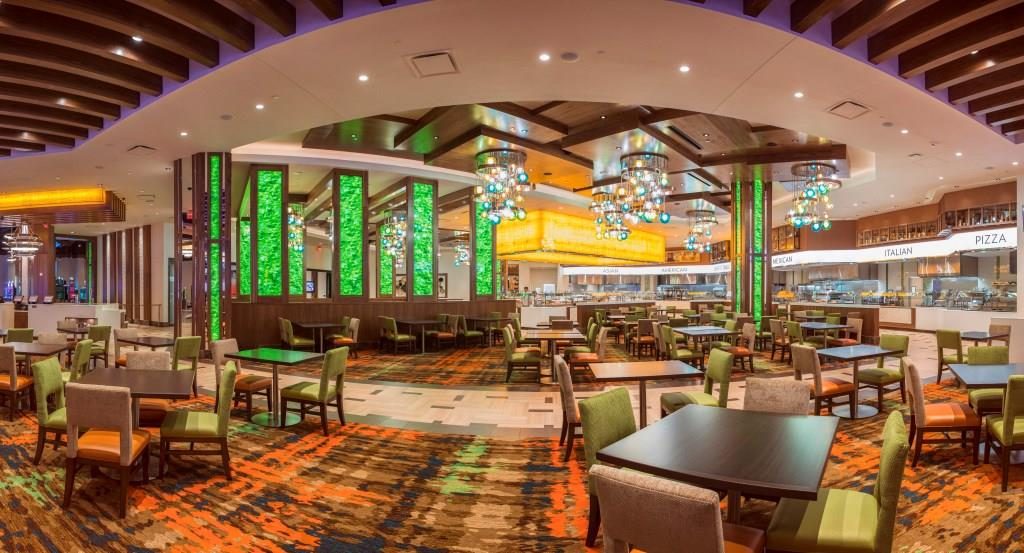 Part of the expansion included the Harvest Buffet which now features 300-seats and multiple cooking stations offering cravings like chicken fajitas, pizza, oysters, prime rib and more. The new dining room is set in a contemporary, open setting where guests can dine without feeling like they are sitting on top of the people eating next to you. There are also specialty themed nights throughout the week including Crab Legs on Fridays. Sandhill Café also offers a casual dining experience with a lot of great variety including a breakfast menu as well as a small and big plate menu for lunch and dinner. And, don't miss the famous Johnny Rockets where you'll find shakes and malts, and of course, some of the best hamburgers on the planet. Be sure to try the various French fry options including sweet potato, chili cheese or bacon and cheese!
The Chef Says: "From a brand new buffet that offers fajitas, crab legs, and prime rib to a Café offering a casual dining experience – we have something for every guest! We're proud to use local, seasonal ingredients in our kitchens and extend an invite to anyone looking for a great meal."
Welch, Minnesota
Treasure Island Resort & Casino
1-800-222-7077 | TICasino.com
Food Finds: Tado Steakhouse, Tradewinds Buffet, Currents Restaurant, Mongo Bay Grill, Prime Thyme Sub Shop, Xtreme Café, Island Perk
When a casino has a marina offering private cruises, an elaborate RV park, an enchanting spa, indoor and outdoor pools, seven dining options, headlining entertainment and a hopping casino, you know you are in the right spot. Picture a Caribbean getaway less than an hour drive from Minneapolis and you'll be ready to roll.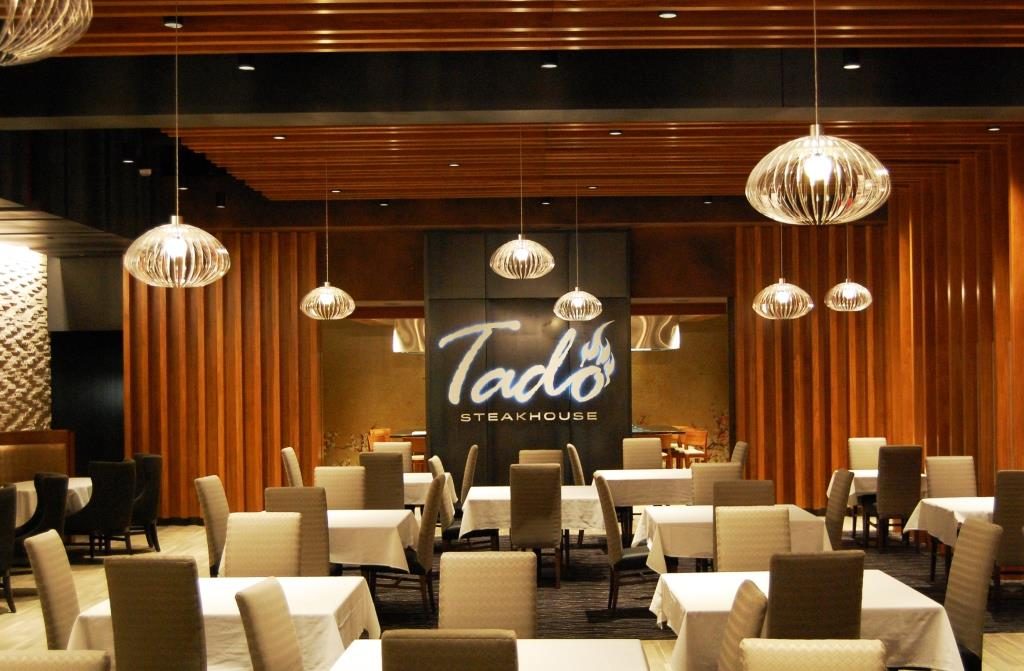 Dining is a premium at The Island and excellence can be found at Tado Steakhouse. The fresh and contemporary designed ding room offers table or booth seating options and makes for a relaxed setting to enjoy steakhouse staples as well as some more obscure offerings. Get started with Caribbean Shrimp Skewers ($16) or Beef Tips and Chips ($12) or interesting soup and salad options. Main entrees include favorites from the land and sea and each features suggested wine pairings listed on the menu. Popular items include the Signature Hereford New York Strip ($34), Bone-n Rib Eye ($46), Pork Tenderloin Medallions ($26) the Filets with Scallops or Lobster. For a casual dining option, check out Currents Restaurant where you will find favorites like eggs benedict, omelets and steak and eggs for breakfast, signature salads, sandwiches and pizzas for lunch and mouth-watering entrees for dinner such as Pad Thai, Chicken Tetrazzini and Walleye Fillet for dinner. You will also find a great buffet experience at Tradewinds and tasty treats at Mongo Bay Grill or Prime Thyme Sub Shop.
Milwaukee, Wisconsin
Potawatomi Hotel & Casino
1-800-729-7244 | PaysBig.com
Food Finds: Dream Dance Steak, Bella Italiana, Ruyi, The Fire Pit Sports Bar & Grill, Canal Street Café, The Buffet, Menomonee Valley Food Court
Potawatomi Hotel & Casino offers something for everyone including an array of restaurants, bars and nightlife. The property is home to 2,500 slots and nearly 100 table games in a contemporary casino setting and offers breathtaking views of downtown Milwaukee from around the property.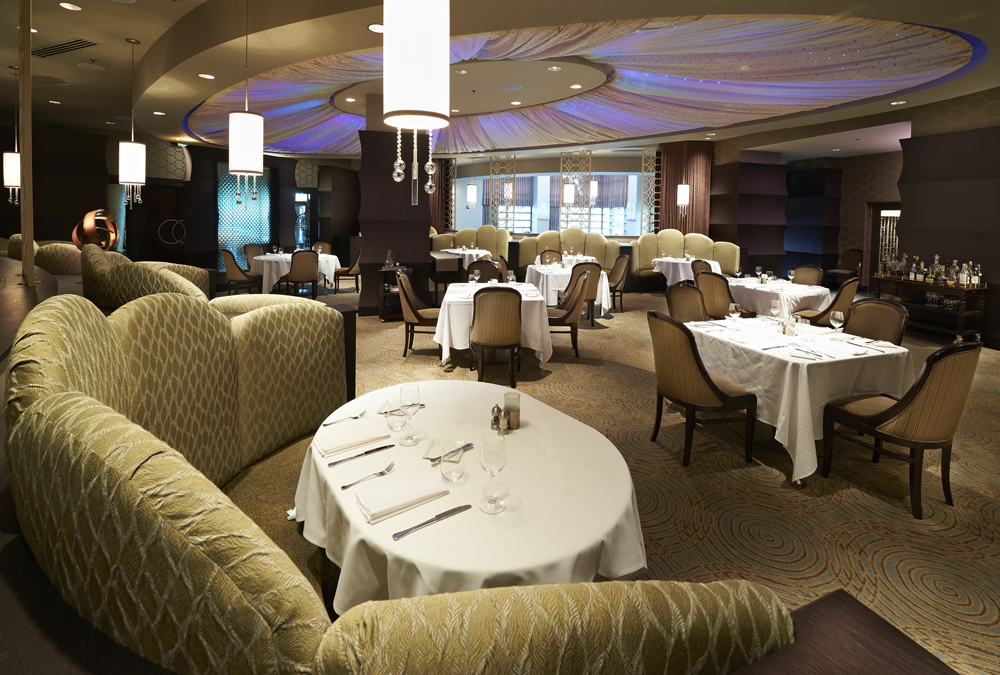 The fine-dining steakhouse is Dream Dance Steak where they take pride in fresh ingredients and the finest meat and seafood selections. In addition to premium steak cuts, other interesting menu items include a Ricotta and Filet Meatball ($10), a Japanese A5 Miyazaki Waygu Beef New York Strip and a Berkshire Pork Tenderloin ($30). If you are a wine connoisseur, don't miss the wine menu featuring over 600 premium bottles that should fit just about any request! The property also offers traditional Italian favorites at Bella Italiana, located on the third floor of the casino. Don't miss the Meatball Sliders (2 for $7) or the Bruschetta to get things started. When it comes to entrees, you will feel like you hit the jackpot with the Classic Lasagna ($15), Gnocchi ($16) or Shrimp Scampi ($18). Be sure to save room for dessert that include housemade specialties like Tiramisu ($6), Cannoli's ($4) and a Ricotta Cheesecake ($6). Also check out Ruyi for fresh sushi, Fire Pit Sports Bar for a beer and burger while watching your favorite sporting events and the Canal Street Café or Food court for quick and casual offerings.