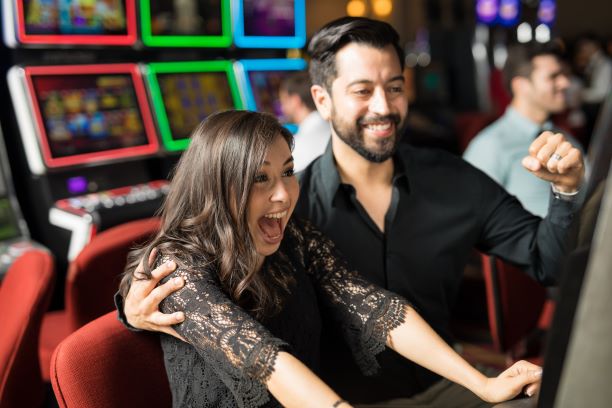 It's a slot player's world in modern casinos. Slots are by far the hottest games around, with their popularity having surpassed table games decades ago.
Casinos and slot manufacturers alike know they have a good thing going. Their business is to keep you coming back for more with new bonus wrinkles, new ways to play, exciting themes, ever-sharper graphics and sound effects. This year, we're seeing new spins on old favorites, creative games with variable paybacks, colorful jackpots with payback upgrades for a small ante, and much more. So with eager anticipation, let's take a look at Hot Slots of 2019!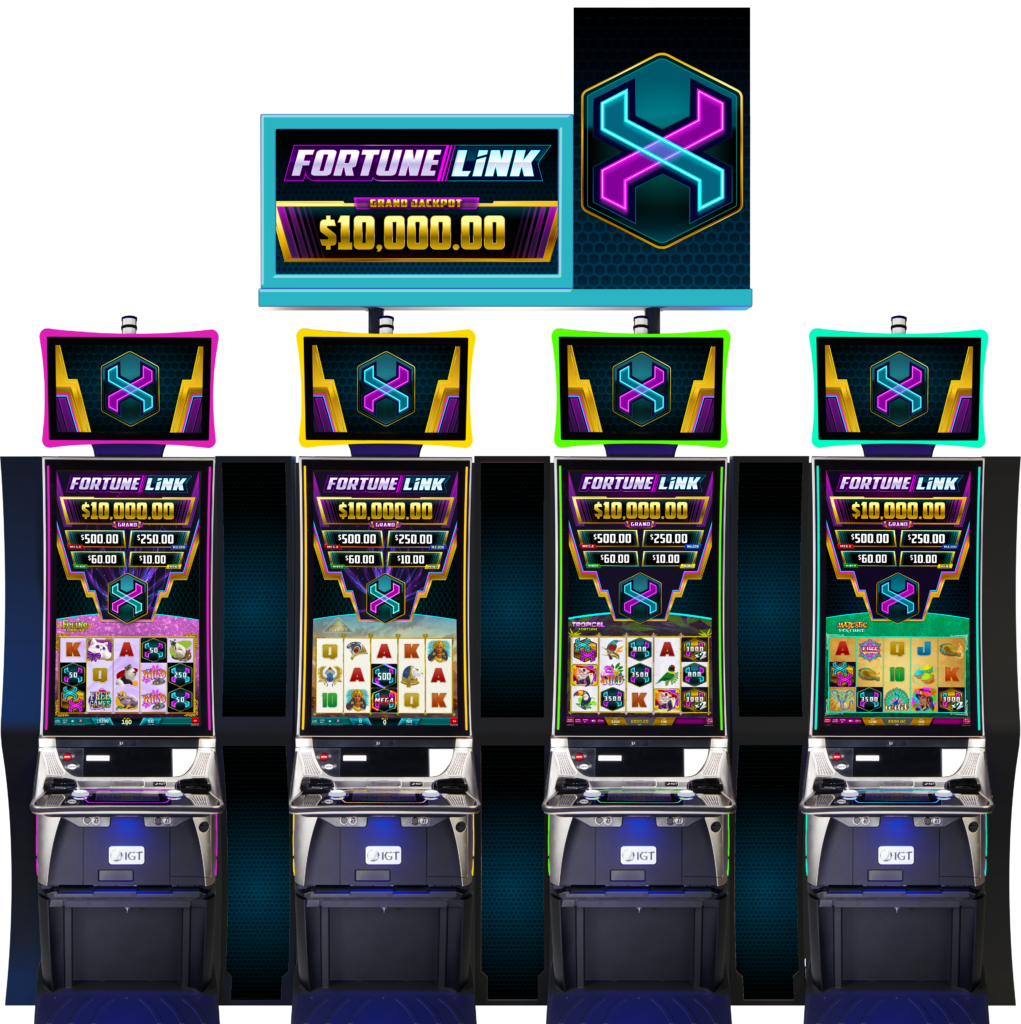 FORTUNE LINK, IGT
Long a pioneer in slots with progressive jackpots, IGT turns it all up a notch with a new lock and re-spin feature. Initially, the feature is available on two themes: Feline Fortune and Egyptian Fortune. Collecting either four, five or six fortune, link symbols in the base triggers the Fortune Link series. The difference in the requirement is your bet: Higher coin denominations mean you can launch the feature with fewer symbols. Once you've collected the required number of symbols, they remain locked in place during the Fortune Link feature. You then get three re-spins to collect more Fortune Link symbols.
There's a twist: Every time you add a Fortune Link symbol, you reset to three re-spins. If you get no Fortune Links on the first two respins, but get one on the third, the meter returns to three re-spins.The more Fortune Link symbols you collect, the bigger your prize. Filling the entire screen with Fortune Links symbols wins the top jackpot.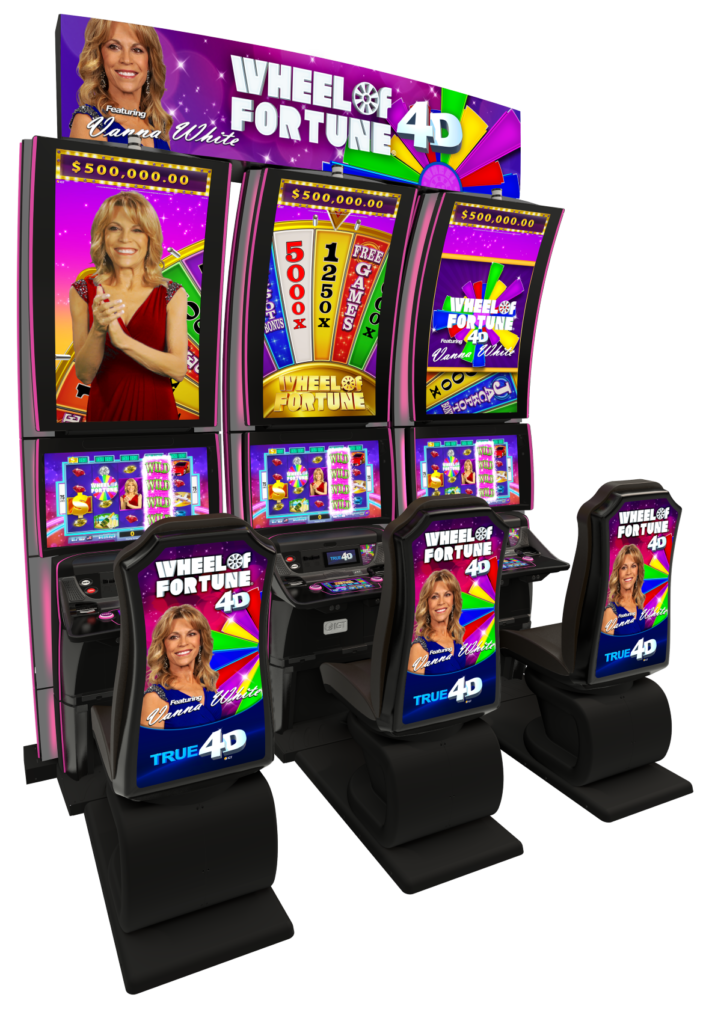 WHEEL OF FORTUNE 4D FEATURING VANNA WHITE, IGT
No new year would be complete without a new spin on Wheel of Fortune. This 75-payline video slot comes on IGT's new CrystalCurve True 4D gaming machine.
The fourth dimension in "True 4D" is touch. You can reach out to three-dimensional images and get a touch sensation. Instead of touching the screen or pushing a button to spin a prize wheel, you can reach out to the 3D image in front of the screen and give the wheel a spin.
You can bet from 100 to 500 coins, so on a penny machine your bet range is $1$5. With a bet of at least 300 credits, you qualify for a big-money wide-area progressive jackpot. For those unfamiliar with the terminology, wide-area progressives link multiple casinos so that portions of wagers at different casinos help build the same pot.
Among the game features are original audio and video featuring TV show hostess Vanna White. When you reach out to that 3D wheel to give it a spin, Vanna cheers you on.
Another feature is a jackpot bonus event. You select wedges from the wheel, and the wedges turn over to reveal items that correspond to a jackpot amount. Once you reveal three matching items, you win their jackpot.
Wheel of Fortune lovers – and there are a lot of them among slot players – will enjoy the new spin on a longtime favorite. And any slot player should at least get a look at what 4D can do. It's spectacular!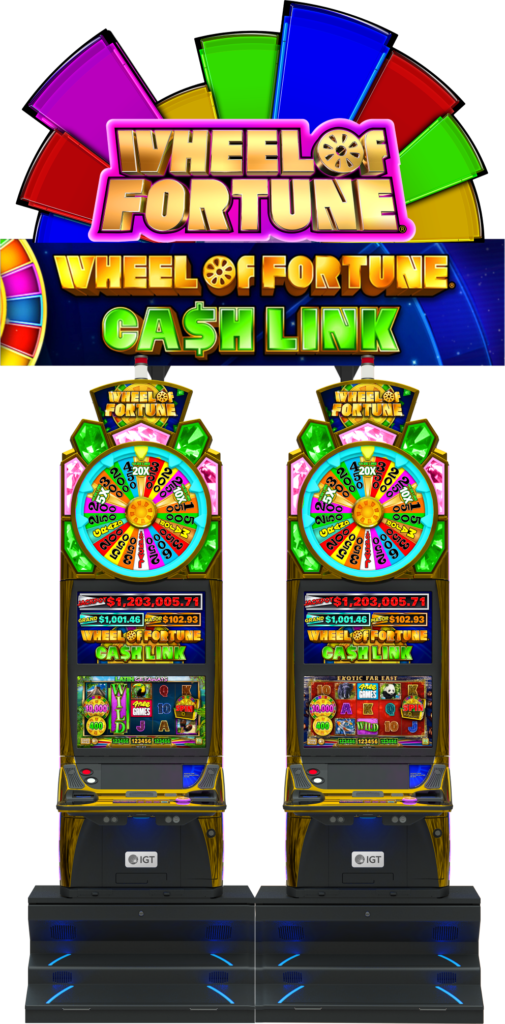 WHEEL OF FORTUNE CASH LINK, IGT

The five-reel video slots feature a multilevel progressive on two base games: Exotic Far East and Latin Getaways. Both are on IGT's Crystal Wheel gaming machine, with high-resolution HD video and a 20-inch wheel.
The Cash Link comes into play whenever you land a treasure chest on the fifth reel. When that happens, you win credits in the value of gold coins displayed when the treasure chest opens.
A free games bonus is triggered when free games symbols land on "reels:" one, three, and five, and can be retriggered for up to 200 free spins

MISTRESS OF EGYPT BINGO, IGT
IGT has something for Class II players with a bingo version of the hit Mistress of Egypt game. Class II bingo slots are staples in many Native American casinos. The player interface is slot-like, but the internal game that determines winners is electronic bingo.
During the base game, a pyramid symbol rotates on the top screen and levitates in the Mistress' hands until she releases it onto the reels. There, it can cover any symbol and become wild. Huge stacks of Mistress Symbols provide big wins, with five stacks triggering the top award.
Players who enjoy Egyptian-themed art packaging and frequent free-games will find what they're looking for in this 3×5 reel, 20 pay-line game.


THE GAME OF LIFE – CAREER DAY, SCIENTIFIC GAMES
WMS Gaming, which now is under the Scientific Games corporate umbrella, had success with it's the Game of Life slots a while back, Now, under license from board game owner Hasbro, Scientific Games creates a new slot adventure with a new three-reel game, The Game of Life – Career Day.
Players spin the reels and travel through life while collecting credit prizes, bonuses, and jackpots. Career Day is a 3-reel, 9-line game on the TwinStar J43 with iReels cabinet. The game boasts a life-changing, single-level, wide-area progressive jackpot that can be won in the base game and is part of Scientific Games' Cash Connection or Reel Adventures links.
The game's centerpiece is the Game of Life Bonus where players are assigned one of four careers – a firefighter, pro athlete, construction worker or culinary chef. You then spin for paydays, raises and spins of a wheel that award moves around the game board.
Stops along the way award credit prizes, additional spins of the wheel, and extra bonuses such as, the Weekend Getaway with free spins where reel 2 is Wild and all pays are multiplied by three; or the Groundhog Day Bonus where the reels spin and stop until a winning combination is awarded.
The goal is to reach the Retirement Island Bonus board game where even more prizes, multipliers, and bonuses are available.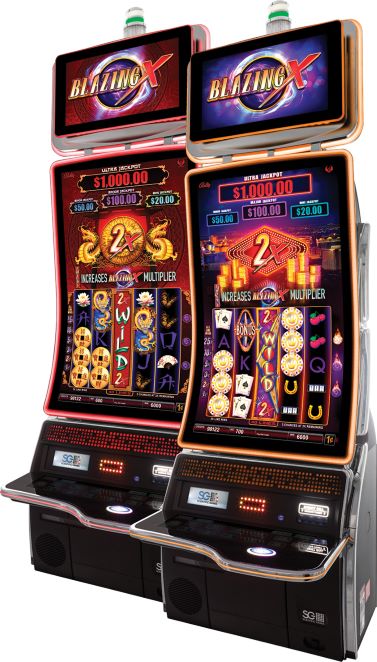 BLAZING X GAME SERIES, SCIENTIFIC GAMES
With two game themes – Blazing X – Asia and Blazing X – Las Vegas, this innovative series ramps up player anticipation for the possibility of Blazing X Multipliers on each spin.
Both themes are five-reel, 40-line video slots on the TwinStar J43 cabinet. There are four progressive jackpot levels available in a jackpot pick feature in which players touch the screen, not only to determine their jackpot level, but also for a multiplier that can put jackpot winnings into hyperdrive.
The Blazing X Feature, triggered when a Wild Banner symbol lands on reel 3, awards a 2x multiplier for three spins. For every Wild Banner symbol that lands during the three spins, the Blazing X multiplier increases to 3x, 5x, 10x and up to 25x. Blazing X also can be triggered during a Free Games Bonus. And if the Free Games Bonus is awarded during the Blazing X Feature, the current Blazing X multiplier is applied to all Free Games wins. During the free games, additional Wild Banner symbols achieved within three spins increases the multiplier. A Blazing X multiplier streak can really set your credit meter soaring!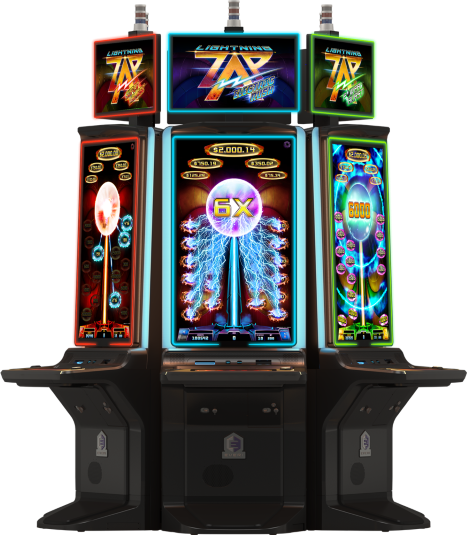 LIGHTNING ZAP JACKPOTS, EVERI
With no reels, no paylines and no pay tables,
Everi creates a new play experience that builds on the original Lightning Zap game.
Everi calls the jackpot games "innovation on video slots," available on three game themes: Electric Rush, Power Burst and Super Charge. Each has varying volatility levels and different features, and the series incorporates five linked progressives.
How does it work with no pay tables? Your prizes can vary. Check out the Electric Rush feature where an orb zaps everything to increase prizes by a random multiplier, then zaps away at prizes. In the Power Burst feature, the orb turns into a magnet and sucks in anywhere from four to 22 prizes. Each prize can be upgraded by a random multiplier. In the Super Charge feature, the orb selects four to eight prizes and increases them up to 1,000 times.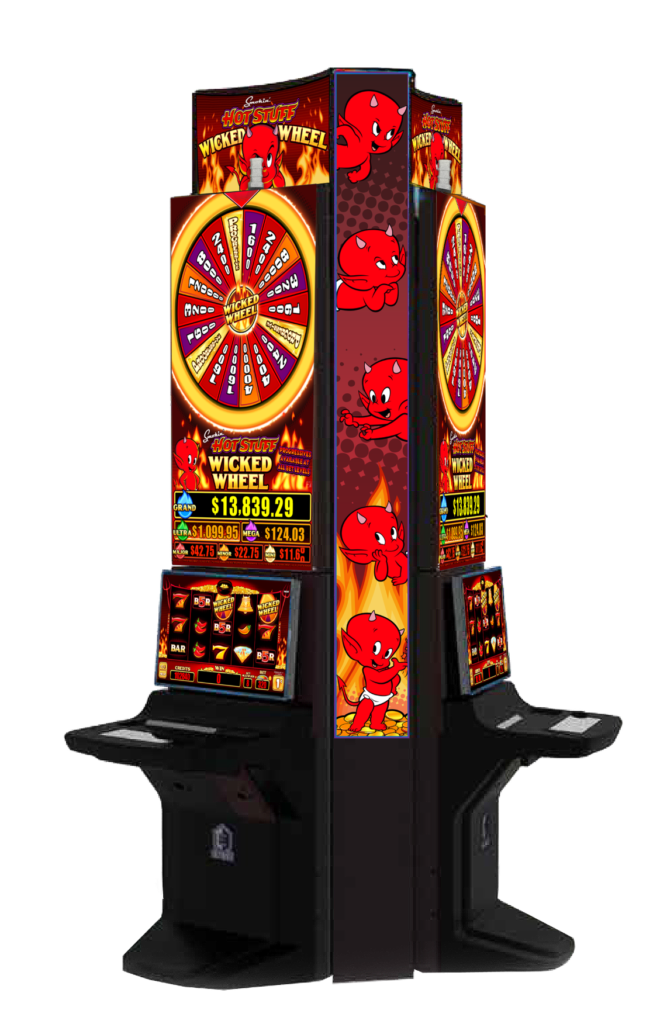 SMOKIN' HOT STUFF WICKED WHEEL, EVERI

Hot Stuff, the little devil of comic book fame, was a red-hot winner in the original Smokin' Hot Stuff slot. Now the mischievous imp with his asbestos diaper and trusty trident returns in a 243 ways to win slot, perfect for pennies, packed with multipliers, a progressive pick bonus and progressive jaclpots available at all bet levels
The progressive pick bonus is triggered randomly after any base game spin. Players pick from 25 coins to reveal either a progressive jackpot or pitchfork symbol. Hot Stuff removes the lowest remaining jackpot each time his pitchfork is revealed, thus guaranteeing higher prizes.
Also available is the Wicked Wheel bonus, triggered when three wicked wheel symbols land scattered on reels 3, 4, or 5. When a Hot Stuff symbol is part of a winning combination on reels 2, 3, or 4, it multiplies the winning combination by 2x, 3x, or 4x for some smokin' payoffs.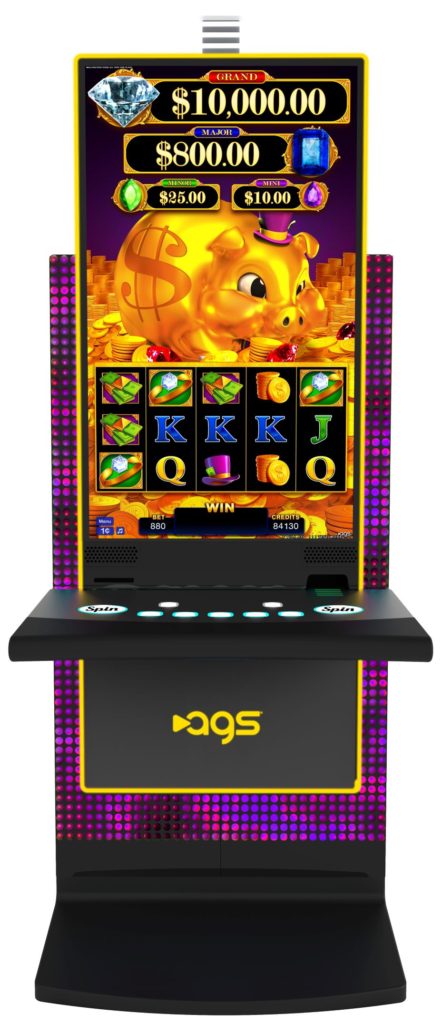 RAKIN' BACON XTREME JACKPOTS, AMERICAN GAMING SYSTEMS
A cherubic pig in a gold coin-filled room is a central figure in this five-reel game with a multi-level progressive that's packed full of player-favorite features, including free spins, multipliers and scatter pays.
As the wins add up, the golden pig gets fatter and fatter, until the player wins the Free Game Bonus and the golden pig explodes to reveals a pick screen. That screen gives you the chance to choose three different reel layouts for up to 3125 ways to win.
Additional free spins can be won during the Free Game Bonus, making this game even more potentially lucrative. During the randomly awarded Jackpot Pick feature, you touch and select icons until you match three of a kind, which awards a guaranteed jackpot pay.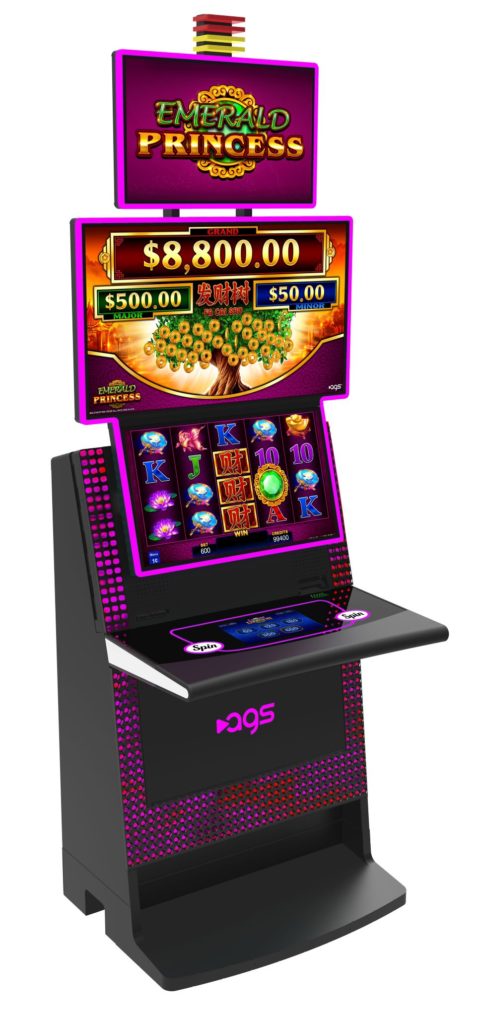 EMERALD PRINCESS, AMERICAN GAMING SYSTEMS
The second game in AGS' Fa Cai Shu family reprises the lucky money tree that brings the chance for fun and fortune.
Among the features are a three-level progressive jackpot, Free Game Bonus, and a Jackpot Bonus. During base-game play, three or more bonus symbols award eight free spins. The Jackpot Bonus may be triggered randomly during any base-game spin in which one or more Wilds appears. A Nudge Feature may be triggered randomly on any base-game spin in which one or more Wilds appear. When you win the Nudge, all Wilds on the screen will form full stacks of Wilds.
Three or more bonus symbols awards the Free Game Bonus, and during the free spons, the Nudge is in full force — any Wilds on the screen nudge to form full Wild stacks. Free spins can be retriggered, adding anticipation to gameplay.
The Jackpot Bonus is randomly triggered if one or more Wilds appear. During this feature, the player touches and picks from 12 coins until they match three coins to win one of the three jackpots or another Free Game Bonus.
SPARKLING ROSES: COLOR BLOOM AND CLASSY ROSES
Color Bloom, Konami Gaming: There are 15 reels worth of excitement, including multipliers and a linked progressive jackpot in a pair of colorful games from Konami.
Inspired by Konami's popular Sparkling Roses Multiple Lines 15-REELS games, the new Roses games take advantage of the large, high-definition screens on curved Concerto Crescent slot cabinet and the tall Concerto Stack cabinet.
Both games feature the Color Bloom progressive jackpot, which requires an ante bet to activate. When you make the ante, you also receive a bonus payout upgrade of two credits per line.
When active, the Color Bloom progressive feature appears randomly at any time during play, scattering Blue, Purple, and Gold jackpot rose symbols across the reels. Any three matching colored bloom symbols award the corresponding jackpot.
For extra bonus fun in Sparkling Roses: Color Bloom, mystery multipliers randomly appear at random times during the main game and can multiply your winnings up to 144 times.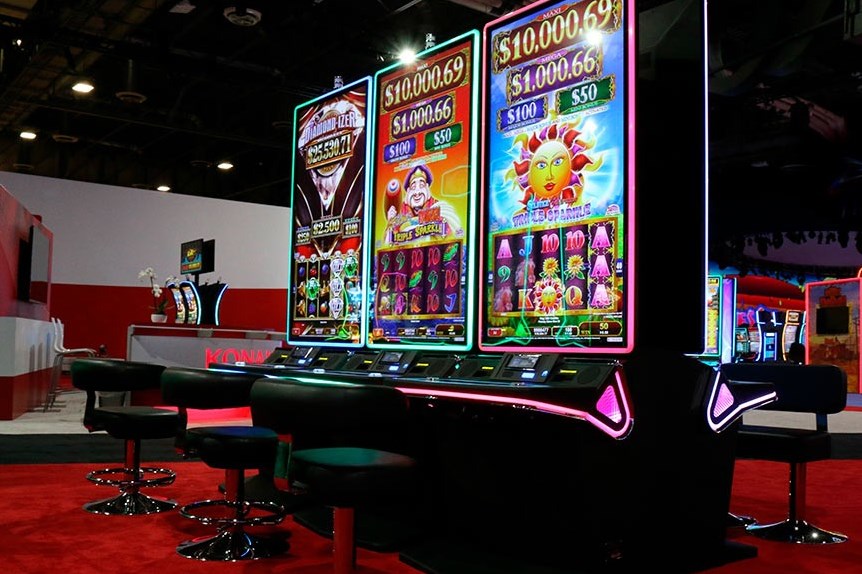 TRIPLE SPARKLE SERIES:
Solstice Celebration Triple Sparkle and Riches with Daikoku Triple Sparkle, Konami Gaming: Konami gives the classic Solstice Celebration and Riches with Daikoku games a touch of glitz in the new Triple Sparkle linked progressive series.
The Triple Sparkle jackpots are available exclusively on Konami's 65-inch 4K Ultra HD Concerto Opus cabinet. It features a custom-lighted TouchDash button deck, dual spin buttons, dual cup holders, optional USB charger, and four times the pixel depth of standard HD resolution.
The 40-line games have five video reels and incorporate Konami's Xtra Reward format as well as two progressive jackpots bonus.
Whenever Framed Action Stacked Symbols occupy all positions on two or more reels, they launch the Sparkle Feature. In the feature any reels with FRAME appearing on them are nudged until all positions on that reel have FRAME and all positions inside FRAME are replaced with the same symbol. Players can win an instant Mini bonus, Major bonus, Mega progressive, or large Maxi progressive starting at $10,000.
Those who wager at least 180 credits also have a chance at the Triple Sparkle feature. At the end of a triggered Sparkle Feature, all framed Action Stacked Symbols are randomly replaced with the same symbol. If a MAXI, MEGA, MAJOR BONUS or MINI BONUS symbol appears, then the corresponding prize is awarded.