On May 14, 2023, we lost one of the biggest icons of the poker and gambling world. Doyle Brunson, the Godfather of poker, better known as "Texas Dolly," passed away at the age of 90. Brunson, a two-time World Series of Poker Main Event champion and ten-time winner of other WSOP events, was a Texas native and worked the poker scene for years running with some of the biggest names in the business including Benny and Jack Binion, Johnny Moss and other gambling greats. He was also a Poker Hall of Fame inductee, the author of many instructional books about poker and gambling, including his famous Super System series that was considered the poker bible by many and overall, a great individual that will be missed by many, but certainly not forgotten.
We had the opportunity to interview the poker legend back in 2009 about his autobiography The Godfather of Poker and felt it was appropriate to share it with everyone in this issue.
In the world of poker, there has been one legendary icon who has served as its ambassador and one of the most respected players in history … that icon is Doyle "Texas Dolly" Brunson. Brunson, now 75, is the Babe Ruth of poker and virtually perfected Texas Hold 'em and the art of gambling.
Brunson recently came out with his autobiography, The Godfather of Poker: The Doyle Brunson Story, which gives readers a look into the life of a gambler and highlights real-life stories that show the dangers of the life of an old-time gambler. We recently caught up with Brunson to discuss the new book, a bit of his past and what lies ahead.
Southern Gaming: What do you think about the image poker players have today serving somewhat as celebrities?
Doyle Brunson: No one ever thought poker would be where it is today. It's flattering that we get so much attention, but I don't think it's deserved. I think today's players are just lucky they came along when they did and should appreciate what we did 40 or 50 years ago to keep poker going.
SG: When you were playing cards in west Texas, it was a rough environment. The games were raided by police and robbers, and you mentioned that you saw players shot at the same table you were at or nearby. What do you think about the advancements in poker, and is there anything you miss about the old days? 
DB: I personally liked the old days better because there were more cash games. People put their money on the table to gamble. I just don't care for the tournaments because you get so many non-players that win tournaments who wouldn't survive in a real poker atmosphere. I think the public gets the wrong idea about some of these guys who win tournaments. Most of them can't make a living playing poker.
SG: Do you feel Internet players have an advantage over live tournament and cash game players?
DB: Online players just punch numbers into a computer and instantly get the true odds of the hand they are playing. I spent hours and years determining what the real price was on different hands verses other hands. The Internet has developed a lot of players, and it still does. These kids are pretty darn good until they come off the Internet. Once they do, most of them don't fair too well in a live environment.
SG: Why do you think that is?
DB: Poker is about the people more than it is the cards. You have to be able to decide what to do at different times. On the Internet, you don't know your opponent, and you never see him, so you have to determine his betting patterns and go off of that.
SG: You were one of the first professional poker players who published a book about poker. Your first book, Doyle Brunson's Super System, broke the barrier of revealing an insider's tips and strategies of not only poker, but gambling in general. Do you feel like you launched the revolution of educating gamblers on how to play better?
DB: My book was the first real poker book ever put out there, so it made a lot of players angry. But it also gave away a lot of secrets and made some players better and some players bad. So, it really worked both ways. Then, they started playing different games that weren't in the original Super System, and some games that were in the original Super System weren't being played anymore, so we updated it and took out draw poker and 5-card stud. We actually recently updated it again.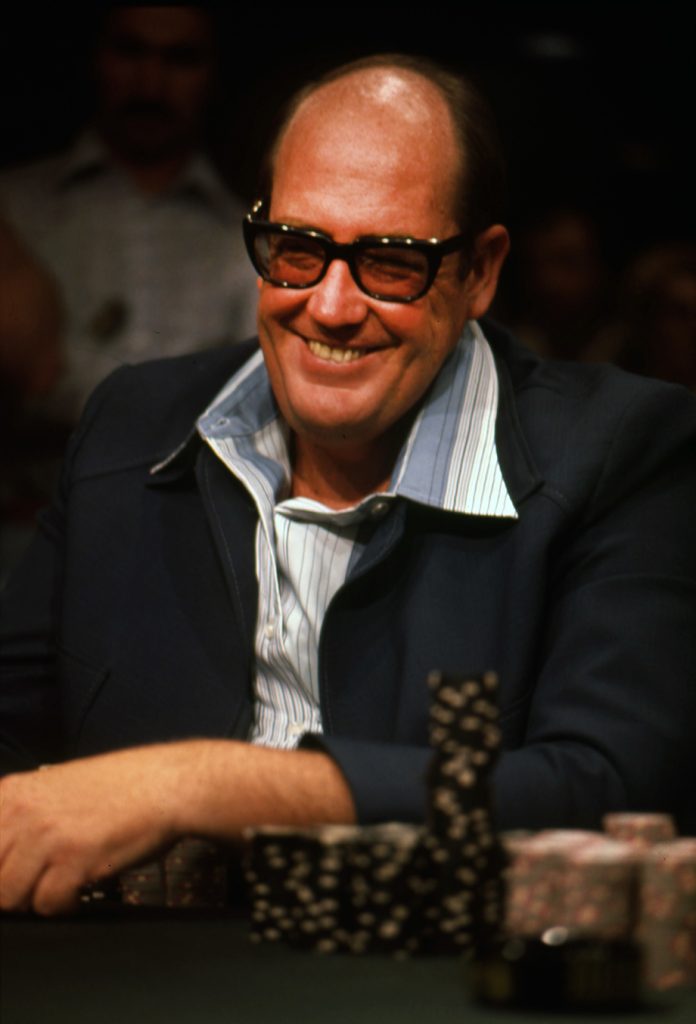 SG: What drove you to come out with a book about your life?
DB: I started the book five years ago and stopped it six different times simply because I didn't want it to come out. I'm a poker player. That's what I do. I don't think poker players should be celebrities. I'm not an entertainer or a comedian — I'm a poker player. Then, an old friend and college classmate of mine, Mike Cochran, persuaded me to do it. Every time I would quit, he would come beg me back into it, and finally he convinced me to finish it.
SG: What are some of the more interesting wagers or prop bets you have seen over the years?
DB: The ones I remember most are the weight bets back when we were heavy. We did that quite often, but usually they didn't come to a conclusion because we would settle them before they were completed. One time I lost 100 pounds on a bet, and I got paid on a big bet on that one.
SG: You won two of your World Series Poker Championships with 10-2, and the hand is now known as the "Doyle Brunson." Does this show that when it gets down to heads-up play, you can win with any two cards?
DB: The first time I won it, I made a bad read on a guy and he happened to have a better hand, but I drew out on him. The second time, it just happened. I had two pair on the turn, and he had two under pair. It was an accidental thing, but I happened to have the same hand again, and I made a full house again. But it is a bad hand and a sentimental hand that I tried playing for a while, but I learned pretty quickly not to.
SG: In reference to the biggest cash game in history simply known as "The Game," you orchestrated an ongoing match between the biggest poker pros in the world against Texas billionaire Andy Beal. The game went on for years and the blinds got as high as $100,000 and $200,000. What can you share about the current situation of that game? Who came out ahead, and who had some of the larger wins?
DB: The Corporation (Doyle's team of pros) came out ahead. I think probably my son Todd and Phil Ivey had the biggest wins. Andy was a very determined individual, and he is very talented. He has been a big success in everything he has ever done. I just read that despite this economic depression, he managed to triple his net worth, which was already in the billions — so you can see what an amazing man he is. He is also one of the nicest guys I've ever had the pleasure of dealing with. He just wanted to prove he could be the world's best, and that's just something you don't do overnight. He kept getting better, all the while going against the best players in the world. So, we did beat him, but it was a tough battle, and he was a worthy opponent.
Fast Favorites with Doyle Brunson:
Sports team: Dallas Cowboys
Sport to bet: NCAA basketball
Place to visit: Budapest, Hungary
Hobbies: Used to be golf, but now it's swimming
Car: Escalade
Starting hand: Two aces and then two kings
_______________________________
Article by G. Douglas Dreisbach
Photos courtesy of LVCVA Archive