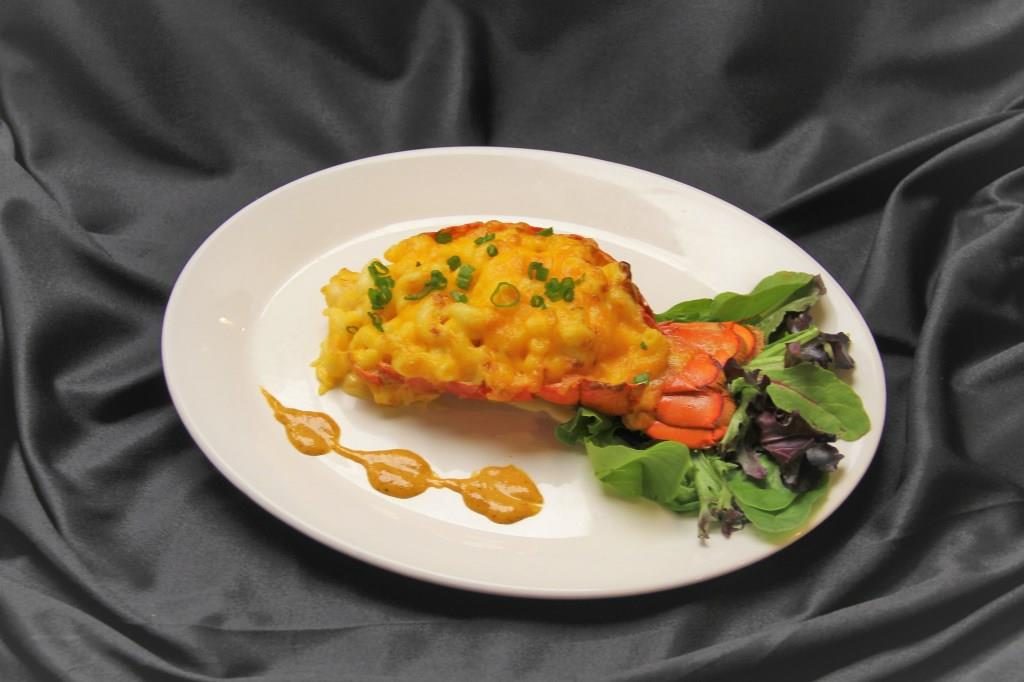 Lobster Truffle Mac-N-Cheese

Chef Deandre Frost from BT Steakhouse Bistro at Boomtown Casino Biloxi 

About this dish: I chose to put a unique twist on an American favorite because, let's be honest, who truly does not like mac and cheese? The touch of the truffle oil and the addition of the scrumptious lobster…. the word heavenly will soon come to mind.
Lobster Truffle Mac –N- Cheese ingredients:
2 cups Milk

1 lb. Velveeta (1 box of block)

1/2 ea. Boursin Cheese 5.2 oz. (Garlic & Fine Herbs)

1 tsp. Lobster Base

1 tbs. White Truffle Oil

1 cup Shredded Cheddar Cheese

4 cups Cooked Macaroni (Warm)

4 ea. Raw Lobster Tails

1/4 lbs. Unsalted Butter

¼ lbs. All Purpose Flour

Salt & White Pepper to taste
Lobster Truffle Mac –N- Cheese directions:
 First take lobsters and butterfly cut from tail to top of body make sure not to cut completely through the lobster.

Pull meat from shells and open shell wide as it will allow.

Cook in boiling salted water in a medium size pot for 8-12 minutes.

Once done pull meat from shells sit to the side to cool then cut into large chunks for a later use.

Grate all the Velveeta cheese and put to the side.

 Melt the butter and whip in the flour to make a blonde roux and put this to the side for a later use to thicken the sauce.

Heat milk in small size pot until it is just about to reach a boil, then fold in the cheese and keep a steady stir so the cheese will not scorch on the bottom of the pan.

Fold in the roux and allow to cook an additional 1-2 minutes.

Crumble in the Boursin cheese.

Add the oil and the lobster base and fold in the cooked pasta and lobster meat.

Place in your baking pan, sprinkle cheddar cheese on top and bake @ 350 for 15- 20 minutes until golden brown.

Ancho Sauce ingredients:
2 tbs. Ancho Base

 

1 cup Heavy Cream
Ancho Sauce directions:
Add all ingredients to a skillet

Reduce heat for 4-5mins until thickness reaches viscosity of a glaze.