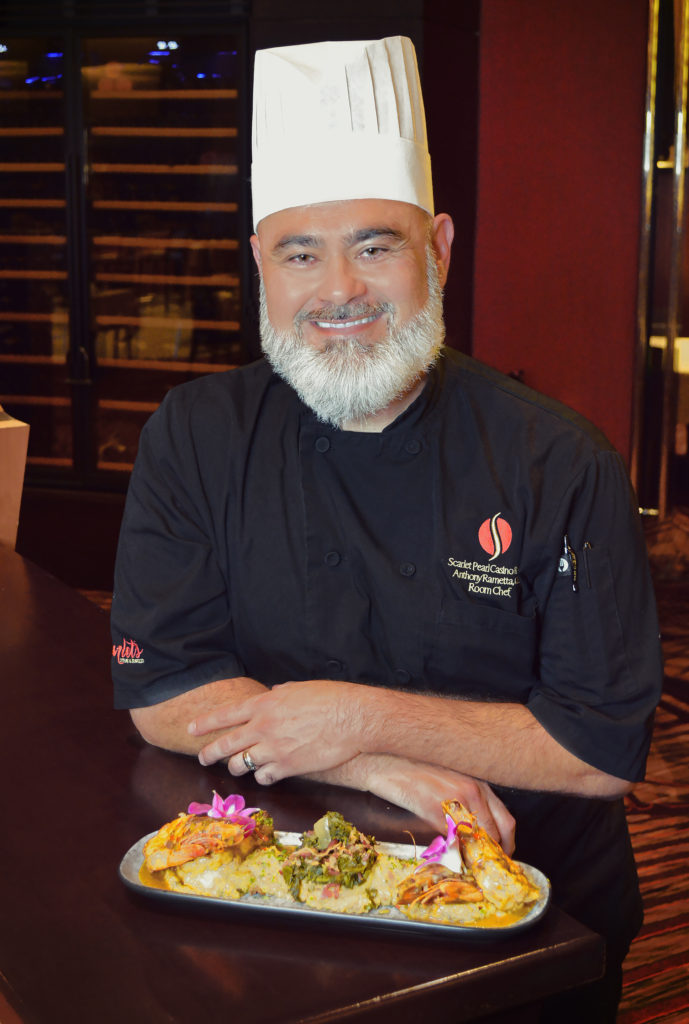 Colossal Skull Island Shrimp & Four-Cheese Tasso Grits
Chef Anthony Rametta from Scarlet Pearl Casino Resort – D'Iberville, MS
About Chef Anthony: Chef Anthony Rametta is the Room Chef at Scarlet's Steaks & Seafood at Scarlet pearl Casino Resort and has been with the Scarlet Pearl Family for two years. Previously, Rametta has been a chef for more than a quarter of a century and credits his mother for his interest in cooking. "I'm not trained in any one style," he said. "My culinary style is all over the place. I love all different types of food."
Why he picked this recipe…and why it should win: I selected this recipe to show the depth of flavors we have here along the coast of Mississippi and Louisiana. I am a huge fan of Polenta/grits, cheese, greens and of course a nice cold beer. To me the dish signifies togetherness. I think it should win because the overall taste profile, you can taste everything in layers,
Ingredients For grits:
5 cup white or yellow grits
1 tsp. unsalted butter
.5 tbsp. Red pepper, brunoise cut
.5 tbsp. green pepper, brunoise cut
.5 tbsp. yellow pepper, brunoise cut
.5 tbsp. celery, brunoise cut
.5 oz. Manchego cheese
5 oz. aged white cheddar cheese
5 oz. boursin cheese
5 oz. freshly shaved parmigiana
2 cups chicken stock
¾ cup heavy cream
Salt and pepper to taste
Method for grits:
Add unsalted butter to medium size stock pot on medium high. Once butter is melted and hot…
Add red, green, yellow peppers, and celery and sauté just until they start to become tender.
Add tasso and cook until vegetables are tender.
Add chicken stock and heavy cream and allow to come to a slight boil and add grits, reduce. Heat to medium and stir occasionally making sure not to allow the grits to scorch.
Once grits are tender (or to your liking) add all the cheeses and salt and pepper.
The grits should be a little tight so they hold sauce.
Ingredients For Shrimp:
16 giant U3/4 colossal shrimp (or as big as you can get them), peeled and deveined with tail left on
¼ cup blackening seasoning (redfish seasoning; like Paul Prudhommes)
2 tbsp. extra virgin olive oil
1 tbsp. Red pepper, brunoise cut
1 tbsp. green pepper, brunoise cut
1 tbsp. yellow pepper, brunoise cut
1 tbsp. shallot, chopped
1 tsp. garlic, chopped
1/3 cup Abita (turbo dog) beer
5 tbsp. lemon juice
2 tbsp. Worcestershire sauce
1 tbsp. red wine vinegar
1 tbsp. Crystal's hot sauce (more if you like it spicy)
2-4 tbsp. unsalted butter
Fresh herbs
Method for Shrimp:
In a large sauté pan add extra virgin olive oil and allow to get very hot.
Generously sprinkle blackening seasoning over shrimp and carefully place into pan and allow them to cook about half way (approx. 2 minutes)
Add peppers, garlic, and shallot and cook shrimp for another minute.
Add Abita turbo dog beer and turn heat back up to medium high and allow beer to reduce by half.
Add lemon juice, Worcestershire sauce, crystal hot sauce, and red wine vinegar. Stir well to mix all flavor's together.
When shrimp are done and liquid has reduced by half, shut off heat and add 2 tbsp. of unsalted butter constantly moving the pan until all butter has melted. Add more depending on how rich you like your sauce.
Ingredients For Braised Greens:
5 lbs. collard greens trimmed, washed and roughly chopped
4 oz. bacon, chopped (grease reserved for greens)
¾ cup sweet onions, chopped
5 cup chicken broth
Salt and pepper to taste
Pinch of red pepper flakes
Method for Greens:
Bring a large pot of heavily salted water to a boil. Once the water boils, add greens
and cook until wilted and tender, about 5 minutes. Drain and set aside.
Place bacon in a large frying pan and cook over medium-high heat, stirring
occasionally, until browned and fat is rendered, about 3 minutes.
Add onion and cook until softened, about 4 minutes.
Add greens and turn to coat well.
Add broth – it should cover greens – let cook until broth is reduced and greens are very tender, about 15 minutes.
Add crushed red pepper flakes, season with salt and freshly ground black pepper. Set aside for plating.
Plating Instructions:
Place grits in the center of your serving vessel, using a spoon to make a small dip into the grits.
Place braised greens inside the dip made in grits.
Using a spoon or small ladle, spoon sauce around grits, and arrange prawns 2 on each side.
Garnish with fresh lemon and fresh chopped herbs.