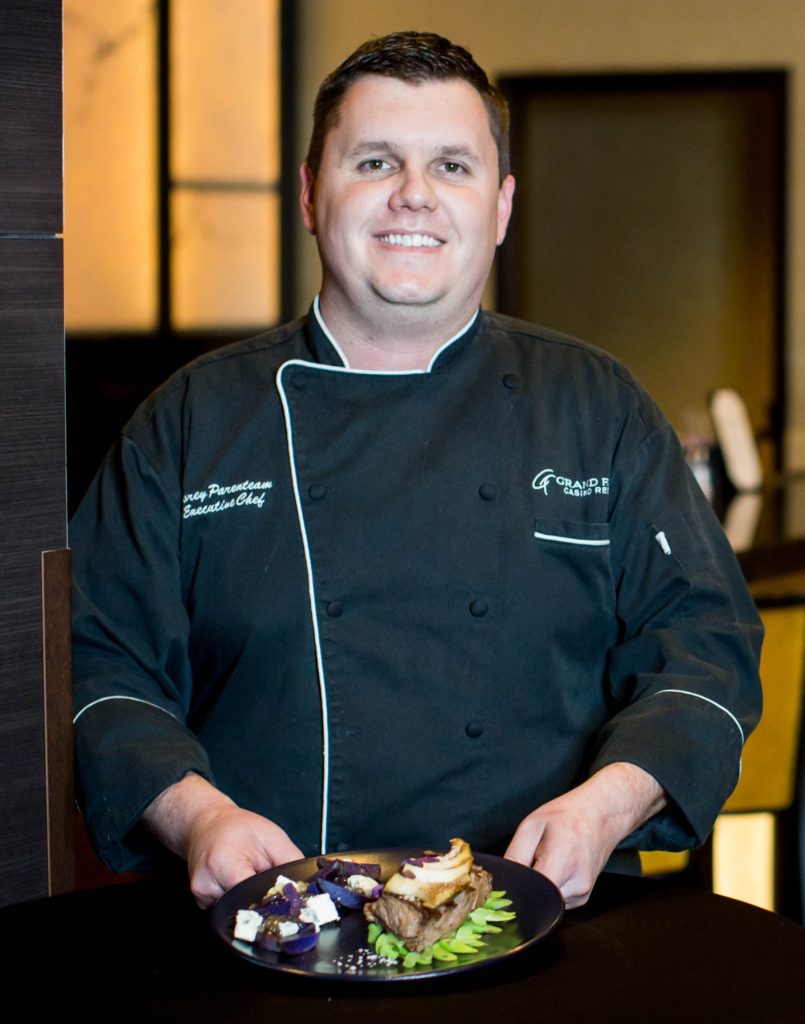 Wagyu Strip 8+ with Cherry Blossom Shoyu, Purple Potatoes and Honey Caviar
Chef Corey Parenteau from Grand Falls Casino & Golf Resort – Larchwood, IA

About Chef Corey: Executive Chef Corey Parenteau began his culinary journey at a young age cooking with his father and grandfather in their family restaurant. This introduction to the culinary arts was the catalyst for his love for food, recipe creation and serving others. Parenteau has worked in every position within the food service arena and served as an instructor for students working towards a culinary arts degree from Colorado Mountain College. At age 23, he was awarded a coveted position at the AAA Four Diamond Resort at Keystone in Summit County, Colorado where he served under his mentor, corporate Executive Chef Scott Rydek. After years in the mountains of Colorado, Parenteau moved to Denver where he opened three restaurants with business leaders and celebrity chefs like Chef Carrie Baird, Bravo's "Top Chef" final four contestant on season 15. Parenteau's strong roots and desire to be closer to family, along with the opportunity to serve as executive chef, brought him to the Sioux Falls area and Grand Falls Casino & Golf Resort. Today, as the executive chef at Grand Falls Casino & Golf Resort, Chef Corey Parenteau brings over 15 years of culinary experience to oversee Ruthie's Steak & Seafood, Robert's Buffet, Big Drop Café, and Grand Falls banquets culinary teams.
Ingredients for Honey Caviar:
220 g. Honey
Water
2 g Sodium Alginate
Method for Honey Caviar:
Combine water and alginate for 2 minutes with an immersion blender.
Add honey, continue mixing for 2 minutes. Chill for 12 hours to release air bubbles.
Bring to room temp in small nosed squeeze bottle, expel it drop by drop into calcium bath 6 inches from surface of water. Let sit in water 1 min. Carefully remove with sieve spoon. Rinse in water, serve immediately. 30 per serving. (For Calcium Bath, whisk together 1000 g. water and 5 g. Calcium Chloride to room temperature.
Method for Purple Potatoes:
Slice lengthwise into quarters and steam until tender. (approx. 12 quarters per serving)
Garnish with Maytag Blue Cheese
Method for King Trumpet Mushroom and Asparagus Sides:
Thin slice mushrooms lengthwise 1/8 inch, 5 slices per serving, 20 slices total.
Melt butter in French pan, sear mushrooms on both sides 2 minutes.
Remove from heat, finish with 2 tablespoons Cherry Blossom Shoyu.
Layer on top of steak.
Place whole asparagus in boiling water 30-60 seconds depending on thickness of asparagus. Remove from water shock in ice water 30 seconds. Chill, dry asparagus. Cut asparagus on a 45 degree bias to create diamond shape. 8 pieces per serving 32 pieces total.
Toss in fresh squeezed lemon juice and Malden salt.
Plate in layers under steak.
Mashima Reserve 8+ Graded Strip Loin 6oz. per serving
Place 2 tablespoons cooking oil and 2 tablespoons butter in medium high heat French pan.
Sear both sides of beef until internal temp reaches 120 degrees F. Remove from pan, rest steak 5 minutes.
Slice beef on a 45 degree bias, plate on top of asparagus, top with Malden salt. Garnish.