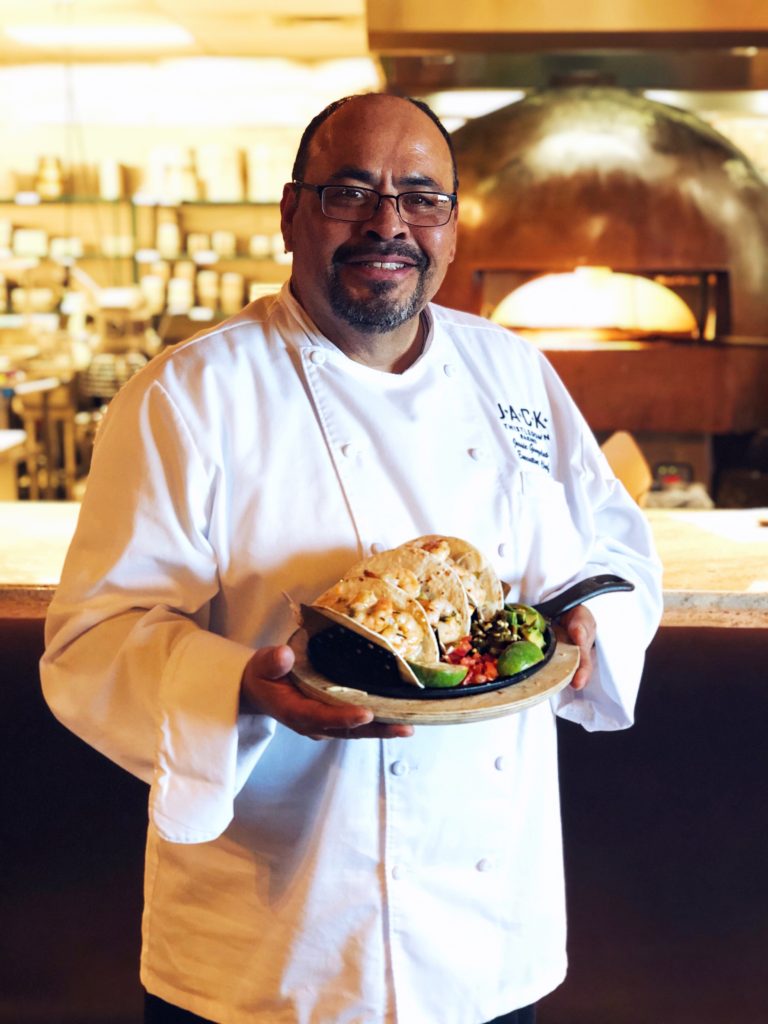 Margarita Shrimp Tacos
Chef Jessie Gonzales from JACK Thistledown Racino – N. Randall, OH

Why Chef Jessie chose this recipe: My inspiration for the dish was because it is great for the summer season. Filling this recipe with light but flavorful ingredients makes it a delicious meal to enjoy during the warm weather.

Ingredients:
2 cups yellow onions, finely diced
1/2 cup garlic, chopped
1 1/4 cups lime juice
3 ounces triple sec
5 ounces tequila
4 ounces butter
1/2 tablespoon ground coriander
3 tablespoons fresh cilantro, medium diced
1/2 cup poblano peppers, medium diced
1 1/2 tablespoons cornstarch
1 ounce water
48 medium shrimp, sautéed in butter
6-inch tortillas
Shredded cabbage
Sliced avocado, diced tomato and diced jalapeno's
Method for Preparation:
Sauté onions, poblano peppers and garlic until tender
In saucepan, add lime juice, triple sec and tequila and simmer for about 5 minutes
Melt butter slowly and stir in ground coriander
Sautee shrimp set aside
Add sautéed onion garlic and peppers in saucepan with liquid and thicken with cornstarch and water slurry.
When thickened add cooked shrimp to sauce.
Plating Instructions:
Grill 6-inch flour or corn tortilla until warm, fold in half.
Add shredded cabbage to the center of tortilla.
Remove tails from shrimp and place 4 shrimp on top of cabbage.
Garnish with fresh avocado, diced jalapenos and diced tomatoes.