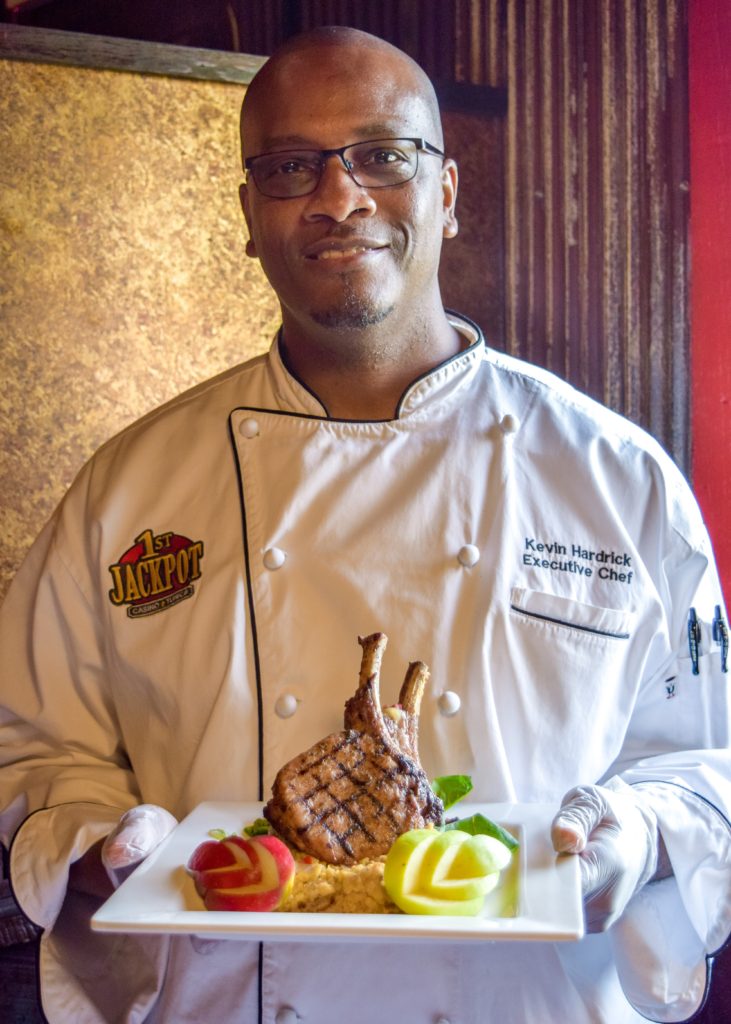 Fuji Apple Stuffed Pork Chops with Sage Dressing
Chef Kevin Hardrick from 1st Jackpot Casino – Tunica, MS
About Chef Kevin and his recipe: Chef Kevin has been in hospitality management his entire 26-year career and has also held several food and beverage management positions. Over the span of his career, he has continued to be team driven, a motivator and leader that maximizes the potential of the culinary team. When he is away from work, he likes to spend time with family, golf, fish, and play basketball. He chose this recipe because it is one of the South's favorite dishes and is deserving of winning.
Ingredients for Sage Dressing:
1 (16 ounce) package dry corn bread mix
2 eggs, beaten
2 tablespoons butter
1 small onion
1/2 cup chopped celery
2 cups chicken stock
salt and pepper to taste
2 tablespoons dried sage
Method for Sage Dressing:
Prepare the dry corn bread mix according to package directions. Cool and crumble.
Preheat oven to 350 degrees F. Grease one 9×13 inch baking dish.
In a large skillet over medium heat, melt the butter and sauté the celery and onion until soft.
In a large bowl, combine the celery, onions, 3 cups crumbled corn bread, eggs, chicken stock, sage and salt and pepper to taste; mix well.
Place into prepared dish and bake at 350 degrees F for 30 minutes.
Ingredients for Apple Stuffing:
1-1/2 teaspoons butter
1-2 large Fuji apples – peeled, cored and cut into 1/4-inch dice
1 tablespoon white sugar
1/2 teaspoon ground cinnamon
Method for Apple Stuffing:
Melt butter over medium-high heat and cook until it turns golden brown, 1 to 2 minutes.
 Add apples and cook over medium-high heat until apples just begin to soften around the edges, 3 to 4 minutes.
Sprinkle in 1 tablespoon sugar and cinnamon and continue cooking another 2 minutes.
Remove from heat. Let cool to room temperature.
Method for Pork Chops and Plating:
Split four 14oz Pork Chops down the center until about ½ inch from bone.
Mark the Pork Chops on the grill then finish in the oven.
Scoop 6oz of dressing on the center of the plate.
Stuff the pork chop with baked fuji apples and place pork chop on top of dressing.
Garnish with red and green apples