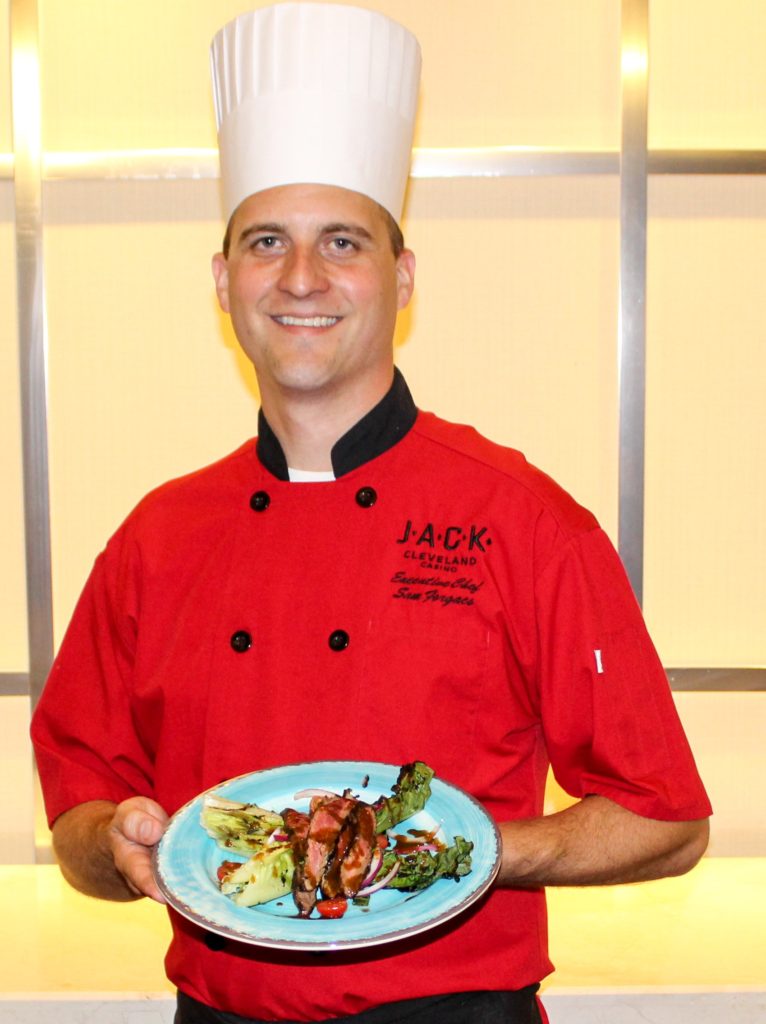 Marinated Flank Steak with Grilled Romaine Salad & Chipotle Lime Sauce
Chef Sam Forgacs from JACK Cleveland Casino – Cleveland, OH
Why Chef Sam chose this recipe: Representing our buffet's seven stations, our guests compile ingredients to create their own unique dish. This versatility of the buffet is what inspired me for this recipe. I utilized such ingredients as salad toppings and a protein from a hot station of the buffet to create a unique blend of flavors and textures that could only be put together by having so many options at your fingertips. I hope you enjoy it as much as I do!
Ingredients for Salad:
2 heads of romaine lettuce (washed, and cut into quarters length wise)
1 ea. red onion julienned
½ pt grape tomatoes split
2 tsp olive oil
Salt and pepper
Salad Preparation:
Heat grill to medium high heat
Toss lettuce with 1 tsp of olive oil, salt and pepper
Place over the fire on the grill and allow to wilt and slightly char on all sides
Remove from grill and set aside to cool
Once cool remove root end of hearts keeping the quarters intact
Toss the grape tomatoes with the other tsp of olive oil, salt and pepper, set aside.
Ingredients for Flank Steak Marinade:
1 tbsp. canned chipotles in adobo
½ tbsp. garlic
½ bunch cilantro
2 oz. olive oil
2 oz. soy sauce
3 oz. red wine
1 ½ lbs. flank steak
Marinade Preparation:
Combine all ingredients in a food processor container (Except the steak!) and using an immersion blender, puree until smooth.
Place into a container and add the flank steak and allow to marinate overnight or minimum of three hours.
Cook on grill over medium high heat and cook to medium, or desired temperature is achieved. Allow steak to rest for 5min before slicing across the grain into ¼" strips.
Ingredients for Chipotle Lime Sauce:
2 tbsp. Chipotles in adobo
½ cup Honey
3 tbsp. Dark Balsamic vinegar
2 tbsp. Dijon mustard
½ cup Lime juice
1 ½ tbsp. Garlic
½ bunch Cilantro
Salt and pepper
Sauce Preparation:
Combine all ingredients into a food processor or container to use with an immersion blender.
Blend all ingredients until a sauce consistency is achieved.
Assembling the plate:
Place the grilled romaine hearts on a plate in an X shape.
Add the split grape tomatoes and julienne onions to the sides and tops of the lettuce.
Top the salad with the thinly sliced flank steak
Drizzle with the lime chipotle sauce.
Serve either warm, room temperature, or chilled to your liking.