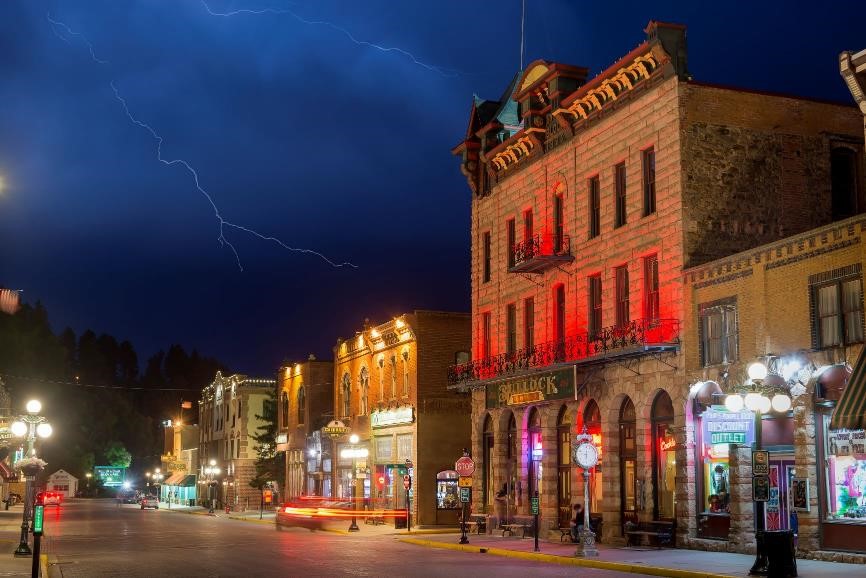 The town of Deadwood, South Dakota was born in the heady days of the Black Hills Gold Rush. The discovery of gold in the Black Hills in 1874 and in Deadwood Gulch in late 1875 led thousands of settlers to the area, erecting a town almost overnight in 1876. Many of the most famous (and infamous) characters of the Old West passed through the town at one time or another. Outlaws like Jack McCall and lawmen like Seth Bullock spent considerable time in Deadwood, and the city remains an integral component of the mythology of the Old West.
Deadwood has a special place in the American consciousness, these images established by countless cowboy and outlaw dime store novels, films, video games, and television shows that celebrate the rich history of the town. However, times have changed and these days, Deadwood has been transformed from a rough and tumble mining town, to a world-class destination for casino gaming, outdoor excursions, historical tours, historic preservation and more.
The Colorful History of Deadwood
The Black Hills were home to the Lakota People with minimal settlement by Europeans until a rich vein of gold ore was found near the town in 1875. As was par for the course at the time, the discovery of precious minerals led to a massive migration of miners, industrial concerns, tradespeople, merchants, madams and more. By 1876, Deadwood went from being a one-horse town to a bustling settlement of more than 5,000 people.
The early history of Deadwood is genuinely fascinating. Early settlers and visitors included people that are still very much alive in modern media. The critically acclaimed HBO series "Deadwood" introduced modern audiences to many of the individuals that helped create the Deadwood legend. These Old West luminaries include merchants like Charlie Utter, who came with one of the first wagon trains and was a major force in provisioning the early settlement.
Law enforcement officers also resided in Deadwood and dispensed their own unique form of justice throughout the territory. Lawmen like Seth Bullock and Wild Bill Hickok also lived and died in the town. After a time, mining activity calmed down and the town became a permanent settlement, and with South Dakota's entry into the Union in 1889, Deadwood became a part of the United States.
Transformation into a Black Hills Casino Destination
Long gone are the days of lawlessness and outlaws dueling in the streets. (The exception being the shootouts staged by reenactors on Historic Main Street that take place Memorial Day weekend through mid-September.) While the town continued to be a natural resource hub long after the gold rush, South Dakota and Deadwood have embraced their history and the area has become a premier casino and vacation destination in the Black Hills. Following in the footsteps of cities like Las Vegas and Atlantic City, Deadwood legalized casino gambling in the 1980s and never looked back.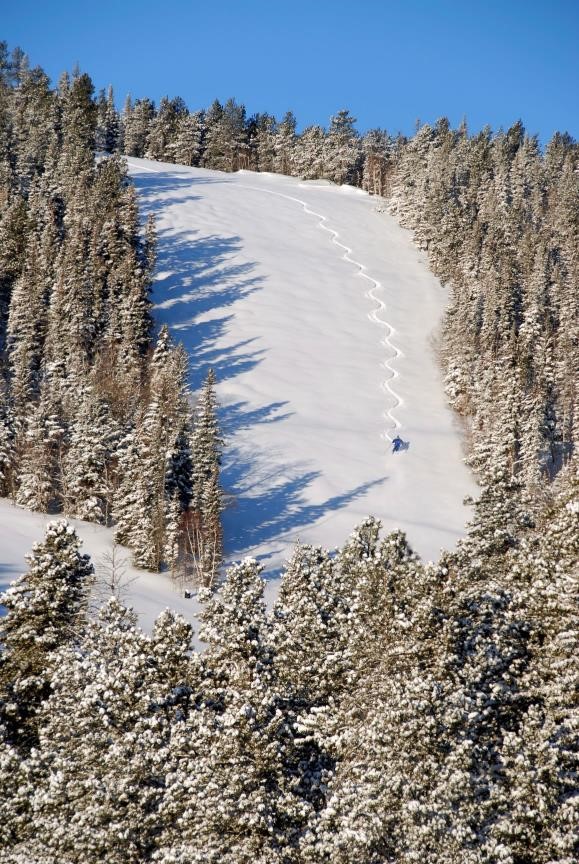 The town's position in the Black Hills make it a premium destination for families and adventure seekers alike with a wide variety of outdoor activities that include hiking, off-roading, snowmobiling, downhill skiing, fishing and much more. Amanda Kille of the Deadwood Chamber of Commerce and Visitors Bureau describes what attracts many visitors to Deadwood, "Surrounding the town is the Black Hills National Forrest making our natural recreation simply incredible. People can play all day outdoors and then play all night at our world-class casinos as well as enjoy live entertainment and dining options in town. There is really something for everyone here."
Deadwood Casino Standouts
There are countless casino options to choose from when visiting Deadwood with each displaying their own unique characteristics and charm. Here are a few of the most popular and well-reviewed casinos in Deadwood.
The Lodge at Deadwood – 1-877-393-5634 – DeadwoodLodge.com
The Lodge at Deadwood is a full-service casino and hotel located in the heart of the city. This destination is particularly popular with couples, as they offer a number of discount packages for people looking to get away for a weekend. The Lodge features an onsite poker room, blackjack tables including double deck and a Trilux blackjack bonus, and a wide variety of slots.
Gold Dust Casino and Hotel – 1-605-578-2100 – GoldDustDeadwood.com
The Gold Dust is on the main casino drag in Deadwood, near a number of other casino complexes. Their main proposition is a great casino experience at a reasonable price, and their Yelp reviews show that the property is very value oriented for visitors. They offer table games, slots, and weekly/daily poker tournaments depending on the season.
Hickok's – 1-605-578-2222 – Hickoks.com
Hickok's takes its name from the legendary lawman and gambler Wild Bill Hickok, who famously met his end in the town of Deadwood at the hands of the outlaw Jack McCall during a poker game when McCall shot him from behind. (Hickok was holding two pairs, Aces and eights, which is now known as 'The dead man's hand.) Hickok's also has a plethora of gaming options like Sizzlin' 7's, Blazin' 7's, Video Poker, Harley Davidson, and Triple Diamonds.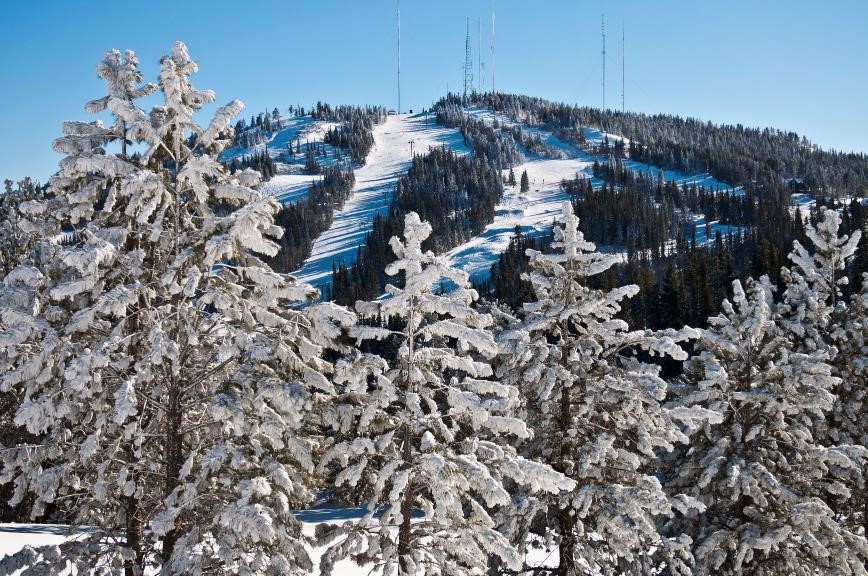 Deadwood Mountain Grand – 1-877-907-4726 – DeadwoodMountainGrand.com
This casino has an excellent view of the town of Deadwood, just a block away from the main strip in downtown. They are known for their live shows and entertainment, with stars like the comedian Gallagher and musician Kenny Rogers making regular appearances. They have a wide array of penny slots as well as table games and poker.
Deadwood Gulch Resort – 1-605-578-1294 – DeadwoodGulchResort.com
The Deadwood Gulch Resort is known for being a welcoming, down-home casino/resort that makes you feel at home. There is an attached restaurant that serves up fantastic local cuisine. The casino options are a bit limited with the majority being slots/video poker machines and a small selection of table games, but you'll feel right at home here at Deadwood Gulch.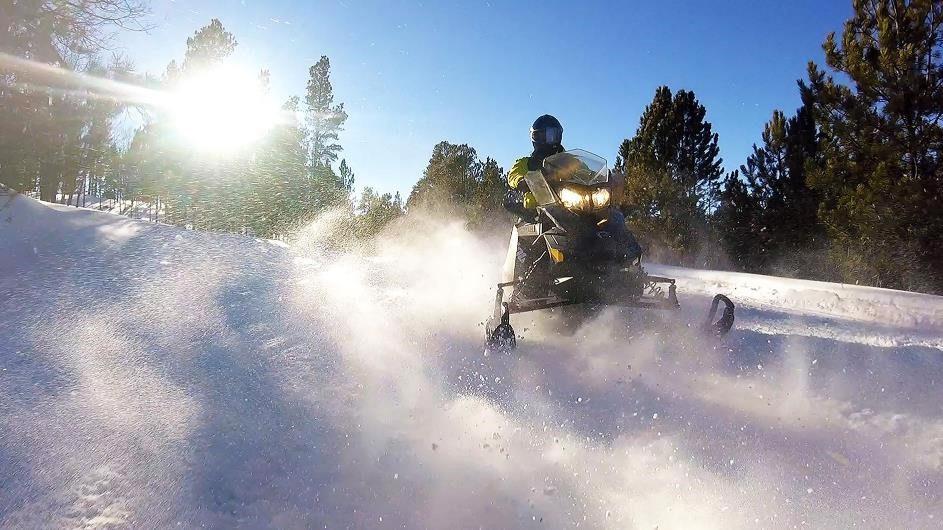 Deadwood has more than just historical reenactments and hiking- it is a world-class casino destination in the heart of the American Midwest. Whether you are an outdoor adventurer, history buff or dyed-in-the-wool casino enthusiast, Deadwood has something for you.
For more information on Deadwood, visit Deadwood.com or call 1-800-999-1876.
By: Cindy Mulrooney