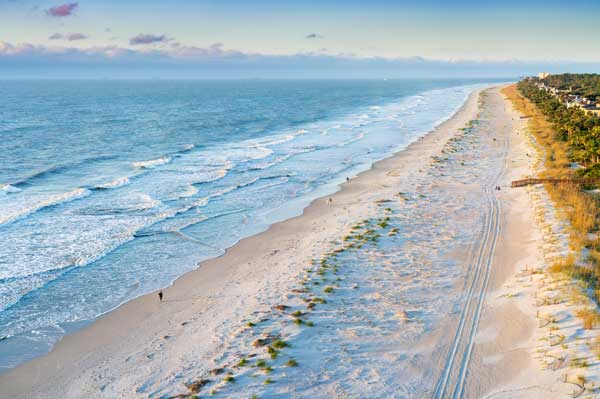 There is no shortage of charming Southern getaways scattered throughout the Carolina's ranging from Charleston and Kiawah Island to Hilton Head Island. Whether you are looking for a long weekend or full-fledged vacation, pick just about any of these beach laden destination and rest assured you will find all of the rest and relaxation you have been looking for, and deserve.
A popular coastal destination that continues to impress visitors and residents alike is Hilton Head Island. Offering a variety of activities from great golf and fantastic fishing to expansive beachscapes and delectable dining, you can fill your days with fun, or simply kick back on the beach in the sun. The Lowcountry island offers 12 miles of beach front and is scattered with small neighborhoods where visitors can find accommodations in apartments, condos or houses ranging from a few bedrooms to mansions on the seashore.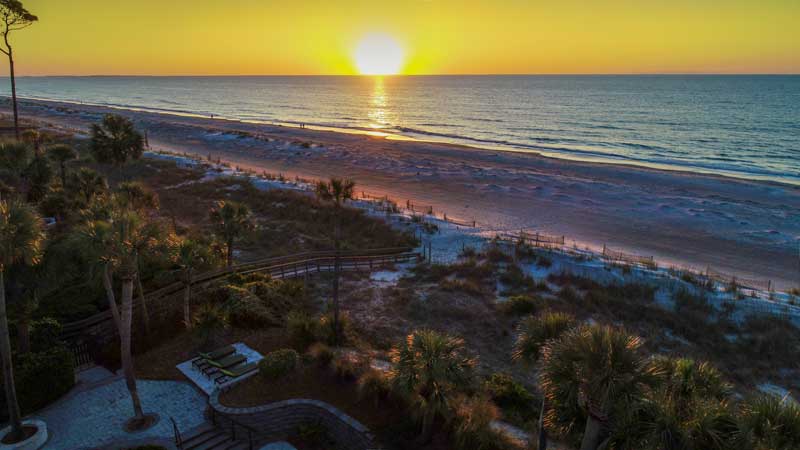 One of our favorite areas to stay on the island is Palmetto Dunes – located mid island – that literally provides anything you would need within a bike ride away and steps from the private beach. Conveniently located just off the island's main highway, Palmetto Dunes offers multiple dining options, great golf, tennis, pickle ball and more, including a fantastic beach with beach access paths scattered throughout the community.
We are excited to share some of our favorite places to stay and play for your next Hilton Head Island getaway.
Accommodations
Whether you want to stay in a million-dollar home, lavish resort, or quiet one-bedroom condominium, Palmetto Dunes has you covered. By using one of the preferred island booking professionals or a quick search on VRBO, you will find there are options for homes in a gated neighborhood like setting with plenty of shade for running, biking or smooth strolls to the beach. Palmetto Dunes is also home to a Marriott, Omni and Disney Resort for guests looking for resort accommodations and beachside pools and cabana overlooking the beach. Book your stay directly on PalmettoDunes.com or call 1-888-909-9566.
Golf
Hilton Head is known for its abundance of great golf, and Palmetto Dunes is the mecca for any avid golfer offering three premium experiences that will challenge golfers of any skills level. Boasting award-winning designs by Arthur Hills, George Fazio and Robert Trent Jones, you will find a drastic change in each with varying layouts and grass types on the fairways and greens. Rates vary from $90 to just over $100 for premium tee times, and lower rates are available after 4:00 pm for twilight and junior play. To book your tee time, call 1-888-909-9566.
Dining
When it's time to dine, look no further than the plethora of eateries on premise at Palmetto Dunes. Whether you are looking for casual burgers and sandwiches, or elegant steak and seafood, you will find it just a few steps away. Alexander's Restaurant & Wine Bar is located near the entrance and offers some of the finest dining on the island. Don't miss seasonally inspired and locally sourced dishes and fresh seafood including Shrimp and Grits ($27), Lobster Dinner ($42) and Bronzed Jumbo Scallops ($32). If casual is more your style, check out The Dunes House offering oceanfront dining with a menu full of favorites including burgers, sandwiches, wraps and tacos as well as an array of frozen drinks and other tasty treats to make the day that much smoother. Lastly, tucked away in the Robert Trent Jones clubhouse is Big Jim's BBQ, Burgers & Pizza where you can enjoy a casual menu while overlooking the popular golf course.

Tennis & Pickleball
Whether you are a regular player or simply a beginner, the Tennis & Pickleball Center at Palmetto Dunes offers 19 professional clay courts and 24 Pickleball Courts. Court rentals are available daily from 8:00 a.m. to 5:30 p.m. with select courts available for after hours play on timed lighted courts. The pro shop offers daily lessons, round robins and other fun activities for all ages. For more information, call 1-888-926-8784.
Bike Rentals and Watersports
As soon as you enter the resort, you will realize this is a major bike riding community. Whether you want to go out for an easy stroll, ride down to the beach, or go to the store to get some essentials, a bike is a must to get the most out of your vacation. Be sure to check out Hilton Head Outfitters for weekly or daily bike rentals ranging from $38-$69 for the week. Watersports are also popular at Palmetto Dunes as there is a lagoon that stretches throughout the 2,000 acre location. Rent a canoe or kayak for a leisurely paddle through the water ways where you will see an array of wildlife and luxurious homes that line the shores. For rental information call 1-866-650-4125.
Visit PalmettoDunes.com for more information and reservations at Palmetto Dunes.