Gamblers love glamorous vacation spots where they can try to win their fortunes while enjoying other luxuries such as great entertainment, delicious food, lavish accommodations, spas, golfing, and even beaches. Gamblers can go to any bar with a slot machine in their hometown anytime, but the real fun and excitement comes from getting to go on an amazing vacation and traveling the world to visit some of the best gambling resorts and casinos.
We are excited to unveil a few of our favorites for you to consider this year.
The Wynn Las Vegas | 1-888-320-7123 | WynnLasVegas.com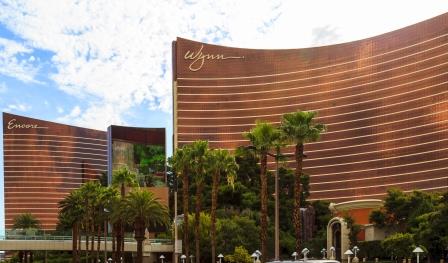 The Wynn Las Vegas is an ideal location for serious gamblers but it is also ideal for couples that like to gamble but are also looking for a romantic getaway as well as the casual gambler that is in it for the free booze and after-hours clubs. The hotel has earned more Forbes Travel Guide Five-Star awards than any other casino and boasts the best in dining, nightlife, spas, and more.
 At the Wynn, you can watch Le Reve-The Dream which takes place underwater and includes mesmerizing performances by some of the most talent Cirque du Solei performers. If you win big at the tables, make sure to book VIP Dream Seats. They cost less than $500 per couple and will give you a view that you will remember forever. High Rollers will love the Salon Suite with breakfast included for $950 per night. The suite is accessible through a private, gated entry with daily coffee and tea service, breakfast until 11:30am, an in-room minibar, sitting area, dining area, interconnecting bedrooms, luxury amenities and fantastic views of the Las Vegas desert.
A five-day getaway for two will cost between $1,000 and $10,000 depending on the room type and other expenditures, but at The Wynn Las Vegas, you know you will get the first class treatment for everything.
Casino de Montreal | 1-800-665-2274 | Casino.lotoquebec.com/fr/montreal/accueil
There is only one casino in all of Montreal Canada and if you are a gambler who enjoys a cooler climate and a sophisticated city to spend time exploring, this may be just the vacation you are looking for. There are more than 100 tables and over 3,000 slot machines making it the casino with the largest gaming variety on the North American Continent. The Espacejeux Poker Classic takes place here where $100,000 is guaranteed at stake. The holidays are also a very festive time at the casino where elaborate decorations are used to pleasure the senses in the super chic restaurants featured in the casino.
 The Casino de Montreal also offers a rotating lineup of free live musical performances in many genres including the bands Raffy, Shine, Carter and The Boomers, Chico Band, The Singing Pianos, a plethora of different DJs, and much more. If you love to party and be amassed in an atmosphere of energy, visit the Zone of Pleasure where blackjack, craps, roulette, slots, and video poker are offered along with Baccarat in a hip and vibrant atmosphere. Games are all played through animation here and there are even options to play live with the animator.
 The Casino does not feature a hotel on property, however, they are partnered with eleven independent hotels located in downtown Montreal and offer packages based on double occupancies, breakfast for 2, game credits and discounts on the Cabaret show.
Renaissance Aruba Hotel and Casino | 1-800-421-8188 | Marriott.com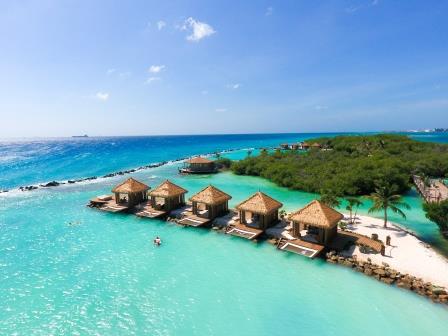 The Caribbean is known for their exciting nightlife and exotic adventures, mix some casino gambling into the itinerary and you'll find the perfect getaway. Aruba is the island with the most casinos, perfect for vacationers who want to take a tropical trip centered around some of the best gambling in the world. The hotel is on a private island that is accessible via water taxi and surrounded by forty acres of beaches. The hotel features modern suites with balconies overlooking the ocean, gardens, and exquisite outdoor pools. There are several popular shopping destinations nearby to keep the afternoons full of city excursions.
 Vacationers who need a break can enjoy the award winning Okeanos Spa and let paradise and massages take over. Another great feature of the property is that it is divided into two zones, one for adults only and the other for families. The Royal Suite is a great option for extended stays as it features a one-bedroom penthouse suite in the Marina Hotel with ocean views, over 800-square-feet of space and has separate living and seating areas. Also, floor to ceiling windows that can open and make for relaxing mornings and evenings.
 A five-night stay in the Royal Suite will cost around $2,000 dollars but worth the extra room and ocean views.
Borgata Casino and Hotel | 1-609-317-1000 | TheBorgata.com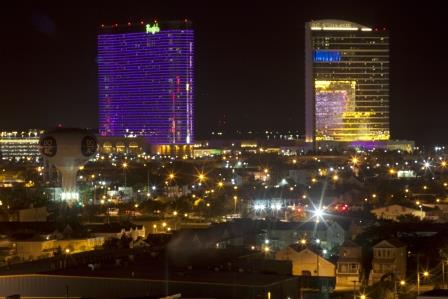 Atlantic City is the second largest gambling destination in the United States, trailing only Las Vegas. The rebranding of the city over the past decade has made it once again a great getaway for gamers who are flying or driving to this coastal community. The Borgata features many great amenities and restaurants including Bobby Flay Steak and Wolfgang Puck American Grille.  There are also several casual dining restaurants to choose from and the Borgata Buffet, a large Beer Garden, sophisticated bars, premier clubs, and lots of entertainment. Frequent celebrity sighting occur and some of the top bands perform regularly at Borgata, so you know you in the right spot from the moment you get onto the property.
 Gamblers who love live music will be giddy to hang out in Gypsy Bar where bands play nightly. If you want to cut lose on the dancefloor to celebrate your big win, Premier Nightclub offers some of the most exciting nightlife in the city. Immersion Spa will also relax away your troubles or check in to the adjacent Water Club hotel and where one of the rooms even has rain dome showers, LED lighting, custom bedding and other in room amenities combined with a stylish décor and views of the water. A five-night stay at Borgata can easily top $2,000 just for luxurious accommodations. If you are looking to get pampered and treated like a VIP this high roller location is perfect for your vacation.
Baha Mar Casino Resort, Bahamas | 1-242-788-8000 | BahaMar.com   
Gamblers looking for white sand beaches and turquoise waters should definitely check out the newest resort in the Bahamas, Baha Mar Resort in Nassau. With 320 days of sunshine annually, this tropical oasis is the best when it comes to relaxing and spoiling yourself. Bahamian cuisine is vibrant, and the Bahamas is known as a food lover's paradise. The resort offers three hotels to choose from including Grand Hyatt, SLS, and Rosewood. The SLS is an experience that will not be forgotten. Staying at this all luxury, stylish five-star hotel offers 300 rooms and more than 100 residences. The décor is chic and bohemian, and the hotel offers a global concierge, suites with floor to ceiling windows a Children's Explorers Club that offers day care, the Jack Nicklaus Signature Golf Course, an award-winning spa and two swimming pools with dedicated butler service. This hotel is also perfect for the gambling couple getting married as it features over 12,000 square feet of meeting space and a full-service events team.
 The gem of the resort is Baha Mar Casino. The floor to ceiling windows is a unique concept for gamblers who are used to being in a more dimly lit casino. The casino is perfect for casual players or high rollers and is the most glamorous of all Caribbean casinos. Expect to spend around $5,000 for an all-inclusive five-night stay in a suite, which is definitely the way to go!
Place du Casino and Hotel de Paris Monte-Carlo, Monaco | +377 98 06 21 21 | CasinoMonteCarlo.com
The Mediterranean is known for its elegance, opulence and romance. The Place du Casino, Casino Monte Carlo, features both European and American tables games, legendary and extravagant décor, several different gaming rooms and gaming terraces during the summer months. There are two fine dining restaurants located inside the casino Le Train Bleu and Le Salon Rose each offering an array of local flavor and a comforting atmosphere. The casino is full of energy and offers various tournaments and gaming events throughout the year making this casino a hotspot for international travelers and legendary casino winners.
 The Hotel De Paris features elegant art works and sculptures as décor and is adorned with Crystal chandeliers and marble furnishings. The Diamond Suites feature sea views, contemporary furnishing and a light and airy atmosphere. The 1,238 square-foot suites include two bedrooms, a living area, and a private bathroom. These suites are $8,000 per night and are often booked by high rollers and celebrities. Standard Rooms start at 366 square feet and have small balconies overlooking the hotel patio or city views. These rooms start at $349 per night.
A Monte Carlo Gambling get away will easily run anywhere from $1,500-$40,000 for five nights of accommodations. Throw in trips to the spa, eating at the best restaurants in the world and entertainment, this trip could easily cost more than your house.
Casino Royale on Royal Caribbean's Oasis of the Seas | 1-866-562-7625
If you love cruises, gaming at sea can be quite the experience and Royal Caribbean offers some of the best gambling cruises in the world. The Oasis of the Seas features the Casino Royale which is 18,000 square feet of table games, poker, and more than 500 slot machines. Royal Caribbean international cruise ships also feature hot dance clubs, Tony Award Winning Musicals, aquatic shows, on-ice shows, comedy and plenty of bars to choose from. There are also activities to keep teens and kids busy while adults have fun in the Casino Royale. On board swimming pools, rock climbing walls, fine dining, and trips to the spa will delight guests on board a Royal Caribbean ship.
 The Oasis is one of the newest and largest ships offered by the Royal Caribbean Cruise Line with elegant interior rooms, ocean view rooms, balconies and Royal Suites. Each room comes with a daily stateroom attendant, 24-hour room service, nightly turn down service, and VOOM surf and stream for internet. Cruisers can get their scuba certification or zip line while on the ship or even visit the onboard waterpark!
 The Oasis cruises the Eastern and Western Caribbean and offers 6-8-night cruises ranging from $433 per person per night all the way up to $1,300 per person per night.
Every gambler enjoys being able to take a relaxing, fun filled vacation where they can spend some time in the casino, as well as enjoying the various luxuries at the resorts. There are plenty of resorts and casinos to choose from all over the world, but these suggestions should get you started.