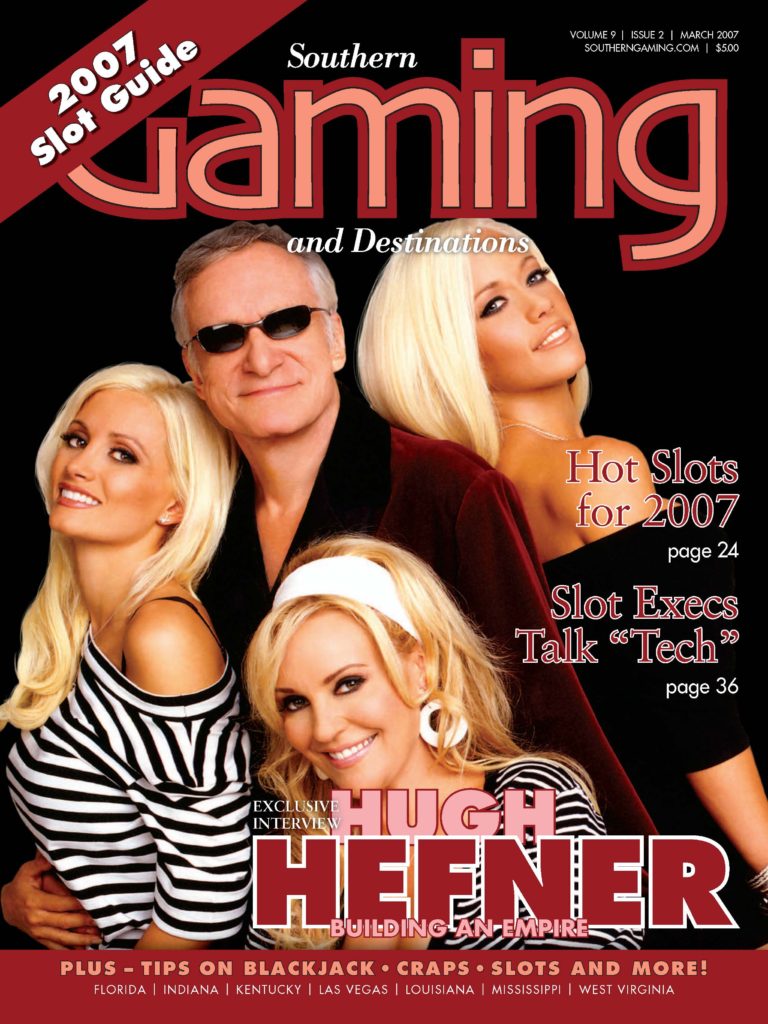 On the evening of September 26, 2017, news began to spread that Hugh Hefner had passed away. The founder of Playboy magazine and a major influence for today's social culture, Hefner was a leader on many front.
G&D was honored to feature Hefner on the front cover of our 2007 issue highlighting his all-new slot machine. We discussed everything from getting started to his views on gambling.
We hope you enjoy the interview … and RIP to a legend.
Gaming and Destinations: In 1953, you laid out the first issue of Playboy Magazine in your kitchen and borrowed money to get it printed and distributed. What made you realize the demand for such a niche magazine and what are some of the things you might attribute to getting the first issue launched?
Hugh Hefner: Well, the men's magazines in the post-war era after World War II were essentially outdoor adventure books, and they were the most popular in terms of circulation. I think it was related to the kind of male bonding that took place in World War II. So in that conservative decade, the 1950's, I just felt as if there was room for a more sophisticated magazine that was connected to urban interests and things that I enjoyed and fantasized about. So that was really the concept behind the magazine. The only problem with that, of course, was that I didn't have any money. I had worked weekly as a promotion copywriter for Esquire, and then they moved their operation to New York. I asked for a five dollar raise, didn't get it, and decided to stay behind. Within two years, I was starting to make plans for the creation of Playboy. Originally, I was going to call the magazine Stag Party and was going to use the stag as the symbol. Both Esquire and The New Yorker, magazines that influenced me very much as I was growing up, had male figures. I figured that an animal of some kind would be a charming notion. Then I got a letter at the very last minute, right before we were about to go to press in the fall of '53, saying that Stag Magazine considered Stag Party to be an infringement on their name. I was having some second thoughts on the name anyway, so at the very last minute, I changed the name to Playboy and changed the stag to a rabbit in a tuxedo. The rest is history.
G&D: At that time, did you ever envision it becoming the success that it is today?
HH: I didn't have much money back then. I literally formed a corporation and then talked to everybody to get people in. I was only able to raise a little over $8,000, but that was enough to put out the first issue. I didn't have enough money for a second issue. That's why I didn't put any date on the first issue. So the fact that I was publishing was thrilling enough for me. I could not have imagined in my wildest dreams what lay ahead. A distributor came to us and supplied advance money so we could put out the next issue. After that, the magazine was financially successful in its very first year. Within about two or three years, we were getting very nice stories from Time Magazine among others. By the end of the decade, the magazine was selling almost a million copies a month, and it passed Esquire. Then in 1959 and 1960, three things occurred within a space of about five or six months. I started hosting a syndicated television show called Playboy's Penthouse to promote the magazine. It was a TV variety show but looked more like a party in my apartment. That began airing in January of 1960. At that same time, I bought the first Playboy mansion in Chicago. Then, in February of 1960, we opened the first Playboy Club. So in just a handful of months, everything changed in my life. I came out from behind the desk and just started living the life that was portrayed in the pages of the magazine. I became Mr. Playboy. Within a year's time, I was famous. I could not have possibly imagined any of that before the fact.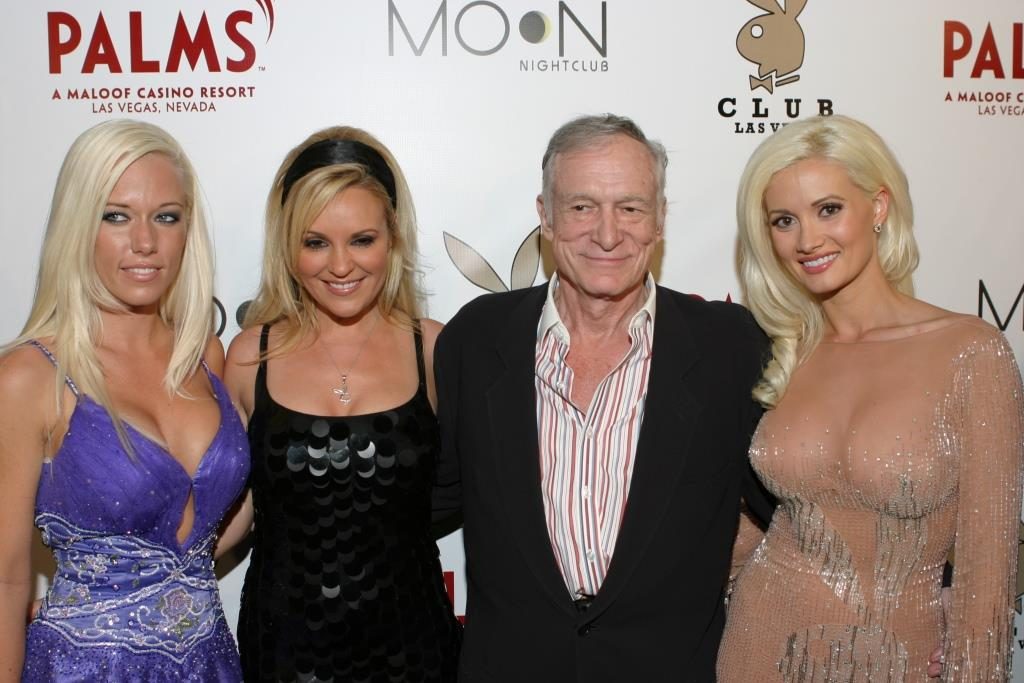 G&D: How much hands-on involvement do you have with the production and layout of the magazine?
HH: Well, the editorial headquarters of the magazine is in New York with our art director and photo department in Chicago, but because of electronic communication, I am in constant connection with both. I spend the first part of every day talking to my editors and art director. I have a brown book dummy of upcoming issues that come together for me here every month. I still pick the playmates, covers, and cartoons, edit the party jokes and letters column, and oversee the general focus and pacing of the magazine.
G&D: As Playboy continues to expand and be successful, how do you and your staff maintain the high quality and high standards that you've instilled over the years since its founding?
HH: Well, it's been a labor of love for me from the very beginning. We spend more money on the magazine than the magazine actually makes. We are able to do that because of the many other things we do. The magazine is the heart and soul of the publication. The various kinds of other portions of the business- the television show (Girls Next Door on E!), casino operation, and products- pay the bills, but none of that would be possible if it weren't for the magazine. The most interesting thing for me is that the publication is now over half a century old and the brand is as hot as it has ever been. It became very popular again about six years ago, and that's remarkable.
G&D: You mentioned the ancillary products of the magazine are a big revenue generator. At what point did you go from just publishing a monthly magazine to capitalizing on the brand?
HH: It happened rather early, because within the first two or three years, it became obvious that the readers of the magazine were more than just readers. Playboy was an extension of their own dreams, fantasies and personal identities. So we were selling our products within the first couple of years. In the first year, we had a book publisher come to us who wanted to do a compilation of the best of Playboy- fiction, articles, cartoons, etc. That led to the Playboy clubs of the 1960's and 1970's. Back then, the Playboy clubs were the economic driving force of the operation. We started our first casino operation in London in 1966, and by the time we forced out of the gaming business in England, when the political climate became much more conservative, we were the most successful gaming operation in all of England. We were the only one that was not wholly owned by the English, which was part of our problem.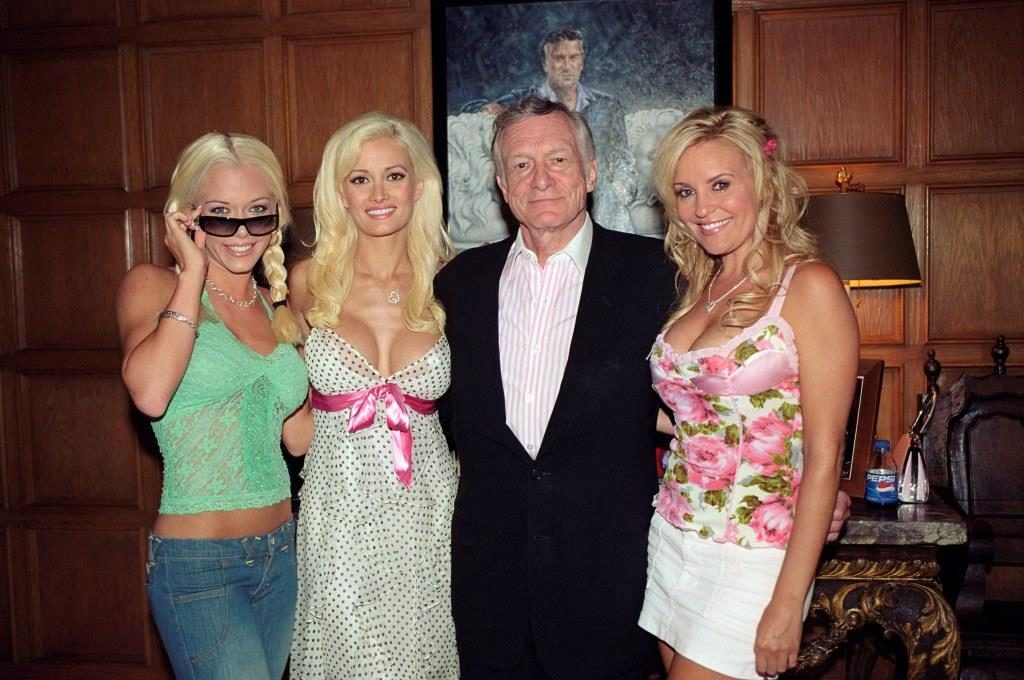 G&D: Your new show The Girls Next Door on E! Network, takes an inside look at the mansion, giving the public their first glimpse of the property on the inside. How did the show come about and were there many adjustments to your day-to-day life when the cameras came in?
HH: Well, when reality shows became popular, we were approached almost immediately by a number of different producers and networks. For a long time, there has been a fascination with my life and life at the Playboy mansion. I was reluctant to get into that because most reality shows are really not reality. They are game shows or reality shows of people that don't really have much of a life. I'm a very busy cat. So at first, the notion of finding time to also do a television show seemed like an intrusion. I finally decided to do it, because Kevin Burns, the producer of the show, is a close friend of mine and an award-winning documentary filmmaker. He is somebody that I trust. He decided to focus on the girlfriends rather than on me. It took a lot of pressure off of me. The show became hugely popular, the most popular show on E in the last three or four years. So we are having a lot of fun with it. We are now shooting the third season, which will air in March.
G&D: On one episode, the show took place at the unveiling of the first Playboy club in twenty years at the new Palms fantasy tower in Las Vegas. They also unveiled the amazing two-story Hugh Hefner sky villa which goes for $40,000 a night. This seems like quite a testimony to your accomplishments. What were your initial thoughts when the property and the groups involved started talking about this idea and what role did you play in the project?
HH: Well, I have been very much involved and very pleased with all of it. It really is a rebirth of the Playboy club casino operation. The return of the bunny means a great deal to me on a personal level and to see that rabbit up on the side of the Palms tower is wonderful. This is the first of what we hope will be a series of selected sites around the world that will be up-scale club casinos. We are looking at London and Macau and it is a very exciting time.
G&D: I would think you get a lot of companies wanting to form alliances and co-branding deals. What are some of the key elements you consider before moving forward on projects? What was uniquely appealing about the Palms Casino and Playboy partnering on that project?
HH: Well, you are absolutely right. In other words, much of what we are doing in terms of global expansion is partnering with appropriate people in various other kinds of businesses. We have been approached by a lot of people in Las Vegas and we went with George Maloof and the Palms, because they are a hot brand with young people. I am very pleased by the way it turned out and by the way the public has responded to it.
G&D: Did you play a big role in the design and decoration?
HH: Yes, they took care of all the details, but brought all of the plans to me. Colors, fabrics, etc. We held a series of design meetings before the fact.
G&D: In 2003, Bally gaming and Playboy partnered with a line of slot machines. Was this a springboard to what you feel is, today, your involvement in gaming?
HH: Well, our return to gaming was just a matter of timing. It was an echo of the success we have had with the Playboy club casinos in the '60s and '70s. I think the slot machines are actually more closely related to the Playboy pinball machines that were hugely popular. There was one in the '60s, '70s and '80s. The Playboy slot machines were a natural.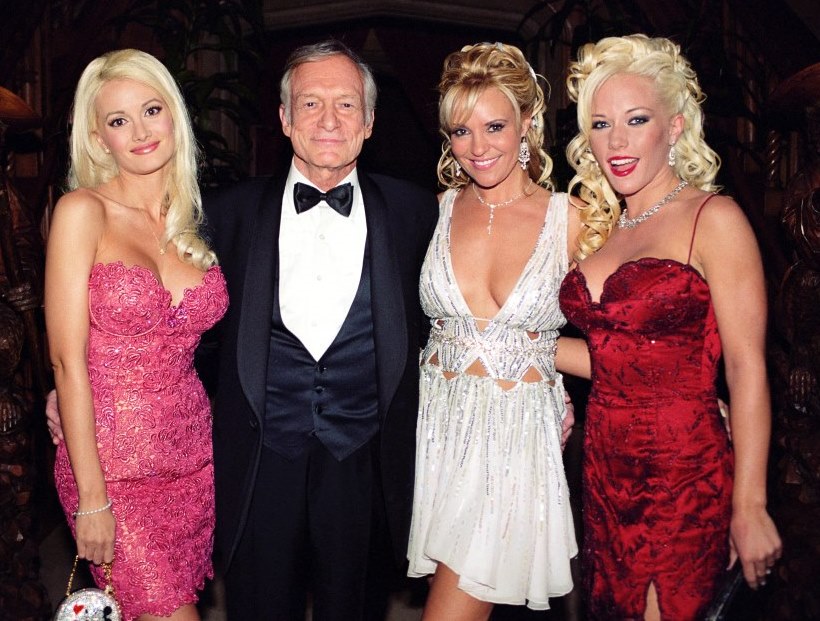 G&D: Switching notes from gaming on the slot machines to gaming in the horseracing industry, in 2000, a horse named Hugh Hefner ran in the Kentucky Derby, the Preakness Stakes, and several other grade one races. Did you have much involvement with that horse? Was that your first thoroughbred experience?
HH: Actually, he did very well when he ran in California. It was very exciting. When you're a kid, it is beyond words to watch a horse with your name on it come around the track and actually win a race…very exciting.
G&D: What are some of the lasting impressions you want to leave as Playboy moves forward into the gaming industry and what are some other things you would like to see happen with Playboy?
HH: This is a very exciting time for us, because the brand itself is so hugely popular now around the world with both men and women. The television show and a number of Playboy products are hugely popular with women. That bodes well for us in the future. Third world countries will soon be moving into the twenty-first century, and Playboy is hugely popular in a lot of ways. This is a very exciting time for us, and obviously, gaming and the club operation are a part of that.
*This interview was conducted by G&D's publisher, G. Douglas Dreisbach, and appeared in the March 2007 issue of Southern Gaming and Destinations.