Overall Score: 100%
Property Overview: Hard Rock Hotel & Casino in Sioux City, Iowa is a casino destinations worth going to. The 54-room boutique style hotel is located in the historic Battery Building that was once a drop off stations for trains. The casino has an open and expansive layout and the entertainment line-up is always fantastic. Stroll around the property and check out the array of authentic rock and roll memorabilia displayed while you're there!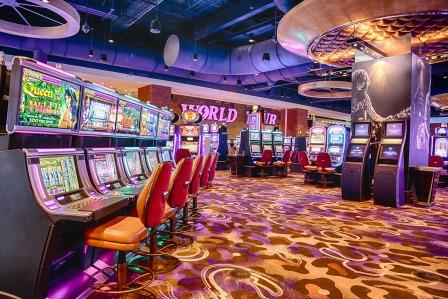 Review by Thomas B. from Lincoln, NE: We really enjoyed this property. The first night we played slots and had drinks, the second day we took the grandkids to eat at the buffet, the food was amazing, with many things to choose from and the staff was very helpful and kind. My wife doesn't get around as quickly as me, so it was nice to see the patience displayed from the employee's. We give it a five out of five stars, great place to gamble, eat, and socialize.
Reader Ratings:
• Check-in: 100%
• Staff: 100%
• Price: 100%
• Cleanliness: 100%
• Casino: 100%
• Amenities: 100%
• Will you return? Yes
Contact:
Hard Rock Hotel & Casino – Sioux City, Iowa
HardRockSiouxCity.com – 1-712-226-7600
Standard Hotel Room Rates: $109-$239
(MAP)
Do you want to review a casino? We would love to hear your feedback!
CLICK HERE to let us know about your recent casino adventures and chance to win great prizes!