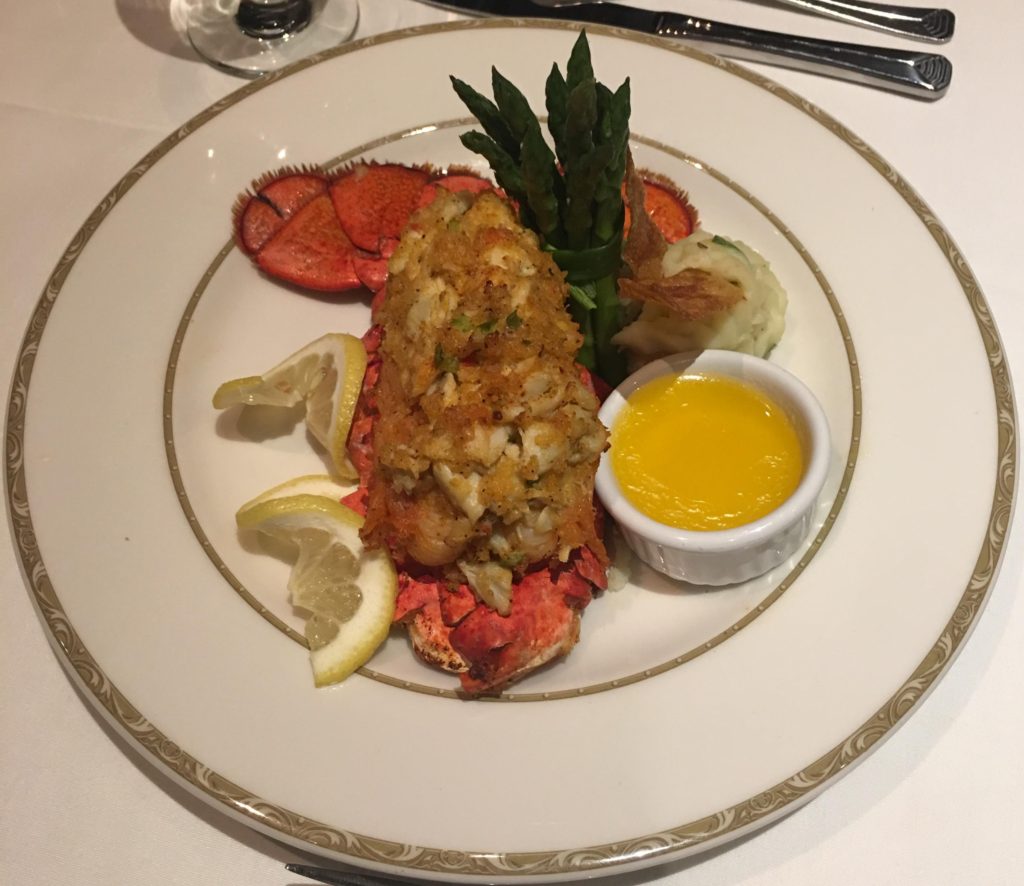 Crab Stuffed Lobster Tail
About this dish: I wanted to highlight a dish that would appeal to all seafood lovers, and I chose one that had great success in Twain's steakhouse. Not only is this dish sure to impress with its savory taste, but it is also surprising simple to prepare. This dish allows for fine dining right in the comfort of your own home.
Crab Stuffed Lobster Tail Ingredients (Serves 4 Guests):
4 -10 to12 oz. Lobster tails

Crab cake mixture

10 oz. Jumbo lump crab

1 oz. Red & green bell peppers

2 oz. Red onions

6 oz. Mayonnaise

1 tbsp. Dijon mustard

1 tsp. Tabasco sauce

1 tbsp. Worcestershire sauce

1 tbsp. Old Bay seasoning

1 tbsp. Lemon juice

1 Egg

4 oz. Bread crumbs

20 oz. Drawn butter

20 oz. Potatoes

24 Asparagus
Sam's Town Crab Stuffed Lobster Tail Directions:
Preheat oven to 350 degrees.

Prepare the whipped potatoes to your preference, and set aside to keep hot.

Cut lobster tail from the bottom to the top, halfway through the tail and pull the lobster out of the shell, leaving the bottom in place.

To prepare crab stuffing, add the following into a bowl and mix well:
-Jumbo lump crab
-Red & green bell peppers
-Red onions
-Mayonnaise
-Dijon mustard
-Tabasco sauce
-Worcestershire sauce
-Old Bay seasoning
-Lemon juice
-Egg
-Bread crumbs


Season lobster tails with Old bay seasoning and butter.

Place lobster tails in the oven at 350 degrees for 8 to 10 minutes, cook halfway, and remove from oven.

Add crab stuffing, and place back into the oven for 5 minutes or until golden brown.

Cut asparagus into 5" long pieces and sauté to your preference.

Plate lobster tails, potatoes, asparagus, and butter.

Garnish with half a lemon.