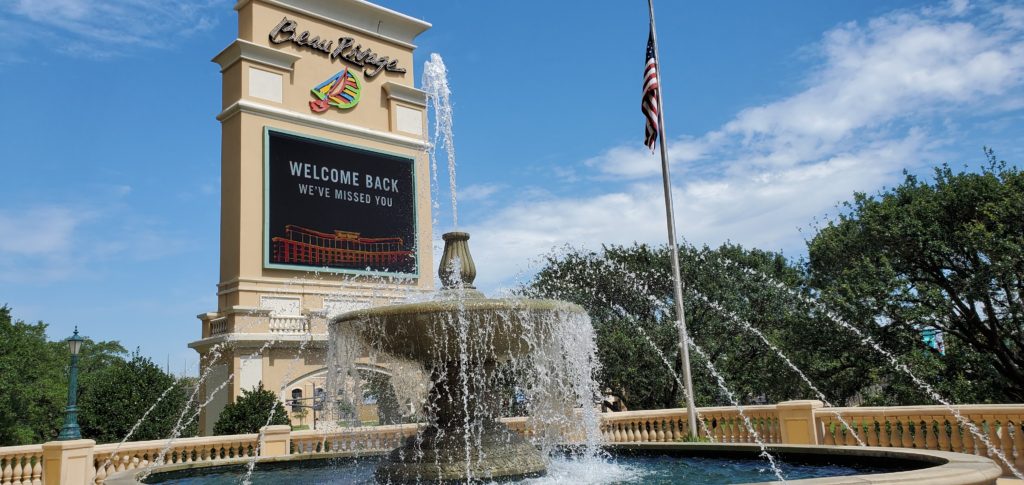 As casinos around the country begin to re-open, they are taking extra precautions to ensure safety for their guests and employees. While state regulations are making several key elements mandatory like limiting capacity, the casinos have shown they will go far and above to show their steps to safety.
Southern Gaming publisher, G. Douglas Dreisbach, caught up with Travis Lunn, President and COO of MGM Resorts Beau Rivage Resort & Casino in Biloxi, Mississippi and Gold Strike Casino Resort in Tunica, Mississippi, to talk about some of the changes they are implementing at all of their resorts nationwide.

G. Douglas Dreisbach: Congratulations on re-opening your Mississippi properties. When all of this started, what were some of your and your team's thoughts? And, looking back, do you feel like those were accurate and that you took the right steps when it happened?
Travis Lunn: We were in an unusual position, at least in the casino environment, where both of our properties had experienced closing our doors before with Gold Strike due to a flood, and Beau Rivage with Hurricane Katrina and other storms. So, some of our initial thoughts were that we could do that successfully and in a safe manner.
What is different about this situation is that there were mandates set forth from our state government and the Mississippi Gaming Commission without an understanding of when we could reopen and what that would look like. We did not try to make any presumptions about what the business would look like when we opened our doors because this situation has been very fluid.
When we got the protocols to reopen, there was a lot of quick movement to adhere to those protocols. Were our thoughts accurate? They were always about making sure whatever we were going to do and our actions that we were going to take were going to be based around safety and the well-being of our guests and team members.

DD: Did your team have any input with the state for any of the re-opening guidelines?
TL: The guidelines we are following are from the Mississippi Gaming Commission, but we feel those are the base minimum of what we need to adhere to. All MGM Resorts have introduced many other measures under our seven-point safety plan. So, you'll see a lot of things at Beau Rivage and Gold Strike that aren't necessarily requirements but are things we wanted to introduce to make sure our team members and our guests really feel safe.
We did not do this on our own as we had a lot of consultation from experts on best practices. We hired third-party public health experts that assisted in identifying those standards and introducing those measures. But there are things we are doing that unique to MGM Resorts, such as handwashing stations literally in the middle of our casino floor, polycarbonate separators at our table games and additional hand sanitizing stations around the property just to name a few.  We are doing these things to make sure that any opportunity where we can create a safe environment for guests and employees, that we take that extra step.
DD: What safety measures are being taken for hotel rooms?
TL: There is a multi-layered approach to the safety protocols, in terms of guest rooms. First and foremost, our team members and guest room attendants have been trained on a whole new set of cleaning protocols and we also have new disinfection methods and cleaning processes. We also have a new guest room rotation plan in which after a guest checks out, there will be a time period before a new guest checks into that room. In other words, we will hold that room for an extended number of hours or potentially even overnight, so that we have an opportunity to have proper air circulation before a new guest occupies that room. We have 1,740 rooms at Beau Rivage, and 1,133 at Gold Strike, so we are going to hold those rooms open for a full day to allow for that air circulation before it's reoccupied the following day.
DD: Gold Strike in Tunica opened on Memorial Day, and Beau Rivage in Biloxi opened on June 1st, which was later than other casinos on the Coast. Why did the property open later than the other properties?
TL: With Gold Strike, we were the first to open not only in Mississippi but the first to open for all of MGM Resorts. It was really a proud moment for us. Having the experience of having to re-open properties, we wanted to take advantage of that and utilize our resources and team members and have them travel to Tunica from Beau Rivage, so there was support for the opening efforts at Gold Strike. This was also an opportunity for our team to get hands-on experience and then bring that experience to Beau Rivage for that opening.
For us, it was never really a race to open first. We knew the team members and guests were going to be introduced to a lot of new safety protocols in the experience, whether it is wearing a mask or adhering to six-foot distancing policies as they enjoy their experience and navigate our properties. To really understand what that looked like we had a soft opening, if you will, to get both our team members and our guests comfortable to this new environment. We have really made sure to focus on them and spend a lot of time with that new orientation to make sure everyone can still have a good time.
So far it has worked well for us. In fact, we had some of the Gold Strike team members with us at Beau Rivage when we opened the doors. Sharing those resources showed great teamwork between the two properties.
DD: What was the vibe like from the guests when the doors first re-opened?
TL: They were ready to play. When our first guests first walked in, team members were there in the lobby to welcome and greet them. There was certainly a lot of energy from our team members and the guests and they moved quickly right to the casino floor and started to play and interact with the table games and enjoy the slot floor. We have seen that trend continue since we have opened our doors at Gold Strike. The business volumes have been terrific, and the energy on the floor has been fantastic. We need to give credit to our guests and our team members for really being compliant and adhering to the new protocols making it great, easy and enjoyable for everyone. We want to still provide a great experience at both Gold Strike and Beau Rivage, and the guests are experiencing that, and the energy is positive.
So far everyone is being very considerate. Both our team members, who are obviously adhering to those standards, but also our guests. They've all been terrific. If we asked them to wear a mask in certain situations, they have complied. If we asked them to be thoughtful around the social distancing, whether they are lining up at a restaurant or elsewhere, they complied. That has made it terrific and allowed everyone to have a great time. I think our guests have expressed their gratitude for the thoughtful measures that we have implemented, in terms of those safety protocols, as well as our team members. They have really been able to get back, get comfortable quickly and learn all the new protocols. We look forward to getting back to what we do best, which is entertaining our guests and providing a great experience.
DD: What do you think it will take to get back to a full-capacity casino scenario and when do you think that will happen?
TL: What needs to happen first and foremost is we need to do a great job with the protocols the gaming commission has provided so far. They have given us a fantastic opportunity to reopen our doors and welcome back our team members and guests. We need to make sure we are adhering to those, doing a great job at implementing them and creating a safe environment. We need to make sure our guests feel welcome as we create this new energy and restore confidence.
If we can instill that confidence with our regulators and our guests and show them we are doing an excellent job, I think we're going to continue to see opportunities to expand and open those other parts of our business. I think you will see a lot of additional casino measures that will probably be the first. Right now, we are at a six-foot distance with our slot machines, so that will obviously be our first and primary focus, is understanding the gaming positions, and can we continue to add incremental opportunities for our guests to game and enjoy those games, both in slots and table games. Next, I think we will start to see restaurants, food and beverage offerings, follow. I think that entertainment and some of the other things will probably lag mainly because some entertainers themselves have postponed a lot of their tours until next year.
DD: If you could send a message to every gaming enthusiast in the region about the 'new normal' at casinos, what would it be?
TL: We wish for everyone to know that we have consulted with some of the top experts in the medical and scientific industries about the protocols we have introduced to create an environment where you can game safely and still enjoy the Beau Rivage and Gold Strike experience and still get that personal Southern experience and hospitality.
There are some new steps we have introduced, but the core of our business has always been entertainment and hospitality, and those things are not missing in this new environment. We are confident the new protocols we have introduced are going to allow you to enjoy a safe and fun gaming experience.