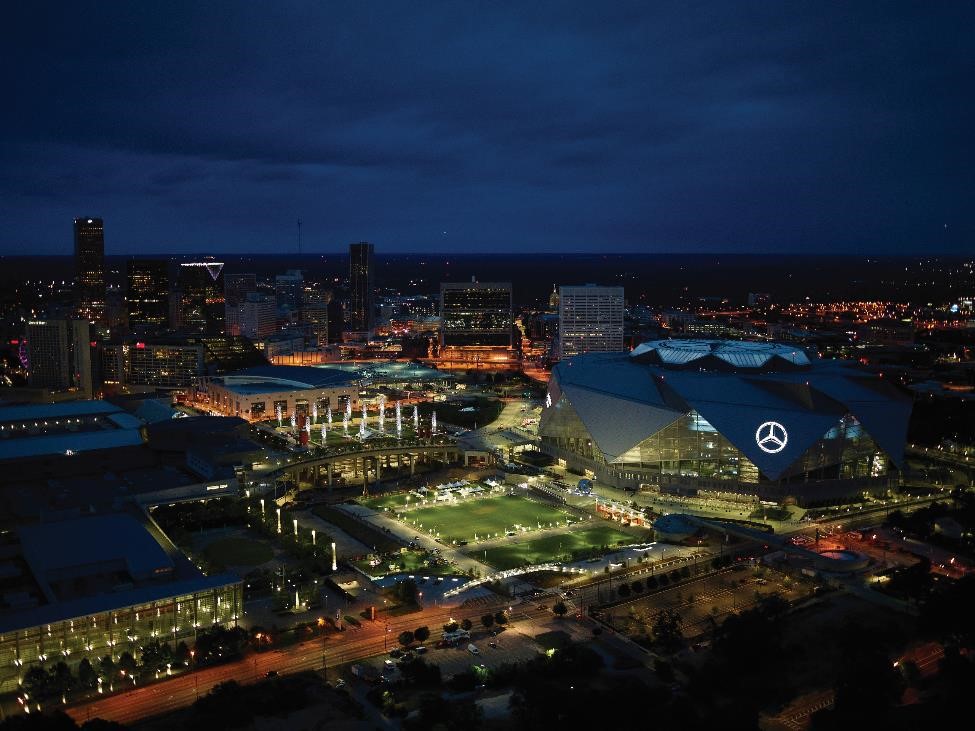 Atlanta is ready to show everyone that gorgeous and charming southern hospitality. The city itself, coupled with the brand-new Mercedes Benz Stadium, sets the perfect stage for Super Bowl LIII. In fact, Atlanta has already coined itself as "the world's biggest stage," which is quite a title to live up to.  According to the Super Bowl host committee's website, "we are changing the game," literally and figuratively it seems. "We listened to what our fans desired most and responded with a fan first, world-class experience in the Heart of Atlanta."

It appears that the stadium already has a rock-solid reputation as "the best venue in the NFL," according to Keith Flamer in Forbes Magazine, all paving its way to the opportunity that dreams are made of.
Super Bowl LIII will be played in Atlanta, Ga. on February 3, 2019 at the spectacular Mercedes-Benz Stadium. The city couldn't be more excited for this opportunity to showcase Atlanta to the rest of world. Mercedes-Benz Stadium is designed to create an unparalleled fan experience, as reflected on atlsuperbowl53.com. Taking the guest experience to an unmatched level, Mercedes-Benz Stadium has elevated and enhanced the downtown landscape and is leading the industry in design, technology and sustainability. This stadium will contribute to the long-term advancement and success of the city and state.
Fan Experience: Every stadium feature was designed with the fan in mind. Mercedes-Benz Stadium offers fan-friendly food and beverage pricing and options, plus several other awesome amenities. According to the website, they offer "best-in-class service; state-of-the-art audio and visual systems; 71,000 seats with scalability up to 83,000 offering expanded legroom; 860 points of sale for concessions for shorter lines and a better experience; expanded concourses and 360 degree circumnavigation on each level allowing increased access and walk-ability; 20 elevators; 25 escalators; 190 suites; 7,600 club seats; seven exclusive dining and entertainment club areas and sky-bridges – standing only gathering places on all three concourses."
Along with the actual game taking place in the amazing new stadium, there are several big events going on around the city during Super Bowl week to celebrate this historical moment in time. The Super Bowl Breakfast and Taste of NFL will both be taking place on Saturday 2/2, so be sure to check out the event calendar on atlsuperbowl53.com for more festive happenings…and if you happen to be attending both events listed above, be sure to bring a gigantic appetite that day!
By: Michelle Bair