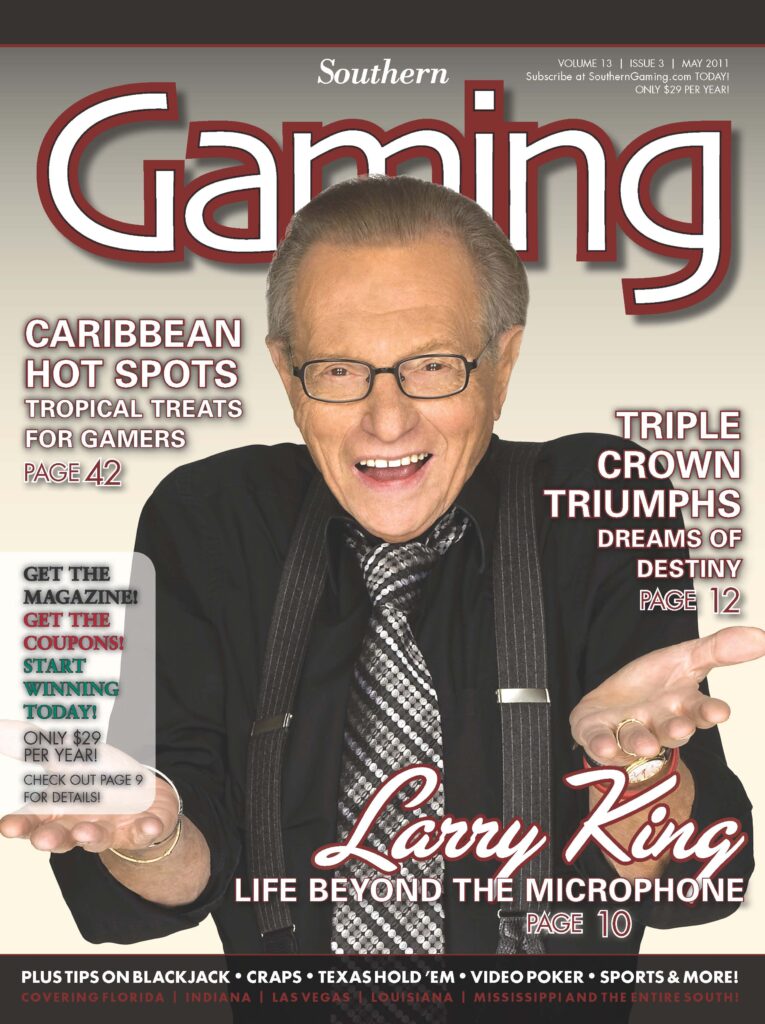 Few people can say they have mastered their industry or trade. Even fewer can say they have mastered it for fifty years. One of the few who has accomplished this scarce feat is Larry King. The man who made a living interviewing the biggest names in show business, politics, social circles and just about every super star you could imagine.
In 2011, when he signed off on his final Larry King Live Show on CNN, he left us with the words "Instead of goodbye, how about so long."
Southern Gaming publisher, G. Douglas Dreisbach got the opportunity to catch up with the legend himself in 2011 for an article/interview published in the May 2011 issue of Southern Gaming and Destinations. R.I.P. to the King of the microphone.
Listen to his description of the Kentucky Derby below.

Listen to the entire interview for free below.

G. Douglas Dreisbach: Since 1985, the show Larry King Live has brought perspective on the lives of high-profile people to millions of households worldwide. What were some of your favorite guests on the show?
Larry King: What I liked the best was not so much the subject, but the quality of the guest. What I always wanted in a guest was someone who had passion for what they did, who could explain what they did very well, who had a sense of humor and a little bit of a chip on their shoulder. When you can combine those four things, it didn't matter if it was a ballet dancer or a politician, it was great. Frank Sinatra had all four things. When you are lucky enough to get someone like that as a guest, it really doesn't matter what the subject is. When I can get that magic occurring, that's the best. I want the person more than the subject. The subjects will always fit in.
GDD: You are famous for getting the most out of your guests. How do you prepare for an interview?
LK: I never approach the guest with an agenda. I never sit down and say, 'Boy, I'm going to nail this guy. I just try to learn. I try to ask good, short questions and listen to the answer. I never sat down wondering if it would make the newspapers tomorrow. I have been doing radio and television since I was 22 and I always looked at it as a learning experience. I didn't count. I felt the word I was irrelevant in an interview. Who cares what I think? If you make the guest count, you are going to get a lot out of them because the guest will feel that. That's the way I work.
My staff would give me bullet points for up-to-date information on a politician's latest committees and votes, but they didn't give me questions to ask. Nor have I ever sat down really knowing where I was going. Interviews begin and they flow. I got my start at a restaurant in Miami Beach called Pumpernik's. There was no guest booked, no producer, people just dropped in. I would interview visiting salesmen and waiters. Suddenly it caught on and one day Bobby Darin came in. Another day, Jimmy Hoffa came in because there was a Teamsters Convention across the street. He came in for breakfast and sat on the air with me. So, I was lucky enough to start that way, which taught me that since I couldn't prepare, I could work well off the top of my head.
GDD: Last December, you filmed your last Larry King Live show on CNN and closed with the memorable sign-off of 'Instead of Goodbye, how about so long? You also mentioned doing some other things with your post CNN career. One of those has come to fruition with live performances and we are excited about the shows May 20 at Hoosier Park Racing & Casino in Indiana and then on June 4 at the IP Casino Resort & Spa in Biloxi, Miss. What made you want to do these performances and what can fans expect to see at the shows?
LK: They can expect to laugh. If they don't laugh, then I have bombed. I have been speaking at conventions and events my entire career. Ever since I was a kid, I was always funny and liked to tell stories. In fact, if I was starting my career today, I would probably do comedy. So, when the show ended at CNN, my nephew, who is a top Broadway producer, said, 'Why don't you do an act? I liked the idea and we did a test market last year in Las Vegas at the Wynn Theatre. My wife opened for me, she sang, and it went over great. People laughed and came up to me after the show and said that I obviously loved doing it and that I should keep doing it. So, we put together this tour. My father-in-law, Carl Engleman, who used to manage Marie Osmond, is my road manager and it's me for about 80-minutes telling jokes and stories with some crowd participation. We hope that if the show is at 8:00, then at 9:20 the audience can go out and say 'Boy that guy is funny! When we test marketed it, people really laughed. I feel very comfortable at casinos, I really like the atmosphere.
GDD: So, the show is basically a recap or extension on what you have been doing your entire life?
LK: Yes, but much more professionally put together. My entire life, if I was booked at any given convention, I would go on at say, 8:15. There would have been a speaker before me. There will be another speaker tomorrow. And I have my 40-minutes and am expected to go out and entertain, which I would do, but that was pretty much it. There was no act. I would just throw stories together as I felt them. But these shows are professionally put together and are acts with a meaning for every story I tell. One story follows the previous story, and it has meaning to it. We are not just throwing things at an audience. This audience is paying to be there, and they deserve to get a show that is a show. If you are at a convention you expect to hear a good speaker that will make you laugh. For instance, in May I am going to Portugal for a major speech at an international convention in which I will be interviewing the former president of Brazil. I will be funny there. But only about ten minutes of funny and then a serious interview, that is totally different than what I am going to be doing for the shows.
GDD: Since we are a gambling magazine, I have to ask if you ever visit the racetracks or casinos?
LK: I really like the casino atmosphere. I love the racetrack, I always have. Bill Hartack, the legendary jockey, was a close friend of mine and with him I got to like that community, so I like horseracing. At the casino, I get really frustrated at blackjack because I get mad at the dealer, which is a stupid way to approach it. But when I get five or six cards to get to twenty, and the dealer hits three cards and gets twenty-one, I blame him or her personally and I feel like they are out to get me. I am fascinated in watching craps, although I don't really know how to play. Slot machines are fun but I really just like the buzz in a casino. I also like the sportsbooks. I really think Louisiana and Mississippi should consider getting them, they are a great source of income and the sports fans really enjoy them! I like to put a bet down on a team or on a horse, I don't find anything wrong with it. There is too much involved and it's not like they are really throwing games anymore. They don't need to ban cell phones. You can't post bet a race. So, if I had a vote in Mississippi, or Louisiana, I would vote to have sportsbooks. But, I love the buzz at the casino anyway.
GDD: Southern Gaming is based in Louisville, Kentucky, home of the Kentucky Derby. Have you ever been to a Derby?
LK: I have been to two Derbies. The Kentucky Derby is my favorite single event to attend. Bill Corum (a former New York Times Sports Journalist and president of Churchill Downs in 1949 – 1958) wrote once, 'There is nothing as thrilling in sports as the horses turning for home at the Kentucky Derby.' The way the Derby is handled with the glamour and the parties and the beautiful women, it is magnificent. When Louisville gets a nice day, in the upper seventies with a light breeze and no clouds in the sky, and these magnificent steeds come onto the track, with the Twin Spires towering above, it is so romantic. It just puts together so many things that make horseracing such a wonderful sport. Jockeys are such talented athletes. I like the whole drama about it. I love everything about it and Kentucky is one of my favorite places.
By G. Douglas Dreisbach – Southern Gaming and Destinations – Originally published in May 2011.