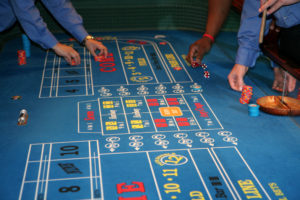 Featured Question: I like to play the Pass Line plus odds and two Come bets plus odds in craps. How would I use the 5-Count method? Do I play the Pass Line with no odds and wait for the 5-Count and then play odds on the Pass Line and then my two Come bets plus odds?
Or should I wait for the 5-Count and then play three Come bets plus odds or play the Pass Line plus odds and then wait for the 3-Count and start to play my Come bet plus odds? –Tim Dircksen
Answer: Hi Tim,
You can use any of the methods you mention in your letter but I have become extremely conservative over the years, so, here is what I would recommend:
Wait until the 5-Count is completed and then put up a Come bet (or Pass Line if the shooter is on a Come Out after the 5-Count). Then you can continue with Come bets until you have the number of bets you desire; in your case that would be three.
By waiting for the entire 5-Count before you wager anything you will be cutting down the number of random rolls you face, thus reducing your losses immensely. You will, as always, be on any of the long rolls should a shooter get hot.
All the best in and out of the casinos!
—Frank Scoblete
(Frank Scoblete a best selling gambling writer who has published multiple best selling books on Craps, blackjack and more. To check out his products, visit FrankScoblete.com)
_________________________________
Got a gambling question? Well we've got answers! Ask the Expert's' to get answers on anything from game strategy and money management to best places to play and stay from from our panel of expert writers, consisting of some of the biggest gambling authors in the world! Email your questions to [email protected] today!
Do you want casino coupons sent to your mailbox? CLICK HERE to find out how!