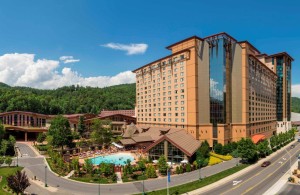 The 12th season of the WSOP Circuit wraps up under TVâ??s bright lights with the 2016 WSOP Global Casino Championshipâ??an official WSOP gold bracelet eventâ??with a share of $1,000,000+ in prize money on the line from August 9â??11 once again at Harrahâ??s Cherokee Casino Resort in North Carolina.
Harrahâ??s Cherokee will also host the first WSOP Circuit Event of the 2016-17 season from August 4â??16 with the championship sandwiched between a robust WSOP Circuit series featuring 12 official gold ring events, including a $1,675 Main Event and a $2,200 High Roller tournament.
This is a historic year for the Global Casino Championship (formerly the WSOP National Championship). For the first time ever, it will welcome players from the WSOP International Circuit events, and players from venues in Morocco, Georgia, Italy, the Czech Republic and Canada will join the contingent of qualifiers from the domestic WSOP Circuit.
A total of 100 players earn free seats to the Global Casino Championship. The Main Event winner at each stop of the 2015-2016 WSOP Circuit receives a free entry, as does the Casino Champion at each stop. An additional 12 qualifiers earned seats by winning the Main Event or becoming Casino Champion at a stop on the WSOP International Circuit.
â??The 2015 National Championship was a blast for us, and weâ??re excited that the World Series of Poker is ramping up the game this year,â? said Brooks Robinson, senior vice president and general manager of Harrahâ??s Cherokee. â??Not only do we get to welcome players from around the world, but we also get to help kick off the 2016â??17 Circuit season. It really is a fantastic opportunity for our employees to help showcase the resort.â?
With stops remaining in Cherokee, Iowa and New Orleans, plus Montreal on the International Circuit in the coming months, eight players are still to be added to the automatic qualifiers list (50 entries total). Fifty additional players are scratching and clawing their way down the final stretch of events via at-large bids for accumulating the most points on the 19-stop WSOP Circuit tour that began back in August, 2015, in Connecticut and ran through the Harrahâ??s New Orleans stop in May.
The 2015â??16 WSOP Circuit Tour features 19 stops throughout the United States that began on August 6, 2015, and ran through May 23, 2016. Additionally, six events were scheduled as part of the WSOP International Circuit that qualify for this championship.
The three-day WSOP Global Casino Championship No-Limit Holdâ??em tournament will get underway at noon on Tuesday, August 9, in the Harrahâ??s Cherokee Events Center. Television cameras will be on hand to cover the action with the final table on Thursday, August 11.
â??We are thrilled to be able to return to Harrahâ??s Cherokee for our season-culminating championship,â? said WSOP Executive Director Ty Stewart. â??Itâ??s only fitting that we end one season and start the next at Harrahâ??s Cherokee, a terrific host venue and locale for poker players far and wide.â?
The World Series of Poker (WSOP) Circuit Events are a series of poker tournaments hosted throughout the United States beginning in August each year, and culminating the following May. The Global Casino Championship, a qualifying tournament with a $1,000,000 prize pool provided by WSOP and televised on ESPN awards the victor a WSOP gold bracelet.
WSOP Circuit Events are designed to give the recreational and amateur player an opportunity to participate in the WSOP experience at a more affordable price point and with less time commitment than the traditional WSOP in Las Vegas.
Each stop features 12 official events in 12 days, including a $1675 buy-in No-Limit Holdâ??em Main Eventâ??the most expensive buy-in event on the 12-event schedule at each stop. Official WSOP Circuit events range in buy-in from $365â??$1,675 and award a prestigious WSOP gold ring to each victor. These poker tournaments are designed to reach a winner within two playing days, with some events structured to complete in one day.
In 2015â??16, the WSOP Circuit season consists of 19 stops in the United States, plus six international stops. The 19 US stops are all tied together by a cumulative points system that awards points based on finish in individual events. A season-ending Global Casino Championship is held each August with the Top 100 qualifiers. The winner of each stopâ??s Main Event (the only three-day structured event) gains automatic entry into the season-ending WSOP Global Casino Championship, as does each stopâ??s Casino Championâ??the person who accumulates the most points throughout the 12 official events at a stop.
Two players at each stop earn automatic entries into the season-ending championship, with the remaining players consisting of at-large qualifiers who have accumulated the most points throughout the US Circuit season. Players who finish within the top 10 percent of the field are typically awarded prize money on an escalating scale until there is one player who has captured all the chips. That victor wins the largest share of the prize pool, a WSOP Circuit gold ring and points towards championship qualification. International Circuit Events, those are closed-loop events, awarding two automatic entries at each stopâ??one for the Main Event champion and one for the Casino Champion.
The WSOP Circuit Events are an offshoot of the longest-running, largest, richest and most prestigious gaming event in the worldâ??the famous World Series of Poker, which dates back 46 years to 1970. This marks the 12th year the WSOP Circuit Events have been held. They were initially established by Caesars Entertainment, then Harrahâ??s Entertainment after its purchase of the WSOP brand in 2004 as a way to bring the WSOP experience to Harrahâ??s-owned properties throughout the US.
In its inaugural season (2004â??05), the WSOP Circuit featured five stops: Atlantic City, Lake Tahoe, Las Vegas, San Diego and New Orleans. Now, with 25 stops, the WSOP Circuit visits 12 US states and six international cities. Cumulatively these events feature more players than the Las Vegas version of the WSOP.
For more information, visit www.wsop.com