New games, new themes and new ways to play are the life's blood for the slot machine industry. Every year, hundreds of new games are released, all designed to satisfy player demands for new gaming experiences.
It's no different in 2018. Game makers have come up with ways to play that are sure to catch your eye and make you want to give them a try. Here are some of the best you'll see in the coming year from a variety of manufacturers — IGT, Scientific Games, Konami, Everi and Incredible Technologies.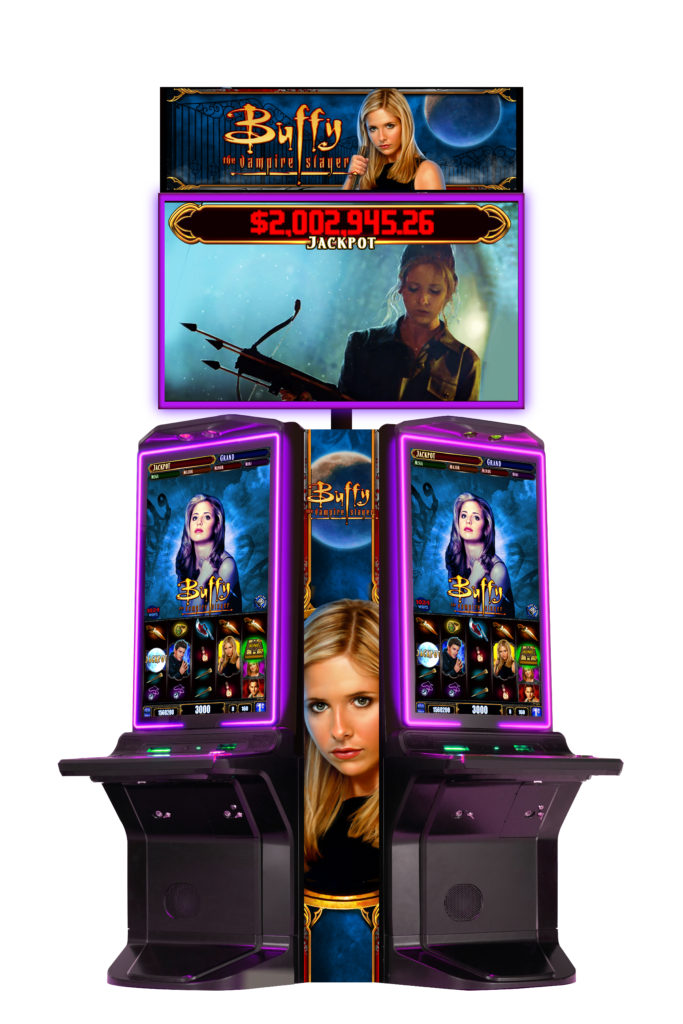 Buffy the Vampire Slayer, Everi: In case you didn't notice the front cover, this one tops our list for hot slots this year. Heroine of the hit TV series and slayer of vampires and demons, Buffy Summers comes to casinos on a five-reel video slot machine with 1,024 ways to win!
It's an action-packed penny slot, filled with sounds and images from the popular series. Buffy is chock full of bonus features, including a pick'em bonus, the Primeval Progressive Wheel for jackpots, expanding reels on the base game and two free-spin bonuses, one with a Hellmouth theme — that's the gateway to the realm of demons that sits under Sunnydale High School — and the other themed on lead characters Buffy and Angel.
Why you'll love it: When the expanding reels grow and add additional symbols, your chances explode to 32,768 ways to win. Not only that, the game's math model adds volatility to enable huge wins, and all players are eligible for progressives regardless of bet size.
Asian themes, Everi: There's a whole family of games coming from Everi with sights and sounds of the East. All are five-reel video, perfect for pennies, each with its own pay configurations: Fu Xuan (75 lines), Fire Fortunes (50 lines), Sheng She Gui Fei (243 ways to win) and Bai Shou Fen Xiang (243 ways to win).
Among the many features in this game family: Fu Xuan and multiple reel sets, and when you play all three at once, it opens up multiple wins as the wild Fu Bat symbol transfers across reel sets. Fire Fortunes has a five-tier symbol driven progressive jackpot and frequent Mystery Wilds to create large wins. Sheng She Gui Fei has free spins and a progressive pick feature, and during the free spins the featured Dynasty Queen symbol has a special stacked version than can nudge up or down, provide an additional spin and create large wins and retriggers at the same time. And Bai Shou Fen Xiang, also with free spins and a progressive pick, lets you pick a special animal symbol during free spins that replaces low-paying symbols to create big win potential.
Why you'll love them: The attractive themes and symbols are backed up with variety in game play — pick your theme for your favorite features. And all have big win potential.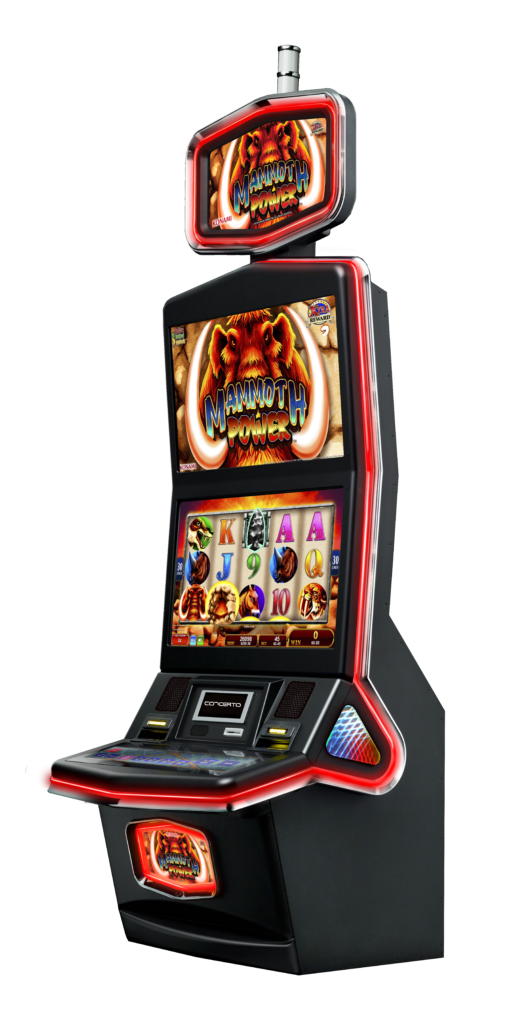 Mammoth Power, Konami Gaming: Konami takes its popular five-reel Xtra Reward format to the ice age in a game that gives operators plenty of options to offer to players of different bankrolls. Mammoth Power is available as a 10, 20, 30 or 40 line payline game in denominations from 1 cent to $5.
Stacked wild cave symbols can boost wins during regular play, and three or more arrow symbols trigger up to 30 free spins. You'll also see Konami's Action Stacked Symbols for multi-payline wins throughout play.
Why you'll love it: On the free spins, those wild cave symbols carry 2x or 3x multipliers, and you can win additional free games during the feature. Those multipliers and plenty of free spins can bring some Mammoth wins!
Fate of the 8 Power Wheel, Incredible Technologies: Asian themes grow in popularity year by year, and Fate of the 8 Power Wheel combines Asian beauty, the lucky number "8" and the Power Wheel for bonusing.
On the 30-line video base game, your credits build with the Instant Stack scatter. Any vertical stack of three like symbols awards credits instantly.
When three Power Wheel symbols land on the reels, you unlock the huge wheel overhead. Your spin of the Power Wheel could win credits, one of six progressive jackpots or take you to the Koi Catch bonus game. If the wheel lands on a credit award, you also get to spin a secondary wheel for chance to multiply winnings up to four times.
In the Koi Catch bonus, the inner wheel awards you a number of picks, Koi fish then swim up and down a crystal stream across your screen. You tap on fish to collect credits and extra picks.
Why you'll love it: Incredible Technologies has a way with coming up with attractive themes and innovative game play, and the Power Wheel is a real eye-catcher. The Instant Stacks for quick wins and the variety of bonuses through the wheel will keep you engaged for sure.
Monopoly Hot Shot, Bally/Scientific Games: When Scientific Game acquired both Bally and WMS Gaming, both brought terrific properties to the table. Those included WMS' Monopoly series through its license with Hasbro and Bally's Hot Shot line.
They're combined the two in Monopoly Hot Shot, a three-reel, nine-payline game on the new TwinStar V75 cabinet which features a 75-inch curved, ultra-high-definition, 4K resolution display
In the Hot Shot spins, the regular reels include spinning reel symbols. When three of them land on the reels, you get spins on the mini-reels for extra spins.
There's also a single-level wide area progressive jackpot on top of three smaller near-area progressives.
And, of course there's the famous Monopoly board bonus that is launched when three Scottie dogs land on the reels. As you roll the dice in a trip around the board, there are extras such as multipliers when you land on a railroad, a credit refund when you land on a utility or tax spaces, a pick'em feature when you land on Chance, Community Chest or Free Parking, even a giant payoff for landing on Go.
Why you'll love it: What's not to love? Players have flocked to Hot Shot and Monopoly games for most of two decades, and now you get your chance to get both in the same game.
Rays of Egypt, Incredible Technologies: The sun shines bright through the sun god Ra with an Egyptian theme in Incredible Technology's GoldLink game family.
A 40-line video slot, Rays of Egypt features beautiful high-definition graphics and stacked symbols that come to life on the vertical 55-inch touchscreen monitor in Incredible's new Infinity V55 platform,
During regular play, any Sun Scatters that land on reels open the Eye of Ra at the top of the screen, and the Eye adds shimmering stacked gold wilds to the reels.
Three scarab beetles unlock the GoldLink Progressive Bonus. Select a beetle to reveal a number of spins on bonus reels where all the symbols are Egyptian coins. Look for four different colored halos around the coins — they not only award additional free spins but lock onto the screen for remaining free spins Collect halos to unlock one of five progressive wheels. The final award of any progressive wins plus credits from the coin scatters can create huge payoffs.
Why you'll love it: The stacks and wilds keep you going in regular play, and the progressives plus payoffs on scattered coins make bonus time an event to savor. Here comes the sun — and it's more than all right.

Seinfeld, Scientific Games: Highly anticipated ever since demonstrated at Global Gaming Expo 2016, Seinfeld is ready for casino floors under license from Castle Rock Entertainment.
On the immersive Gamescape cabinet, the Seinfeld base game consists of four 5-reel, 15-line mini-games, each starring one of the four main characters – Jerry, Elaine, Kramer, and George.
During the base game, the Seinfeld Feature can be randomly triggered by a character appearing on the reels adding a new element, such as Jerry's Added Wilds, Kramer's Wild Reels, George's Multiplier, or Elaine's Giant Reels.
Other game features include a Free Spins Bonus where players can pick which characters' games they want to play. In the "No Soup for You!" Bonus, players pick soups for credit prizes and wheel spins. In the "Festivus" Bonus, players can actually shake the Festivus pole for credit prizes using the Gamescape's gesture control element, or choose to spin a wheel for credit prizes. And in an Episode Bonus that is randomly triggered in the base game, elements from one of six fan favorite episodes are featured.
Why you'll love it: The Seinfeld slot is jam-packed with video from the show. The bonuses incorporate show elements so seamlessly you'll be having as much fun as Jerry and the gang can bring.
Star Watch Fire and Star Watch Magma, Konami Gaming: This pair of five-reel, 25-line video slots with progressive jackpots is on its way in a multdenomination format for 1, 2, 5 and 10-cent play.
The Star Watch games have a galaxy's worth of features, instant-win credit prize symbols, a wheel spin feature, free games, full-reel nudging prize symbols, two fixed bonus awards, and two progressive jackpots.
Both games showcase Konami's new Strike Zone feature, allowing you to activate special areas of the reel frame for extra bonus events at different extra bet amounts. Depending on your bet, you can cover reels from left to right, up to the entire screen. Every star prize symbol that lands in the Strike Zone awards a random credit prize, jackpot, or wheel spin bonus with guaranteed mini, major, mega, or maxi jackpot.
Why you'll love it: The Strike Zone is cool in itself, but you'll really love it when you've activated the Strike Zone and get free spins. At free spin time, prize symbols nudge to fill the entire reel with individual prizes, bonuses and/or progressives — get those prize symbols at the right time, and your credit meter soars like a shooting star.
The Voice, IGT: For 13 seasons, "The Voice" on NBC has been one of America's favorite reality TV shows. Now IGT is bringing the concept, complete with coaches lending their aid to up and coming singers, to the CrystalCurve Ultra cabinet with a five-reel, 40-payline video slot.
The Voice delivers an immersive experience with popular songs and video footage from the show, and features celebrity coaches Adam Levine, Blake Shelton, Ricky Martin and Rita Ora. The game highlights iconic elements from The Voice including the stage, coaches' chairs and red button.
Why you'll love it: IGT takes all those show elements and transforms them into wagering fun, highlighted by The Voice Bonus. The bonus serves as the gateway to the Audition Free Spins, Performer Bonus, coach progressives or The Voice Jackpot. With so many bonus options, there as many surprises as in the TV competition.
Willie Nelson, Everi: If dollar reel-spinning players come for Willie's sweet country music you'll stay for exciting game play in two game themes. Everi is releasing Willie Nelson Shotgun Willie and Willie Nelson Whiskey River.
Both are 9-line games with three mechanical reels, and they share a wide-area progressive jackpot. Each has its own bonus events, multipliers and plenty of Willie.
On Shotgun Willie, lining up three Shotgun Willie symbols on an active ninth line awards the wide-area progressive. There are 2x, 3x, 4x and 5x multipliers on some bar and 7 symbols, and two or more multipliers on the same line multiply each other, so the wins can add up fast.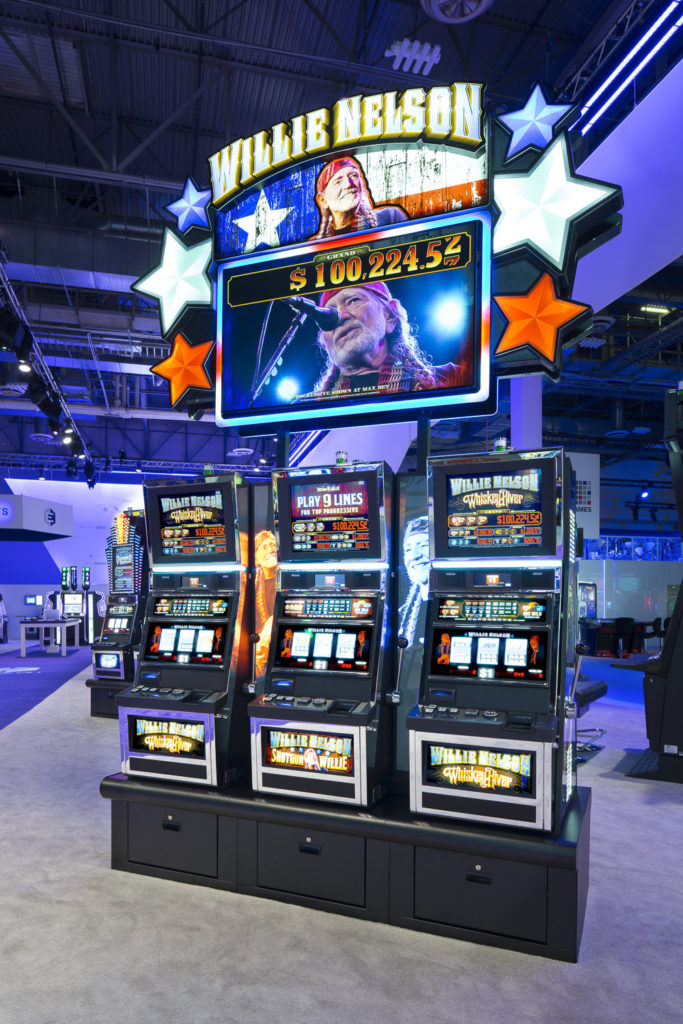 Whiskey River awards the progressive the same way – three Whisky Rivers on payline 9. Whiskey River symbols are wild and multiply your winnings. In winning 7s or bars combos, one Whiskey River multiplies by 2 and two Whiskey Rivers multiply by 4.
Why you'll love it: Those who love mechanical reels don't see as much new product as reel slot players. With this pair of games, Everi is giving them a terrific theme, great sights and sounds and a chance at a progressive jackpot, too.

Wonder Woman Golden Lasso and Bullets & Bracelets, Scientific Games: Under license from DC Comics, TV's Wonder Woman Lynda Carter returns in two new game themes.
Both are five-reel, 40-line games with three-level progressive jackpots along with action-packed game features.
The Power Wheel Bonus which awards one spin of the U-Spin wheel. Players can win credit prizes; the Minor, Major or Mega Jackpots; Knockout Wilds Free Games; or Transforming Wilds Free Games.
The Knockout Wilds Free Games bonus awards eight free spins, during which the reels will grow to eight rows, and each wild symbol that lands on the reels will lock into place for the remainder of the bonus.
The Transforming Wilds Free Games bonus also awards eight free spins with reels immediately expanding to eight row. Wild symbols may appear on the reels and lock in place. Randomly Diana Prince will appear and transform into Wonder Woman causing the Wild symbols to unlock and group together for one spin, increasing the chance for a big win.
Why you'll love it: The Wonder Woman theme has resonated with players for the last couple of years. There's a great nostalgia factor, but the game itself is packed with up-to-date features to make it a blast to play.
Wrecking Ball, IGT: Teardown time can raise your credit meter on this creative new video slot on IGT's Crystal Curve cabinet.
The base game features a unique 5x4x7x6 reel interface and offers players 840 ways to win. During the base game, crane symbols that land at the bottom of a reel trigger the Wrecking Ball feature. This feature includes an exciting crane animation that swings through the reels, crushing symbols and imploding buildings, leaving behind a trail of wild symbols that offer opportunities for big wins.
The Smash Bonus feature is triggered when a bonus symbol lands on reel one and reel four. Players interact with a virtual crane by moving the digital joystick left and right to target and select a building to smash revealing a prize.
Why you'll love it: Graphics are sharp and all those extra ways to win created by the reel configuration will have you anticipating every spin. And at bonus time, you feel like you're in control as you operate the crane.
Sphinx 4D, IGT: A spectacular game that drew raves a year ago in demo versions, Sphinx 4D is ready for casinos in a five-reel, 27-payline video slot with a 400-credit max bet.
It's a multi-sensory gaming experience unlike any other. With glasses-free TRUE 3D™ graphics, and mid-air haptic and gesture recognition technologies, Sphinx 4D keeps players engaged. Gesture recognition technology enables players to use hand movements to move and manipulate the game's graphics in both the base game and during its seven interactive bonuses.
During the base game, players can customize their experience by using special gestures, such as a circle, to switch the game's background between day and night. Players can also unlock the Magic Butterfly Bonus by drawing a crown symbol and change the look of the game by drawing a heart in the air.
Why you'll love it: The dimensional imaging is truly spectacular. When coin images fly off the screen after a big win, you'll want to reach out and grab them. The addition of the touch element has taken Sphinx 4D a quantum leap beyond the already amazing Sphinx 3D.