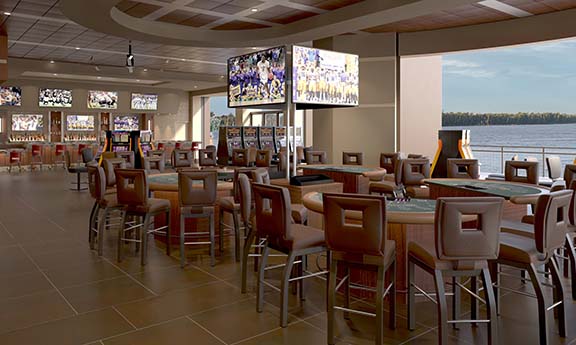 BATON ROUGE, La., – L'Auberge Casino & Hotel Baton Rouge ("L'Auberge") is excited to announce the opening of Riverbend Terrace II on Friday, February 4 at 12pm. A formal ribbon cutting ceremony will be be held on the terrace with guests joining the L'Auberge team members to celebrate. Riverbend Terrace II is L'Auberge's second smoking terrace, with the first opening in 2019. This project, costing $6 million to build, is the first in Baton Rouge and Penn National Gaming's
history to include an outside area where guests are offered the opportunity to play table games and smoke. This high-end space will span 4,500 square feet and will feature over 90 slot machines and roulette, blackjack, and baccarat table games. The space will also include an entertainment bar, 11 TV screens, an air infiltration systems, 4 industrial size ceiling fans and gas fired radiant heaters to keep guests comfortable year-round.
The second open-air gaming terrace will open to the public on Friday, February 4 with a ribbon cutting ceremony held at 12pm.
For more information, visit www.lbatonrouge.com,  or check them out on Facebook, Instagram (@LAubergeBR) or Twttter (@LAubergeBR)
About L'Auberge Baton Rouge
L'Auberge Casino & Hotel Baton Rouge is a $368-million premier southern facility located on 575 acres of land in Baton Rouge, La., off Nicholson Drive in East Baton Rouge Parish. L'Auberge captures the feel of a Southern river lodge and embraces Louisiana's rich cultural history, food, music and 'laissez les bon temps rouler' way of life. L'Auberge includes an expansive single-level, 74,000 square foot casino; two smoke-friendly outdoor gaming terraces; over 1,300 slot machines; 50 table games; a Sportsbook; a 12-story hotel with 205 guest rooms, unique rooftop pool and state-of-the-art fitness center overlooking the Mississippi River; five dining outlets; a 1,500-seat Event Center; and an outdoor festival ground named, "The Lawn," which hosts more than 3,500 people.