The World's Largest! The Biggest! The Tallest! The Smallest! Nothing says America like a good superlative, and nothing helped paint the idyllic image of travel-by-car in mid-century U S of A as much as the roadside attraction did.
Equal parts museum piece, carnival sideshow and schlock, these tawdry excuses to pull off the highway for a little respite from the dotted white lines showcase some of the best and worst of what our country has to offer: For every mammoth monument to the legendary folk heroes of yore (Paul Bunyan) there is macabre marker of our dark side (Who WOULDN'T want to see the Bonnie and Clyde death car?).

But alas, the roadside attraction is becoming yet another piece of our uniquely American culture to be borne back ceaselessly into the past. Interstate travel has all but made irrelevant the system of U.S. highways, at least for long-distance travel, that afforded easy access to stops of all kinds. And now that tablets and onboard video players are omnipresent in the modern family truckster, who needs a life-size T-Rex and mini-golf course to break up the monotony of going over the river and through the woods to grandmother's house? Who needs kitsch when Dora can doing the exploring for the kids on the iPad in back?
But there are still roadside attractions around, and they still manage to do some attracting. Here are a few of our favorites across the Midwest. Fuel up, put some Beach Boys on in the station wagon, and hit the road.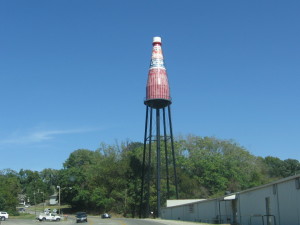 Giant bottle of Catsup
Where: Collinsville, Illinois
What's nearby: Just a 15 mile jaunt along I-55 to St. Louis
Why: Pay respects to America's favorite condiment. It's probably safe to say that most people like catsup. But the people of Collinsville must LOVE it. How else to explain the fact they maintain a giant bottle of catsup right beside S. Morrison Avenue, one of the burg's main drives? Almost 70 feet tall and hoisted above the landscape atop a 100-foot-tall tower, the bottle designed for use as a water tower at the old Brooks Catsup plant was built in 1949 and is capacious enough to hold up to 640,000 bottles of the spicy red syrup the Reagan administration wanted to classify as a vegetable. Some say the monument has supernatural powers in that pregnant women who come too close to it will give birth to red-headed children.
Kicker: As of 2014, the bottle is for sale. Good lucking having someone pass it around your picnic table if you buy it.
John Dillinger Museum
Where: Crown Point, Indiana
What's nearby: Gary, Ind., another city that's no stranger to crime
Why: You just can't get enough fake autopsies.
Death cars virtually litter the American countryside. Bonnie and Clyde's. JFK's. Mansfield's. Patton's. But death pants? Now we're talking something interesting. And if you're interest in the macabre takes a bent toward crime as well, then the John Dillinger Museum should be on your list the next time you make the trip from Indy to Chicago. Not too far off the highway, Dillinger devotee and curator Joe Pinkston has placed the pants and other artifacts from the short life and brutal death of the Depression-era gangster in the basement of the old Lake County (Ind.) Court House. In addition to the trousers of doom, visitors can see the robber's Indiana baseball shoes, wax figures of the gang robbing a bank, fake guns Dillinger wielded when he didn't have real one, and even a bucket (hopefully not the actual one) that Dillinger had as his only toilet during nine years of incarceration. And for the climax, a recreation of the city morgue where a waxen Dillinger cadaver is spread out in all its gory glory.
Kicker: A life-size diorama of the death-by-electrocution of Bruno Hauptmann, history's fall guy for the kidnapper and killer of the Lindberg baby. Why? Well, why not?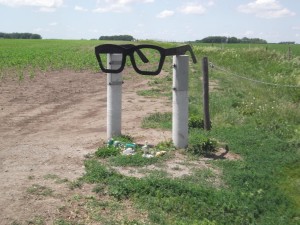 Fatal crash site of Buddy Holly, Ritchie Valens, and J.P. "The Big Bopper" Richardson
Where: Clear Lake, Iowa
What's nearby: Not much, but at least you're just about 90 minutes of Des Moines on I-35
Why: Because it's where the music died
Early on February 3, 1959, a small Beechcraft Bonanza took off in light snow in Clear Lake, Iowa, and plummeted to the ground just minutes later, in a farm field. Dead were three young musicians whom papers the next morning would refer to as idols Buddy Holly, Ritchie Valens and J.P. The Big Bopper Richardson were gone, and the trajectory of rock n roll was forever altered.
Fans of their music or historians of American music culture generally can find connection with the crash, referred to as the day music died in Don McClean's sweeping musical ode, at a couple of small monuments close to the crash site. One of them is a large replica of Hollis famously thick and black glasses. And while the actual point of impact is farther away from the road, friendly locals have been known to guide fans to it.
Kicker: This being Iowa, many aspiring political campaigns also have crashed nearby. Ever heard of President Dean?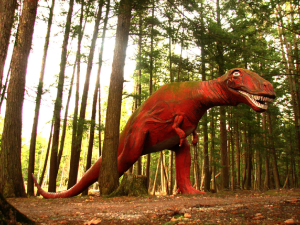 Dinosaur Gardens
Where: Ossineke, Michigan
What's nearby: Traverse City is just a quick 140 miles away, if that's any consolation
Why: Because no list of roadside attraction is complete without at least one dinosaur
Dinosaurs! New Pteradon Nest! Frozen Yogurt Topping Bar!
Seriously, folks, what more can you ask for when you've packed the mini-van with ADD kids and a spouse who won't get off the text machine long enough to fire up Waze for you? Acres of forest environment populated by dinosaurs some of which you can climb to stairs to mount are spread out before you, monetized in addition to the aforementioned Frozen Yogurt Topping Bar! by a souvenir shop and putt-putt golf course. Want more? Ok, greedy, you can also hike and watch birds.
Snark aside, the folks at Dinosaur Gardens must be doing something right. The park is celebrating their 80th anniversary, an especially impressive feat given that there is absolutely nothing close to the place. Seriously. Nothing. The nearest interstate is more than 81 miles away.
Kicker: Frozen Yogurt Topping Bar!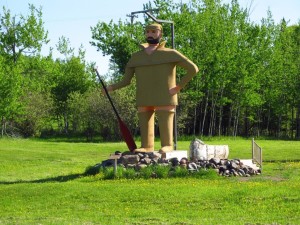 Pierre the Pantsless Voyageur
Where: Two Harbors, Minnesota
What's nearby: Duluth and all its Minnesotan pleasures
Why: It had us at pantsless?
This one was tough for us. We could have gone for the Greyhound Bus Museum. (Motto: Sometimes you ride the dog. Sometimes the dog rides you. Not really.) You also have your fair share of large ottos and pelicans. And then there's all those Paul Bunyan graven images. But when your Googler brings up someone named Pierre the Pantsless Voyageur, well my friends, that's when you know search is ended.
Meant as an homage to the long ago days when French explorers charted Lake Superior (which, as we all know, never gives up her dead when the gales of November come early) and her sisters. Do you know why he's pantsless? Seriously. We're asking. Couldn't find it anywhere.
Kicker: Second place would have been the monument to St. Urho, Grasshopper Chaser. No, we did not make that up.
So, there you have it, a few roadside attractions to get you through the long stretch of highway between your destinations. Enjoy!
By Joseph Grove