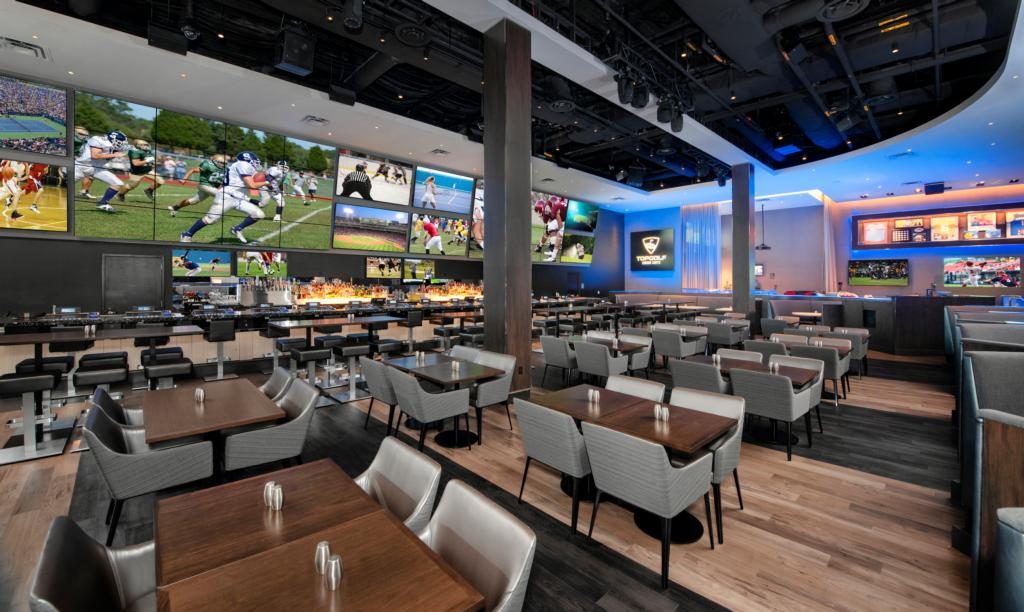 TUNICA, Miss. – MGM Resorts International's Gold Strike Casino Resort further solidifies its position as the region's leading destination for sports and entertainment with the opening of Moneyline Book, Bar & Grill. The $7 million venue is the next evolution of sports betting in Mississippi and features more than 60 HD screens including a giant video wall, expansive bar, three-meal dining, sportsbook, VIP lounge, lively entertainment, and the Mid-South's first Topgolf Swing Suite.
"Last August, Gold Strike and MGM Resorts were the first to launch legalized sports betting in Mississippi, ushering in a new era of sports entertainment," said Gold Strike President and COO David Tsai. "Nearly a year later, we up the ante on the sports betting and sports entertainment experience in the Mid-South, with the opening of Moneyline Book, Bar & Grill and our own Topgolf Swing Suite. We've created an exceptional state-of-the-art venue that brings together sports, gaming, entertainment, dining and nightlife. These continued capital investments combined with our innovative service culture and M life Rewards loyalty program make Gold Strike the region's premier sports entertainment destination."
Upon approaching Moneyline Book, Bar & Grill, guests see a long digital ticker tape highlighting all the current sports stats. Once in the venue, fans are greeted by two 16-foot wide by 9-foot tall video displays that can operate as 16 individual screens, in various combinations or as one large display. Underneath the viewing wall sits a 50-foot-long bar with 16 video poker machines. Sports fans can bet on their favorite teams at the adjacent Race & Sports Book and be seated in one of several tiered dining and seating areas, each offering prime sports viewing angles throughout the 6,000-square-foot space.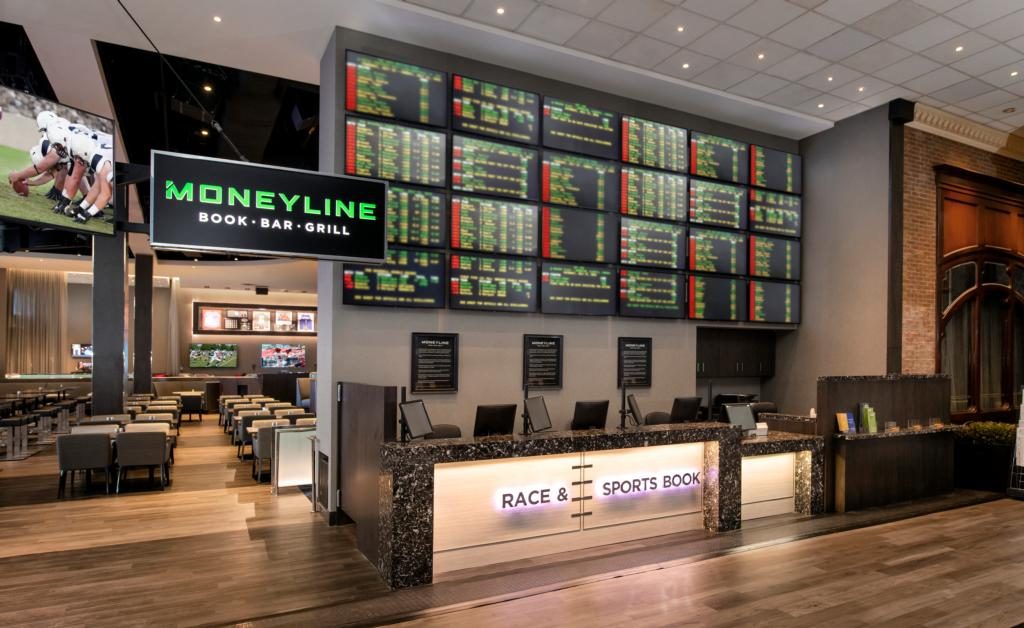 In addition to bar seating, high top, low top and raised booth seating are available in the dining area, while lounge seating is adorned with plush sofas and chairs. Two elevated VIP areas, the Club Level lounge and Skybox are exclusive to M life Rewards premium guests and create a viewing experience unrivaled in the Mid-South. Tables in the VIP areas also feature their own service "at-the-touch-of-a-button," allowing guests to order another beer without missing a second of the game. Throughout the venue, plenty of device-charging ports are available at the bar and lounge tables. Bold statements of dark rich blues and red tones and color-changing lights create a fun, dynamic daytime and nighttime atmosphere that is both comfortable and energizing.
The non-smoking facility is home to the Topgolf Swing Suite, an immersive, high-tech experience for both golfers and non-golfers to partake in friendly competition. Visitors can play in groups of up to eight players or practice solo. Powered by Full Swing golf simulator technology with a massive virtual screen, the Topgolf Swing Suite features a variety of virtual games – including the popular Topgolf target game, Zombie Dodgeball, Hockey Shots, Baseball Pitching, Quarterback Challenge, Carnival Classic and more.
Gold Strike, together with MGM sister property Beau Rivage Resort & Casino in Biloxi, made history last August when they simultaneously became the first Mississippi casinos to accept legal sports bets under the state's new sports betting regulations. MGM Resorts is the world leader in sports betting, and as part of its portfolio, Gold Strike brings a wealth of the company's sportsbook experience to its operation. MGM Resorts has more than 25 years of sports wagering operations experience in Nevada, where the company's resorts combine to write more than 5 million sports wagers each year with annual handle of more than $1 billion. Last year, MGM Resorts became the official gaming partner of the NBA, a historic alliance that kicked-off a number of other ground-breaking partnerships with a variety of different leagues and teams including the MLB, NHL, WNBA, and MLS. These partnerships are centered on developing the sports betting industry through use of in-game data and technology. MGM Resorts is leading the evolution of the sports betting experience and the opening of Moneyline in the Mid-South is part of that progression. Moneyline's minimum bets start at $5 with no set maximum, with bets taken on all major professional and collegiate sports including up to 15-team parlays.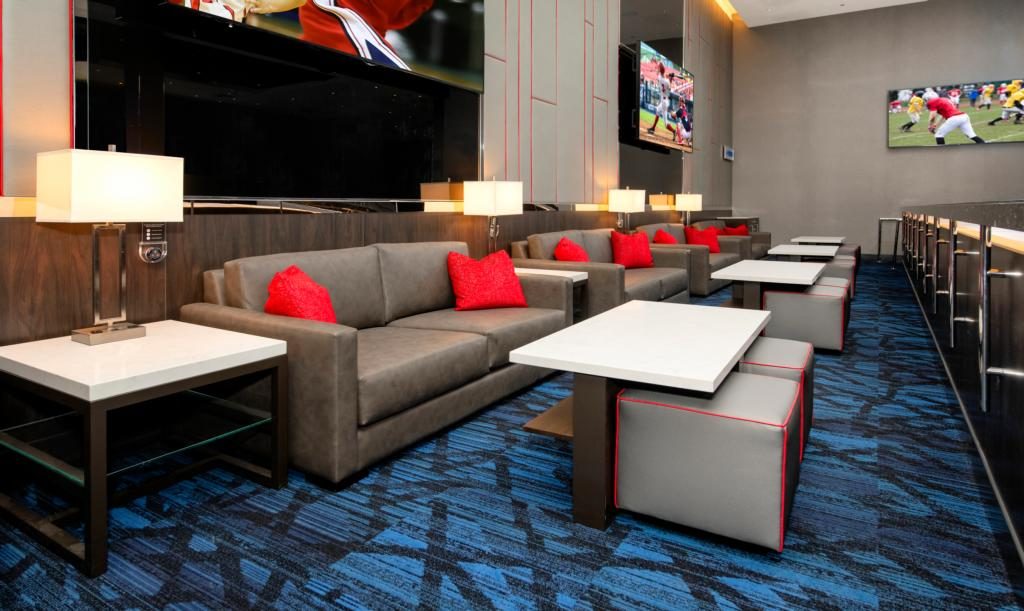 More than a sportsbook, Moneyline offers a diverse menu for breakfast, lunch and dinner. A collection of globally-inspired favorites team up with American café classics and traditional sports pub fare for a winning lineup. Featured items include the signature Moneyline Burger, Firecracker Shrimp, Crispy Wings, Chicken & Waffles, Ribeye Smash, Mississippi Catfish Platter, Greek Salad and Kimchi Rice Bowl.
Moneyline serves 12 beers on tap, plus a variety of bottled domestic, imported and craft beers, along with a championship-caliber cocktail and wine program. Pineapple vodka, infused in-house, is the MVP in three signature pineapple-infused martinis: Pineapple Fusion, Cosmosis and The Frenchman. Those looking to share a drink with a friend or two can enjoy the 64-ounce oversized Moneyline Scorpion, mixed with Bacardi Superior Light Rum, Myers's Rum, Amsterdam Gin, several juices and Grenadine, and topped off with an additional float of 151 Rum.
For more information and reservations at Gold Strike, visit GoldStrike.com