Innovation is a fact of life in today's slot machine industry. It's a competitive business, and a game maker who didn't constantly search for new ways to engage players would languish behind the ever-changing bonus play, sound effects, graphics, jackpot triggers and sometimes even skill-based gameplay offered by others. Slot innovations started with San Francisco mechanic Charles Fey's Liberty Bell in 1895 and have never stopped.
Let's take a look at some of the most important slot machines that have led us to the modern era.
The Liberty Bell, 1895: The first three-reel slot machine set a tone for slot play that endures to this day. The game featured three mechanical reels and a single payline. You'd put your money in a slot, pull a handle and win if three identical symbols lined up.
Fey, the inventor, had a varied background by the time he went to work for San Francisco's Electric Works, and engineering and manufacturing firm where he gained familiarity with the equipment and skills that went into that first slot. He'd worked for a farm tool manufacturer in his native land, the Bavaria region of Germany, then after three years in France, worked for a nautical equipment manufacturer in the United Kingdom before migrating to the U.S.
He knew how to build things to last, and the influence of the Liberty Bell has lasted for more than a century.
Operator Bell, 1907: One of the most important early game makers was Herbert Mills in Chicago, who collaborated with Fey to produce the Mills version of three-reel slots.
Early Mills slots such as the Operator Bell introduced the fruit symbols such as oranges, cherries and lemons that were slot mainstays for decades and still can be found on machines today.
Bally Baby, 1936: Chicago-based Bally Manufacturing, famous for its pinball games, added slot machines to its repertoire in the early 1930s.
They were three-reel slots, with the pint-sized Bally Baby being an early example. It was designed to fit on store countertops and was used as a trade stimulator by merchants. Trade stimulators did not make payoffs directly to players, and some of the types paid off in sticks of gum, golf balls or other products. Some merchants paid in cash, away from averted eyes of law enforcement, opening an extra revenue stream.
The slot machine division eventually became Bally Gaming, then Bally Technologies, which today is part of Scientific Games. The pinball industry morphed into Midway Games, which eventually spun off WMS Gaming, which also now is part of Scientific Games.
At the beginning of a timeline that includes both Bally Technologies and WMS Gaming, those early Bally trade stimulators had a profound ripple effect on the games we play today.
Money Honey, 1963: Another Bally innovation, Money Honey is famous both for the first electromechanical slot and the first slot machine with a coin hopper.
Electromechanicals lit up the slot floor. They were the first machines that had to be plugged in, and the reels were driven by electric motors instead mechanical, clockwork-like devices.
The coin hopper circulated coins for payouts from a pool that could hold many times the change earlier coin tubes could hold. That meant machines could pay out more money between needing to be filled, and payouts could rise.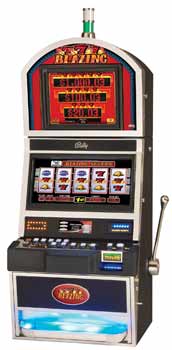 Blazing 7s, 1978: With its distinctive look that includes 7, 77, and 777 symbols bursting with flames, Blazing 7s has been an enduring favorite for Bally. It's only in the last decade that it's started to disappear from casino floors, and the fiery look has often been used in later Bally games.
Blazing 7s was designed as a rapid-hit progressive for dollar players, with lower denomination games added later. The jackpot for three Blazing 7s began building at $1,000, and a percentage of each bet was added to the pot.
Odds of the game were worked out so that more often than not it would hit before the jackpot reached $1,200 — the point at which players are required to sign a tax form before being paid.
Megabucks, 1986: In the first slot machine with a multimillion-dollar jackpot, International Game Technology relied on a number of innovations that had been incorporated into the games in preceding years.
Results on the spinning reel were determined by the combination of a random number generator and a virtual reel, first used together in Bally E2000 series games in the early 1980s. Combined with the stepper motor, developed by slot manufacturer Universal, the modern three-reel format was in place.
Starting in the late 1970s with a patent issued in 1984, Inge Telnaus developed the virtual reel, which enables programmers to make a reel behave as if it has more symbols than it really does. A number from the RNG is mapped onto the virtual reel, with more numbers assigned to losing or low-paying symbols and fewer number to the high-payers.
IGT acquired the patent to the virtual reel, which reel enabled odds against a slot jackpot hitting to be set high enough to enable life-changing payoffs such as on Megabucks and IGTs successor games in its Megajackpots line, both on three-reel and video slots.
Double Diamond, 1989: Another result of IGT's use of the virtual reel/RNG/stepper motor engine was the development of slots using multiplier formats.
Double Diamond wasn't the first. The earlier Double Jackpot had a similar format. But Double Diamond has a classic, elegant look, and remains one of the most-played reel slots today.
The game gets its spice from the Double Diamond symbol that doubles winning combinations. Get a Double Diamond symbol and two single bars, for example, and you get twice the payoff of three single bars. Make it two Double Diamonds and a single bar, and you double the payoff twice — you get four times the payoff for three bars. And three Double Diamonds, well, that's good for the machine's top jackpot.
Every time a Double Diamond lands on the payline, players start crossing their fingers.
Bally Game Maker, 1992: A cornerstone for the slot machine industry, the Game Maker was the first machine to bring multiple games and a touch screen to a single unit.
While the slot games weren't megahits, usually taking a back seat to the video poker, keno and blackjack games also offered on the Game Makers, it was really the first time mainstream reel slots worked on a video platform. Players could switch from game to game, sampling the slots, and playing different poker games.
That ability to choose among multiple games, and play by touching a screen, makes the Game Maker one of the most important stops on any trek through innovative slots.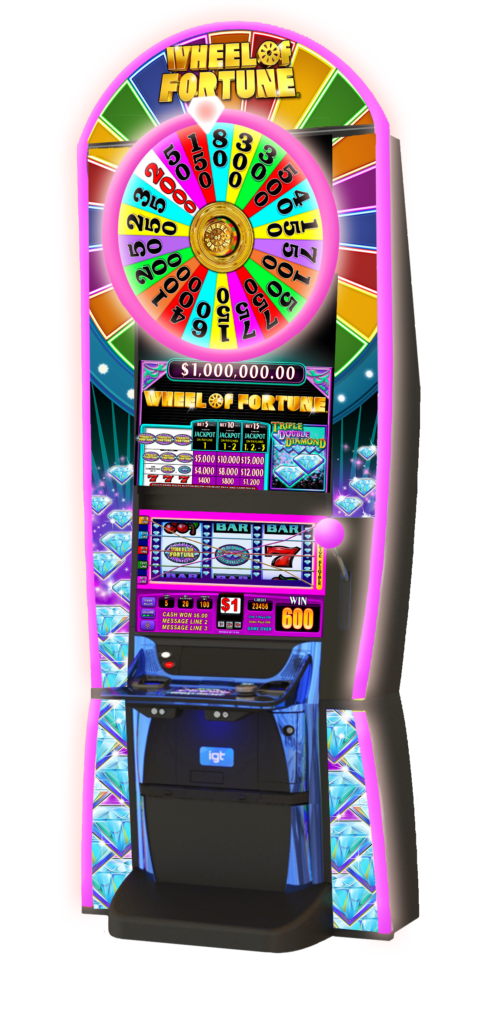 Wheel of Gold, 1995: It was in the mid-1990s that the bonus play on today's slot machines really began to take shape.
Wheel of Gold used the Bally slant-top slots as base games, and affixed a tower with a segmented wheel on top. When the wheel spin symbol landed on the reels, a tone would sound and the player would push a button to start a spin. The player would win as bonus credits with the amount marked in the space that stopped at the top of the wheel.
It was an immediate, huge hit. Other players would stop in their tracks to watch a wheel spin.
IGT recognized a great thing when it saw it, licensed Wheel of Gold and later acquired Anchor Gaming. After proper licensing, IGT then turned Wheel of Gold into Wheel of Fortune, and one of the most popular, timeless games in casino history was born.
Piggy Bankin', 1995: Another early bonusing game, Piggy Bankin', was developed by upstart WMS Gaming for its entry into the casino industry.
Games had a "Dotmation" screen — a black screen with orange dots for animation. Depicted was a piggy bank with a rising credit total. When you hit a break the bank symbol, Dotmation of a hammer would break the bank, and you'd win bonus credits — placing Piggy Bankin' among the earliest bonusing games.
WMS also used the Dotmation format in the original, three-reel version of Jackpot Party, which became a megahit as WMS moved into video slots a short time later.
Fort Knox, 1996: When video slots were still rare in casinos, new gamemaker Silicon Gaming tried to make a splash with Fort Knox. It took bonusing at the time to a new level.
Machines included oversized, elongated vertical screens with high-definition video. Though the games were on video, the representation was of three reels. However, as you played, you'd collect digits toward unlocking the vault at Fort Knox. Upon completing the code, the vault would open and the bonus gold would be yours.
Silicon Gaming had several early hits in that vein, and were important bonusing landmarks. But for a variety of reasons, including both competitive and internal business difficulties, the company did not survive and today is a footnote in slot history.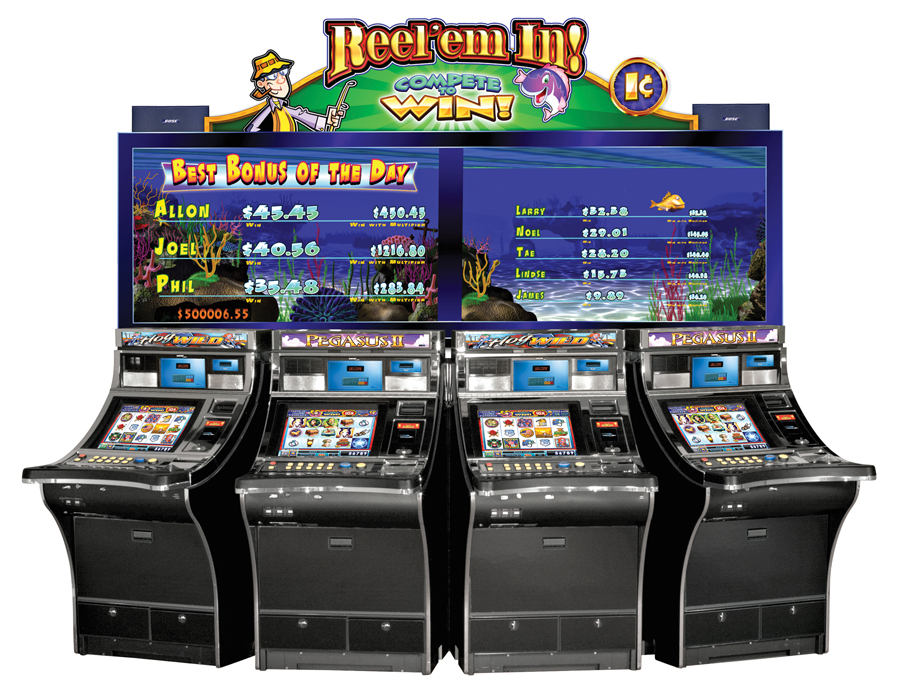 Reel 'Em In, 1997: Video slots had already gained a strong foothold overseas, and WMS Gaming saw them as a way to challenge leading slotmakers IGT and Bally.
The first megahit video slot game was Reel 'Em In, with a fishing theme. Instead of three video reels, there were five, and instead of one payline, there were five — one across each row of symbols as well as a V and a chevron.
When you scattered three fishing lures of the same type across the reels, the reels would fade out and a scene of fishermen on a pond would fade in. You'd touch the screen to choose a fisherman to reel in a fish. The bigger the fish, the bigger the bonus.
Reel 'Em In was enormously popular, and proved players would accept multiple paylines and bonuses.
Cash Express, 2000: Any walk through a modern casino will find dozens of machines with multi-tiered jackpots, with names such as Mini, Minor, Major and Grand. The company that showed us how it's done is Aristocrat Technologies, and the game they chose to introduce the concept to America was Cash Express.
We reach this milestone by train, in the railroad-themed Cash Express. A stationmaster's whistle takes the player to a bonus event, and the credits accumulated in the bonus determine which progressive level the player wins.
The four-level jackpot system is called Hyperlink, and Aristocrat has had dozens of follow-up Hyperlink games. The competition has followed, with IGT, WMS, Bally and other manufacturers all bringing out their own multilevel progressives.
Top Gun, 2005: The mid-2000s brought another era of slot innovations. Several manufacturers, especially WMS and IGT, experimented with community-style slots, in which players could win together. Bally gave an early tryout to skill-based slots such as Pong, in which skilled players could bet bigger bonuses.
In another innovation, Top Gun kicked off WMS' much-copied Sensory Immersion line. A special chair was used for sound and motion effects. Speakers were fitted in the chair back and the chair itself leaned, swerved and rocked.
That was perfect for the bonus round in Top Gun, which put you in the pilot's seat as you zeroed in to shoot down bonus credits.
Immersion games are niche products, but there's enough interest that several manufacturers have picked up on the idea for games that involve sight, sound and motion.
Sphinx 3D, 2013 /Sphinx 4D, 2016: There have been several attempts by game manufacturers — notably IGT — to use three-dimensional imaging to really draw players into the game's world.
But when Atronic/Spielo came out with Sphinx 3D, it really took the imaging into a new … er … dimension. The main bonus event would take you right into the Sphinx, and when you won, virtual coins would come flying off the screen and look so real players tried to reach out and grab them.
When Spielo merged with IGT, IGT ran with the concept to bring out Sphinx 4D, which adds a dimension of touch. Reaching out to the screen in launching a bonus not only draws 3D imaging of an electrical discharge to you, you can feel the tingle as the winning power builds.
Charles Fey could never have imagined the possibilities in the days of the Liberty Bell, but even Sphinx 4D is recognizably a descendent of Fey's brainchild. Where do the slots go from here? Imagination seems the only limit.
_________________________
By John Grochowski