Competition can drive innovation, and we see both in the slot machine industry year in and year out. Competitive pressure contributed to the rise of video slots, the adoption of pop culture themes on slot games and the diversity of bonusing with wheel spins, pick'em events, free spins and more.
Many manufacturers contribute to a creative, innovative atmosphere simply by trying to produce games that will attract players and earn space on slot floors. Let's take a look at the slot giants, the leading gamemakers with a big presence on U.S. slot floors and the companies that are the inventors of the innovations putting the magic into the machines.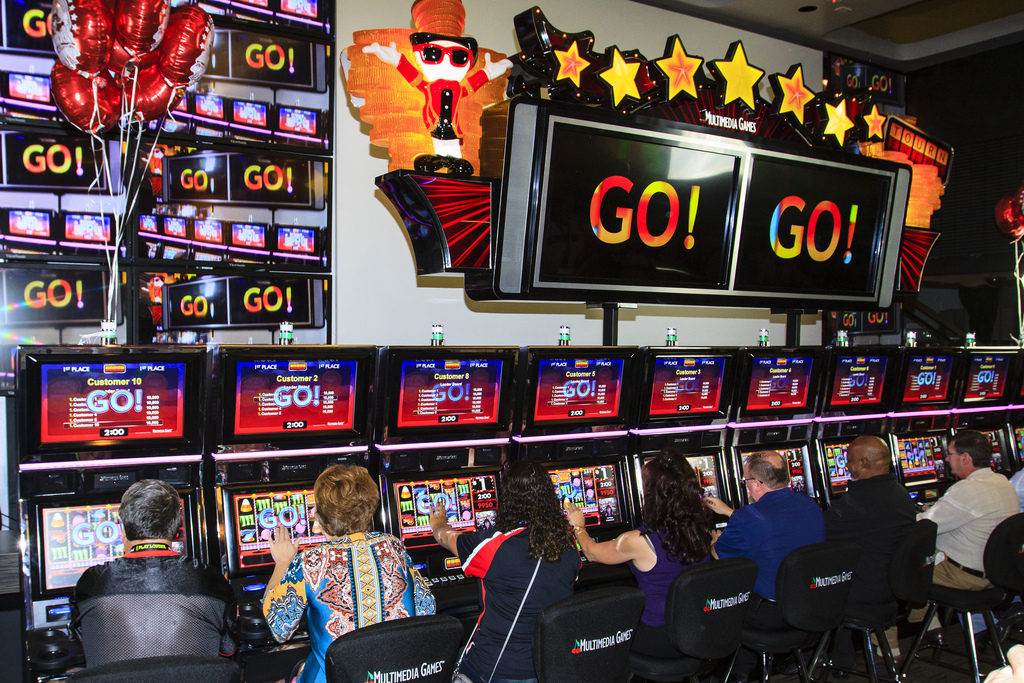 EVERI: A merger of Multimedia Games and Global Cash Access, Everi offers casino operators both creative games and advanced cash handling solutions.
On its own, Multimedia games was a major force in international bingo and lottery circles as well as Class II slot-like games in Native American casinos. It also had a smaller presence in commercial casinos and Class III slots in Native American casinos — the same random number generator games found on commercial slot floors.
Everi has produced several innovative concepts and popular themes including the following:
TournEvent: Multimedia transformed slot tournaments with TournEvent, and since the merger Everi has kept the ball rolling with continued fine tuning and updating.
Casino operators can instantly turn a bank of networked slot games into tournament games at the touch of a pad. During tournaments, standings can be displayed in real time, and cameras in the machines enable streaming video of the contestants in action. Each year, TournEvent winners from casinos across the nation gather for the TournEvent of Champions traditionally held in Las Vegas, to compete for a $1 million prize. It's great fun for players, and great exposure for Everi. Be sure to check out qualifying events at casinos near you at TournEventofChampions.com
Jackpot Inferno: Everi has a number of jackpot systems, with Jackpot Jump probably the best-known. I enjoyed Jackpot Inferno, where any time you win a progressive jackpot, you launch a pick'em bonus. There the prizes include a chance to jump a jackpot level. With a five-symbol tier jackpot, you have a chance in the pick'em to jump all the way to the No. 9 tier. If you start at No. 8, you can jump all the way to the top. A small, frequent-hit jackpot can turn into a mid-tier prize, and a mid-tier prize can morph into the big one, making for an exciting game.
KONAMI GAMING: A subsidiary of Japan's Konami Holdings, Konami Gaming is able to draw on an enormous line of games that have been hits in arcades and home video game systems for years. Not all elements lend themselves to wagering games, but it puts Konami in a strong position to attract players who grew up on video games. Konami has long had a willingness to stray from traditional grids for video slot symbols, sometimes arranging symbols in hexagons or different-length rows. On reel-spinning games, it went an eye-popping route with its Advantage 5 games that featured larger-than-life symbols – making it no problem reading these up close or for passers-by in the aisles.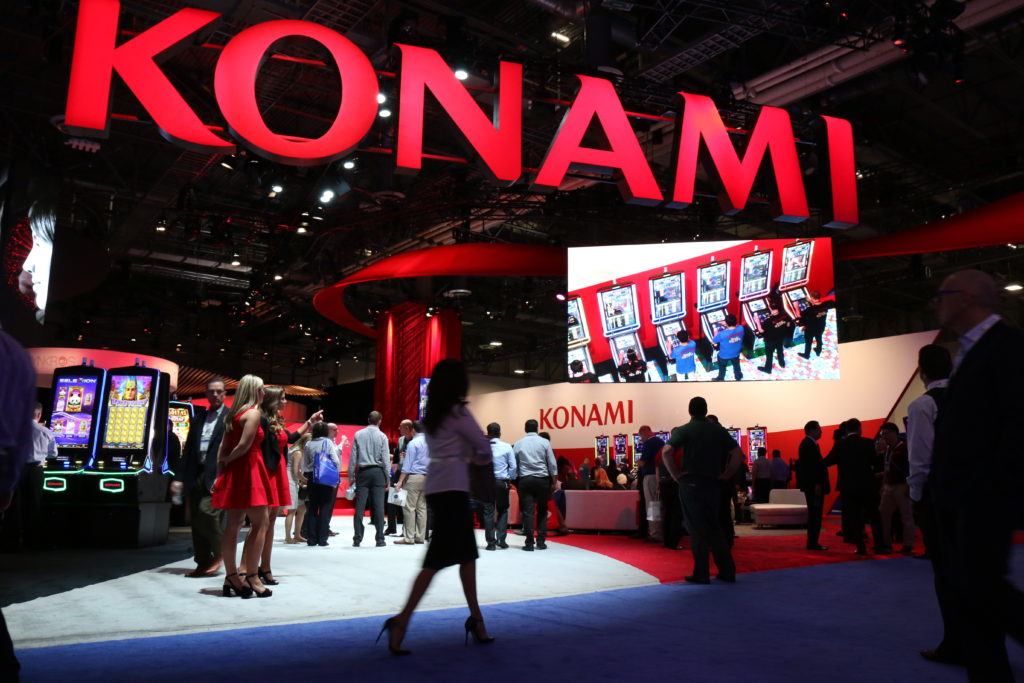 In recent years, Konami has started taking advantage of that video game library. Here are a couple that have already moved into casinos for you to look out for.
Neo-Contra: This wasn't a test of skill like the Contra game that has been so popular in arcades and on home game systems, but it nicely adapts features from the original into a wagering game. The guns, missiles and helicopters of the original are here as well as the Contra code, which home gamers used to pick up additional lives. In the slot game, a video controller sometimes appears on screen and keys in the code give you extra chances in a pick'em bonus. There is also a lock-on feature, used to target missiles in the original, locks onto and eliminates low-paying A-K-Q-J symbols in free spins, clearing the way for more high-paying combinations. That left a nice crossover from non-wagering to wagering formats.
Frogger: The waver of skill-based gaming is perfect for Konami, as it has shown in Frogger. The adaptation of the arcade/home gaming hit includes a four-level progressive jackpot, but the most anticipated element is the skill-based Frogger bonus. Just as in the original, Frogger slot players have to navigate roads and rivers to reach their lily pad homes. To get there, you need to avoid getting squashed by a moving vehicle or snapped up by alligators.
INTERNATIONAL GAME TECHNOLOGY: The world's largest manufacturer of slot games is IGT, an international giant. IGT already was the largest American gamemaker before its 2015 merger with GTech. GTech itself was the product of a number of mergers including European gamemakers Atronic and Spielo before it was acquired by lottery and systems leader Lottomatica.
In the U.S., IGT was a company founded on video poker, but today it is practically one-stop shopping for the casino industry. With its collection of video slots, reel slots, Megajackpot progressives, video poker, video table games and casino management systems, IGT can help casino managers fill any niche on their floors or back shop.
IGT"s roots trace to the mid-1970s when Si Redd, working for Bally Gaming, had an idea. What if you took five-card draw poker on a video screen, and instead of having the player compete against another hand, pay it according to a paytable instead? Bally didn't want the game, and allowed Redd to keep the patent. He then partnered with Fortune Coin to form Sircoma to sell video poker machines.
When Redd took the company public, it was christened International Game Technology.
At first, IGT focused on Redd's innovation, leading the charge into a video poker future. When it branched into three-reel slot machines, with games including Double Jackpot, Wild Cherry, Red, White and Blue and Double Diamond, IGT was a fast success, becoming the world's biggest slot manufacturer.
Here are some of the most popular games IGT has given us over the years:
Wheel of Fortune: With the sights, sounds and graphics of the long-running, mega popular TV game show and the bonus wheel licensed from Anchor Gaming's Wheel of Gold, Wheel of Fortune ranks as the most popular slot game of all time. The original is a three-reel slot, but we've seen video versions, versions with extra bonuses, multi-player community-style versions with a huge wheel at the center and versions in which you get to pick letters to solve a puzzle.
Double Diamond: This classic three-reel game where diamond symbols double winning combinations has led to a family of successor games on three-reel and video formats. The success of Double Diamond encouraged IGT to move into Triple Diamond, Five Times Pay and Ten Times pay, extending the multiplier feature.
Sphinx 3D and Sphinx 4D: In the merger with GTech, IGT gained the Sphinx line of games that had originated with Atronic Gaming. One of the last major games GTech developed before the merger was Sphinx 3D, which took you inside the Sphinx with incredible three-dimensional effects. After the merger, IGT took it a step further with Sphinx 4D, adding a dimension of touch. Both games are show-stoppers and very popular among slot players.
All of these innovations just scratch the surface capabilities at IGT. If you can imagine any type of game a casino operator might want to offer, IGT has it, or will have it soon!
SCIENTIFIC GAMES: Until a few years ago, Scientific Games was known mainly as a developer of casino management, accounting and analytics systems. It dabbled in games, but management software was its bread and butter.
The analytics are still there, but now Scientific is a major force in slot games, too. That's because it acquired Bally Technologies and WMS Gaming, which had been IGT's main American competitors. Both Bally and WMS have rich histories as slot innovators, and both have roots in pinball.
Bally Manufacturing was born in pinball at the beginning of the 1930s with the invention of the Ballyhoo pinball game. It added three-reel slot games a short time later. Eventually, the slot manufacturing portion of the business spun off as Bally Gaming, which then became Bally Technologies.
Bally had its own thriving business in casino management systems and was a leader in establishing networked slot floors. To focus on games, here are a few that have resonated with players in Bally's long history.
Blazing 7s: These rapid-hit progressives with the fiery 7 symbols have been instantly recognizable player favorites for more than 40 years.
Betty Boop: Bally was one of the first gamemakers to get into licensed pop culture icons with its Betty Boop series. Betty was featured on a number of three-reel games before moving into video with games such as Betty Boop Fortune Teller and Betty Boop's Love Meter. When you touched the screen at bonus time, you wanted to be recognized as Burning or Passionate for bigger bonuses than merely Loveable or Romantic.
Pong and Breakout: These weren't major hits, but notable today as the beginnings of true skill in bonus events. Pong was first, but both had bonuses in which you could either play a game of the old arcade favorites or have the random number generator play it for you. They developed niche followings, but were a decade or so too early for today's renewed focus on skill.
WMS took a different route through the Bally line. The pinball and arcade games side of the Bally Manufacturing evolved into Midway Games, maker of Mortal Kombat, Spy Hunter, NBA Jam and other arcade and home gaming favorites. From Midway Games, WMS Gaming spun off into a creative force in slot machines. It made an entry into slots through three-reel games with orange Dotmation screens for bonuses, but really took off through video slots.
Among the classic hits from WMS are:
Jackpot Party: The initial version was a three-reel Dotmation game. Party noisemakers on the reels would launch a bonus event on the Dotmation screen. A grid of rectangles appeared, an indicator would scroll across the lines and you'd hit the button on the console to pick a box for either a prize and the opportunity for more, or for a Party Pooper ending the round.
Monopoly: Some of players' fondest memories come from playing Monopoly slots, winning a trip around the game board fixed atop the machines, and landing on Boardwalk for a big bonus. There have been dozens of versions of Monopoly in the last 20 years, and players continue to love it.
Between them, Bally and WMS give Scientific Games twin forces in slot machines with the innovation and variety to go toe-to-toe with IGT.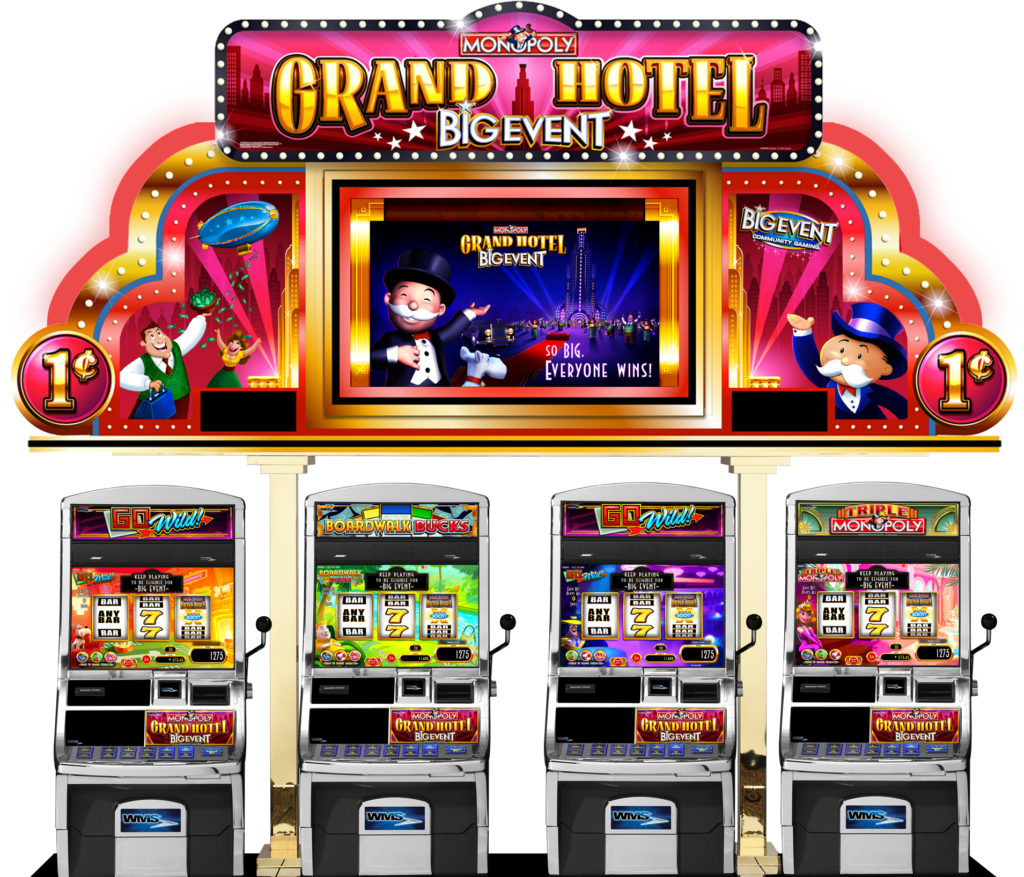 ARISTOCRAT TECHNOLOGIES: Several years before video slots became big hits in the United States, they already were popular favorites on the Pacific Rim, thanks to Australia's Aristocrat Technologies. It was Aristocrat's success overseas that encouraged WMS to move forward with its line of video slots, with IGT and Bally ultimately following. Aristocrat was founded in 1953 by Lee Ainsworth, who later started another slotmaker, Ainsworth Gaming Technology. Reel slots were an initial focus of Aristocrat, but it introduced games with a difference. Well before there were five-reel video slots in the United States, Aristocrat had games with five mechanical reels overseas. That opened up possibilities for the math of the games, with exponentially more possibilities for spins creating flexibility in payoffs.
Later, Aristocrat moved into video and created its most influential product, the Hyperlink with four-level progressive jackpots.
Cash Express: It was through the railroad-themed Cash Express that Aristocrat introduced the Hyperlink to the United States. Cash Express and other Hyperlink games have four progressive levels: Mini, Minor, Major and Grand. The mini progressive is for just a few dollars, designed to extend your playing time and to give everyone the experience of a progressive jackpot. The Grand jackpot on Cash Express started building at $1,000, as well as a Gold Class with a fifth jackpot level, initially resetting at $9,500.
IGT, Scientific Games and Aristocrat make a formidable Big Three among slot makers, but innovations such as Everi's TournEvent and arcade-to-casino transformations such as Konami's Frogger keeps them hopping and keeps the innovations coming.
_____________________________
By John Grochowski