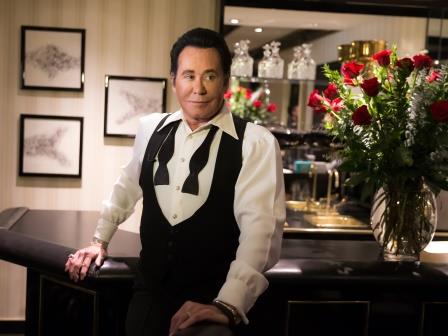 When it comes to Las Vegas, no one knows the city better than Mr. Las Vegas himself, Wayne Newton. Known as an American icon, Newton has performed with the biggest names in show business including Elvis Presley, Frank Sinatra, Dean Martin and many more. Making his Las Vegas debut in the 1950's, he has played over 20,000 shows and doesn't seem to be slowing down anytime soon.
Gaming and Destinations recently caught up with the star himself and talked about everything from his early years as a performer to one day attending the Kentucky Derby. He is certainly one of a kind and we highly recommend making it a point to check out his show on your next Vegas visit.
Enjoy the interview!
Gaming and Destinations: At an early age you played several instruments, sang, performed, and had a lot of interest in music. What really motivated you to pursue a career in entertainment and when did you know that was going to be your direction?
Wayne Newton: When I was four years old my parents took me to see a Grand Ole Opry roadshow in Roanoke, Virginia to see Hawkshaw Hawkins and Hank Williams. I was a big country music fan because that's pretty much all my parents listened to. We were way in the back of this auditorium and I really couldn't see the performers and found myself looking around at the faces of the people in the room. I saw the happiness that those people had on their faces and turned to my mother and said that's what I wanted to do. So, she took me to a piano teacher first and that didn't work out too well because I didn't even know my ABC's yet. Then they took me to a guitar teacher and the first question he asked was do you know your ABC's? I said "no sir I don't." Then he asked if I could count to 12. "Yes sir I can." For the next two years he taught me to play the guitar by numbers. Then, he realized that I was actually playing the songs by ear. I couldn't read the music nor did I follow numbers. At the end of the music session he would play the song that he wanted me to play the next week when I came back. I'd come back the next week and just kind of mess around all week with the kind of music I wanted to play and go back and play the song for him the way he had played it for me.
G&D: You've been performing in Las Vegas since the 1950's and today you are known as "Mr. Las Vegas". You were one of the first pioneers of the residence show standard. Do you consider yourself one of the pioneers of the Las Vegas music scene?
WN: The truth in the matter is I don't really think about it very much. I started performing in Vegas in a lounge downtown called the Freemont in 1959. I started headlining at the Flamingo in 1963. When Howard Hughes bought the Frontier, I was under contract from 1967 until 1980 to play the Frontier, but I played all of the Hughes owned properties which included the Desert Inn, the Frontier, and the Sands in those days. As far as being one of the pioneers I don't really think about it. I still enjoy what I am doing so much and the look on people's faces. I feel like if I can bring them a little bit of happiness that is a good thing. I was given a talent and feel that is what it should be used for.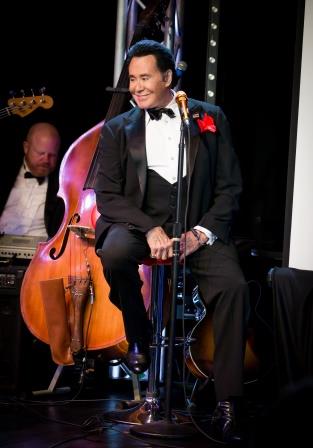 G&D: Your home, Casa De Shenandoah, is one of the most iconic residences in the world and today a popular destination for Las Vegas visitors. Why did you open it to the public and how do you keep with day to day activities when the public tours are taking place?
WN: Well, when we opened it up, I bought another estate about six or eight blocks away, but I do spend a lot of time at the Shenandoah with the horses and that kind of thing. When the tours come through I will greet one or two of them, but by large I stay at the other estate. It is twenty eight acres so we have all the things here that we had at the Shenandoah except the horses and the cars and a few things like that.
Over the years, as property became available adjacent to the Shenandoah I would purchase it. In most instances the properties were trailer homes or that kind of thing and I would just let the people live there until either they wanted to move away or nature took them. I wouldn't charge them rent or anything like that. I would then connect the property as I could and today the property sits on fifty two acres.
One of my favorite things about Shenandoah is that it is such a spiritual place. We have like five artesian wells that feed five little lakes around the property. When you go through the gates and they close behind you and you really won't know where you are. You could be in Kentucky, Rhode Island, or you could be any place because the desert will grow anything if you can get water to it. It's really quite a beautiful place as is our other place. That one kind of holds my heart because that's where I started building and where I remained until we opened it to the public.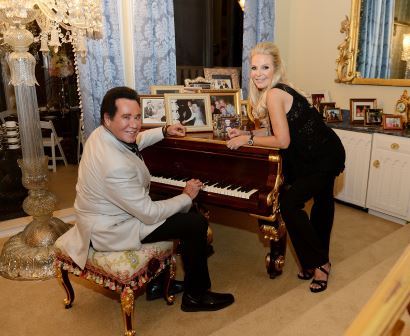 I think if anything really prompted me to open it to the public it was the fact that we were getting a lot of mail asking what was behind those fences and one day my wife suggested that we should let people see this place. We have horses, monkeys, swans, wild ducks, and peacocks. You name it it's there. It's quite a spiritual place so we decided to open it up and let people come and see the beauty of it as we see it.
G&D: Speaking of horses, today you're an avid breeder of the Arabian horses, and in the past also spent some time with thoroughbreds and quarter horses. What intrigues you about horses and what eventually led you down the Arabian path?
WN: From as long as I can remember, I have always loved horses and music and it's hard to decide which I love more. I started with quarter horses and then I went to thoroughbreds. I'm not a spectator by nature. I like to be involved with them. I foal out all my mares myself and then decide which ones are going to be bred. I'm involved in every aspect of it as opposed to having thoroughbreds or quarter horses where you hand them over to a trainer. They seem to enjoy the riding and all of that kind of thing. At one point of my life that I was going to ride in the Olympics dressage. I took lessons every night when I would finish work from about 3:00 am to 6:00 am. I figured out after three years of that I had actually been putting in so much time that I started to lose my appreciation for what I really loved simply because it had become another job. I finally walked into a stall one day in Phoenix and there was an Arabian stallion and it was my first look at really what an Arabian horse was. The Arabian horse is the original horse that started pretty much every other breed of horses, other than wagon pulling horses. They love people and they are people oriented and very bright. You can ask them and they'll do anything, but if you try to make them they'll do nothing. They really do have a mind of their own and have simply taken over what I perceive to be as true art.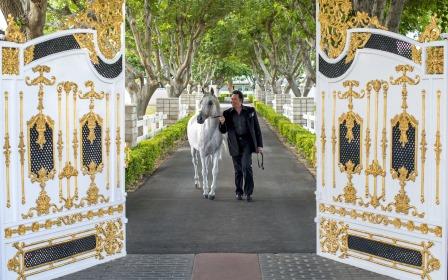 G&D: Well, being based in Louisville, Kentucky, we have to ask if you have ever been to the Kentucky Derby?
WN: No, I haven't. I have always wanted to go though and my wife is from Cleveland, Ohio and has always wanted to go. For some reason, whenever we have been playing in Kentucky, it has not been at the same time as the Derby, but she has always to go. I promised her one of these days I am going to take her.
G&D: Well, consider the invitation granted. We would love to host you and your wife and show you the real red carpet treatment that the Kentucky Derby offers. Just let us know when you can come, and we'll take care of it!
WN: Well Doug, I would be thrilled and accept the invitation right up front. That would make my wife's life. Every year she says I have to stop this and she wants to go to the Derby. Of course, we book our shows so far in advance that you don't think about it until you start to read the press that the Derby is coming up and all of that. I have visited a great many of the farms in Kentucky. When you are a horse lover, even though my preference might be Arabian horses, you appreciate all the good blood lines and they certainly have them there.
G&D: On October 1st last year, an American tragedy took place in Las Vegas that will never be forgotten. You were one of the first prominent voices of Las Vegas to not only speak up about the incident but also personally contributed funds to the victims. (Wayne donated $100,000 to the victims fund) You said this moment will not typecast Las Vegas and it is the responsibility of the entertainers to continue to perform and provide a great experience for tourists. Can you elaborate a little bit more about what you meant and what is next for Las Vegas moving forward?
WN: I was doing a charitable show that Saturday night in Texas so I was out of town. We flew back to Los Angeles on Sunday night. I had meetings scheduled for Monday morning. I was tired so I told my wife I was going to bed. She wasn't tired so she stayed up and watched television. She had wakened me about 4:00 am when all of that really had started to be figured out a little bit. At first, I was in shock like everybody else. Then I was angry. I asked my wife to charter us a plane and let's go home. When I got here I went through the same emotions as probably everybody else wondering how this could happen in our town. But, I saw the silver lining in the this terrible cloud in the fact that I saw what our community had turned into and that was to help other people. The first responders were incredible. The police were incredible. People who were wounded themselves were helping others to find ways to the hospital. I went to the hospitals and spent time visiting the wounded and being with them. It was just incredible. As we were leaving I saw local people walking into the hospital with blankets, fruit, and food. They were offering others their cars or anything they could to people they didn't even know. I think that it showed a side of Las Vegas that I have always known existed.
My comments referenced the importance to not let this define what Las Vegas is. The shooting I mean. What should define it is the phenomenal outreaching of people who live here. Who took strangers in that they didn't even know. Who went to the hospital to see people they didn't know. It's really a phenomenal city that way. I think by and large most people didn't know that existed until this terrible thing happened.
G&D: Well, thank you for stepping up and continuing to drive that message for the city. Over the years, do you have any favorite onstage or offstage memories or times performing with other singers that you like to reminisce about?
WN: Yes, but we could go on for days talking about them all. I've been appearing here since I was 15. I think in 1980 they took a survey of how many shows I had done in Las Vegas and it was something like 30,000 shows in 1980. We can take it from there if you'd like.
It has been such a special time for me. I've had the great pleasure of knowing and being friends with great people like Elvis, Frank Sinatra, Dean Martin, Sammy Davis and all the greats that truly came through those days. Most of them were a great deal older than I was but they took me in because I was kind of a throwback to their generation of music. They wanted to make sure I survived.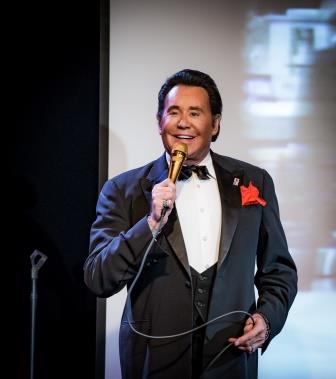 Frank, for instance, would make sure that no matter what was going on in my life, that he was there for me. One time I had pneumonia and was in the hospital and he was the first call I got. He asked how could he help and what he could do. The same thing was true when I was at my lowest points, the first call I would get was always from Frank asking what he could do. As performers, we would hang out after the shows because all of our shows were at the same times. When some performers had a night off they would come walking on my stage. If I had a night off or between shows, I'd go walking on theirs and sing parodies.
G&D: You touched a little bit on old Vegas, and we currently see what direction new Vegas is going. What do you see Las Vegas being like in the next 10 or 20 years? Do you like the direction it's going?
WN: The truth of the matter is I think anytime anything grows the way Las Vegas has grown, with that growth comes some things that you wish didn't happen. There's a lot more corporate influence than there ever has been before. I think from a professional standpoint it was the fact when I started here and moved into the main showrooms it was pretty much a star policy. Meaning that Frank would get one hotel, Dean would be in another, Bobby Darin in another, and me down the street. Liberace is the first one to have brought in Elvis to the Frontier. It was his first time in Vegas. Liberace brought in Barbara Streisand the first time. People think of that as maybe being competitive which it isn't at all. We went through the star policy then I watched it evolve into the magician policy. Everybody had white tigers and Siegfried & Roy. Then it evolved again impressionist with Rich Little and Danny Gans and those kind of people. That went on for about ten years. Now we have been going through the Cirque phase. I think there are eight showrooms with Cirque shows in them. Now it is moving back to star policy again. I just waited it out which is maybe how I got the moniker of "Mr. Las Vegas". I just wouldn't leave. (Laughing) I think it has gone through all those evolutions and it seems to be coming right back to star policy again.
G&D: What does the next chapter for Wayne Newton look like?
WN: I'll just take it as it comes, one day at a time. This is something I love to do and I've never looked at it as work. I have a new movie coming out in January or February that I am a part of called "Puppy Love". But as they say, "If it ain't broke, don't fix it." I enjoy doing what I do and as long as people show up, and as long as I can put a smile on their face and maybe bring them a little happiness for that two hours, I can't think of anything that makes me happier.
Check out more information about Casa de Shenandoah at casadeshenandoah.com