Slot players have long been able to count on games from WMS Gaming and Bally Technologies for fun, innovative ways to play.
From WMS, weâ??ve seen great iconic brands like Monopoly, Jackpot Party, Reel â??Em In and the Wizard of Oz. Bally has given us Blazing 7s, Hot Shot Progressives, Michael Jackson and the recent Wonder Woman.
Now that both have been acquired by Scientific Games, theyâ??re building a great fleet of great iconic brands together. And Scientific Games figures to be a powerhouse of creativity, benefitting players and casino operators alike.
â??Itâ??s just really two legendary game brands coming together, and itâ??s been an explosion of creativity,â? said Matt Volke, marketing manager at Scientific Games. â??Both had great brands and now itâ??s coming together with a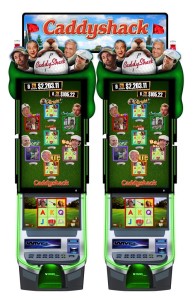 great portfolio and awesome games.�
Building a new legacy together is underway with household names such as The Simpsons, Cheers and much more. Also on its way is the TwinStar 360 cabinet, which gives operators the chance to feature favorites from both the WMS and Bally libraries.
One that players will just have to check out is Caddyshack, the classic 1980 golf comedy starring Chevy Chase, Bill Murray, Rodney Dangerfield, Michael Oâ??Keefe and Ted Knight. Itâ??s one of the most quotable movies of all time, chock full of iconic scenes and lines.
Those moments come alive again on Caddyshack, the slot, with nine video reels and eight paylines. Game graphics, sound and video clips draw on the film favorite.
â??It has a ton of the humor and famous one-liners and scenes from Caddyshack, which is one of those legendary iconic comedies thatâ??s stood the test of time,â? Volke said. â??Iâ??m 36, so that movie came out when I was a baby, but I know the movie very well, and so do people older than me and people younger than me. â??
Movie magic really comes to life in the bonus events, themed after classic Caddyshack scenes.
â??There are all kinds of great moments,â? Volke said. â??Thereâ??s The Best Game of My Life, when the bishop (Henry Wilcoxon as Bishop Fred Pickering) goes out and has the best game of his life. Itâ??s in a terrible rainstorm and he canâ??t miss. But at the end of his round he misses a putt and he curses to God â?? and is hit by lightning.â?
In the Caddyshack slot, the Best Game of My Life Bonus gives you a free spin, and you keep on spinning as long as you get paying combinations. Thereâ??s no stopping until you get a loser, so if you go on the best spins of your life, the credits can build up fast. At the end of the round, you get a multiplier of two, three or 20 times your winnings.
Volke also pointed to the Cinderella Outta Nowhere Bonus, which plays off a scene with Bill Murray as Carl Spackler.
â??It has Bill Murray and heâ??s whacking the flowers,â? Volke said. â??In the game the flowers each have different multipliers, and you play for that.â?
Basically, Cinderella Outta Nowhere is the opposite of the Best Game of My Life. Instead of playing until you lose, this time you play until you win. If you have a cold streak to start, no worries. You spin till you win, then you whack the flowers for a two, three or 20 times multiplier.
There are some fun extras in other free spins bonuses. In the Iâ??m Alright Bonus, you start with eight free spins. You can retrigger the free spins as you play, or even launch a different bonus. Three bonus symbols on the reels award eight more free spins. If four bonus symbols land on the reels, you get eight more spins plus you collect a bonus symbol. Three collected symbols get you one of the other bonus events.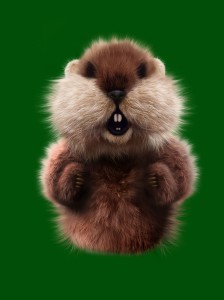 The Improve Your Lie Bonus gives you a chance to, well, improve your lie. You start with one free spin. If you get a Wild Golf Ball or Wild Gopher symbol appears on the reels, you get another spin. Even if you donâ??t get one of the wild symbols, at random times the Wild Golf Ball symbol can drop onto the reels to improve your win.
Thereâ??s the Gopherâ??s Wilds bonus, where youâ??re awarded one free spin with three to nine Wild Gophers randomly appearing on the reels, and the Na-Na-Na-Na bonus, with one free spin and three to nine Wild Golf Balls.
The Na-Na-Na-Na bonus is one that will resonate with Chase fans.
â??Do you remember the scene with Chevy Chase, who plays the golfing prodigy, and heâ??s like hitting the ball all these silly ways?â? Volke said. â??Heâ??s going, â??Na, na, na, na.â?? Thereâ??s a bonus that features that. There are a lot of free play bonuses.â?
Another great brand for the portfolio coming soon is The Simpsons, and thatâ??s a game thatâ??s generated tremendous buzz within the casino industry.
Asked what he liked about the Simpsons, Volke said, â??EVERYTHING. I am the proposed perfect demographic for that,â? he said. â??I was in fifth grade when that started. Bart Simpson was the main character, and he was my age. I grew up watching that show, and I still watch to this day. That game really tapped into the heart and personality of the show beautifully, not just in the game play, which really does have the personality of the Simpsons, but also the film and scenes that are used throughout. Itâ??s really a love letter to the show just as much as itâ??s a great show.â?
The Simpsons is big and beautiful, loaded with features based on the long-running animated TV favorite. As the theme music plays, animation, clips and audio feature Homer, Marge, Apu, Mr. Burns, Moe, Chief Wiggum and plenty of TV regulars.
Itâ??s all on the Gamescape cabinet that practically envelops the player in Simpsons atmosphere. Look straight ahead, and instead of one screen, you have a triptych â?? a main monitor for gameplay flanked by two narrower screens that provide show scenes and track your bonus event. Above is a 40-inch top screen that curves back toward you. And the virtual button panel is a touchscreen display that integrates it all.
When a spin of the video reels bring the same character to the four corners, it launches that characterâ??s bonus. It also changes the scene. In the Apu bonus, the top screen takes out outside the Kwik-E-Mart, while the side screens set the scene inside. The Homer bonus takes you to the nuclear power plant.
A motion sensor makes you part of the game. In the Homer bonus, to add multipliers and wild symbols, you start by moving your hand over the sensor to guide Homerâ??s hand to catch sprinkles falling off a doughnut. Then you go into a free-spin bonus.
Thereâ??s so much here that no one will be able just to pass by The Simpsons. Whether you play or not, youâ??re going to have to stop to see whatâ??s going on.
â??You even get to prank Moe,â? Volke said enthusiastically. â??You get to pick your prank. This is just brimming with personality.â?
Quick takes from Volke on a few more great brands weâ??ll see soon:
CHEERS: â??Cheers is really fun. The artwork beautiful. The bonus wheel is like a dart board youâ??d see in a bar. Everything is like youâ??re in the world of Cheers. When the bartender bonuses appear, the screen fills up like a beer, and we actually shot the footage of a beer filling. Norm has his own bonus event, and so does Cliff. They all have their own lines from the show. Itâ??s very funny.â?
KOOZA: â??Itâ??s on the Wave 360 cabinet, and the artwork on this is amazing. They did a really nice job on that. Itâ??s Cirque du Soleilâ??s first slot machine ever.â?
TwinStar: â??Itâ??s the first Scientific Games slot machine since the merger that uses both WMS and Bally content that you can get onto one cabinet. It gives casino operators a ton of flexibility on content and they can really customize their floor to their customer tastes while using very well balanced brands. Goldfish from WMS is a hugely popular title, as are Zeus and Kronos. From Bally, Quick Shot and Quick Hit are popular, and there will be brand new content that specifically takes advantage of the machineâ??s processing power.â?
COMING ATTRACTIONS: â??Coming down the road there will be Rocky Horror, Cher, a new Friends and a new Titanic.â?
Iconic brands add to the momentum as Scientific Games builds on the WMS and Bally legacies to create its own great portfolio.
By John Grochowski