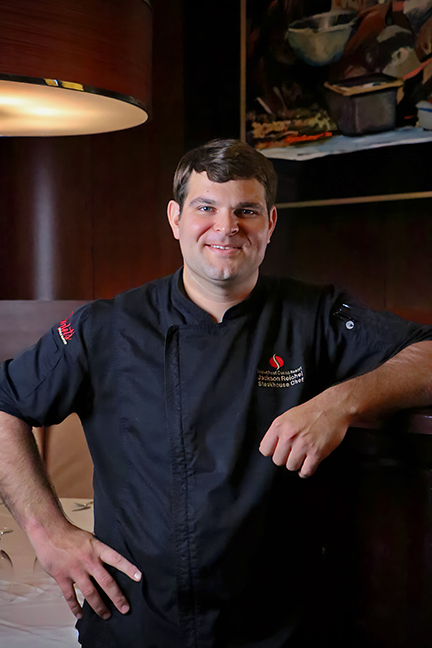 Some of the most treasured beaches in the country are those stretched along the Mississippi Gulf Coast, and just a few minutes from those beaches lies gem of its own at Scarlet Pearl Casino Resort. The property offers stunning views, awesome accommodations and, of course, an array of dining options to appease any guest.
Whether you are looking for a fine dining experience at Scarlet's Steaks & Seafood, a little more international flair with ChopSTX Noodle Bar or Ami Pizza for Italian favorites, or Southern charm at Under the Oak, you will find plenty of options to explore on every visit.
We recently caught up with chef Jackson Reichel, the room chef at Scarlet's Steaks & Seafood at Scarlet Pearl to hear more about his culinary influences and background, what makes Scarlet's so special and why you should visit on your next gambling getaway to the coast.
Listen to the full interview:
Douglas Dreisbach: How long have you been a chef? And how long have you been at Scarlet Pearl?
 Jackson Reichel: I've been in culinary operations going on 14, years. I started at Scarlet Pearl as a cook six years ago and worked my way up the ranks to my current position as the room chef for Scarlet's Steaks & Seafood.
DD: How does the hierarchy work as far as moving up through the ranks?
JR: As a cook, you come in, and you have a certain amount of responsibility, more or less a station or just a single area in the kitchen. As you move up the ranks you will begin to mentor other cooks and will have more responsibility and floating around the kitchen and helping out where you're needed. Then, as you move on to sous-chef, you start moving into a little bit more of a supervisor role, where you are really starting to mentor cooks, helping out with the creation of menus and creation of menu items and really just focusing on the day-to-day operations, quality control and helping the cooks prepare for the volume that we're going to be up against in the coming day. After that, you move on to a room chef, the position I am currently in, and have more managerial responsibilities, sourcing ingredients, quality control, working with the cooks, mentoring, mentoring your sous-chef, and just keeping your finger on the pulse of the operation. Basically trying to make sure it's the best operation it can be, and as efficient as possible.
DD: What do you like about being a chef? What are the challenges of being a chef?
JR: There are several challenges to being a chef. There are staffing issues sometimes, sacrificing time with your family and friends, missing holidays because those are busy times. But I really enjoy it. I tell my guys you have to have passion for the industry, or it will weed you out.
I have a lot of passion for food and hospitality. I really putting down a plate in front of somebody and watching them take that bite and hearing those words, "This is the best I've ever had of this dish," or "This is the best dining experience I've ever had. I've never experienced anything like this." The creative aspect of the job, getting to come up with new dishes and just all of that stuff—it's a lot of hard work, but it's a very rewarding profession. I really enjoy it.
DD: Are there any specialties that you prefer to cook?
JR: I really like Southern cooking. I'm a lifelong resident of the Mississippi Gulf Coast. I was born in Ocean Springs, Mississippi, and I've spent a lot of time on the water fishing, and grew up doing something—there's a bunch of stuff like that around here. And so, I really enjoy cooking seafood and just Southern cooking. I really—some Italian influences—I have family from New York. My dad is actually from New York, my grandpa. And I also really enjoy Asian—I pull some Asian influence into a lot of my dishes, as well.
DD: How often do you change the menu at Scarlet's and what is the process for making those changes?
JR: We are actually in the process of changing the menu to be more seasonal and shoot for three to four times a year now. Usually, when creating the menu, myself, my sous-chef—I even reach out to some of my cooks for ideas, and we test them out, put them on paper and send it to my food and beverage director and we have a little think tank about. We're used to saying, "Go back. Do some more work on this. Do some more that and come back with another copy," From there it goes up to the VP and CEO/owner. So, really, there's a lot of people that have their hands in the menu creation here.
DD: When you hear back from the top-level CEO, president or owner, and they say the dish is excellent… how is that feeling?
JR: That's what keeps me doing this. When I recently gave the VP a tuna dish for the first time, prior to it being on the menu, he told me that it was the best dish he's had since he's been dining in the restaurant, and that really felt good.
DD: With so much competition, how do you and your team make sure you are at the top of your game and make sure your guests have a great experience?
JR: As far as the culinary standpoint of things, we are really homing in on the quality of ingredients that we use. It has always been a blessing here in the fact that they have always given me carte blanche to work with. They want me to use the best ingredients, and we spend a lot of time trying to source local, fresh ingredients, all the best steaks, all of the local seafood.
And then, out front, we just try to go above and beyond whenever we can. We had a guest come in the other day I made this coconut cream pie. I made it from scratch and it was delicious. Now he asks about it every time I see him.
DD: What are some of the more popular menu items that you see ordered regularly from the meat and seafood standpoint, and then of course the appetizer selection?
JR: Our guests really, really love our steak. We use all USDA prime beef and everybody loves our filet. The 16-oz. Delmonico is a big one. We try and—we've been doing this thing lately where the chef's selection wagyu—we have the Japanese A5 on the menu, of course, but we try and—the chef's selection wagyu—we've been trying to bring in different wagyu from all over the world, Australia, America, and to utilize different cuts, and that's kind of been a hit. We've been bringing in these great ribeyes from Castle Rock, Pennsylvania. Their wagyu—they're a Grade A. They're a really nice product. People seem to love them.
DD: In closing, why should someone visit Scarlet Pearl?
JR: If you want to have a dining experience like no other, we offer the best on the coast. We really try to go above and beyond to make sure you have a great experience here.
For reservations and more information about Scarlet Pearl Casino, visit ScarletPearlCasino.com, or call 1-888-752-9772.