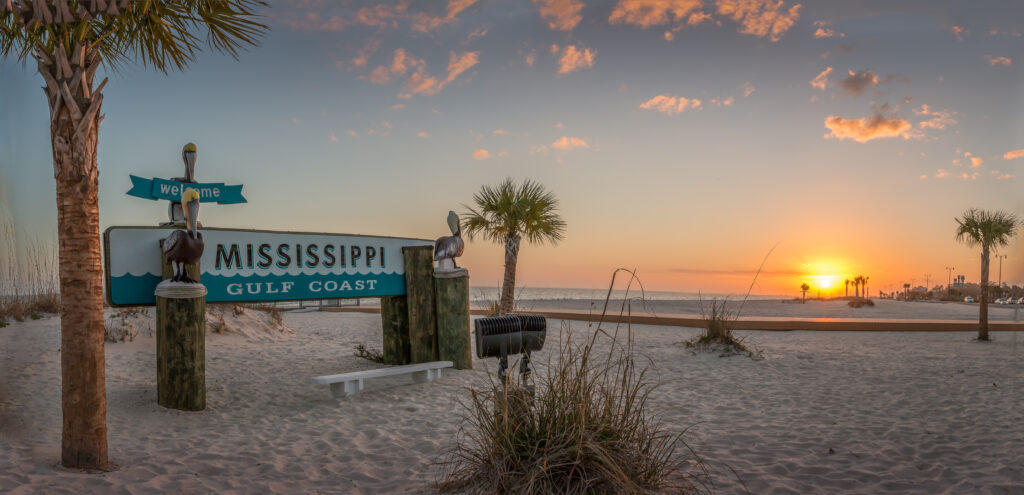 Coastal Mississippi is one of the best kept secrets in the South and has grown into a premier casino destination as well. The area boasts great gambling, beautiful beaches, restaurants and so much more. The stretch that runs from Moss Point to Waveland features twelve casinos, a buzzing beach scene and a plethora of restaurants located beach front or directly across the street.
We are excited to provide you with an overview of the area, as well as a few recommendations. For a full list of recommendations, offerings and more, visit CoastalMississippi.com.
Before visiting, we encourage you to check with individual businesses on any potential changes to their availability and/or hours, but rest assured Coastal Mississippi is working diligently with hospitality partners to ensure your safety and health is the top priority. Find out how in the Destination Promise of health and safety by visiting CoastalMississippi.com.
Casino Collection
The Coastal Mississippi area features twelve casinos ranging from super plush, resort-style casinos, to smaller locations that are frequented by local residents and offer a more intimate atmosphere.
While there are many to choose from, one of our favorite casino resorts to visit is Beau Rivage Resort & Casino, the gem of Biloxi and known for its incredible food and entertainment offerings, as well as the best amenities and hospitality you'll find anywhere. Guests can choose from three fine dining experiences with BR Prime, Stalla (Italian) or Jia (Asian). The Buffet at Beau Rivage is currently closed due to COVID-19 restrictions, however the property features more dining establishments to satisfy your taste buds. One of the most recent additions to the Beau Rivage scene is BetMGM Book Bar & Grill where you can hang out to watch and wager on your favorite sports teams while enjoying great food and a wide variety of beers.
In warmer months, guests can enjoy an expansive pool area offering private cabanas and poolside food and drink service while overlooking the Mississippi Sound. And lastly, a trip to a resort is not complete without a visit to the spa, and Beau Rivage can help you out there as well. The Spa at Beau Rivage offers all your favorite services separated into a men's and women's side with both offering steam rooms, saunas, Jacuzzis and more. For the golfers of your group, be sure to check out Fallen Oak Golf Course, owned and operated by Beau Rivage and reserved for invited guests of the resort. Designed by the famed Tom Fazio, you will want to reserve the time to dedicate an afternoon to this gem.
You also can't go wrong with IP Casino Resort and Spa and you certainly won't miss it as it is the second-tallest building in Mississippi and can be seen from miles away. Located on the Back Bay of Biloxi, the resort is home to several fantastic restaurants including thirty-two, a premium steakhouse that is on the thirty second floor of the resort showcasing breathtaking views of The Secret Coast. Like most first-rate resorts, IP also has a great spa, outdoor rooftop pool area, great gambling and more.
Hard Rock Hotel & Casino is one of the top casino brands in the world and maintains that image at its Biloxi location. Maintaining the vibrant rock-and-roll theme featuring famous music memorabilia, bright lights, and music, you are sure to have a great time at Hard Rock. The property offers great dining with Ruth's Chris Steakhouse, Half Shell Oyster House and more, as well as one of the hottest pool scenes on the coast. As you might have guessed, the property also has one of the top concert venues in the area and hosts some of the biggest names in the business, up-and-coming artists, and even some classic bands you have heard forever. Enjoy the many aspects of Hard Rock on your next visit to Biloxi.
Further west on US-90 (Beach Boulevard) you will find other casinos that all carry their own unique characteristics including Island View Casino Resort in Gulfport and Hollywood Casino Gulf Coast and Silver Slipper Casino Hotel both located in Bay St. Louis.
Regardless of where you stay and play, the casinos in Coastal Mississippi are magnificent and ready for your next visit.
For a full list of casinos in the area, visit CoastalMississippi.com.
Beautiful Beaches
Coastal Mississippi offers an array of activities to enjoy ranging from beaches and fishing to golf and shopping. A drive along Beach Boulevard (and the longest man-made beach in the nation) will show you the popular hangouts for locals and tourists alike as well as the scale of beach activities and services including watersports, chair rentals and other accommodations to make your beach day a breeze.
Some of the most popular beaches include Biloxi Beach, Ocean Springs Front Beach, Gulfport Beach and Bay St. Louis Beach.
Biloxi Beach is probably the most popular given its proximity to the casinos. A convenient walk from Beau Rivage and several other resorts make it an easy getaway to enjoy the soft, white sand and the warm waters of the Mississippi Sound.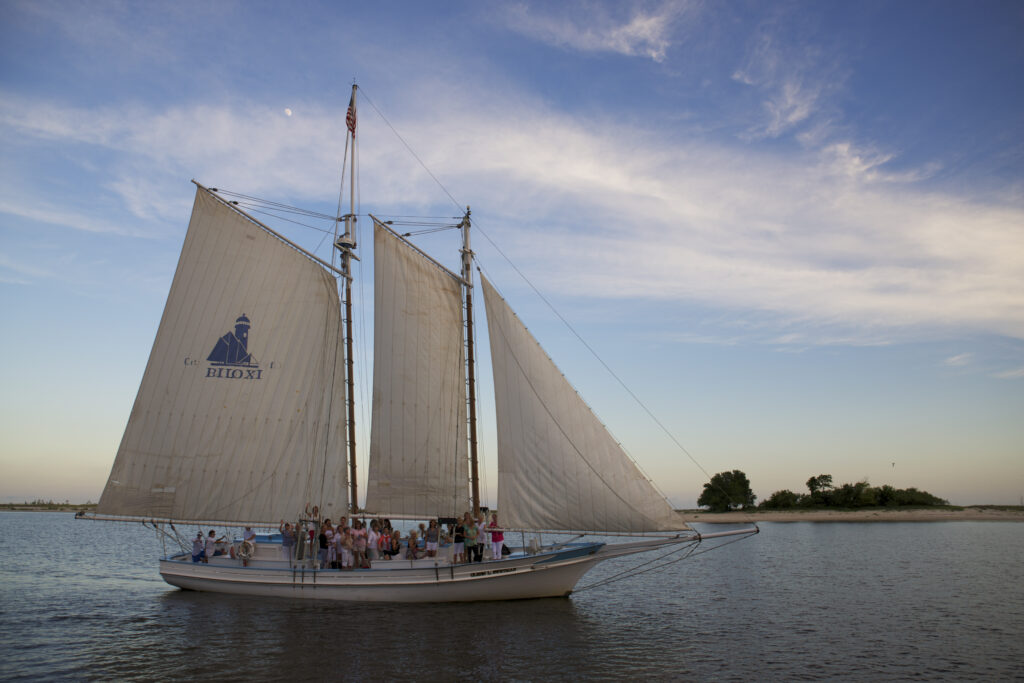 Fantastic Fishing
There are more than 200 species to catch along The Secret Coast, and there are plenty of fishing charters that will show you where to catch your fair share of fish. The warm waters make for your choice of inshore fishing, offshore charters, or simply casting a line from a pier or wade fishing in the calm coastal waters. There are over fifty charter companies that range in price, specialty, and dock location. A few of the top-rated charters are Captain Ron's Charters (Gulfport), Team Brodie Charters (D'Iberville), 9-Ball Fishing Charters (Long Beach) and Fish-On Charters (Biloxi) and a full list can be found at CoastalMississippi.com.
Great Golf
When it is time to tee it up, there is no better place to be than in Coastal Mississippi. There aren't too many places where you will find courses designed by this many greats including Tom Fazio, Jack Nicklaus, Arnold Palmer, Davis Love III, Jerry Pate and Mark McCumber, all within a short drive from one another. Setting up for a perfect golf getaway, the courses offer elegant and challenging layouts that will test the best golfers in your group but are designed with the moderate weekend golfers in mind as well. The Tom Fazio designed Fallen Oak is the most premier course in the region and is offered to invited guests of Beau Rivage. From the moment you drive through the gates and approach the clubhouse greeted by the hosts who help you with your bags, you know you are in for a treat. Other popular casino-owned courses are The Grand Bear (Jack Nicklaus) owned by Harrah's Gulf Coast, The Preserve (Jerry Pate) owned by Palace Casino and Bridges Golf Club (Arnold Palmer) owned by Hollywood Casino in Bay St. Louis. There are also several top-rated non-casino courses including Windance Country Club (Mark McCumber), The Oaks Golf Club and Shell Landing Golf Club. A full list of courses with reviews and ratings can be found at CoastalMississippi.com.
Magnificent Museums & History
The rich history of Coastal Mississippi runs deep, and the landmarks and museums offer a great opportunity to explore the region's history at your own leisure. Some of the popular attractions are the Maritime & Seafood Industry Museum (Biloxi) highlighting some of the maritime history of the area, Fort Massachusetts (Ship Island) that was used by the British to stage their invasion of New Orleans in the War of 1812 and other significant tenants, Beauvoir (Biloxi) is the final home for Jefferson Davis and hosts his Presidential Library on 52-acres of land that also is home to a Confederate Cemetery where the tomb of the Unknown Confederate Soldier resides. For a full list of museums and historic sites, visit CoastalMississippi.com.
Delectable Dining
Coastal Mississippi features some of the best restaurants in the region. While most of the casinos feature fantastic fine dining, you will also find some great options that are locally owned and operated and offer the Southern charm and hospitality that will round out your trip.
Located across the street from the Beau Rivage and Hard Rock in Biloxi is Mary Mahoney's Old French House Restaurant, a home to family recipes and cuisine for over fifty-five years. Some of the menu favorites not only include Gulf-fresh seafood and choice cuts of steak, but also signature dishes, such as the famous Shrimp & Lump Crabmeat St. Patrick special, the Sisters of the Sea Au Gratin and the Veal Antonio. Be sure to try a bowl of the World-Famous Seafood Gumbo as it is some of the best we've ever had and can be shipped anywhere! Plan some time before or after your meal to hang out in the bunker-style bar and hear stories from owner and operator Bobby Mahoney, you'll be glad you did!
If you are in the oyster mood, you can't go wrong with Half Shell Oyster House featuring several locations including Biloxi, Gulfport and one in the Hard Rock Hotel & Casino. While there are several fantastic beach restaurants, one that is always a hit is Shaggy's located on Biloxi Beach. The outdoor dining patio gives you panoramic views of the Mississippi Sound and Biloxi Beach while offering Gulf-fresh seafood, cold beer and usually music to keep the night going. And if you are barbecue connoisseur, The Shed is the spot to be, and worth the drive to Ocean Springs to get it. Featuring all of your favorite smoked meats, owner Brad Orrison and his team have collected just about every award possible and the restaurant has been featured on numerous cooking shows with its unique blend of smoke, rubs and top-quality meats.
For a full list of coastal dining suggestions, visit CoastalMississippi.com.
Final Thoughts
If you are looking for a destination that offers an array of activities, great golf, gambling and dining that is moderately priced and always friendly, Coastal Mississippi is calling your name. Be sure to visit CoastalMississippi.com or call 1-888-467-4853 where you can find a plethora of information and request a free Visitors Guide to help plan your visit. From Moss Point to Waveland, The Secret Coast is awaiting your visit!