While casinos are primarily known for great gaming, there is no doubt that the amenities and offerings that surround the gaming are just as much of an attraction as the games themselves. Realizing this, casino properties have upped their game with features like spas, fine dining and other luxuries that will keep customers happy and coming back. Rhythm City Casino Resort in Davenport, Iowa is a preferred property of Midwest Gaming and offers the highest level of quality and luxury that any gaming enthusiast would love.
Whether it's the sleek, classy hotel rooms or the delicious food at Ruthie's Steak and Seafood, Rhythm City Casino Resort has something for everyone.
The resort was designed to be luxurious and enjoyable for visitors and the high-quality amenities insure that. Whether you're relaxing, eating, gaming, or even being taken care of in the spa, you're able to feel the quality and luxury around every turn. 
Beautiful Hotel Rooms
Rhythm City Casino Resort has some of the best hotel rooms in the business. With beautiful tile floors and designer light fixtures, the property is committed to a high level of quality and cleanliness. There are a variety of suites to choose from with three main options that seem to always impress customers.
The Concierge Suite
The Concierge Suite offers an expansive layout filled with an array of lighter reds and whites for its décor and great views of the surrounding area. Offering ___ square-feet, you will have plenty of room to enjoy throughout your stay. Guests will find several nice additions in the multi-room layout including a whirlpool tub and a glass encased shower, two vanities and two televisions, one in the bedroom and one in the living room.
Deluxe King Suite with Whirlpool Tub
As the name might give away, one of this suite's greatest benefits is the relaxing whirlpool tub, however a convenient kitchenette with a refrigerator is a nice touch. The entire decor screams luxury with contemporary colors and furniture that will offer a great start or end to the day.
The Grand Master Suite
This suite offers the height of luxury at Rhythm City with a host of unique amenities and luxurious decorations that you won't find anywhere else in the casino. The double entry door entrance opens up to a brightly lit marble foyer, and from there, it only gets better with a wet bar in the dining area, a guest powder room, and a large separate bedroom with an adjoining master bathroom with a jacuzzi jet tub with a stone and glass walk in shower. The decor is chic and modern and catches the eye the instant that you enter the room. Guests will find all of the other common amenities, and the true draw of this room is the multiple rooms, the extra space, the jet jacuzzi tub, and the incredibly luxurious decor available to the guests that stay in it.
Ruthie's Steak & Seafood
If you are looking for fine dining, look no further than Ruthie's Steak & Seafood. Located on the top floor of the property, guests will enjoy amazing views of the Quad City area while enjoying premium selections of steaks and seafood.
Led by the experience of Chef D'Cuisine, Peter Sedlak, popular items include the Steak Tartare and Lobster Bisque for appetizers and Filet Marmalade and Prime Rib for entrees. If you are craving a seafood selection, the Atlantic Salmon, Wild Harvested Sea Scallops and Wild Halibut are all winners.
In addition to the main dining room and lounge area, accommodations can also be made for larger groups in private dining room areas as well.
The Delicate Care of the Spa
Finally, to relax as much as possible, be sure to schedule some time in the Spa at Rhythm City. Guests can enjoy a wide variety of common treatments as well as unique, customized packages to suit those who may be looking for something different in their spa stay. Above all, it is a holistic spa experience that is specifically designed to generate as much recovery of mind and body, and relaxation, as possible.
Some of the more common treatments that the spa offers are things like massages, facials, nail services, hair & waxing, lashes & brows, and body treatments. The spa offers a huge list of different services and customized, combined packages that make sure a guest has the exact kind of stay and experience that they want to have.
Consider, for example, the Day of Decadence package: a combination of a long facial, an even longer massage, and a body scrub with a pedicure and a Shellac Manicure. It will leave your whole body feeling relaxed and rejuvenated, hitting the hardest, most stressed areas and providing comfort and care to the parts of you that need the most help.
Other, more simpler packages focus harder on the massage side or the pedicure or manicure side of the spa, such as the Spa Rejuvenate 1 or Spa Rejuvenate 2 package. All of the packages, though, offer great relaxation and comfort to the guests that experience them.
The Spa at Rhythm City offers something for everyone, and a sure bet is you are looking for relaxation, comfort and luxury.
Overall, Rhythm City Casino Resort offers luxury around every corner. Whether you are looking for great gaming, decadent dining or sensational spas, you're sure to find it at Rhythm City.
For more information and reservations, visit RhythmCityCasino.com or call 1-844-852-4386.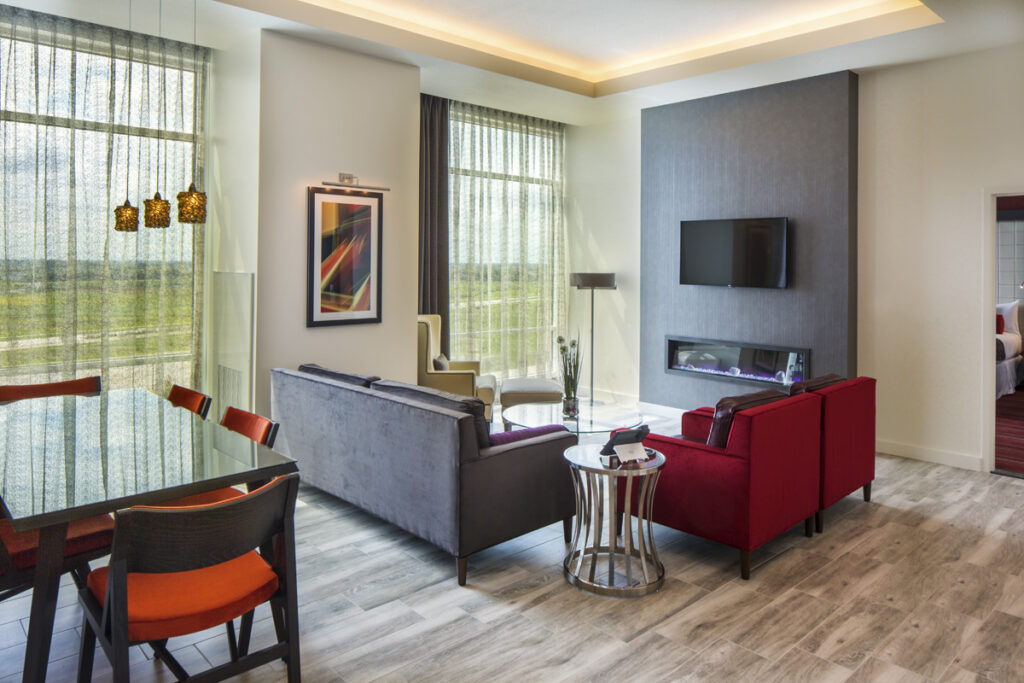 By James Corporon