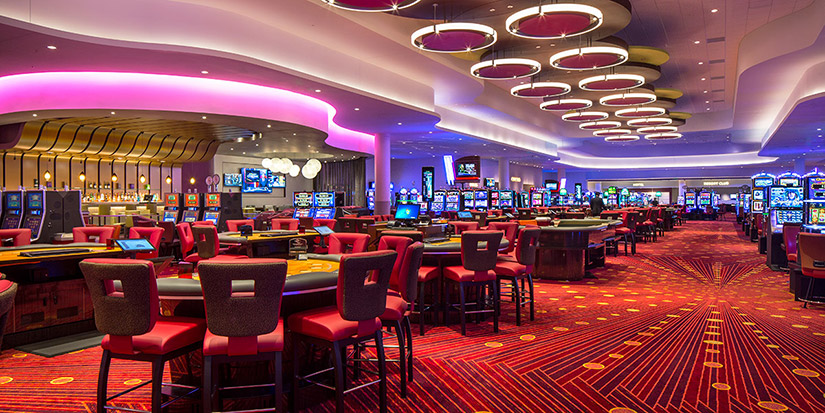 Rhythm City Casino Resort is a mix of the best parts of hospitality. Reopening the land-based operations in 2016, the resort is located on the eastern border of Iowa in Davenport and has some of the best amenities for guests to enjoy. The resort is primarily owned by the Kehl family, who are known for customer service after a long tenure in the hospitality business.
The Kehl's got their start in restaurant business the 1960's with a small café, by the 1970's they had expanded and started offering dinner cruises and by 1986, they had a 1,000 passenger boat and were filling up the cruises nightly. So, when the talks of expanded gambling on the riverside in Iowa started to get serious, the Kehls were among the first to get in on the new industry.
This brings us to now and the glory of the lavish Rhythm City Casino Resort that was acquired and brought land-based by the Kehl's being rededicated to the family's hospitality mentality. The resort now offers an array of amenities and services that showcase something for everyone that visits the property. Everything from fine dining at on-site restaurants to watching your favorite teams in the sportsbook has a fresh feel and a great reason to check it out on your next gaming getaway.
Classy Rooms, Packages and Amenities
Filled with amazing views, comfortable beds, and plenty of in-room amenities, the resort offers a variety of packages and different tiers of rooms designed for the guest's maximum comfort and convenience. The Spa Package includes an overnight stay, two one-hour spa services, and a food credit for $299 for a weekday stay. Another popular option is the Special Occasion Package that is perfect for anniversaries, birthdays or just a quick getaway and includes an overnight stay, bottle of champagne, a sweet treat, and a $50-$75 food credit depending on the day of your stay. Rates start at $199 for a standard room with upgrade options for suites and other amenities to be included. Check out the website for more packages including golf and seasonal special offerings.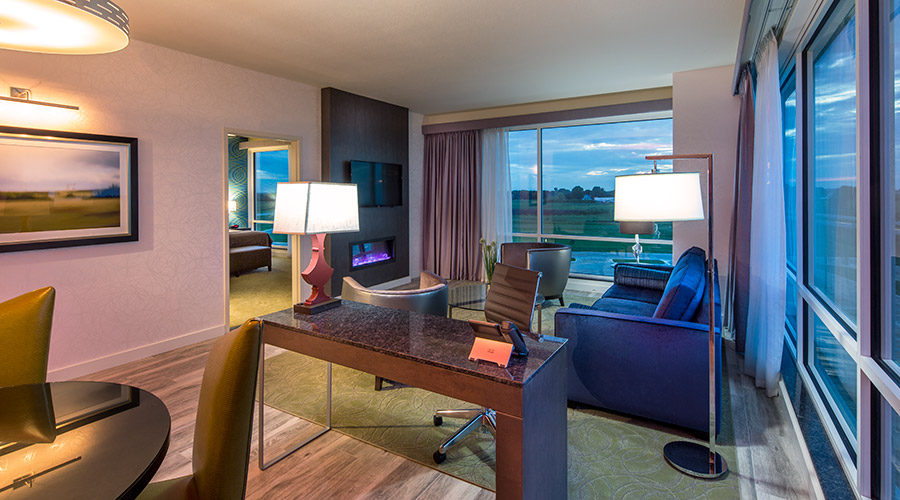 If you are a live music fan, look no further than the Event Center at Rhythm City. Having hosted some of the biggest headliners including Clint Black, Wayne Newton, Air Supply and more, guests will experience a state-of-the-art sound system and comfortable seating in the auditorium that will accommodate 1,600 seated guests, and over 2,000 for standing room. The Rhythm Room also provides budget friendly acts as well as free entertainment on Fridays and Saturdays. Be sure to check out the website for upcoming events and be sure to get your tickets, book your room and let the good times roll.
Other property amenities include a luxurious spa, indoor pool and hot tub, fitness center and multiple dining outlets for guests to chose from. With the convenience layout of the property, guests will enjoy the proximity of the rooms near the casino floor, that is near the dining options and other popular amenities so they won't need to stray to far for just about anything they might need.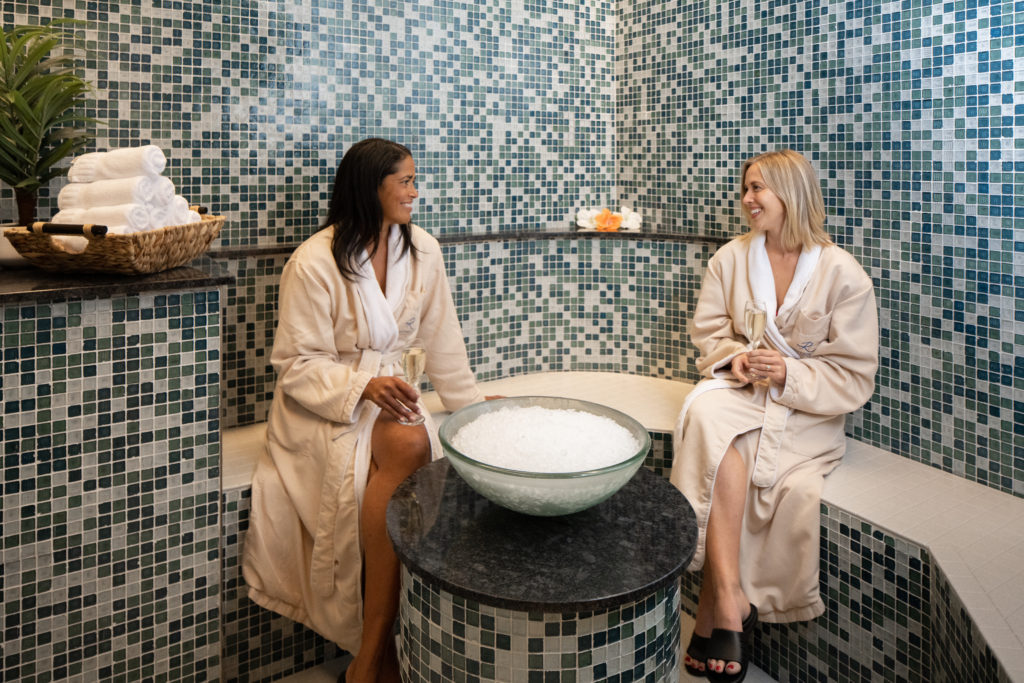 Great Gambling Options
When it comes time for the casino, Rhythm City has you covered. The massive gaming floor boasts over 32,000 square-feet featuring over a thousand machines and all of your favorite casino games including craps, Ultimate Texas Hold 'Em, blackjack and roulette just to name a few.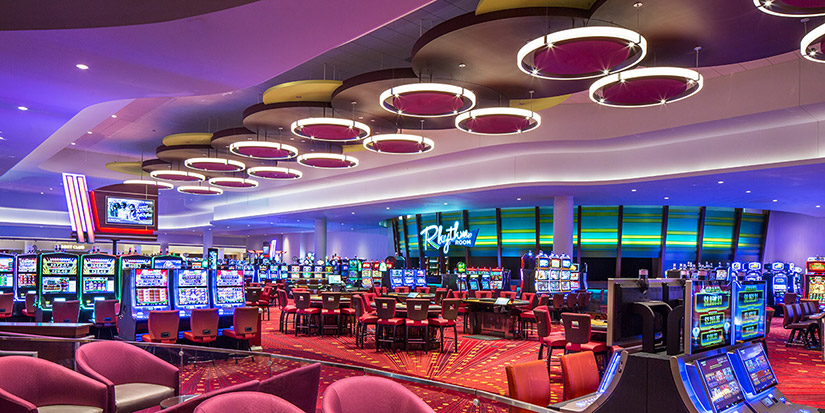 The layout of the casino floor offers plenty of space to move around and also has a Feature Bar that provides a great spot to enjoy a cocktail if you need a break from the tables or your favorite slot machine.
When it's game day, it's game on at Draft Day, the properties pub and ELITE sportsbook. Enjoy a variety of craft and domestic brews as well as your favorite pub grub and more with the best sports watching and wagering around. With a 360-degree screen with the tops games and an additional 18-screens for your viewing pleasure, this serves as a great place to spend a Saturday or Sunday watching your favorite teams.
Fine Dining Available for Everyone
Every great resort has multiple dining options for their guests, and Rhythm City has that covered too. Guests can choose from a fine dining experience with Ruthie's Steak & Seafood or more casual options that include Robert's Buffet or Draft Day Sports Lounge.
For fine dining, look no further than the award-winning Ruthie's Steak & Seafood located on the top floor of the property. Guests will enjoy amazing views and exquisite steaks and seafood in a luxurious and contemporary atmosphere. Chef D'Cuisine, Peter Sedlak, has put twenty-seven years of cooking experience into the menu that features clever items including Filet Lollipops (bacon-wrapped beef filet with Maytag blue cheese, demi-glace and Bearnaise); Filet Medallions & Shrimp, Maryland Ribeye (topped with lump crab meat, grilled broccolini and hollandaise) and seafood selections of Seared Scallops, Atlantic Salmon and Lobster Tails and King Crab Legs. The wine selection is among the best in Quad Cities area and when paired with the perfect steak or seafood selection, guests can expect an experience to remember.
For a more relaxed atmosphere and price point, Robert's Buffet offers guests a variety of cuisines that range from the classic Italian and Asian options to the traditional American fare. Led by Chef D'Cuisine, Carina Fleetwood and her twenty-eight years of culinary experience, guests enjoy the best options including the house favorites like prime rib, house-made gelato and an omelet bar where you can load up for favorite breakfast concoctions. The decor is bright and modern and offers plenty of space to comfortably dine and feel relaxed and not overcrowded.
And last, but certainly not least, Draft Day Sports Lounge is the spot to be when your favorite sports teams are playing, or you have the cravings of pub food and a variety of beer and cocktail creations. Draft Day is an ideal option if you are looking for something casual with great food, good prices and an energetic atmosphere. They bar and dining areas features twenty-nine screens including fifteen, eighty-five-inch TV's and a 360-degree projection TV ensuring you won't miss a play while in Draft Day.
Final Thoughts
Rhythm City Casino Resort, in their own words, is your 'Escape to the Exceptional'. With many high-class luxuries from hotel rooms and amenities to dining and gaming, it is clear the owners and team members work hard to provide a comfortable and inviting atmosphere for their guests. Their dedication to hospitality and customer service shows they live up to their word and guests can expect a great experience on every visit.
For more information and reservations, visit RhythmCtiyCasino.com or call 1-844-852-4386.
By James Corporon