The life of a high roller can be compared to that of a Hollywood star. While they may not have paparazzi or sign autographs, they will have plenty of attention from the moment they arrive at valet to the end of the trip, and no request is too big. In addition to fancy dinners, rounds of golf, all-expense paid trips to major sporting events, backstage concert passes and more, among the most popular perks offered to high rollers are luxurious suites featuring private amenities to make their stay a memorable experience.
We have highlighted a few of our favorite properties that really stand out when it comes to luxurious accommodations. Some feature private dining rooms, saunas and patios. Some feature pool tables, exercise rooms and multiple floors. But they all offer top quality service and guest satisfaction.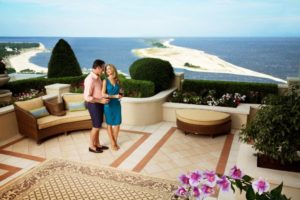 Beau Rivage Resort & Casino – Biloxi, Mississippi
Beau Rivage is known to offer the best of everything. Their lavish atrium featuring fresh flower arrangements and natural light welcomes guests as they arrive at another world. Across from the main check-in area, the resort features a separate room for invited guests to check in and get everything arranged for their stay. The room features couches, premium coffees and teas, and even has its own set of elevators to whisk you away to your room. The Beau Rivage is the tallest building in Mississippi, and coincidentally, as their premium suite is located on the top floor, they also have the highest suite in the state! The Beau Chene Terrace offers unmatched views of the Gulf of Mexico and the City of Biloxi and offers all the luxuries one could imagine. You won't find it on the property web site or advertised in Southern Gaming, as it is truly a hidden gem reserved for the highest players or for special occasions. Sprawling over 2,482 square feet located on a key access floor, guests are greeted by a marble entrance and will also enjoy a wet bar, dining room with place settings, two master bedrooms, separate his and her steam showers with a soaking whirlpool and more. Plus, a private landscaped terrace with plush lounge furniture overlooking the Gulf of Mexico adds the perfect touch to making this the best kept secret in Mississippi!
Gold Strike Casino Resort – Tunica, Mississippi
When you are at the Gold Strike, you know you are in good hands. Whether you are feasting at Chicago Steakhouse or relaxing in the spa, every guest is treated like a high roller. When it comes to accommodations, they hit the high roller status there too. The property features two lavish presidential suites that are each over 1,900 square feet and have Jacuzzi tubs for two, one and a half bathrooms, a large seating area, and dining area for groups to hang out before heading to the casino. The spacious bedroom and 50-inch TV give you plenty of space and the great views from high above the rolling Mississippi River are amazing. You can stay here for $800-$2,500, or play high enough and it's yours! "The suite offers spectacular views of the majestic Mississippi River and all of the features of home, including marble foyer and bathrooms, separate shower and Jacuzzi tub. The suite is large enough to allow for guests to entertain and have additional guests stay in the adjacent bedroom," remarked Cray Collins, Director of Hotel Operations.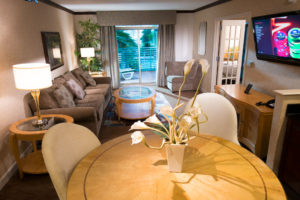 Hollywood Casino Tunica – Tunica, Mississippi
You know a place named Hollywood knows how to treat you like a star! Everywhere you turn you will find another shining piece of movie memorabilia ranging from the Batmobile to costumes worn by the movie stars. The property features two towers–one has five floors with rooms overlooking the casino floor, the other has eight floors with rooms overlooking the indoor pool or River Bend Golf Course–and you won't be disappointed with either! The ultimate high roller suites offer 500 square feet and feature Jacuzzi tubs; separate living rooms and dining rooms, and some have poolside patios or balconies. While these upgrades are typically reserved for comped guests, they are occasionally available starting at $229, so not totally out of the question when it comes to living it up right!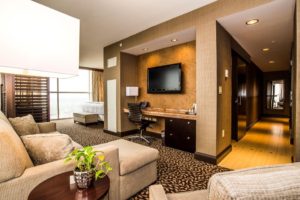 Wind Creek Resort – Wetumpka, Alabama
This property is one of three under the Wind Creek umbrella and is located just north of Montgomery, Alabama, and just a couple of hours from Atlanta. The property–with 20 floors and nearly 300 rooms–opened in 2013 and has seen nothing but success since. Featuring five restaurants, a resort-style pool with private cabanas and more, you know their suites and options for high rollers are going to be exquisite. The Penthouse stretches over roughly 4,542 square feet and rivals just about anything in Las Vegas. The interior and exterior space is 1,200 square feet while the main floor of the Penthouse is 1,700 square feet. Other than to go to the casino, you really never have to leave, as you'll find everything you need at your fingertips. Sleek marble countertops accent the kitchen and bar areas and a large dining area table that seats 10 makes for great entertaining. A fireplace for the interior and exterior is on the main floor and master suite areas. There is even an elevator from the main floor to the master suite floor that features a game room with billiards, gaming consoles, multiple televisions, a private exercise room with a teak dry sauna, outdoor Jacuzzi with waterfall and more. This might be the nicest suite in the South and is available for $3,000 per night or for comped guests at a minimum of $500 per night.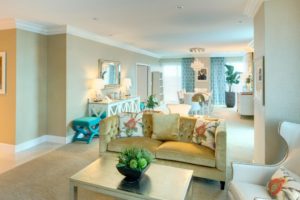 Margaritaville Resort Casino – Bossier City, Louisiana
We realize that Shreveport-Bossier City is located in Northwestern Louisiana, but when you step into Margaritaville, you'll feel like you're in Key West, Florida, and ready to get some boat drinks! The lobby welcomes you into a tropical paradise with exotic plants and trees with background music of Jimmy Buffet and similar genres. The open floor plan makes for a comfortable casino experience and fun bars are located throughout the property. But when it comes time for a suite experience, you've come to the right place. The suites are between 900 and 950 square feet and feature vibrant colors, spacious sitting areas and separate dining and living rooms. As with most suites, these are usually held on a comped player basis; but if you are lucky enough to find one, they run around $300 per night and are worth every penny. "Our guests love the luxury of our Presidential Suite. Every need is taken into account, from luxurious bedding to gorgeous views from the exclusive wrap-around balcony. We offer the finest suites in Shreveport-Bossier," said a property representative.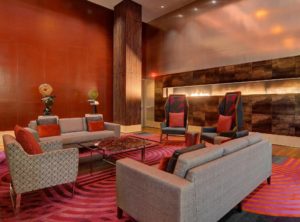 MGM Grand Detroit – Detroit, Michigan
MGM Grand Detroit is a must-see if you are in the Detroit area. As with any MGM-owned property, you will find attention to detail and a luxurious resort style and ambiance throughout. They boast the only Forbes Four-Star hotel in Detroit with the only Forbes Four-Star spa in Michigan. The AAA Four Diamond Award-winning MGM Grand Detroit is the city's first and only downtown hotel, gaming and entertainment destination built from the ground up. The hotel features 400 chic and stylish guest rooms, including nine rooftop VIP suites and 56 opulent corner suites. Guests enjoy signature restaurants, two by world-renowned chef Wolfgang Puck, as well as the hotel's own sports pub, TAP at MGM Grand Detroit; casual dining options; lounges; high-energy nightlife; and the only resort-style spa in Southeast Michigan.
The main suites are 1,000 square feet with a grand marble entryway that opens to a small living room and sofa sitting area. Everything is at your fingertips including One Touch electronic drape closure for the wrap-around windows. There is a deep soaking whirlpool tub, two 55-inch wall mounted plasma TVs and more. The suite price starts at $499 and also has a separate hotel entrance, including concierge level with full-service staff.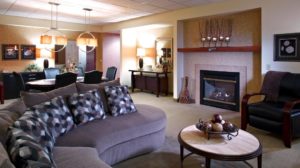 Island Resort & Casino – Harris, Michigan
Island Resort & Casino is Michigan's Upper Peninsula premier casino and golf resort. When you claim that title, you better be ready to back it up, and they do time and time again. Whether you settle into a massage at the state-of-the-art Drift Spa, dine at one of their lavish, or casual, restaurants, or play golf at the award-winning Sweetgrass Golf Course, you'll find everything you need for a relaxing getaway–including suites!
The studio suites are 800 square feet and the Presidential Suite stretches to over 1,620. The studio has a separate seating area, plush couch, coffee table, plush armchair, pub table and chairs, mini refrigerator, microwave oven, coffee maker, 40-inch TV and a contemporary décor. Plus, the full size master bathroom with jetted tub and separate shower offers plenty of private space. Additional amenities include a separate vanity area with a stand-alone make-up mirror and deluxe bath products.
The Presidential Suite offers a couch, plush armchair, coffee table, fireplace, 42-inch TV, dining table with 6 chairs and plush his and her robes. The kitchen features the luxuries of your home kitchen with a microwave, refrigerator, dishwasher, flattop stove, stainless steel sinks and more. The two full-size master bathrooms with jetted tubs and separate showers are nice features as well. Additional amenities include a separate vanity area with make-up mirror and deluxe bath products and 2 king size beds along with 40-inch TVs in each bedroom. The suites can be comped for high rollers, but can also be rented for as low as $175 for the Studio suites and $500 for the Presidential. "Guests love these rooms. They love the way the floor plan is setup on both room types. It gives them some room to spread out and enjoy the luxury that the suites provide. We have guests that will only stay in 'their suites' as it feels like a home away from home," commented a property representative. "The presidential suite is great for small bachelor and bachelorette groups as well as smaller special occasion celebrations or a girls night out. It also allows our guests a place to retreat to after all the excitement on the gaming floor."