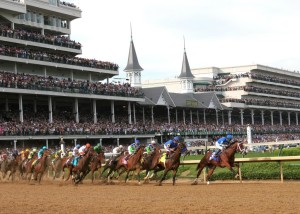 Over the last 15 years, the post-time favorite has won the Preakness nine times. That's a winning percentage of 60 percent.
When it comes to Triple Crowns, I have been trackside for every near-miss over the last two decades. From Silver Charm in 1997 to California Chrome in 2014, and the seven others that fell between. Like many who follow the Sport of Kings closely, there was a piece of me that thought it would never happen again. Then, on June 6, 2015, an equine named American Pharoah blazed across Belmont Park;s sandy straightaway, straight into history. At long last, the wait was finally over. After a 37 year drought, Thoroughbred racing finally had its twelfth Triple Crown Champion.
Now, there's absolutely nothing I can pen about American Pharoah that hasn't already been put down on parchment, probably a thousand times over. Every accolade has already been consigned and rightfully so. Certainly without question, he's the best I've ever seen and that's saying something because I've had the privilege to regard horses like Real Quiet, Point Given, Tiznow, Smarty Jones, Ghostzapper, Afleet Alex, Barbaro, Bernardini, Street Sense, Curlin, Big Brown, Rachel Alexandra, I'll Have Another and Wise Dan. Even the great mare Zenyatta (active 2008-2010), who came within a breath of going undefeated her entire career, definitively ranks behind the racer that captured America's imagination last spring.
Sent off to stud duty after his resounding romp in the 2015 Breeders' Cup Classic, American Pharoah's retirement induced a plethora of sorrow. See, by year's end, it had become glaringly apparent that this was a once-in-a-lifetime horse, a freak of nature the likes of which mankind might never see again. And yet for all that, for all the excitement and hoopla, we, the members of Horse Racing Nation, must now turn the page. Indeed, it's time to start all over again in what might be called our perpetual quest to experience that one fleeting moment of perfection.
I've often said that within the makeup of the Triple Crown series, the Preakness Stakes is the only race which resembles, well, a regular race. Because so much hype surrounds the Kentucky Derby, thought patterns tend to go haywire. For example, the antiquated handicapping principle known as dosage invariably becomes salient doctrine around the First Saturday in May. Something to remember also is the fact that punters are virtually never asked to figure a 20 horse field except on that day when they run for the roses.
On the flipside of the coin, we have the Belmont Stakes. Distinct in its own right, the Test of Champions is the only annually written 12 furlong (1 ½ mile) route for 3-year-olds in all of North America. That unique distance makes it poles apart from the tracks for the Kentucky Derby and the Preakness Stakes.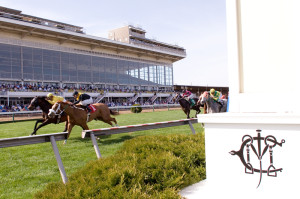 The 1 3/16 mile Preakness is run exactly two weeks after the Kentucky Derby. A race which more often than not runs to form, the Triple Crown's middle jewel is a virtual haven for chalk players gamblers who prefer to bet the favorite. Case in point, over the last 15 years, the post-time favorite has won the Preakness nine times. That's a winning percentage of 60 percent. To put this into perspective, on regular basis at tracks across America, favorites win only 33 percent of the time. Also worth mentioning is the fact that the Preakness favorite has hit the board (finished 1st, 2nd or 3rd) in 16 out of the last 19 years.
Since the Kentucky Derby Champion almost always ships to Pimlico Race Course (the home of the Preakness) to continue the pursuit of the Triple Crown, said horse embodies phase one of our handicapping process. Incidentally, since only 10 of the last 20 Kentucky Derby Champions have gone on to win the Preakness, it's wise to think twice before you blindly bet the mortgage on that racer who ran roughshod over Louisville.
Typically, I find that you can gauge the Derby champ's strength by counting how many also-rans enter the Preakness. Truly, if only a few Louisville losers try their luck at Pimlico, then what transpired beneath the Twin Spires was likely legitimate. On the other hand, if a slew of them enter the Preakness, it's a tale-tell sign that the Derby result was probably a fluke.
Another Preakness axiom to keep in the forefront of your frontal lobe is: If you're betting to WIN, avoid the new shooters! Since 1997, only three non-Derby starters have worn the blanket of Black Eyed Susan's: Red Bullet (2000), Bernardini (2006) and the acclaimed filly Rachel Alexandria (2009).
One last point of interest on the Preakness is that the exotics are usually rather predictable. For example, in 2012 the Kentucky Derby exacta (I'll Have Another/ Bodemeister) repeated verbatim in Baltimore to the tune of $18.60 for a $2 wager. One year later in 2013, the Preakness superfecta (Oxbow/Itsmyluckyday/My Lute/Orb) included the Derby champ and three also-rans yet paid $1817.80 for a $1 wager!
Three weeks after the dust settles in Baltimore, Horse Racing Nation's collective attention turns toward that locale known as the Big Apple. Pegged by horsemen, the media and casual observers as the third and final leg of the Triple Crown series, the Belmont Stakes marks the end of a mini-season and therefore serves as a fiscal finale for those who characterize themselves as punters. What I'm really trying to say is that for those souls who've already invested in the Kentucky Derby and Preakness Stakes, the Test of Champions generally ends up being a make-or-break endeavor.
Inaugurated in 1867, the Belmont Stakes was originally contested at Jerome Park Racecourse in the Bronx, NY. This now defunct hippodrome was the brainchild of one Leonard Jerome, a powerful, late 19th-century financier otherwise known as the King of Wall Street. Just in case you were wondering), the Belmont Stakes is named after Leonard Jerome's closest confidant, one August Belmont. An influential politician and avid racing enthusiast, Belmont also holds the distinction of being The Jockey Club's foundational chairman. Subsequent to Jerome Park's eradication in 1890, the Belmont Stakes was held at nearby Morris Park Racecourse. Ultimately, it became a permanent part of Belmont Park's landscape in the year 1905.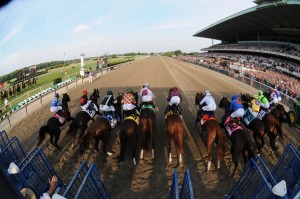 Now since we're talking history, here are some more fun facts from the index labeled 'In Case You Didn't Know.' The Belmont's distance varied between nine and 13 furlongs (one furlong equals an eighth of a mile) for the first 59 years of its existence. The current 1 ½ mile distance became standard in 1926. National anti-gambling legislation actually led to the cancellation of the Belmont in 1911-1912. During Belmont Park's vast renovation, which lasted from 1963 to 1967, the Triple Crown's third jewel was held at Aqueduct Racetrack. The first-ever American post-parade occurred prior to the 1880 Belmont Stakes. Finally, up until 1921, the Test of Champions was run clockwise, like the majority of today's international competitions.
Presented next in no particular order, here are my three favorite premises for betting the Belmont Stakes.
Take up with an experienced Belmont jockey. Seldom do I obsess over which soul is in the irons, except when it comes to the Belmont Stakes. See, due to Belmont Park's uncommon 1 ½ circumference, your typical rookie will precipitately accelerate. Consequently, their mount ends up foundering mid-way down the straightaway.
Any entrant capable of obtaining an uncontested lead is live. Because closing types are so concerned with making a premature move, the Belmont's pacesetter often gets away with soft early fractions. As a result, that equine on the engine often goes wire-to-wire. A prime example of this occurred in 2008, when Da Tara loped along for a mile before he pulled away to win by 5 ¼ lengths at odds of 38-1.
Consider fresher horses. It's an enormous understatement to say that the Triple Crown Series physically taxes a 3-year-old Thoroughbred. Normally, horses don't participate in three different races over three different surfaces within a five week period, so even an extremely fit equine will be marginally fatigued by the time they touch down in New York. Nine out of the last ten Belmont Stakes Champions have sat out the Kentucky Derby and/or the Preakness Stakes: Jazil (2006), Rags to Riches (2007), Da Tara (2008), Summer Bird (2009), Drosselmeyer (2010), Ruler On Ice (2011), Union Rags (2012), Palice Malice (2013) and Tonalist (2014).
Friends, it's my sincere hope that this article helps put a few extra sawbucks in your pocket. Best of luck to all as together as we continue down the 2016 Triple Crown trail.
By Eric Floyd