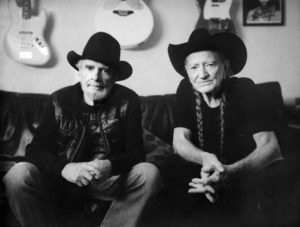 In today's culture of disposable musicians, a performer whose career lasts ten years or longer can be thought of as an icon. Such is the case for Willie Nelson, who at the age 83 is still recording and is currently on a tour of the United States. His "Willie Nelson and Family" band appears regularly across the country and in Canada and in casinos everywhere.
Nelson began his career at age 13, when he decided that playing guitar and singing would be a better way to earn money than by picking cotton. Initially performing at local venues like music halls and bars, by the time he reached his 20s, Nelson began his musical career in earnest. He traveled the northwestern U.S., returning to Texas, and eventually moving to Nashville in 1960. While it took a few years for Nelson's singing career to take off, he made money and a name for himself by selling his songs to other artists. Quite of few of these became big hits, like "Crazy" that Patsy Cline turned into a country classic.
In the 1970s Nelson found his artistic voice. His pairing with Waylon Jennings was the origin of outlaw country, the genre that would define Nelson's career. Outlaw country was a reaction to the over-produced Nashville version of country music, and would include collaborators such as Johnny Cash, Merle Haggard and Kris Kristofferson. Ultimately this led to the country super group known as The Highwaymen, comprised of Nelson, Cash, Jennings and Kristofferson. They would go on to release three albums during the ten years they were active and etched their place in country music history.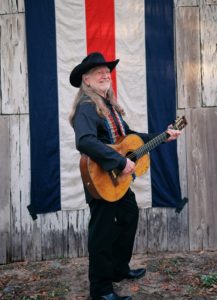 From the mid-70s to the early 90s, Nelson not only put out successful solo work, but also collaborated on some of his most well-known songs, including "To All the Girls I've Loved Before" with Julio Iglesias, and "Mammas Don't Let Your Babies Grow Up to Be Cowboys" with fellow outlaw Waylon Jennings. Nelson also appeared on TV and in movies, including "The Electric Horseman" and the lead role in "Honeysuckle Rose."
Nelson's fans know that during this time, a storm was brewing that nearly derailed his career. In the mid-70s, he had some problems with an accountant and, in the confusion that followed, Nelson made some bad investments to try to recoup his losses. Unfortunately this led to an IRS issue to the tune of $32 million. The IRS seized nearly all of Nelson's assets. Eventually the debt was negotiated down, some assets were sold off, and Nelson even recorded an album called "The IRS Tapes: Who'll Buy My Memories" to pay off the remaining tax bill. By 1993, Nelson was back on solid ground, and focused on his music and other ventures.
Through all this adversity, Nelson has never forgotten his humble roots and has remained active in many causes. In 1985 he co-founded Farm Aid with John Mellencamp and Neil Young in an effort to assist US farmers facing hard times. Nelson has also been active politically and has been very vocal in the effort to legalize marijuana. In light of the recent legalization in Colorado and Washington, Nelson has started a new cannabis brand, Willie's Reserve, which he hopes will be a leader in US legal markets.
In addition to his many Grammys, CMAs and ACMs, Nelson received the Kennedy Center Honors award in 1998. On May 27, 2016, he was awarded the Library of Congress Gershwin Prize. It's a testament to Nelson's artistry that these honors continue to come in his seventh decade of performing. One can only hope that he continues to share his gift for many years to come.
Nelson shows no signs of slowing down. He toured with his "Family" for most of 2016, playing casinos and theaters around the country. Dates included a stop at French Lick Resort in Indiana; his long-running "Willie Nelson's 4th of July Picnic" in Austin, TX, as well as the Sturgis Motorcycle Rally, Sioux Falls, SD, Caesar's Windsor Casino and Casino Rama in Canada in September. He will wrap up the year with several southern stops including the Golden Nugget in Lake Charles, LA on November 18, Silver Star Casino in Choctaw, MS November 19 and the Bancorp South Arena in Tupelo, MS on November 20.
Also recently announced, Willie will take over The Venetian in Las Vegas for five nights with his exclusive new show, Vegas On My Mind from January 28 to February 4. The show will include decades of hits from Nelson's extensive career with a set list and production designed exclusively for the limited Vegas engagement. Guests can expect to hear legendary singles like "Always On My Mind," "Seven Spanish Angels," "Pancho and Lefty" and "On The Road Again."
"Willie Nelson is such a legend of not just country music, but of American culture in general" said Bobby Reynolds, Vice President of Booking for AEG Live Las Vegas. "We are thrilled to have him on stage for five nights at The Venetian Theatre."
Also in stores now is his latest book 'Pretty Paper', an uplifting story of love, loss and redemption of a street vendor Nelson met in the early sixties and is the perfect read for the holiday season.
To find out more about Willie's tour, memorabilia and more, visit WillieNelson.com.
While Willie Nelson has certainly blazed the path for many other musicians to follow in his footsteps, there are other iconic names that regularly appear at casino venues around the country. We are excited to include a few of our favorites in this quick overview.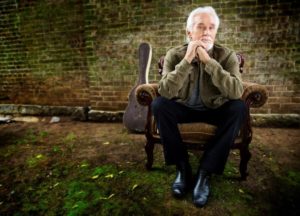 KENNY ROGERS
Similar to Willie Nelson fellow country superstar Kenny Rogers has been delighting generations of fans, and for the past few years has found devoted fans in many casinos around the country.
Rogers began his recording career in the 1950s, but his status as a star began when he joined The First Edition in 1967. His success with the group, later known as Kenny Rogers and the First Edition, foreshadowed his later career success, and the crossover appeal of their music transcended the traditional country music label.
Rogers went solo in 1976, and had his first major solo hit in 1977 with "Lucille." In short order, he released "The Gambler," which produced the title hit song as well as the ballad "She Believes in Me," "Coward of the County," and "You Decorated My Life" from his album "Kenny." Rogers was well known for duets top female artists, recording hits like "Islands in the Stream" with Dolly Parton, "We've Got Tonight" with Sheena Easton, and "Don't Fall in Love with a Dreamer" with Kim Carnes. Rogers' 120 million worldwide album sales puts him at the fourth all time spot on Billboard's Adult Contemporary Top 10, trailing only Elton John, Neil Diamond and Elvis Presley.
Rogers has been another indefatigable touring artist, and his annual Christmas tours are highlights for his fans. In April 2016, Rogers announced that the upcoming tour would be his last. Titled "The Gambler's Last Deal," the tour will run into 2017, and will include special guests Linda David and Charlie Worsham. The tour will stop at the Wind Creek Casino in Alabama, Thunder Valley Casino and Fantasy Springs Casino in California, Edgewater Casino in Laughin, Spirit Mountain Casino in Oregon, Emerald Queen Casino in Washington, Hard Rock Casino in Tulsa, and Hoosier Park Casino in Indiana. After his final US appearance at the Ohio State Fair in Columbus, on July 31, Rogers heads to Singapore, Thailand and other stops in Asia.
PAUL ANKA
Another fixture on the casino circuit is recent Willie Nelson duet partner Paul Anka. Anka's newest album, "Duets," features a smooth reinterpretation of Nelson's song "Crazy," as well as pairings with musical legends such as Tom Jones, Dolly Parton, Patty Labelle and Leon Russell. Anka wrote all of the songs on the album. Primarily known to his fans as a singer, Anka has also been a songwriter. His hits include "Lonely Boy," "Having My Baby" and "Put Your Head on My Shoulder," along with the song that put him on the charts, "Diana." His two biggest additions to music history are arguably the immortal Frank Sinatra hit, "My Way," along with one of the most recognizable tunes of all time, the theme song to "The Tonight Show with Johnny Carson."
Anka, who was born in Canada, became a naturalized US citizen in 1990. Like Nelson and Rogers, he has occasionally worked in front of the camera, performing in TV shows such as "Make Room for Daddy," "The Fall Guy," "Kojak," and even in cartoon form on "The Simpsons." His film work includes "The Longest Day," "Captain Ron" and "3000 Miles to Graceland." He was the subject of a 1962 Canadian documentary, "Lonely Boy." His current US tour includes casino stops at Mohegan Sun in Connecticut, Sands in Pennsylvania, Golden Nugget in Atlantic City, Turning Stone in New York, and Caesar's in Windsor, Ontario.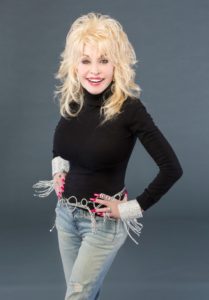 DOLLY PARTON
When you hear the name Dolly Parton, you know you are in for a treat. She is the most honored female country performer of all time raking in twenty-five RIAA certified gold, platinum and multi-platinum awards, twenty five songs reach No. 1 on the Billboard Country charts, forty-one top ten country albums one hundred and ten career charted singles and sales of her singles, albums, collections and downloads have topped $100 million. Plus, her awards shelf includes eight Grammy's, two Academy Awards nominations, ten CMA awards and many more. She is a member of the Country Music Hall of Fame and has played roles in several movies including 9 to 5 and Steel Magnolias. Parton is currently on her Pure & Simple tour visiting sixty cities in her first tour in twenty five years and features her biggest hits.
Casino shows are scheduled for December 9th and 10th at WinStar Casino and Resort in Thackerville, Oklahoma.
PETER FRAMPTON
Like Air Supply, performer Peter Frampton was omnipresent on the radio. His 1976 breakthrough album "Frampton Comes Alive!" was a cultural touchstone. Forty years after its release, it remains one of the best-selling live albums of all time. Frampton's career took a dramatic turn after a follow-up album failed to meet the high expectations set by "Alive!" An under-appreciated starring role in the film "Sgt. Pepper's Lonely Hearts Club Band" set his career back even further. In 1978 Frampton was in a near-fatal car accident, he fell off the radar for all but his die-hard fans.
What many didn't realize was that Frampton never wanted to be a pop star; he always regarded himself as a musician, not a teen idol. After recovering from the accident, Frampton returned to making the music he loved. He released 13 albums after "Alive!" and received a Grammy in 2007 for Best Pop Instrumental Album for his release "Fingerprints."
Fans attending his shows on his current tour with fellow 70's veterans, Lynyrd Skynyrd, can expect to hear Frampton's classic hits from "Alive!" and be treated to "Framptone"—the talk box effect that makes his breakthrough album so memorable. Frampton's tour stops will include visits to the Mountaineer Casino in West Virginia, Soaring Eagle Casino in Michigan, the Cosmopolitan in Las Vegas and Pala Casino in California.
By Terry Parrett