Casinos are known for providing the best for their guests. If you want decadent dining, you'll find it at a casino. If you want to relax in a world-class spa, you'll find it at a casino. If you want to catch a concert, you can do it at a casino. There isn't much you can't do when you visit your favorite property, and that includes golf. In addition to all of the other amenities, casinos boast some of the best golf courses in the country that rival the elite private courses that are harder to gain access to play.
We are excited to once again feature some of our favorite courses that we love to play. These courses aren't all the most expensive, although some can make you cringe at the green fee, and a few may not have the manicured fairways resembling Augusta National, although they are very well maintained. However, what you will find is a fair assessment of courses that are priced right, convenient to the hotel and casino, and will certainly fulfill your gaming getaway.
We integrated our own reviews, as well as those from the number one source for golf, GolfAdvisor.com. Be sure to visit Golf Advisor to get great insight for thousands of courses world-wide before you book your trip! And…if you have played any of these courses, or others you really like, please leave a review for your fellow players…they'll appreciate it! Enjoy!
Fallen Oak at Beau Rivage Casino Resort (Gulf Coast)
1-877-805-4657 | FallenOak.com
Par: 72 Length: 7487 Slope/Rating: 142/76.5
Greens: TifEagle Fairways: Bermuda Architect: Tom Fazio (2006)
Cost to Play: $200 (Exclusive to guests of Beau Rivage and members)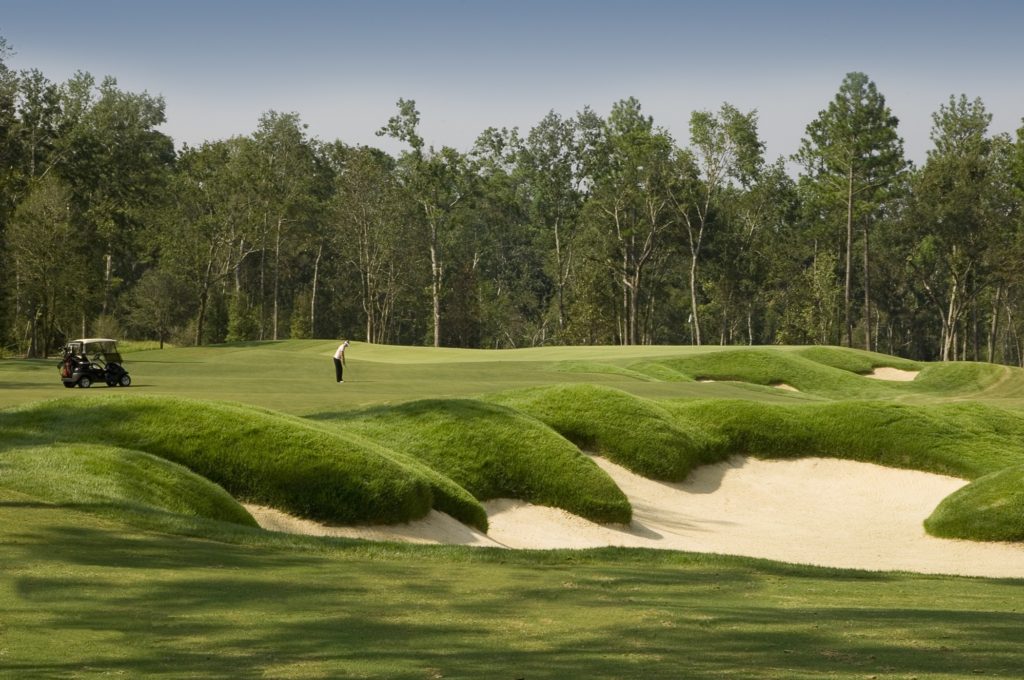 G&D Says: This Tom Fazio-designed course is the gem of Mississippi and regularly ranks nationally as a top course to play, and once you play it, you are sure to agree. The course is located off property, but the drive is worth it as the grounds are immaculate and the clubhouse is expansive overlooking the eighteenth hole making for a great place to relax after a round. Fallen Oak is also a regular stop on the PGA Champions Tour with the Mississippi Gulf Resort Classic held March 27 – April 2.
Review by joe3jax on GolfAdvisor.com (Fallen Oaks Golf Advisor Page): "The only way to play Fallen Oak is to stay at the Beau Rivage Hotel Casino. So, if you are on a budget, then this may not best option given the $200+tax green fee, in addition to your room. But, what you get is a golf experience, not a round of golf. The course is located about 20 minutes from the casino, so you will need a car/taxi/shuttle. Once on the grounds, you are treated to a first class experience from the moment you arrive. The locker room attendant insists on cleaning your shoes prior to the round, made a name plate for me on the locker, and when I got done he even cleaned my shoe bag! Practice facility is nice, complete with short game area. So you can take your time to warm up. The course is typical Fazio, room off the tee, lots of doglegs and large greens. From the Tips I found the course forgiving with room for misses. Choosing the correct tees will be important, as the course can be long in spots, and asks a few questions about your iron game. I would recommend moving one tee box up when playing for first time. Conditions were excellent, but with so few rounds you would expect nothing less. The greens rolled at a good pace for August, and were consistent. Overall, if you are willing to pay for a golf experience, this is the best option along the Gulf Coast.
Harrah's Cherokee Sequoyah National Golf Club at Harrah's Cherokee (Cherokee, NC)
1-828-497-3000 | Sequoyahnational.com
3.6/5 GA Rating
Par: 72 Yards: 6602 Slope/Rating: 139/71.3
Greens: Bent Fairways: Bluegrass
Architect: Robert Trent Jones, Jr. & Notah Begay III (2009)
Cost to Play: $55-$85

G&D Says: This gem is located in the heart of the Smokey Mountains and provides some of the most picturesque scenery you'll find anywhere. As part of the Harrah's Cherokee resort, and owned by the Eastern Band of Cherokee, you'll find this Robert Trent Jones layout to be some of his finest work offering spectacular views of the mountains while playing immaculate a conditioned course. Now under new management, the course received great reviews throughout 2016, so if you haven't played it in a while, you owe it to yourself to try it again!
Review by bjconover on GolfAdvisor.com (Sequoyah National Golf Advisor Page): A smaller group from a larger golf trip we were on played this course for an extra 18 on a Saturday. We called the morning of and they were able to find two tee times back to back. It was an absolutely great course and in incredible shape. Beautiful views, great layout and we couldn't have asked for a better time. It was the ultimate risk-reward course with a few drivable par 4s and, unlike the mountain course we had played earlier in the day, if you missed the fairway, you weren't OB. A definite must play.
The Country Club of The Golden Nugget (Lake Charles, LA)
1-337-508-4653 | GoldenNugget.com/lakecharles
4/5 GA Rating
Par: 72 Yards: 7000 Slope/Rating: 130/73.4
Greens: MiniVerde Fairways: Celebration Bermuda
Cost to Play: $129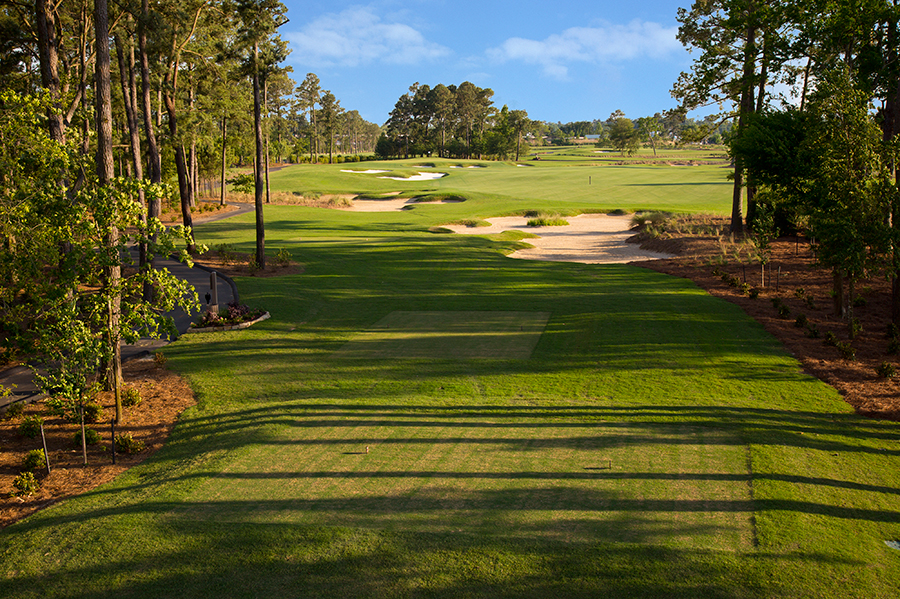 G&D Says: Located next to the casino hotel, The Country Club offers great golf and more. The course is regularly regarded as the top course in Lake Charles, is always in immaculate condition and provide great scenery for a relaxing round. The expansive club house also has a full locker room and a fine dining restaurant, The Chart House, allowing guests to really experience a country club experience.
Review by john8757058 on GolfAdvisor.com (CC at Golden Nugget Golf Advisor Page): I played the course twice while I was there. The course was in great condition except for 1 hole that was cart path only because of standing water. It was a bit pricey without having the GPS feature on the carts, but otherwise it was a really nice course. There is a lot of water but not really in play unless you really get off line, and the greens are PGA quality.
The Links at Rising Star Casino & Resort (Rising Star, IN)
1-800-472-6311 | RisingStarCasino.com/Golf
4.1/5 GA Rating
Par: 71 Yards: 6406 Slope/Rating: 125/70.3
Greens: Bent Fairways: Bent
Architect: Tim Liddy (2000)
Cost to Play: $55-$62
G&D Reader's Discount:
Up to 35% Off at The Links at Rising Star Casino Resort!
Receive 35% off regular rates Monday – Thursday before 3 pm, and 25% off regular rates Friday-Sunday & Holidays (before 3 pm)
*Offer includes cart rental fee. Not valid with any other offers.
**Offer expires 10/31/17
Use CODE: SHGOLF
Blackout dates may apply.Rising Star REWARDS card required. Membership is FREE & must be 21. Call for Special Golf rates. 812-438-5148

G&D Says: This may be the hidden gem of Indiana! Conveniently located just across the parking lot from the casino and hotel, there are no excuses to be late for your tee time! A true links style course that offers shots for most clubs in your bag, this will test your skills from start to finish and is always in great shape.
Review by kcmh on GolfAdvisor.com (The Links at Rising Star Golf Advisor Page): Played 18 in 3.5 hours. The course was in great shape, no burned out areas and they had really good sand in the bunkers. The greens rolled good and were kind of fast, nothing overwhelming though. It's a Tim Liddy design so it's a baby Pete Dye course. Looks like one also. The tees and fairways were all cut to the correct height as one should expect on a course and the tee boxes were nice and soft, and the rough was lush. I would highly recommend this course for the $30-$50 dollar range. Anything less than that is a steal.
Grand Bear at Harrah's Gulf Coast (Gulf Coast)
1-228-539-7806 | GolfGrandBear.com
4.7/5 GA Rating
Par: 72 Yards: 7204 Slope/Rating: 143/75.5
Greens: TifEagleBermuda Fairways: Bermuda
Architect: Jack Nicklaus (1999)
Cost to Play: $99 – $109
G&D Says: If the name has 'Bear' in it, you know it has the stamp of approval from Jack Nicklaus. Grand Bear a short drive from the casino property located on the Gulf Coast, but certainly worth it. You will have a blast navigating your play around the natural wetlands and towering pines of DeSoto National Forest.
Review by BrandonTuckerGA on GolfAdvisor.com (Grand Bear Golf Advisor Page): I forgot about the long, winding road that takes you deep into the woods before arriving at the gates of Grand Bear Golf Club, but this is one of the best destination courses on Mississippi's Gulf Coast. You don't have to be a guest of the hotel to play here, and with green fees topping out at just over $100, it is a great value. Grand Bear does offer great amenities and a secluded, quiet round of golf designed by a top architect and a great option when you're ready for a break from the casinos or the beach. The staff and neat lodge-looking clubhouse will definitely make you feel like a high-roller.
Tamahka Trails Golf Club at Paragon Casino Resort (Marksville, LA)
1-800-946-1946 | ParagonCasinoResort.com
4.7/5 GA Rating
Par: 71 Yards: 7019 Slope/Rating: 133/74.4
Architect: Steve Smyers (2000)
Cost to Play: $55-$65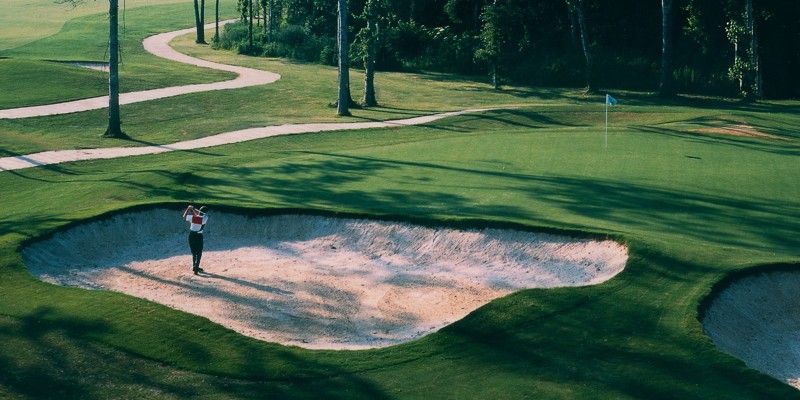 G&D Says: Serving as part of the Audobon Golf Trail, Tamahka Trails is always offering guests a great round of golf in superb playing conditions. Hosting three U.S. qualifiers, advanced players can get all they want from the back tees, and higher handicaps can still enjoy the round with the further forward ones. There are numerous and massive bunkers throughout the course making your tee to green strategy important.
Review by Cosmosignman on GolfAdvisor.com (Tamahka Trails Golf Advisor Page): This was such a Hidden Gem! You can tell this course was built with great care and a lot of money. It has a great design and it has seen its share of golf and it shows, but there is a new director of golf and he's doing an awesome job. We played 4 rounds and had a spectacular time. The staff could not have been any friendlier. We will be back over and over again.
Tom Fazio Course at Belterra Casino Resort (Vevay, IN)
1-800-427-7783 | BelterraCasino.com
4.6/5 GA Rating
Par: 71 Yards: 6910 Slope/Rating: 136/73.3
Greens: Bent Fairways: Bent
Architect: Tom Fazio (2001)
Cost to Play: $95-$110 (Senior weekday $55)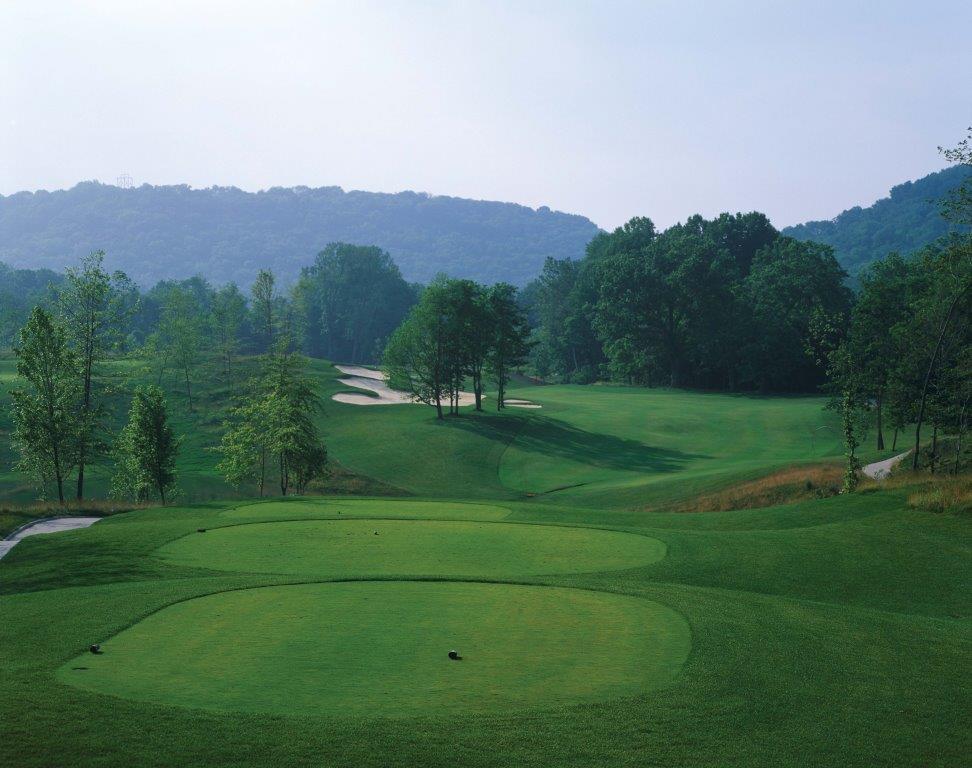 G&D Says: Whatever you have come to expect from a Tom Fazio-designed course, you will find at the course at Belterra Casino. In 2001, Fazio took flat farmland and turned it into a golf masterpiece. He created almost one hundred feet of elevation change by using dirt from manmade lakes, and soot from the Ohio River, and then planted over a hundred species of trees and plants around the course. Today, the trees have filled the layout and offers a fantastic round for all skill levels to enjoy.
Review by u000004460268 on GolfAdvisor.com (Belterra Golf Page on Golf Advisor): My wife and I are average golfers so after reading about how difficult this course was, I was a little worried about losing a dozen golf balls. But all that worry was for nothing! This is a fantastic course that caters to all skill levels. The holes are laid out in a way that forces you to play smart. Each shot needs to be planned out and executed with precision and bunkers on many fairways will capture long drives that would be a reward on other courses. The pace of play was excellent and only took 4 1/2 hours to play 18 holes. I would recommend this course and will definitely return to play it again. The greens fees include cart with a cooler with ice and cold waters, GPS, range balls and a cold towel after your round.
The Wolverine Course & The Bear Course at Grand Traverse Resort & Spa and Turtle Creek Casino (Acme, MI)
1-800-748-0303 | GrandTraverseResort.com/golf
G&D Says: If you're looking for a great golf getaway, you've found it at Grand Traverse Golf Club. Boasting three courses, you can have the best of all worlds with great golf, gambling, dining and a full resort showcasing the finest amenities one could ever want. The Bear Course, designed by Jack Nicklaus, and The Wolverine Course, designed by Gary Player make the list and we think you'll like them both, Each carries its own unique characteristics making for an enjoyable round.
The Wolverine Course
Par: 72 Yards: 7043 Slope/Rating: 138/74.5
Greens: Bent Fairways: Bent
Architect: Gary Player (1999)
Cost to play: $60-85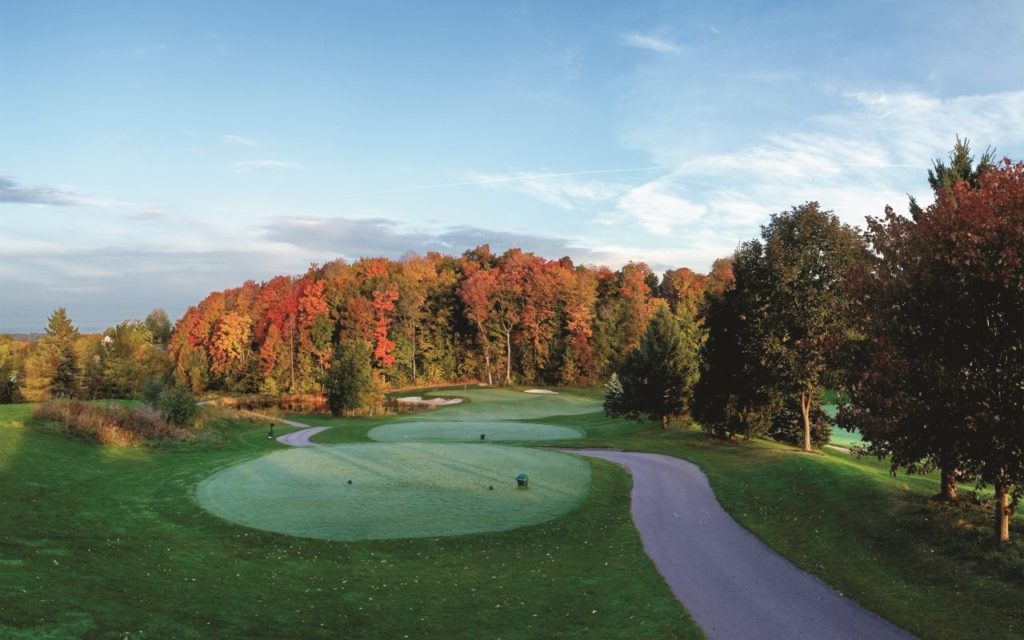 Review by SherelPurcell on GolfAdvisor.com (The Wolverine Course Golf Advisor Page): I really enjoyed playing the Wolverine Course at The Grand Traverse Resort and Spa. This scenic and well-groomed "resort style course" still seems challenging even from the forward tees. I particularly liked the back nine and playing around the water and wetlands. The elevation changes added to the variety of the holes too. The starters and players' assistants seem really well organized so a twosome playing amidst groups of fours was never a problem as course staff are flexible as to what hole to start on and other modifications to keep the groups moving. The staff even let us store our clubs on the cart for next day's round on The Bear, which provides an altogether different and even more challenging golfing experience at the same resort (Grand Traverse Resort and Spa}.
The Bear Course
Par: 72 Yards: 7078 Slope/Rating: 148/76.3
Greens: Bent Fairways: Bent
Architect: Jack Nicklaus (1985)
Cost to play: $60-$85
Review by SherelPurcell on GolfAdvisor.com (The Bear Course Golf Advisor Page): After playing The Wolverine Course here at the Grand Traverse, I was surprised at how much more difficult The Bear course played from its neighbor – even from the forward tees! Every hole seemed quite different from the last with different challenges to boot but even struggling through hot temperatures , the variety of hole layouts kept it fun. The first hole on The Bear is the only somewhat easy par, but only if you can avoid the moguls. After that, pars are much trickier to come by thanks to multi-tiered greens, deep, difficult bunkers and lots of thick waste areas and water, The forced carries and /or water hazards are visually intimidating on most holes but particularly on 14 and 18. This beautiful finishing hole plays downhill back to the clubhouse with another carry over water to a large green.
Sweetgrass Golf Club at Island Resort & Casino (Harris, MI)
1-800-682-6040 | Sweetgrassgolfclub.com
5/5 GA Rating
Par: 72 Yards: 7275 Slope/Rating: 143/75.2
Architects: Paul Albanese & Chris Lutzke (2008)
Cost to play: $45 to $80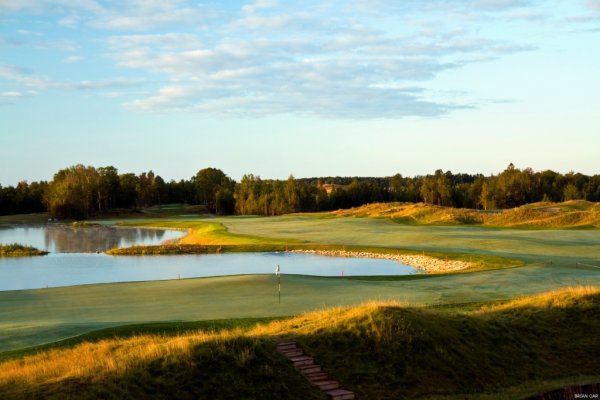 G&D Says: If you are at the Island Resort & Casino, you know everything is going to be the best of the best, and Sweetgrass certainly fits the bill. The Upper Peninsula course plays host to several regional tournaments and a favorite among golf groups alike as resort amenities seems endless. Peeking out at around 7,300 yards, and offering an island green par-3, avid golfers will certainly love this track!
Review by grego1nj on GolfAdvisor.com (Sweetgrass Golf Advisor Page): Playing this course in the Spring, it was in almost perfect shape. The fairways are like playing off a carpet and the greens are also in good shape. Long hitters can stripe the ball long with the wide open landing areas although the approach shot into the greens are a lot tougher. Watch the green area and the features around them. Green speeds and breaks are somewhat tricky so read them carefully. The course marshal was AWESOME!! He was so friendly and very informative about the course and the pro event that comes to the course. The snack bar at the turn was good. They offered a wrap that was awesome and very delicious.
The Wilderness at Fortune Bay Casino (Tower, MN)
1-218-753-8917 | GolftheWilderness.com
5/5 GA Rating
Par: 72 Yards: 7207 Slope/Rating: 142/75.3
Greens: Bent Greens: Bent
Architect: Jeff Brauer (2004)
Cost to Play: $60-$86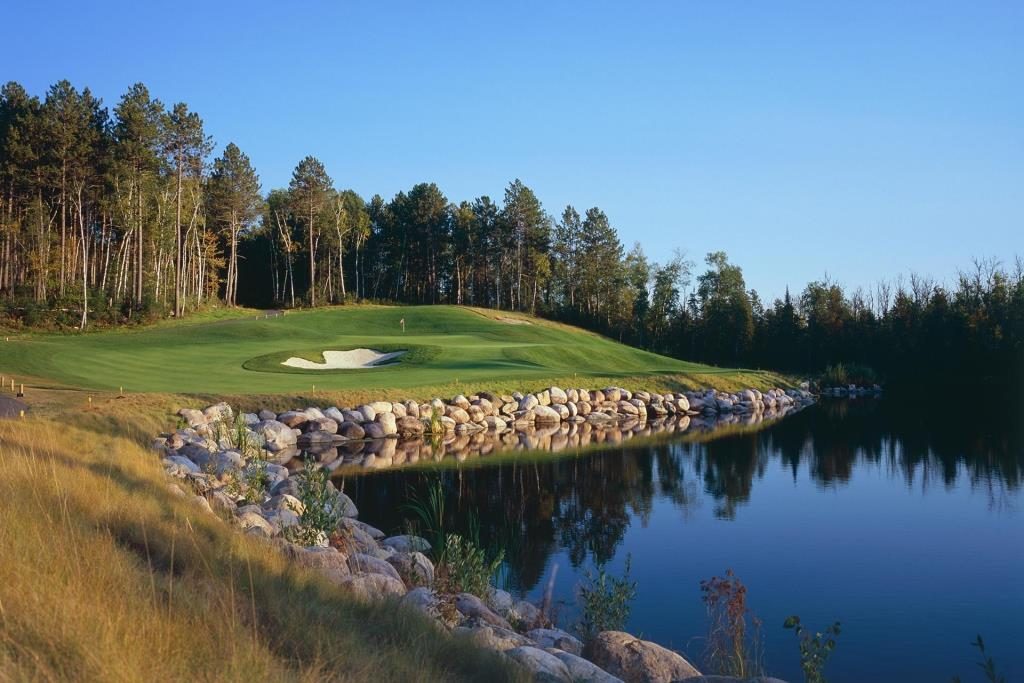 G&D Says: Sitting on the shores of Lake Vermilion, The Wilderness Course offers some of the most scenic panoramas of any Midwest golf resort. Playing over 7,200 yards, even the best golfers will get all they want, yet six different tee choices can make it enjoyable for any level player. The course is conveniently located on the property of the casino so no need to drive far to get to your tee time.
Review by Beachneck on GoldAdvisor.com (The Wilderness Golf Advisor Page): Expect to be treated well when arriving at the golf course as someone is there to meet you with a cart and load your clubs if you need assistance. The practice range is included with your fee, so hit as many balls as you like. The course is spectacular!!! It had rained several days before I arrived, so it was cart path only and the fairways where swallowing up the golf balls, so playing from the championship tees made the course very LONG. I would recommend taking note of the course condition before choosing your tee box. Everything about the course was top notch. Tee boxes where perfectly level, and roughs and fairways where beautifully maintained with no reason to try to improve your lie. The greens rolled true and just the right speed (around 10 I would guess.) All carts where provided an upgraded GPS system which is one of the best I have seen. I would recommend this course to anyone who loves the game of golf. I travel for a living, and play all over the country. This course rates right with the best.
Blue Top Ridge Riverside Casino & Golf Resort (Riverside, IA) (20 minutes South of Iowa City)
1-319-648-0044 | BlueTopRidge.com
4.5/5 GA Rating
Par: 72 Yards: 7432 Slope/Rating: 146/77.6
Greens: Bent Fairways: Bent
Architect: Rees Jones & Bryce Swanson (2007)
Cost to Play: $75-$85
G&D Says: Located about forty minutes south of Cedar Rapids, the Riverside Casino Resort is conveniently located for a great getaway for locals, and more regional travelers. The course is 7400 yards and offers the player options for different strategy on every hole as well as stunning views of the expansive valleys and two rivers.
Review by dahlryan on GolfAdvisor.com (Blue Top Ridge Golf Advisor Page): What a treat it was to play this course as it has got to be one of the top public courses in Iowa. The course was in amazing shape especially with all the rain they have had lately. The greens were perfect, soft but fast. Fairways were great and the rough was thick. The front nine really has a nice layout with a couple of blind tee shots. Once you get to the back it is really a treat. The par-5 11th is 500 yards and goes straight UP HILL. From there on its up and downhill with some great views. Each side has a drive able par-4 risk reward style hole, something I really enjoy in a course. I was very impressed with everything expect for the entrance, things are a bit confusing and the pro shop is hidden. Besides that, this place is top notch. Definitely a must play!
Mount Frontenac Golf Course at Treasure Island Resort & Casino – Welch, MN (60 miles Southeast of Minneapolis)
1-800-488-5826 | MountFrontenac.com
5/5 GA Rating
Par: 71 Yards: 6226 Slope/Rating: 128/70.3
Architect: Gordon Emerson (1985)
Cost to play: $29 – $47
G&D Says: Overlooking the beautiful Mississippi River Bluffs and Lake Pepin, this course claims to be Minnesota's most breathtaking golf course, and they might be right! The rolling terrain, beautiful scenery and on course challenges provide for a great day on the links. The clubhouse also features a gourmet chef and a full bar to relax after the round and enjoy the views.
Review by jabronimatt on GolfAdvisor.com (Mount Frontenac Golf Advisor Page): If you are looking for a course with incredible views, you found it! Settled up in the bluffs of Frontenac , you get way more for your $$ than you could hope. It isn't a very long course but has several challenging par 4's with a lot of trees. I really liked the greens as they were cut short and played pretty fast. Overall, it was in great shape and the head pro was nice and friendly. The food was also delicious and the patio area is nice as well. They offer great deals so be sure to ask what they have running at the time.
Grand National Golf Club at Grand Casino Hinckley
1-320-384-7427 | grandnationalgolf.com
3/5 GA Rating
Par: 72 Yards: 6843 Slope/Rating: 131/73
Greens: Bent Fairways: Bermuda
Architect: Joel Goldstrand (1995)
Cost to Play: $55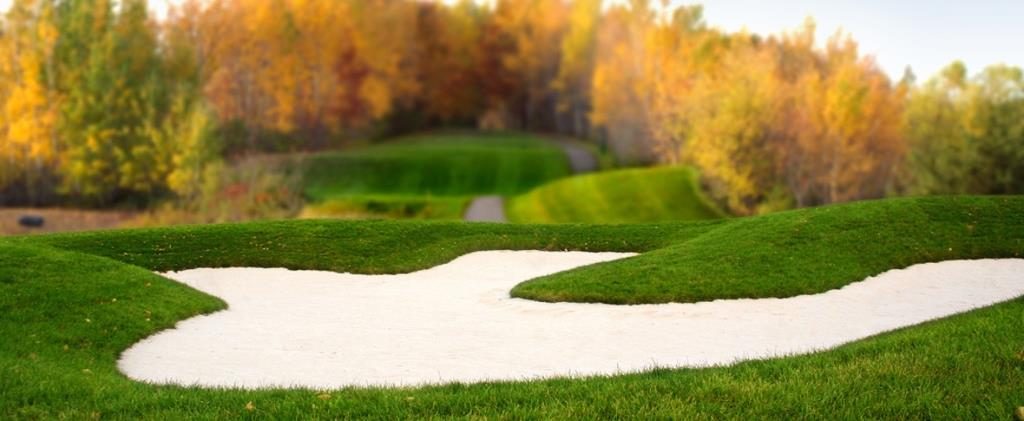 G&D Says: Located on the property of Grand Casino Hinckley, Grand National is a great course for Minneapolis, and surrounding area, golfers. The championship layout offers rolling hills, marshland, creeks and more to offer both beauty and a challenge.
Review by 5Mike113 on GolfAdvisor.com (Grand National Golf Advisor Page): Like many golf courses in Minnesota, Grand National Golf Club has two different personalities. Part of the course has a wide open links-style, with a few evergreen trees here and there, undulating fairways with some mounding and tall grass if you get too far from the fairway. The other part, primarily holes 4 through 8, resemble a north woods golf course with forest-like stands of stately birch trees lining both sides of the fairway. The fairways are very smooth and provide lots of roll. Being a Joel Goldstrand design, there are several holes with forced carries over water to reach the green. The greens are reasonably fast, with subtle contours rather than severe undulations, and roll very true. This was my first time playing this course, and it was a real pleasure. The golf carts are equipped with GPS, which helps greatly in shot selection if you don't know the course well.