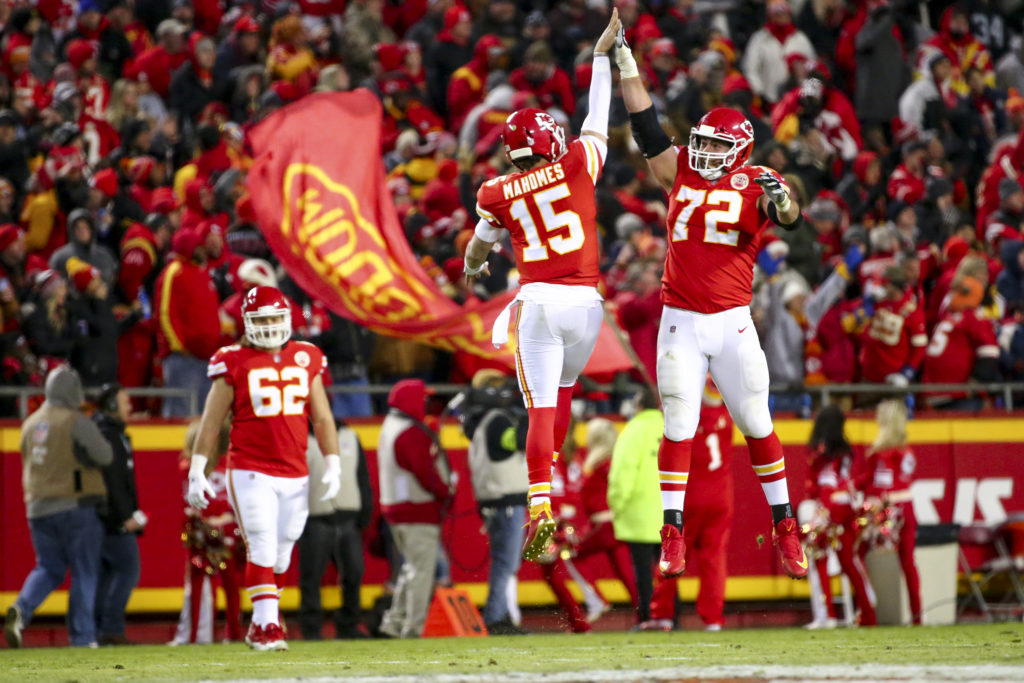 As mandatory minicamps come to an end and the new NFL season can be seen on the horizon, we are excited to bring you a our insight on a few teams who are bound to make some noise this year, a few that will come up short, and a little fantasy insight along the way.
We hope you have a successful season of fun filled sports action at your favorite casino sportsbooks or other optimal viewing spots!
Overachievers
Philadelphia Eagles – Last Season: 9-7 – This Season Prediction: 12-4
With Nick Foles gone, the Eagles now have no safety net for franchise quarterback Carson Wentz. Availability has been the biggest issue for Wentz, who will be entering his fourth NFL season with plenty of offensive firepower. The Eagles used their first three draft picks on the offensive side of the ball, selecting OT Andre Dillard, RB Miles Sanders, and WR JJ Arcega-Whiteside. The return of WR DeSean Jackson, along with new addition RB Jordan Howard, will also help bolster an offense with an elite offensive line and the best tight end duo in the league in Zach Ertz and Dallas Goedert. Defensively, the Eagles are worryingly thin at linebacker but will rely on the strength and depth of their defensive line, as they did during their championship run two years ago.
Ultimately, the Eagles will go as Wentz goes. To this point in the offseason, the news has been all positive for Wentz. He has been practicing with no limitations and without a knee brace. If he can stay on the field, he could return to his 2017 MVP-candidate form, and the Eagles could return to Super Bowl form.
Fantasy Spotlight: QB Carson Wentz– Wentz currently sits around the 10-spot among QB's but he should be snatched up well before this point. If he is healthy, look for him to be a bona fide QB1 every week. Expect Wentz to air it out this year.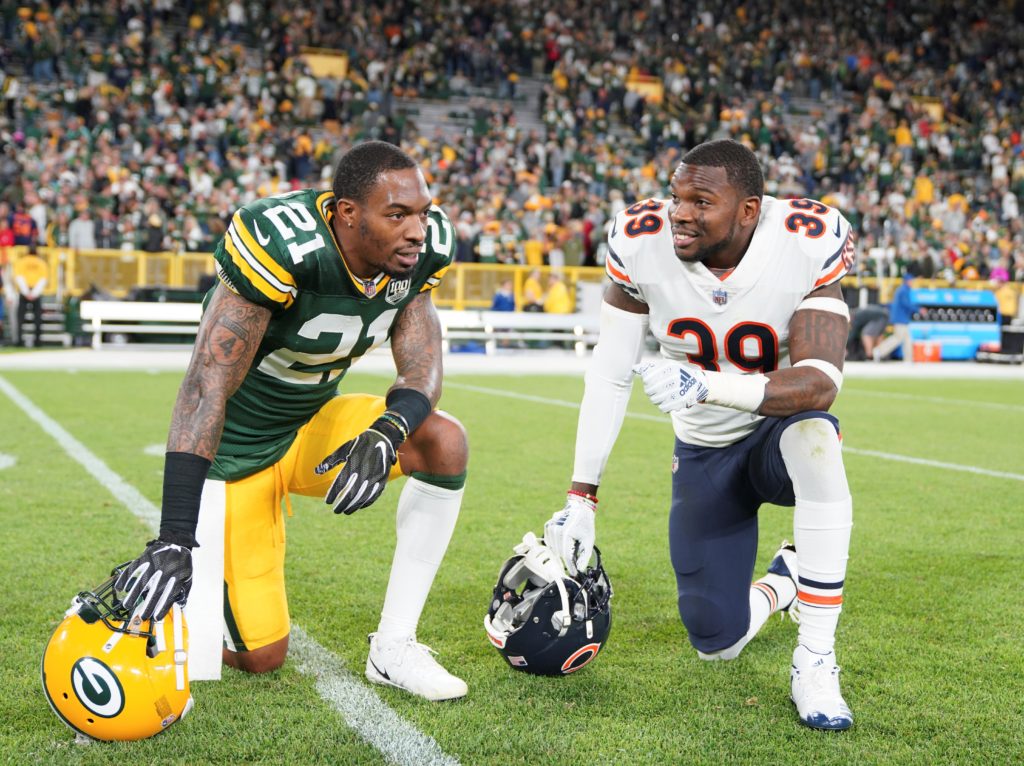 Kansas City Chiefs vs Oakland Raiders at Arrowhead Stadium on December 30, 2018.- It should be a high priority to pick up Goedert as a handcuff to Zach Ertz, but Goedert has shown that he can put up numbers even without Ertz' absence. The second-year tight end has a nose for the end zone and will only get more involved this season.
New England Patriots – Last Season: 11-5 – This Season Prediction: 13-3
Bill Belichick and Tom Brady will enter their 20th season together looking to defend yet another Super Bowl championship. Until the legendary duo is broken up, the Patriots cannot be counted out as a contender. This coming season will present a few different challenges for them, however. Significant coaching changes have taken place since last season including the departure of linebacker coach and defensive play caller Brian Flores, who has been hired as head coach of the Miami Dolphins. The Patriots looked to Greg Schiano to fill the void before he abruptly resigned only two months after being hired. All signs now point to Belichick assuming the role of defensive play caller, as he has done with mixed results, in the past.
Losing irreplaceable talent such as TE Rob Gronkowski (retirement) and DE Trey Flowers (free agency) will be even more of an adjustment for New England. The Patriots released free agency signing TE Austin Sefarian-Jenkins while the current starting tight end, Benjamin Watson, is facing a four-game suspension for banned substances. Pats fans may have their fingers crossed in hopes that Gronk comes out of retirement and crashes the party at some point. There have been a few playmakers added to the roster, however, in WR Demaryius Thomas and DL Michael Bennett, among others.
Despite all of the roster and staff turnover, New England draws the second-easiest schedule in the NFL and will continue to feast on the AFC East, as they have for decades now. So long as Tom Brady continues to defy nature, the Patriots could be sitting pretty with a high seed in the AFC.
Fantasy Spotlight: WR Julian Edelman – The Patriots have extended Edelman for two years and with Gronk and Chris Hogan gone, Edelman remains as Brady's most reliable target. He has been a PPR machine throughout his career and he should only get more targets this year.
Sleeper: RB Damien Harris – In a crowded backfield, rookie Damien Harris is a bit of a deep sleeper. However, New England will rely on their backfield as much as they can to preserve Tom Brady. Starting RB Sony Michel has had injury issues in his first year and if Michel were to go down, Harris would become very fantasy-relevant as he would likely fill the early-downs role. He is worth taking a late flier on.
Los Angeles Chargers – Last Season: 12-4 – This Season Prediction: 13-3
The Chargers may very well be the most balanced team in the NFL. Leading the NFL with 7 players named to last year's Pro Bowl, the Chargers look to take the next step after falling to the Patriots in the divisional round of last year's playoffs. Phillip Rivers has had a Hall of Fame-caliber career but still seeks his first Super Bowl ring. With a strong supporting cast around him, the Chargers will play their final season at Dignity Health Sports Park before leaving for their new facility in Inglewood next year. They will host Kansas City in a Monday night game at Estadio Azteca in Mexico City, and finish the regular season at Kansas City, in what will likely be a crucial divisional matchup. The Chargers finally snapped their 9-game losing streak against the Chiefs back in December, and they will need to build on that to take the AFC West crown.
The clock is ticking on Rivers' career and it is officially Super Bowl or bust time. With a star-studded roster, this could be the team that finally wins it all.
Fantasy Spotlight: TE Hunter Henry will look to pick up where he left off prior to tearing his ACL over a year ago. His knee healed enough for him to return to play in the divisional round of the playoffs last season, so an entire offseason should help him fully recover. Henry was highly effective per target in 2017 and, if he is healthy, he should outperform is current ADP by far.
Sleeper: RB Justin Jackson – It's good to get any piece of a potent offense. Jackson sits third on the Chargers depth chart behind Melvin Gordon and Austin Ekeler, who both missed time due to injury last year. Should either go down at any point this season, Jackson, who has shown flashes of his potential when given the ball last year, will immediately be a hot pick-up. He could become a valuable stash player to have.
Los Angeles Rams – Last Season: 13-3 – This Season Prediction: 12-4
The defending NFC Champion Los Angeles Rams enter the 2019 season with another loaded roster. There are some question marks, namely the health of RB Todd Gurley. After Gurley's murky knee injury late last season, his usage and production took a dive. There are recent reports that suggest his days as a workhorse back are over, and that the Rams will look to scale back his carries going forward, in order to extend his career. The Rams let Gurley's fill-in RB C.J. Anderson walk in free agency, however they added depth to the position by drafting RB Darrell Henderson in the third round. Henderson is a potential high-ceiling player who currently sits third on the Rams RB depth chart behind Gurley and Malcolm Brown.
Scaling back Gurley's usage will mean head coach Sean McVay and the Rams will need to get creative in spreading the ball, which QB Jared Goff has done effectively with plenty of receiver depth. On the defensive side of the ball, the Rams lost DT Ndamukong Suh to the Tampa Bay Buccaneers in free agency. However, they have added a few pro-bowlers in safety Eric Weddle and linebacker Clay Matthews.
The narrative that Todd Gurley's best days are behind him seems like a bit of an overreaction. His injury history is concerning, but he will only be turning 25 this year and the Rams have elite talent all over the field. Not to mention one of the NFL's most innovative head coaches, Sean McVay.
Fantasy Spotlight: WR Brandin Cooks – In a talented receiver corps, Cooks enters his second year as a Ram as dangerous as ever. Cooks eclipsed 1,200 yards receiving for the first time in his career last year, and at only 25 years old, his deep-threat ability isn't going anywhere. Weekly highs and lows will have to be endured, but he will continue to put up high WR2 numbers when all is said and done.
Sleeper: RB Darrell Henderson – While hardly qualifying as a sleeper anymore, Henderson's stock is rising after the news of a potential reduced workload for Todd Gurley. The rookie will not have to wait for an injury to Gurley, as he should see some touches right away. He is a big-play runner who some experts had as their top back in the draft.
Underachievers
Kansas City Chiefs –
Last Season: 12-4 –
This Season Prediction: 10-6
A year after quarterback Patrick Mahomes set the NFL world on fire, the Chiefs will have a different look to them this season. While there is no denying Mahomes' absurd playmaking ability, the NFL's top offense is facing quite a bit of uncertainty due to off-the-field issues. Already having released young star running back Kareem Hunt last year, the Chiefs have now suspended explosive receiver Tyreek Hill indefinitely, due to a domestic abuse investigation. The Chiefs and the NFL await the outcome of this investigation to determine the penalty, if any, for Hill. Hill's role in the offense can not be overstated, and he if he were to miss any time, the Chiefs will need to adjust significantly.
On top of that, defense was a huge liability for Kansas City last season, and it could get worse. New defensive coordinator Steve Spagnuolo will be transitioning the defense from a 3-4 to a 4-3 base scheme. In the process, they have released LB Justin Houston and traded away LB Dee Ford, two of their biggest playmakers last season. The acquisition of pass rusher Frank Clark and safety Tyrann Mathieu will certainly help fill some holes but expect growing pains for this Chiefs defense.
While not a catastrophic collapse, the Chiefs could take a step back in 2019 but still make playoffs. The offense will once again have to shoulder the load and carry this team as far as it can go. Come playoff time, that is not an ideal situation.
Fantasy Spotlight: TE Travis Kelce – Assuming Kelce is a full-go by the time training camp starts, after his offseason ankle surgery, there is no reason to believe he won't be the most productive tight end in 2019. He will cost a pretty penny as far as draft price, even the back end of the first round, but with Tyreek Hill's possible absence, Kelce could be a league-winner.
Sleeper: WR Mecole Hardman – With their first pick in this year's draft, the Chiefs traded up in the second round to select Hardman. Quickness, explosive speed, and acceleration are his strengths. Sound familiar? It makes sense that the Chiefs anticipated using him in place of Tyreek Hill if needed. Hardman's value could skyrocket with a Hill suspension.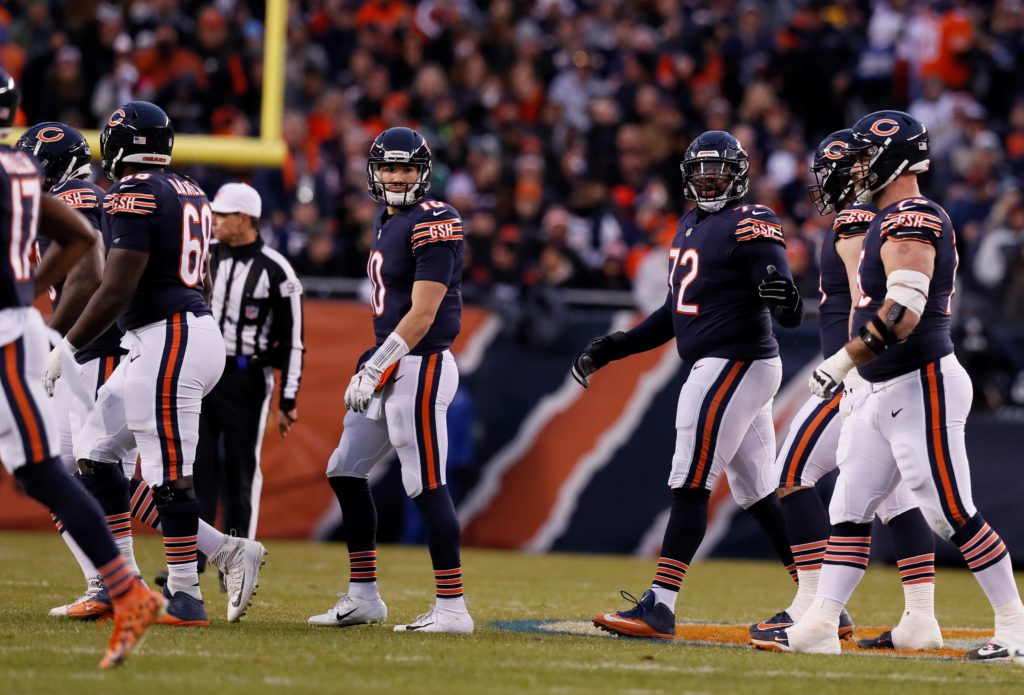 Chicago Bears – Last Season: 12-4 – This Season Prediction: 9-7
Reigning Coach of the Year Matt Nagy and the Chicago Bears finished with a 12-4 record last season as the Bears took the NFL by surprise. All-Pro linebacker Khalil Mack led a stifling defense that helped secure a division title. Defensive coordinator Vic Fangio has since left the Bears for the head coaching position in Denver. This could be a setback for the strength of the team, as the Bears look to repeat as NFC North champions in what should be a tight divisional race. Outside of the division, the Bears have a tough schedule, 5th toughest in opponent win percentage. QB Mitchell Trubisky enters a critical third season showing promise, but it still remains to be seen if he can be the franchise guy. The departure of running back Jordan Howard will put more pressure on Trubisky as well.
The Bears should find themselves in the mix, but they won't be sneaking up on any teams this year. If Trubisky can take a step forward in his development and become a consistent passer, it could take Chicago far, but it is tough to tell if he is capable at this point.
Fantasy Spotlight: RB Tarik Cohen – The backfield around Tarik Cohen has shifted with Jordan Howard's departure, putting Cohen into more of a leadership role at only 23 years old. Cohen is a dynamic talent who will get the ball one way or another and put up lofty all-purpose yards. He can be drafted as an RB2 with upside.
Sleeper: WR Anthony Miller – Miller battled through injuries in his rookie year but still came away with 7 TD grabs. He is on track to recover from an offseason shoulder surgery by the start of training camp and he should have a bigger role in his second year. Don't be surprised if he breaks out in 2019.
Ultimate Fantasy Team 
Looking for the Ultimate Fantasy team? Based on a ten team PPR format, here are my picks for the ultimate fantasy team using current ADP. Snake-draft style from the 5th spot:
QB: Aaron Rodgers (6th Rd) – If Rodgers is still hanging around in the 5th round or later, grab him without hesitation.
RB1: Leonard Fournette (3rd Rd) – Fournette suffered as a result of a banged-up offensive line last year but should bounce back this season. He is a rare workhorse back.
RB2: Sony Michel (5th Rd) – New England RB's are always tricky but Michel should be given the lion's share of carries.
WR1: DeAndre Hopkins (1st Rd) – Last year's top receiver, Hopkins shows no signs of slowing down.
WR2: Brandin Cooks (4th Rd) – Cooks boom/bust factor stops him from being a WR1 but he will light up the scoreboard on a boom week.
TE: Travis Kelce (2nd Rd) – If the clear-cut number one tight end is available in the second round, take him.
FLEX (WR/RB/TE): Tarik Cohen (7th Rd) – Cohen should have a more consistent role in Chicago's offense this year. If he is lingering in the middle rounds of the draft, pick him up for his upside.
DEF: L.A. Rams – Chicago will likely be the first defense off the board, the Rams can be taken afterwards and can be relied upon every week.
Season Wins Over/Under Picks 

Team – Over/Under – Pick
ARI – 5 – Over
ATL – 8.5 – Over
BAL – 8.5 – Under
BUF – 6.5 – Under
CAR – 8 – Over
CHI – 9 – Push
CIN – 6 – Over
CLE – 9 – Over
DAL – 9 – Under
DEN – 7 – Under
DET – 6.5 – Over
GB – 9 – Over
HOU – 8.5 – Over
IND – 9.5 – Over
JAC – 8 – Push
KC – 10.5 – Under
LAC – 9.5 – Over
LAR -10.5 – Over
MIA – 5 – Under
MIN – 9 – Under
NE – 11 – Over
NO – 10.5 – Under
NYG – 6 – Under
NYJ – 7.5 – Under
OAK – 6 – Over
PHI – 9.5 – Over
PIT – 9 – Under
SF – 8 – Under
SEA – 8.5 – Over
TB – 6.5 – Under
TEN – 8 – Under
WAS – 6.5 – Under
_________________
By: David Markward
Photos courtesy of the Chicago Bears and the Kansas City Chiefs