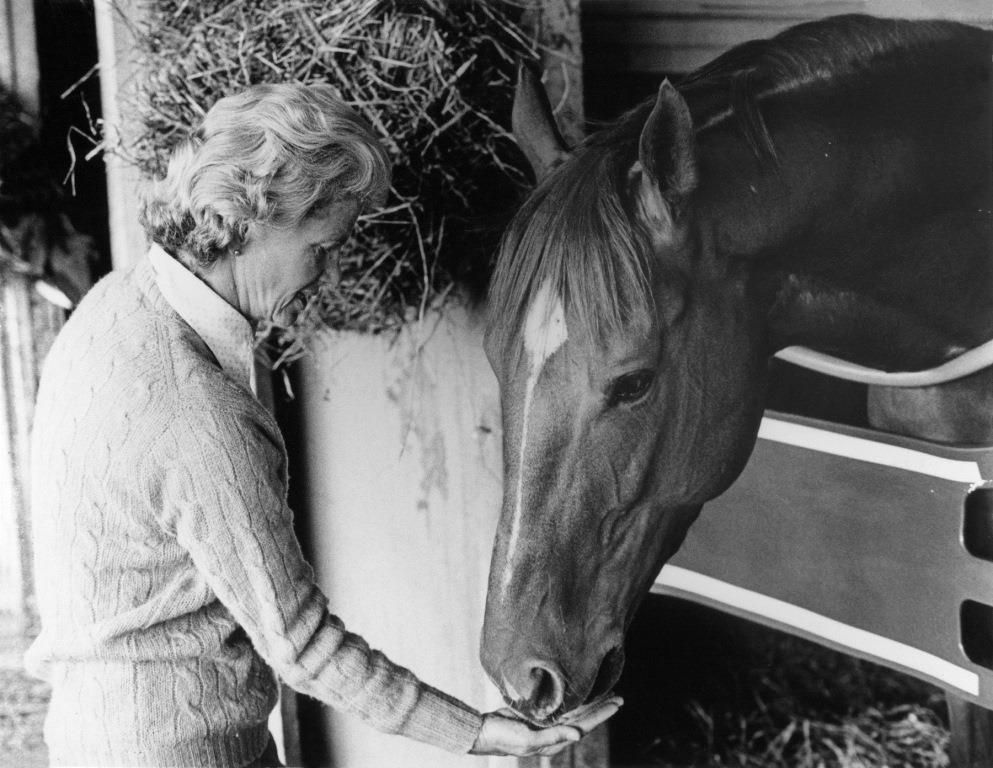 Secretariat became a national celebrity when he won the Triple Crown in 1973.
The horse racing superstar captured the Kentucky Derby and then rolled in the Preakness Stakes before turning in a dazzling performance in the Belmont Stakes, winning by an astounding 31 lengths.
The colt known as "Big Red" became the first Triple Crown winner in 25 years – setting records in all three legs – and ran himself onto the cover of Sports Illustrated, Time and Newsweek magazines.
Secretariat was the star attraction but the Triple Crown victory was the emergence of Penny Chenery – then known as Penny Tweedy – as one of the most prominent figures in thoroughbred racing.
Chenery took over her father's thoroughbred farm when he became disabled and later passed away. She bred Secretariat and was listed as the owner of Meadow Stable when he won the Triple Crown. She was the public voice of the champion thoroughbred and became one of the few prominent women in the sport.
When Secretariat died in 1989, Chenery still carried on his legacy with words and emotions in interviews and appearances over the years. The story was portrayed in the 2010 Disney movie "Secretariat."
Chenery lived the story for nearly five decades until she passed away on September 16 at age 95.
"This was one amazing woman," Chenery's longtime friend and business manager Leonard Lusky told the Lexington Herald-Leader after her death. "The racing world and all her friends and anyone who came across her path will miss her dearly. She was truly a pioneer and very much a part of the fabric of the thoroughbred industry."
Chenery was truly a pioneer in the sport – especially for women – and a figure in the sport that media members liked to call for any – and nearly every – racing issue or big moment.
And what she meant to the sport was truly on display at her passing when nearly every major track and thoroughbred organization released a statement on her passing.
"Fans embraced her as the owner of Secretariat, her legendary Kentucky Derby and Triple Crown winner and American sports icon, along with her ongoing role as the protector of his legacy and lifelong supporter of causes that promote the health and welfare of retired Thoroughbreds," a statement from Churchill Downs read.
Keeneland also released a statement from president Bill Thomason: "Mrs. Chenery exemplified the very best of our sport, serving as one of its most beloved and passionate ambassadors. She was a generous owner, tirelessly sharing the legacy of her great Triple Crown winner with generations of fans that extended far beyond racing."
Chenery did have an effect in generations of racing fans.
Because Secretariat was such a hit with racing fans, Chenery was always talking or hearing about her champion. Even after he died in '89, Chenery said she received letters, poems and drawings from children paying tribute to Secretariat.
"What all these people are really saying is, 'Boy, we love that horse'," she said when he died. "I'm going to miss him terribly. He was not only a champion race horse but a cherished friend."
And now, the sport of racing is going to miss Chenery.
America's Best Racing called her a "gracious, resolute luminary" at her passing, noting there would be "no greater role model" in the sport than Chenery even to the time of her death.
She has also been called the "First Lady of Racing" and immediately after her death the National Museum of Racing and Hall of Fame named its Winners of the Triple Crown exhibit after Chenery.
"Penny Chenery was a remarkable person and a wonderful ambassador for our sport," said John Hendrickson, the Museum's president in a news release. "She was a champion for the thoroughbred and a role model for all. It is the Museum's privilege to recognize her contributions to racing. Secretariat was a Triple Crown champion and so is Penny. The Museum is honored to have Penny forever interwoven in the legacy of the Triple Crown within our institution."
The youngest of three children, Chenery was born on Jan. 27, 1922 in New Rochelle, N.Y., to Christopher and Helen Chenery. Her father was a New York utilities tycoon who had a successful racing stable in Virginia.
Chenery had a love for horses at a young age. She grew up riding on her father's farm – The Meadow – a thoroughbred racing operation and breeding center in Caroline County near Ashland, Va.
Chenery's life changed when her father was admitted to the hospital in February of 1968. He remained there until his death in 1973 and Chenery talked her siblings into not selling the operation.
Instead, Chenery wanted to try and fulfill her father's dream – winning the Kentucky Derby.
She told The Blood Horse in an interview that she "loved horses and I loved my dad. He was failing and my brother and sister wanted to sell the stable and I said, 'No, not while Dad is alive'."
So Chenery – who had four children – was named president of Meadow Stud – the racing stable for the operation – and made all kind of changes within a few years. She fired the farm's long-time trainer – Casey Hayes – in 1969 and hired Roger Laurin. He left and in May of 1971, she hired his father – Lucien Laurin.
In 1972, Meadow Farm's Riva Ridge won the Kentucky Derby and Belmont Stakes and then two years later Secretariat took the racing world by storm and Chenery jumped into the forefront of the sport.
"Lucien Laurin trained and campaigned the horse, not me," said in an interview in the early 2000s. "I discovered I had the ability to communicate with the public, though, and as the horse's spokeswoman I suppose people began to think of horses being owned by women."
Chenery was a pioneer for women in the sport.
After Secretariat's retirement from racing, Chenery became an ambassador for thoroughbred racing and remained so throughout her life. She served as the first female president of the Thoroughbred Owners and Breeders Association and president of the Grayson-Jockey Club Research Foundation.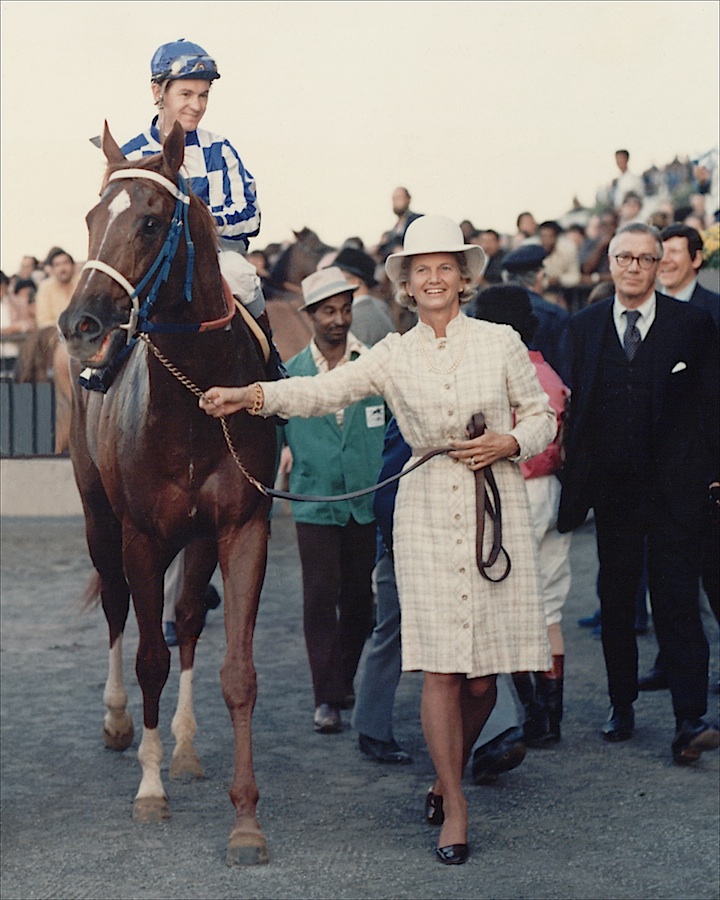 Chenery became one of the first women admitted to The Jockey Club, helped found the Thoroughbred Retirement Foundation and created the Secretariat Vox Populi Award, annually honoring racing's most popular horse, as well as the Secretariat Foundation, which assists and supports various charities within the racing community.
In 2006, Chenery was the first woman to win the Award of Merit at the Eclipse Awards for her lifetime contributions to the industry. But with all of the accolades and honors she collected, Chenery would make sure the spotlight never swayed too far from Secretariat and for what he accomplished on those three Saturday afternoons in the spring of '73.
"In 1973, the country was in an emotional slump," Chenery wrote in The New York Times. "It was the time of the Watergate and Nixon scandals, and people were looking for something wholesome to admire. I've always felt that because he was a chestnut horse and our stable colors were blue and white, he was running in red, white and blue."
By Jody Demling – Louisville, Kentucky
________________________________
Secretariat.com was created by Penny Chenery as the official website for her great champion. Celebrating racing's past to enrich its future, Secretariat.com offers an exclusive collection of unique merchandise and collectibles and is the official online source for photography, memorabilia and historical information chronicling the enduring legacy of the 1973 Triple Crown winner.
Get more casino articles and gambling tips! 
Subscribe to Gaming and Destinations Magazine for just $20 per year!
Get tips, property reviews and more!
CLICK HERE to join the fun!
(Or Call 502-212-5177)