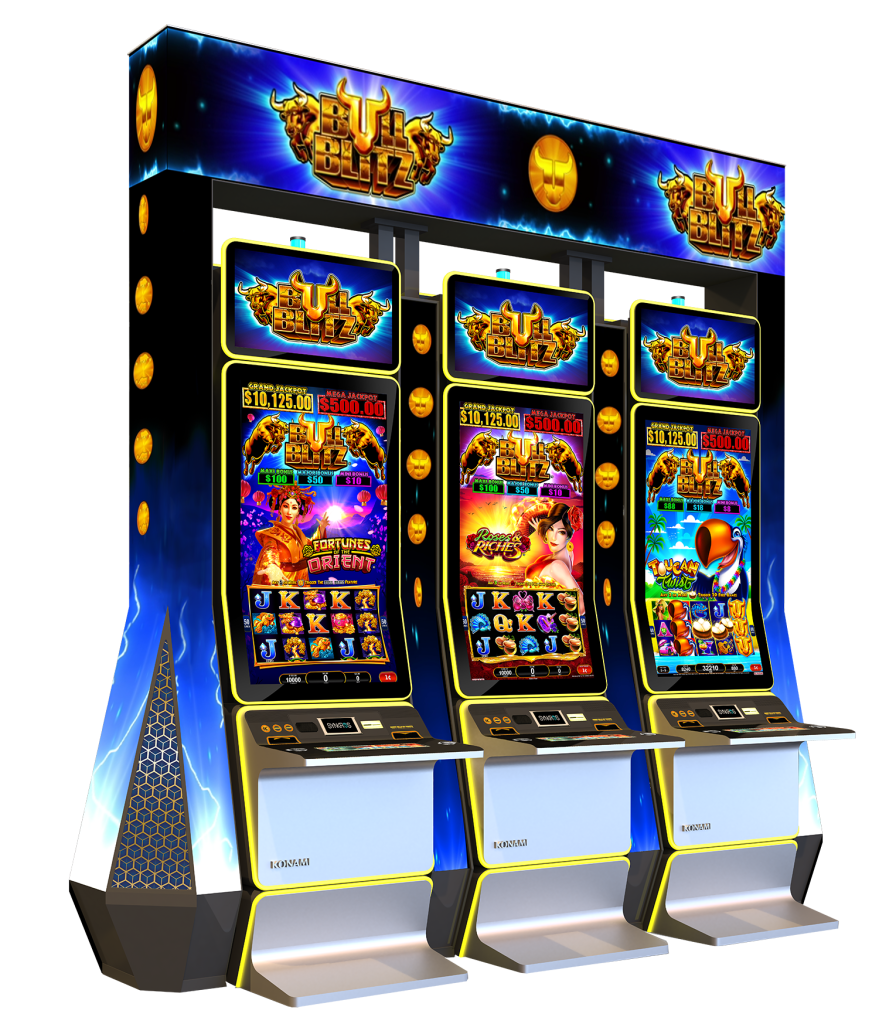 Konami Gaming has a new All Aboard-style game that's hitting casinos with an even more potentially lucrative prize feature. This amped-up version of All Aboard—voted "Best Video Slot" and "Best Progressive Slot"—takes credit collection bonuses to ultra-high heights of reward potential through a new Xtra Hit feature.
Similar to All Aboard, this linked progressive slot series awards the credit prize feature with any 6 or more golden Bull Blitz symbols, where there's a chance at random credit prizes, bonus awards, and progressive jackpots. If all 15 positions are filled, the big progressive Grand Jackpot is awarded.
"Bull Blitz was developed based on feedback from players about All Aboard. They loved the All Aboard feature, but they wanted to be able to collect the displayed prizes for each coin symbol that landed on the reels, even when several landed at the same time," said Tashina Lazcano, Director of Marketing & Communications at Konami Gaming, Inc. "With the Bull Blitz prize feature, you get to collect all the prizes for each coin that lands, even when two or more coins land in the same spin—you get an Xtra Hit."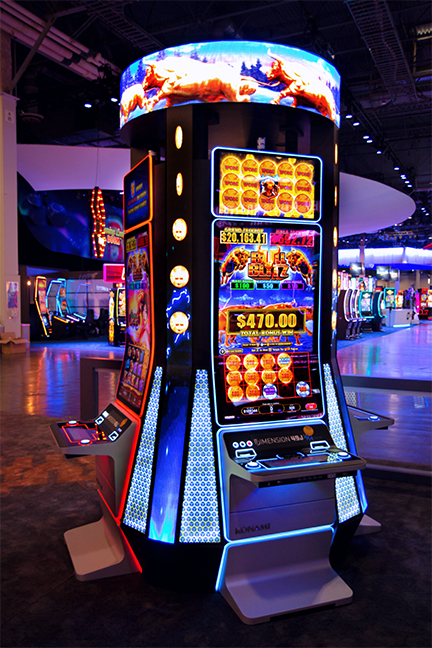 Reaction to the new slot series has been big, as Lazcano explains, "Bull Blitz has been hugely popular in Australia, under the name Bull Rush. Get hold of the Bull Blitz feature, and you could be charging straight toward a wild payout—It's how the wins are won."
The series is making its U.S. debut with many multi-denomination options and two original base games: Fortunes of the Orient and Roses & Riches. Fortunes of the Orient features full-reel nudging wild in the free games, while the free game feature in Roses & Riches guarantees at least 2 full-reel wilds for every spin.
Konami Gaming, Inc.'s Bull Blitz is now arriving at casinos.
Game Facts:
Class III video slot game
Integrated linked progressive series
2-level linked progressive
3-level non-incrementing bonus awards
Stay & Spin feature
Two unique base games: Fortunes of the Orient and Riches & Riche
Multi-denomination: 1-cent, 2-cent, 5-cent, 10-cent, $1 and $2