As the summer winds down, football talk ramps up. Teams are in full-scale practice mode and working to tweek their playbooks for the first games in August. This season is sure to be filled with some magnificent match-ups both at the college and professional level, so we wanted to offer you our suggestions for which casinos have the best set-ups to take in the action, and even make some wagers. Several of the Mississippi casinos offer full sports betting, while others offer great places to watch games, grab some suds and grub and cheer on your favorite teams.
We hope you like our suggestions. We feel that if there are a lot of televisions, good service and a relaxing atmosphere to kick back with some buddies for a few hours, that is good enough to make our 'preferred list'. There are many other great casino sports bars, and sports books, that are not featured on this list, but you can rest assured these are all winning suggestions. Enjoy!
Tap Book Bar & Bistreaux @ Beau Rivage Resort & Casino – Biloxi, Mississippi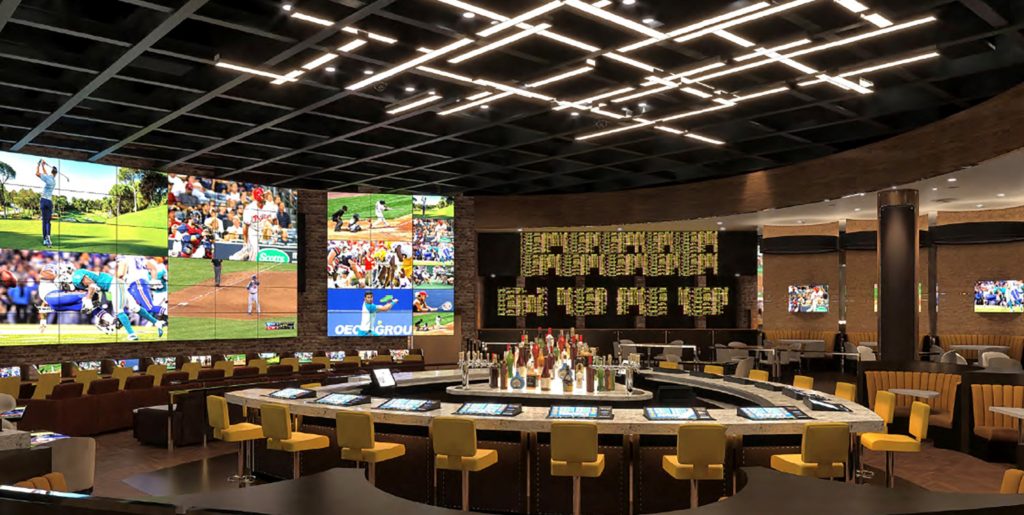 Within one year of making history as the first company to offer legalized sports wagering in Mississippi, Beau Rivage is excited to unveil the ultimate sports betting experience in the Southeast with the opening of TAP Book Bar & Bistreaux, a new $10 million sports entertainment venue at luxurious Biloxi property.
TAP features more than 100 HDTVs including a massive 14-foot tall x 24-foot wide video wall with state-of-the-art technology and 70 individual screens that can operate in various combinations or as one huge display. The main video wall is flanked by two giant video walls and the entire venue is enveloped in sports coverage from every angle.
When it comes time to place your wager, there are fourteen sports carrels with individual HD touch-enabled monitors allowing guests to watch sports or horse racing with interactive controls for their convenience and comfort. There is also a five-window sports betting counter staffed with a knowledgeable and helpful team led by Race & Sports Book Manager Will Hall.
True to its name, the new venue will feature more than 15 beers on tap and American sports bar classics such as the Tap Burger and Pecan Smoked Brisket Chili.
Also at Beau: Six Restaurants (BR Prime, Jia, Stalla, Terrace Café, The Roasted Bean, The Buffet at Beau Rivage); Eight75 Lounge; Breeze Bar; showroom, spa and salon; fitness Center; outdoor resort-style pool; championship golf course; shopping
Highlights Sports Lounge @ IP Casino Resort Spa – Biloxi, Mississippi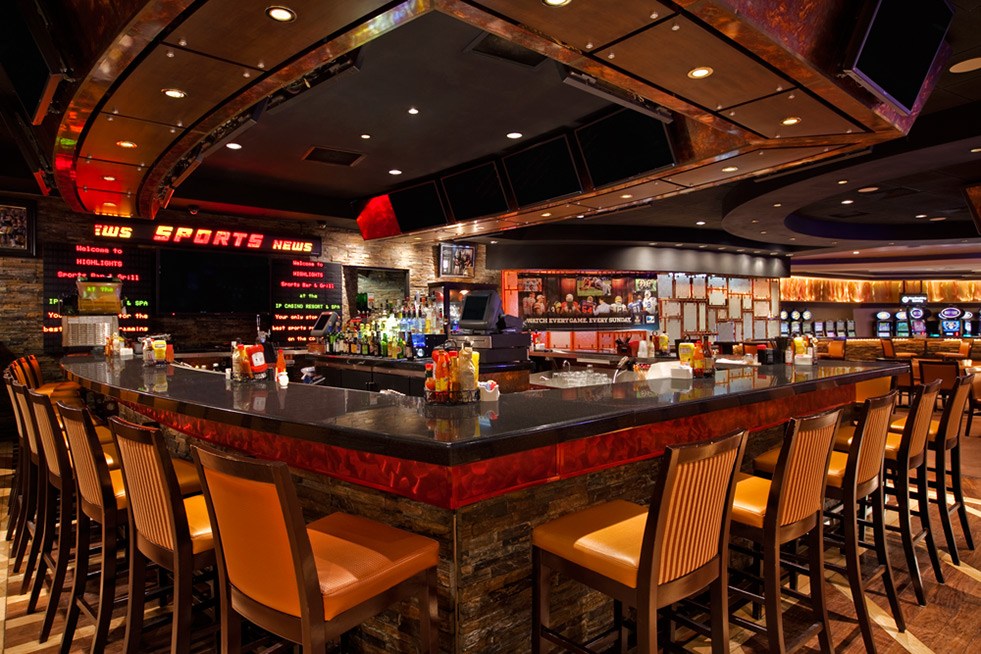 Another great place to kick back and watch and wager this season is IP Casino Resort & Spa, also located in Biloxi. The sportsbook, located adjacent to Highlights Sports Lounge, is your one stop shop to wager on anything from football and basketball to rugby or even bull riding.
Feed your hunger for sports on 76 HD TVs and check out the menu for some of your favorite game grub including burgers, wings, sandwiches and more, and quench your thirst with a great selection of beers and cocktails
Also at IP: Five Dining Outlets (thirty-two, tien, Bayview Café, Highlights Sports Lounge, Back Bay Buffet); 850 Wine Spirits; Studio A Showroom; Chill Ultra Lounge; thirty-two Lounge; spa and salon; outdoor resort-style pool
The Sports Book @ Golden Nugget Hotel Casino – Biloxi, Mississippi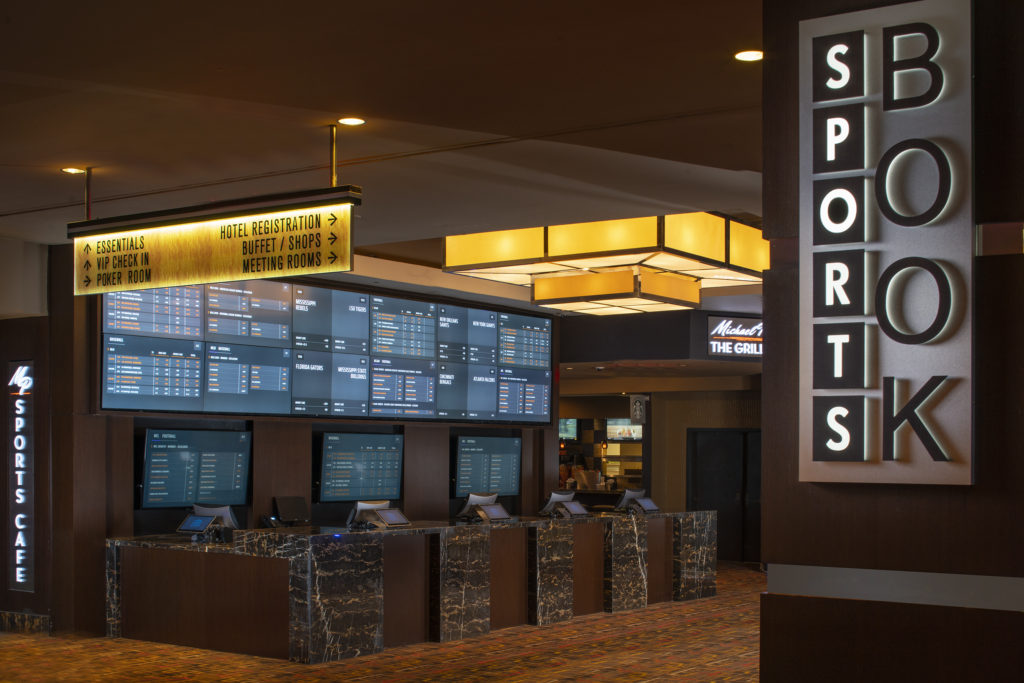 Another Gulf Coast gem you can't go wrong with is the sparkling Golden Nugget Casino where you will find The Sports Book and Michael Patrick's Bar & Café. Featuring comfortable seating, more than 50 high definition televisions, two video walls, and a full restaurant and bar with seating for 120 guests at Michael Patrick's, you'll feel right at home when you plan your game day here. The set-up offers an ideal layout for you to eat, drink, and watch the games you wager on, or simply have a rooting interest in.
When it comes time to place your wager though, utilize one of twelve self-service sports betting kiosks, and take advantage of some of the best parlay odds on the coast.

Also at Golden Nugget: Five Dining Outlets (Lillie's Asian Cuisine, Michael Patrick's, Bubba Gump Shrimp Co., Morton's The Steakhouse, The Buffet); Rush Lounge; Bar 46; grand ballroom; spa and salon; outdoor resort-style pool; fitness center
Moneyline Sports Bar & Grill @ Gold Strike Casino Resort – Tunica, Mississippi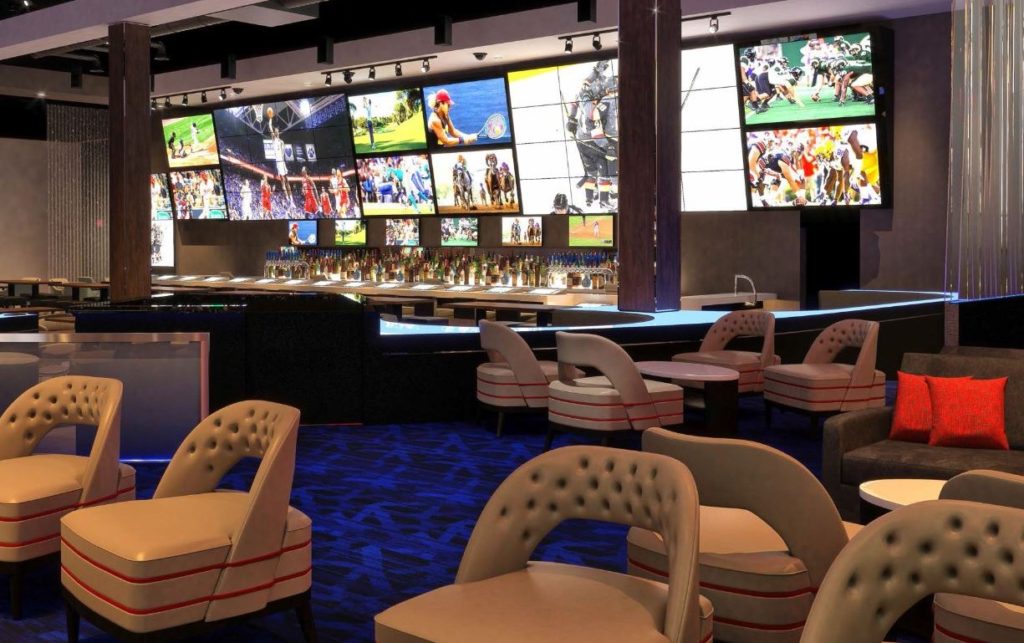 When Gold Strike Casino in Tunica says it's going to do something new, you can bet the bank it will be the best. So, when the property recently announced the all-new Moneyline Sports Bar & Grill, guests couldn't wait to get their eyes on it. The resort's new three-meal dining and entertainment destination is fully equipped with a Topgolf ® Swing Suite – the first of its kind in the state – and is adjacent to the state-of-the-art Race & Sports Book. Moneyline offers an inviting atmosphere as the mid-South's premier sports entertainment venue where sports fans can watch and wager on just about anything. "Moneyline will be the ideal casual place to meet, catch – or play – a game while enjoying great food and drinks," said Gold Strike President & COO David Tsai. "Our goal is to introduce exceptional new experiences for our guests that keep them returning time and again."
Just in time for football season, the area features more than 50 large screen TVs, a vast selection of cocktails, domestic, craft and import brews and a menu offering everything from small bites to burgers and more.
Also at Gold Strike: Five Dining Outlets (Chicago Steakhouse, Pickle & Jam, Moneyline Book, Bar & Grill, Buffet Americana) STAGE2; TEN10; showroom; spa; indoor pool; fitness room
Sportsbook at Time Out Lounge @ Pearl River Resort Casinos & Hotels – Philadelphia, Mississippi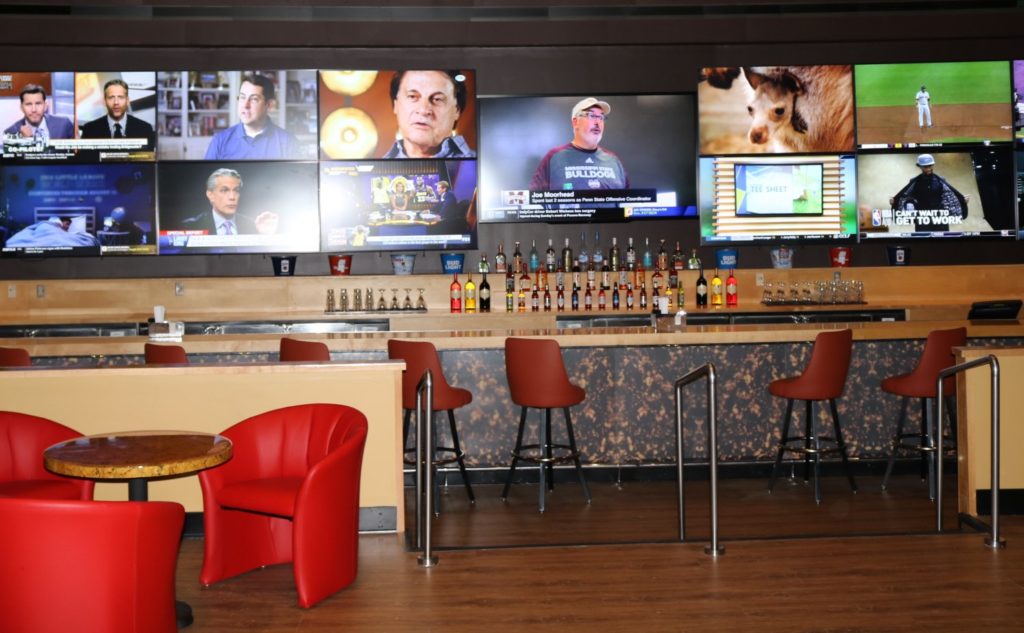 For a lot of people in the South, there are only two seasons: Football season and waiting for football season. Sports betting is as American as apple pie, and people love to bet on their football. As the first tribe outside of Nevada to open an independently operated sportsbook, Pearl River Resort and the Mississippi Band of Choctaw Indians take great pride in their remodeled Sportsbook at Time Out Lounge. The area features 20 tv's, 12 odds boards listing both odds and scores, 3 in-person wager stations and a full-bar with a plethora of food options. In addition to the traditional sports betting, Pearl River also unveiled PRRSPORTS, a mobile app that allows you to make Live-In-Play Betting for prop bets and other exclusive wagers. (Ie. First team to score a touchdown, next play a first down, etc…) You must be on property to take advantage of the feature, so be sure to check it out on your next visit.
Also at Pearl River: Seven Dining Outlets (Phillip M's, Time Out Lounge, Stats Sports Bar & Grill, Bistro, Whiskey Bean, Dancing Rabbit Clubhouse Restaurant, The Beach Club Restaurant, The Buffet at Silver Star); spa and salon; outdoor pool; Geyser Falls Water Park; two championship golf courses; Center Stage Showroom
The Sportsbook @ Hollywood Casino – Tunica, Mississippi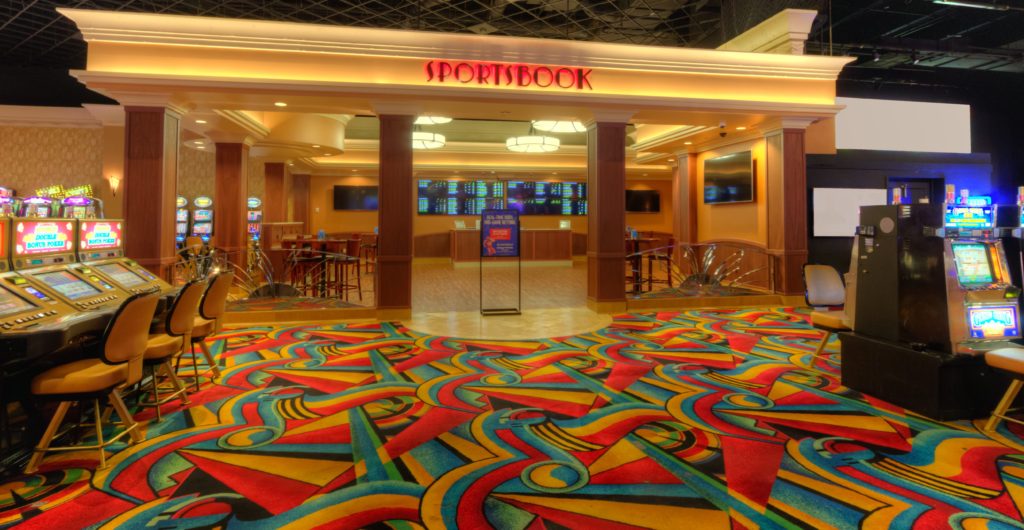 The Sportsbook at Hollywood Casino, as well as 1st Jackpot Casino, in Tunica are both first rate places to bet on the longshots and the sure things. At Hollywood, the sports betting area is located conveniently just off the casino floor and is home to the largest wide-screen TV in the area at 12 feet x 24 feet. There are also an additional ten screens for your viewing pleasure and comfortable seating to kick back and relax, enjoy tasty drink and food specials daily and watch and wager on your favorite sports teams and games. Open daily from 9:00 am until 11:00 pm, the Sportsbook is your place to get real-time odds, point spreads and over/under betting in a comfortable setting to enjoy the action.
Also at Hollywood: Three Dining Outlets (Fairbanks Steak House, Epic Buffet, Celebrity Grill); spa, indoor pool, RV park, live music stage bar
McC's Sports Bar @ Island Resort & Casino – Harris, Michigan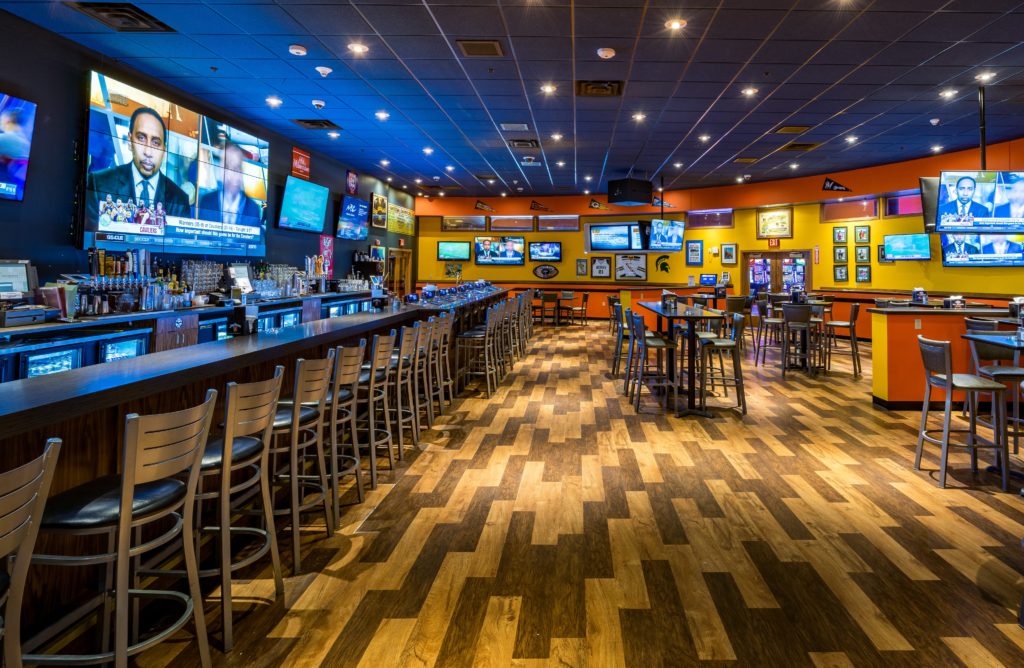 Everything is better when you're on an island! Island Resort & Casino is known as the Upper Peninsula's Premier Casino and Golf Resort, however, watching your favorite sports teams in the ultimate sports bar is also a benefit of regular visits. Named for the property's late General Manager, Tom McChesney, T. McC's is your destination for all things sports! Featuring a nine-screen video wall for your total sports bar experience, and over 30 screens for personalized viewing. T. McC's also offers a classic sports bar fare and a large selection of beers on tap.Choose a seat at a tall top table, or sit at the bar where you can also play video poker, enjoy some grub and watch the games. The property also boasts two world-class golf courses, an array of amenities and first-class entertainment so be sure to check the concert calendar before you go.
Also at the Island: Six Dining Outlets (5 Bridges Steak & Seafood House, 5 Bridges Pub, Firekeepers's Restaurant, Coral Reefe Grille, Signature Subs & Pizza, T. McC's Sports Bar); spa, salon, indoor pool, showroom, RV Park
Tap and Moneyline Sports Lounge @ MGM Detroit – Detroit, Michigan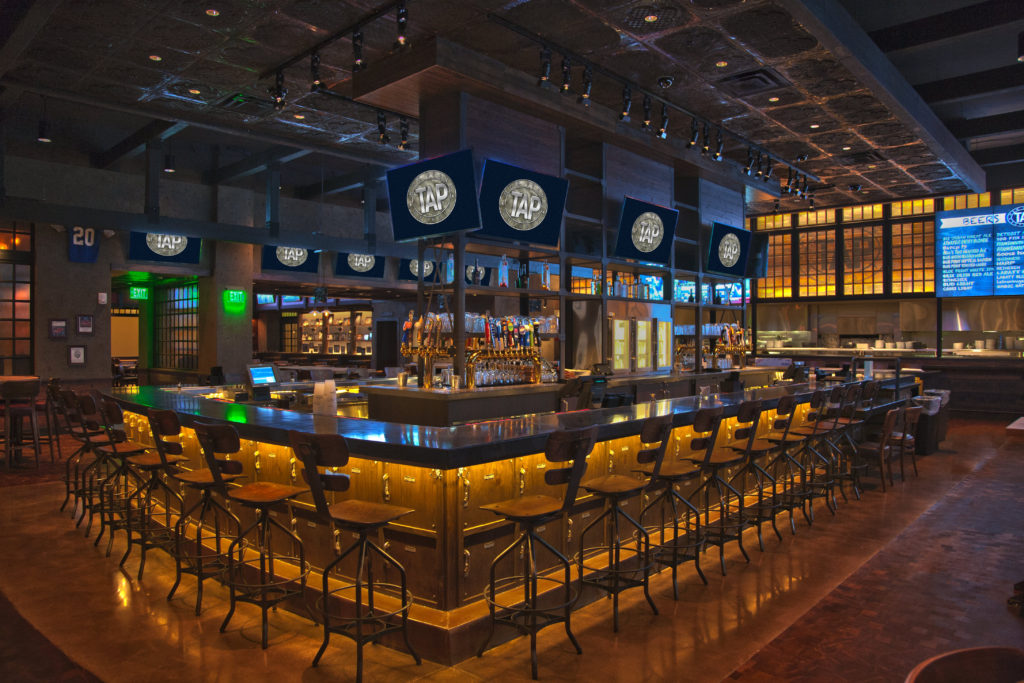 MGM Grand Detroit is the marquee casino property in Detroit. Offering 100,000-square-feet of casino action including a premier poker room, nearly 150 table games, and close to 3,500 of the hottest slots and video poker machines, you'll feel like you are in Vegas from the moment you step through the doors. In addition to great gaming, the property also offers great restaurants, entertainment, a full-service spa and more, including one of the top sports bars in the area, TAP. Featuring tasty pizzas, pastas, burgers and more, it won't be hard to get in the game. Plus, with 50+ beers and 40+ televisions, you won't miss a second of the action. If you are a golfer, you are in luck! TAP also features cutting edge technology at the Topgolf Swing Suite suited for golfers and nongolfers alike. These mini suites come equipped with a full-service wait staff to bring you your favorite food and beverages, and a seating area to watch your friends take part in a variety of golf games that will challenge anyone who plays. Also, coming this Fall, is Moneyline Sports Lounge that will offer a whole new sport viewing experience and will certainly satisfy guests, and set the bar high for any competition. Don't miss out on this one!
Also at MGM Detroit: Five Dining Outlets (Wolfgang Puck Steak, Palette Dining Studio, TAP at MGM Detroit, Breeze Dining Court, The Roasted Bean); Axis Lounge; 32°; Topgolf Swing Suite; spa, indoor pool, fitness center, showroom, shopping
The Groove @ North Star Mohican Casino Resort – Bowler, WI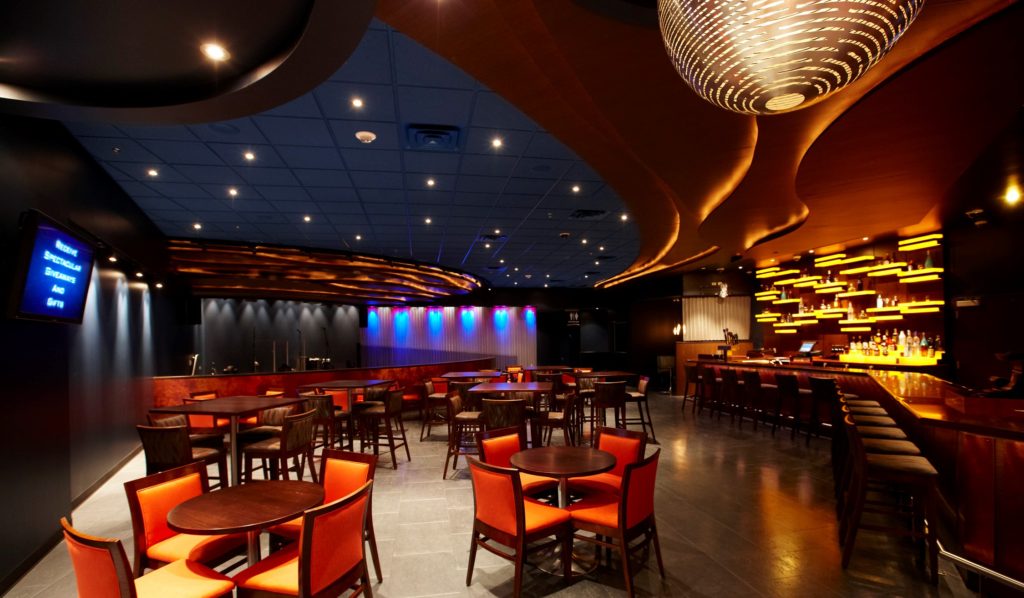 When it comes to great gaming and entertainment in the Midwest, look no further than North Star Mohican Casino Resort in Bowler, Wisconsin. The property offers a little bit of everything from a full casino to top line entertainment, and everything in between. When it comes to catching your favorite sports on television, they have you covered there as well with the popular lounge area, The Groove. You'll find tasty bites, a great selection of beer, happy hour specials, and new local bands every week — The Groove is the place to be! Pull up a chair in the lounge-like setting and enjoy favorite eats like hand-tossed pizza and gourmet burgers. The bar features a state-of-the-art draft beer system with six taps. Game on!
Also at North Star: Three Dining Outlets (Embers Grill, The Groove, Aroma Deli/Café); championship golf course, RV park, showroom