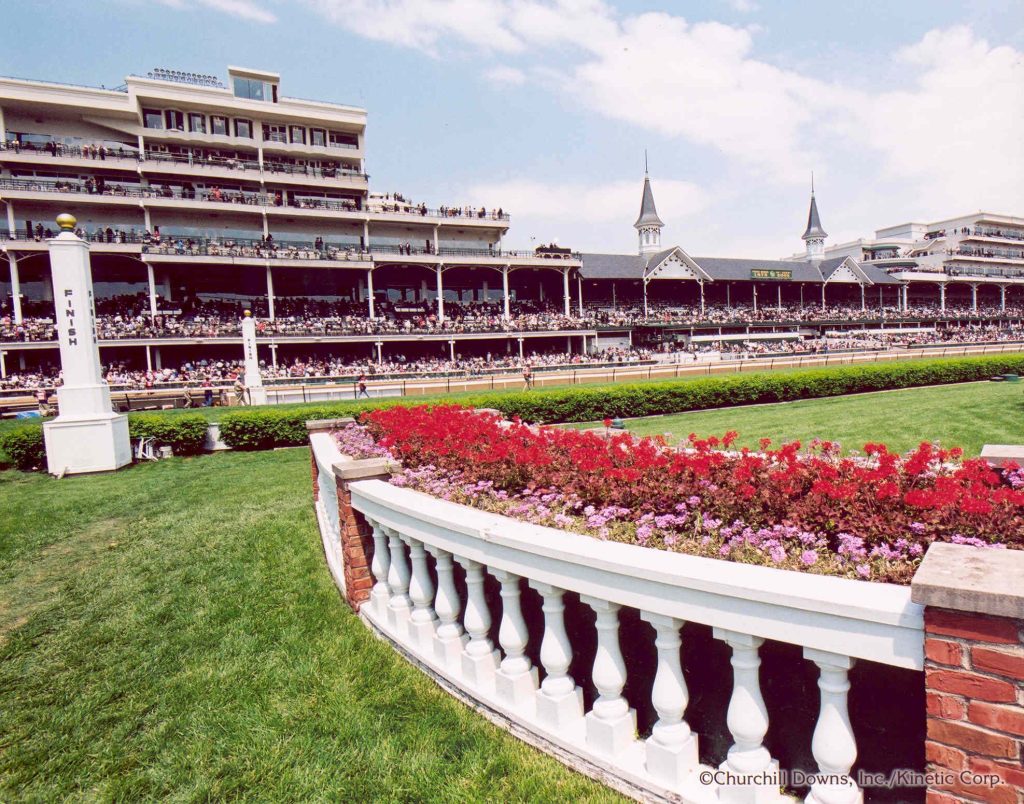 Inside the world of thoroughbred horse racing, there is a title that transcends all other turf trophies combined.  Conferred only on those extraordinary occasions when an equine manages to maneuver their way through a next to impossible gauntlet known as the "Triple Crown Series", the moniker of "Triple Crown Champion" is accordingly rarer than 18kt gold "hen's teeth".  Correspondingly, it's worth mentioning that over the last 150 years; only 13 thoroughbreds have managed to successfully scale the "Sport of Kings'" most challenging mountain.
Made up of three routes that are restricted to three-year old runners, thoroughbred horse racing's Triple Crown Series commences with the Kentucky Derby.  Disputed on the first Saturday in May at Churchill Downs in Louisville, KY, the Kentucky Derby is contested over a distance of 1 1/4 miles.  Two weeks after the "Run for the Roses", the Triple Crown Series relocates to Baltimore, MD.  It is there inside of Pimlico Race Course where the Preakness Stakes plays out over a radius of 1 3/16 miles.  Following a three week hiatus, the Triple Crown Series climatically concludes at Belmont Park in Elmont, NY.  Battled out over twelve furlongs (1 1/2 miles) of deep sandy going, the Belmont Stakes has therefore been christened "The Test of a Champion".
Now that you know what achieving turf immortality entails, you're probably thinking, "A horse would have to border on supernatural in order to procure a Triple Crown Championship!"  Well, while this notion is entirely true, there are likewise more than a few idiosyncrasies associated with those four-legged athletes that comprise the "Sport of Kings'" most elite fraternity.  With that said, here are some fun facts about thoroughbred horse racing's 13 Triple Crown Champions!
Sir Barton (1919) – Prior to his gate to wire score in the Kentucky Derby, Sir Barton had collected a grand total of 0 wins from 6 lifetime starts.  Worth noting too is that since Churchill Downs and Pimlico Race Course were fierce "industry rivals" in the early 1900's, Sir Barton actually wound up competing in the Preakness Stakes just four days after he won the "Run for the Roses".  Eventually paired against the renowned Man o' War on October 12th, 1920 at Kenilworth Park in Ontario, Canada in what was called, "The Race of the Century", a sore-footed Sir Barton consequently failed to fire and hence lost by 7 lengths.
Gallant Fox (1930) – In 1930, the Preakness Stakes was run eight days before the Kentucky Derby and in back of a narrow win at Pimlico Race Course, Gallant Fox triumphed by 2 lengths beneath the Twin Spires of Churchill Downs (alas, this winning margin should have been much larger).  See for whatever reason, Gallant Fox would tend to slow down once he had made the lead.  A beast that was also notorious for "rubbernecking", Gallant Fox actually missed the break entirely in the 1929 Tremont Stakes because he was spying a low flying plane.
Omaha (1935) – The only Triple Crown Champion who is the son of a Triple Crown Champion (Gallant Fox), Omaha is likewise the only Triple Crown Champion to compete overseas.  Entered in the 1936 Ascot Gold Cup by owner William Woodward Sr., Omaha ultimately lost Europe's premier route by a whisker to a big time racer named Quashed.
War Admiral (1937) – A product of Man o' War's loins, War Admiral loathed the starting gate to a degree that could not be measured.  In fact due to his refusal to "load in", the prized possession of owner Samuel D. Riddle delayed the start of the 1937 Kentucky Derby by eight full minutes.  Truly the only black mark on an otherwise sparkling résumé, War Admiral was beaten by 4 lengths when he faced off against Seabiscuit "mano y mano" in the 1938 Pimlico Special.
Whirlaway (1941) – Because his tail touched the ground when he was standing still, Whirlaway was nicknamed (what else but) "Mr. Longtail."  A brute who owned a propensity to "bolt" towards the outer rail once the gates opened, Whirlaway actually ran his entire first race alongside Lincoln Fields' exterior barrier (and still won).
Count Fleet (1943) – Much is made about Secretariat's 31 length win in the Belmont Stakes but most turf aficionados don't know that Count Fleet won "The Test of a Champion" by (a not too shabby) 25 lengths.  The son of a Kentucky Derby Champion (Reigh Count 1928) Count Fleet likewise sired a Kentucky Derby Champion (Count Turf 1951).
Assault (1946) – The only Triple Crown Champion foaled in Texas, Assault's life changed forever when he accidentally stepped on a surveyor's stake as a yearling.  Somehow still able to run like the wind after being scarred for life, the "Lone Star State's" favorite equine son was thereafter nicknamed the "Club Footed Comet".
Citation (1948) – By virtue of securing 18 wins (16 of those Stakes victories) from 19 starts, Citation owns the most impressive season ever assembled by a three-year old racehorse.  Thanks in large part to this mythical campaign; Citation became thoroughbred horse racing's first ever millionaire in 1950.
Secretariat (1973) – Perhaps a more impressive statistic than his 31 length victory in the Belmont Stakes is the reality that each of Secretariat's quarter-mile Belmont splits unfolded faster than the preceding one.  In his final race (Woodbine Racetrack's Canadian International Championship Stakes) Secretariat was piloted to victory by Eddie Maple instead of regular jockey Ron Turcotte (who was serving a riding suspension).        
Seattle Slew (1977) – Purchased at auction for a paltry $17,500, Seattle Slew (career earnings $1,208,726) is thus thoroughbred horse racing's version of a winning lottery ticket.  Oddly enough, Seattle Slew died in 2002 on the 25th anniversary of his Kentucky Derby victory.
Affirmed (1978) – A great-great grandson of 1937 Triple Crown Champion War Admiral, Affirmed narrowly fended off another superstar named Alydar in all three legs of the Triple Crown Series.  (Certainly a "double-edged" distinction, Alydar is the only horse in history to run second in each leg of the Triple Crown Series.)  As adept in the stud barn as he was on the racetrack, Affirmed eventually sired over 80 Stakes winners.
(PIC) American Pharoah (2015) – The owners of American Pharoah picked their horse's misspelled name from a fan submission contest on their website.  A fifth-place finisher in his career debut, American Pharoah would go on to break the longest drought in the history of the Triple Crown Series (37 years).
(PIC) Justify (2018) – Co-owned by two different outfits, Justify appropriately carried (majority owner) WinStar Farms' colors in the Kentucky Derby and Preakness Stakes and (minority owner) China Horse Club's colors in the Belmont Stakes.  Justify is also the only Triple Crown Champion to retire undefeated (6 for 6).
Unique as they are talented, thoroughbred horse racing's dissimilar class of Triple Crown Champions offer us a stark reminder that we as fans can never confine equine eminence to a box.  Furthermore, it's probably logical to assume that the "Sport of Kings'" fourteenth sovereign will posses their fair share of peculiarities.  (Um, probably more than their thirteen predecessors combined!)
By Eric Floyd